As a teenager, I was never all that into jewelry. Well…I had a pile of cheap punk rock bracelets that I would loop onto my arm (practically up to my elbow), but none of it was precious or made me feel beautiful. These days though, I'll plan an entire outfit around pretty baubles. My obsession with gold in home decor has quickly leaked into my personal style, and I'm constantly gravitating towards trendy metallic earrings and bangles.
With a new jewelry obsession came an unexpected penchant for DIY holders. From wall mounted displays to inexpensive faux lucite trays, I'm practically surrounded by my happy little collection. But, of course, I'm never "done." So today I'm sharing my latest, and all it took was a gold Sharpie marker and $5 white tray.
I partnered with the ever fabulous Chic Peek on this simple, super quick DIY quotable jewelry tray that you can literally knock out in 10 minutes. My fellow Career Contessa editor, Mallory, came into town for a CC work day yesterday, and I was able to finish this project in between brainstorm and editing sessions.
First, I opened a Word document and typed up the phrase "All that glitters." Then I edited it into one of my favorite cursive fonts (Katie Rose), and freehanded the font onto the white tray using the gold Sharpie. That was it! I've heard that you can bake Sharpie to make it stay, but so far, my lettering is wipeable and permanent. I did end up doing a couple of layers to make the ink as opaque as possible.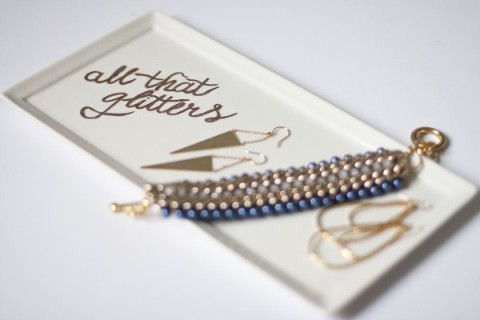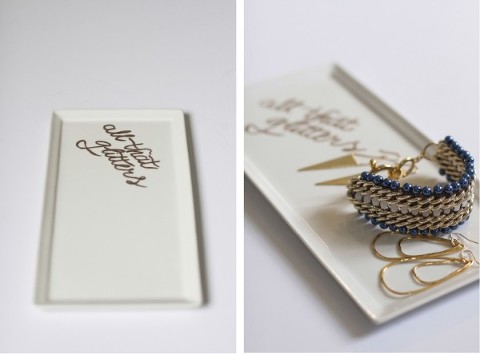 Jatal Drop Earrings | Urban Gypsy Cuff | Emery Earrings
Piled high with some of my favorite Chic Peek pieces, I couldn't possibly be more in love. If you want to try this project yourself, feel free to use the PDF template I created. To all my fellow ladies out there, don't you just love being a girl??
P.S. In more good news, Chic Peek is offering DGD readers 10% off at ChicPeek.com using code "dream10" (expires 11/30)!
Connect with Chic Peek:
Shop | Facebook | Twitter
Blog | Instagram | Pinterest
Thanks, as always, for supporting the brands that allow me to create original
(and 100% HONEST) content here on DGD.