THIS GIVEAWAY IS OFFICIALLY CLOSED. KEEP
SCROLLING TO SEE IF YOU'RE THE WINNER!!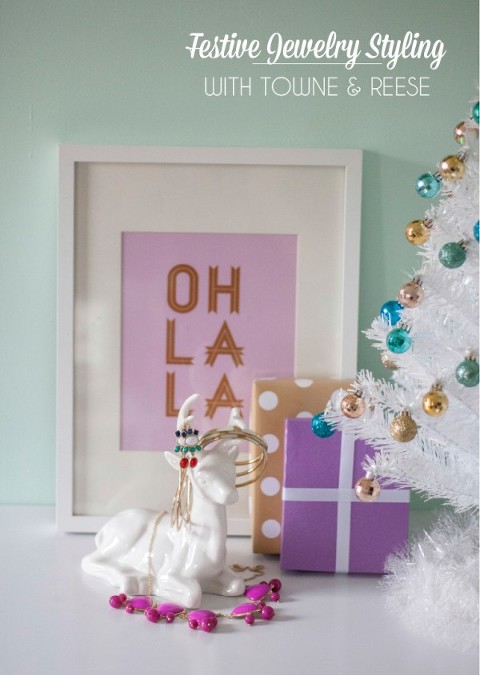 With Christmas day just two and a half weeks away (eek!!), I decided to dedicate an entire week to gifting. I've partnered with some of my favorite brands to show you that shopping for this year's gifting haul doesn't have to be so daunting after all. From gift guides and DIY wrapping, to stocking stuffers and a gift-themed poll, I can't wait to hit the "Publish" button on these goodies!
Today, I'm excited to introduce to you to Towne & Reese. I came upon this lovely, lovely brand during the Better Homes and Gardens workshop in New York City this past September, and couldn't be more smitten. High quality construction, on trend silhouettes, bright colors – I know I'm adding just about every piece to my own wish list (and I'm NOT just saying that).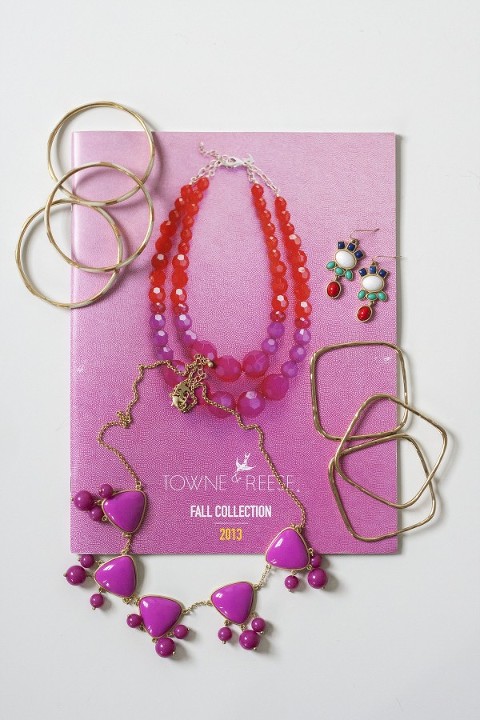 Similar to the Ellery Bracelets | Libby Earrings
Ann Carter Bracelet | Emma Grace Necklace
The Towne & Reese team was kind enough to pass along some of my favorite pieces to style, and I had a blast brainstorming festive, unique ideas that you guys could try in your own homes. Take this thought, for example. If you happened to buy into the fabulous deer fad like I did this season, grab one of your antlered friends and fill him up with bright baubles. Hang earrings and bracelets from the pretty curves of his antlers, and drape your favorite necklaces around that elegant neck. Show your favorite jewelry off in style, through the holiday and on into the new year!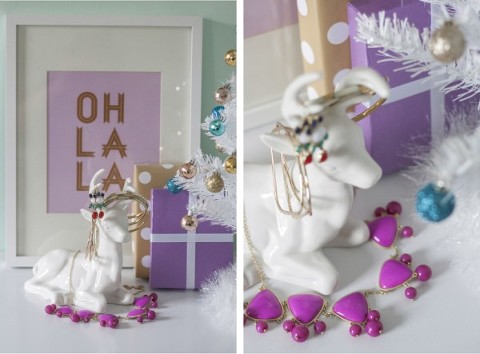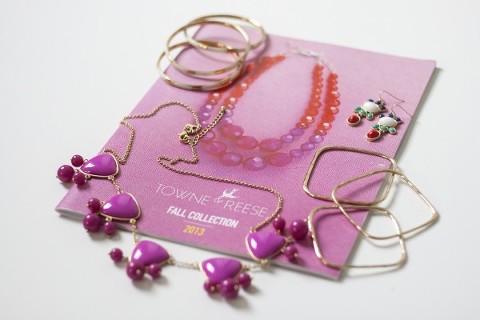 And I have great news for you, too! Towne & Reese has offered to give away $100 to a DGD reader – what perfect timing for finishing off your to-buy list, or for treating yourself this season. Simply enter using the Rafflecopter widget below. The giveaway ends Monday, December 16, at 12:00 a.m. and the winner will be announced that morning, right here at 10:00 a.m. EST. Good luck!
Can't wait? The team also gave me a coupon code for 20% off – Just use DREAM20. Hurry though! The last day to order for Christmas delivery is Monday.
P.S. Speaking of giveaways, the winner of the tree note card set from The Green Daisy has been announced! Click here to see if it was you.

***************************************************************************************
GIVEAWAY UPDATE: Congratulations to Stefani W.!!
Stefani
, I will be emailing you shortly

with details on your Towne & Reese shopping spree.
Thanks to everyone for participating!!