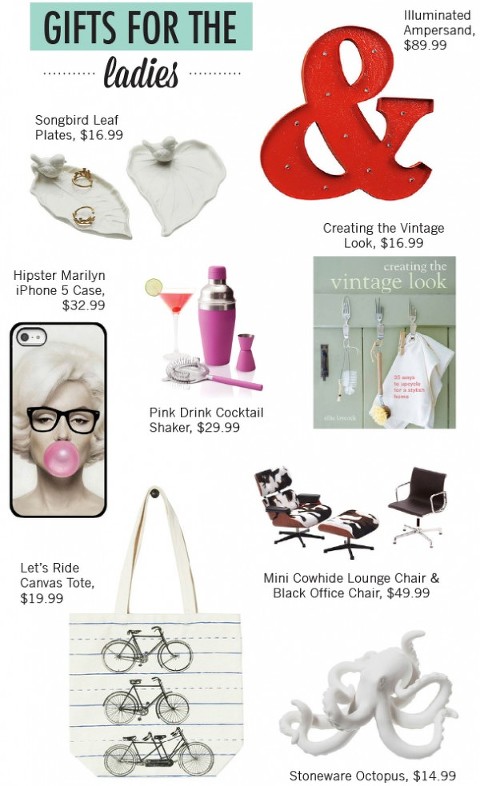 Songbird Leaf Plates | Illuminated Ampersand | Hipster Marilyn iPhone 5 Case
Pink Drink Cocktail Shaker | Creating the Vintage Look
Mini Cowhide Lounge Chair & Black Office Chair
Let's Ride Canvas Tote | Stoneware Octopus
If you're a regular blog reader, chances are that your feed has been inundated with gift guides a plenty. In fact, I've been enjoying my own fair share from fave bloggers across the web. That said, I decided to keep it simple this year and let others do the "guiding." My one exception? This line up by a new-to-me favorite brand, Dot & Bo. I am particularly smitten with their mid-century classics collection, but that's (hopefully) a different story for a different time.
Today, I'm rounding up my favorites from their gifts for ladies collection that just went live this past weekend. If I'm being completely honest, my favorite person to shop for is well…me! It's just so easy, and I know for a fact that these little treats would make my eyes open wide with excitement. From quirky totes, to colorful accessories (and a white octopus, too!), I'm considering a last minute treat just for me this week.
Which is your favorite? And if you're still feeling like you need some shopping inspiration, feel free to hop right here for a little Pin-spiration.
P.S. Have you entered to win the Towne & Reese $100 shopping spree? Click here for the details! 
P.P.S. In case you were wondering, today's post was NOT sponsored in any way. I just love the brand and wanted to share the (literal!) goods.