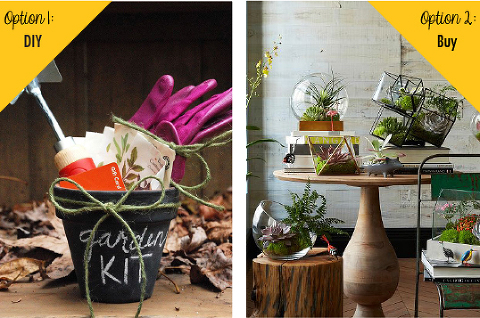 When it comes to gift giving, are you the sort that likes to put your creativity to the test with something homemade? Or do you prefer to make a list and run straight to the store – pick it, swipe it, bag it, done!
OPTION 1:
To me, a DIY gift is essentially a thought out, themed present, heaped with things customized to the recipient's taste. My mom is an absolute pro at the DIY gift. From colanders stuffed to the brim with all the makings of an Italian dinner, to baskets packed with a throw, hot chocolate and book, I know from experience that her gift getters always feel loved and special.
OPTION 2:
But that's not to say that buying a solo something from the store is any less meaningful! Often time, I think it has to do with the gift getter his or herself. Some of my friends appreciate the imperfect but thoughtful vibes of a DIY gift, while others put together their list of gotta have gifts for a reason.
[poll id="24″]
P.S. Speaking of gift giving, don't forget to enter to win a $100 shopping spree to Towne & Reese! Details here.