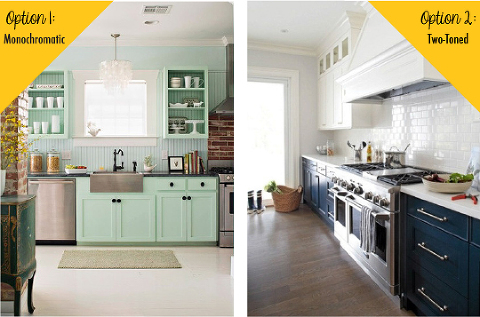 With 2014 officially underway (how is already January 3rd!?) John and I have been deep in conversation about what the new year will hold for us. A new house? A new state? Who knows where we'll end up, but the idea of a brand new space to play with has me dreaming about my dream spaces – first up, the kitchen.
OPTION 1:
One of the simplest budget renovations for a kitchen, as we all know, is to paint the cabinetry. I love the idea of a monochromatic color scheme, but not just any monochromatic color scheme. I'm thinking a bold color, like my all time favorite mint!
OPTION 2:
But I'll be honest – nothing holds my attention right now like a pretty two-toned scheme. Light on top, dark on the bottom, this white and navy kitchen is modern yet eclectic, sophisticated yet approachable. I'm choosing Option 2 today – How about you?
[poll id="27″]
P.S. Don't forget to enter your name to win a Paddywax candle all your own! I'm cozying up to mine right now and feel like I can take on the world – funny how a scent can do that for your day…Contest app here.