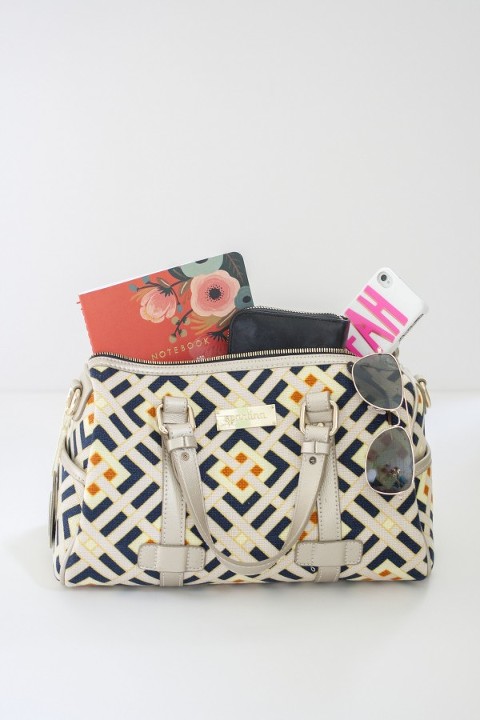 A large part of my home decor obsession hobby includes shopping. Now, for most women this would be a major PERK, but for me, it often times is one of the biggest draw backs. I'm not the most patient person—and that's putting it lightly—so I hate the idea of delaying a project just so that I can run out and pick up the right piece of wood or a sheet of pink felt (but not TOO pink). So when I go shopping, you better believe that I'm going to make surely sure that I have everything I need for the trip. Here's a quick look at my DIY-to-go essentials.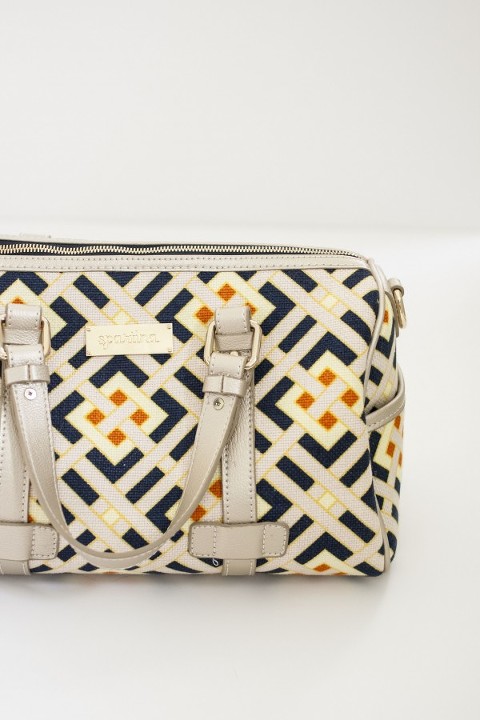 First things first—the bag. This beauty, care of Spartina 449, does the job and then some. A super roomy interior with plenty of little compartments for my tinier must-haves (we'll get to those in a second) makes hauling my tools of the trade a little bit easier. I have a special place in my heart for this particular brand, too, since the patterns are inspired by my family's go-to vacation spot near Daufuskie Island, South Carolina.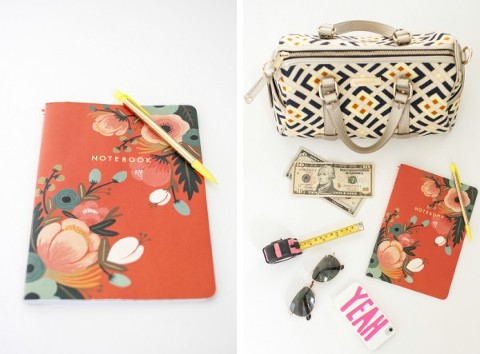 But, of course, it's what's inside that really counts. I always try to have at least a few dollar bills on hand for when I'm running out to the thrift store. Carrying cash allows me to skip that awkward "Do you guys take credit cards" exchange, and also makes it easier for me to haggle on the price of said thrift store treasure. Second hand shop owners are FAR more likely to work with you when you can produce bills!
I also am sure to always bring some kind of paper product—a notebook, a post-it note—that has any necessary furniture or spacial dimensions written down that could help me make the right purchase the first time. I can't tell you how many times I used to skip this step only to have to run back to the store to switch out an item because it was either too big or too small. And of course, carrying measuring tape goes hand in hand with this step!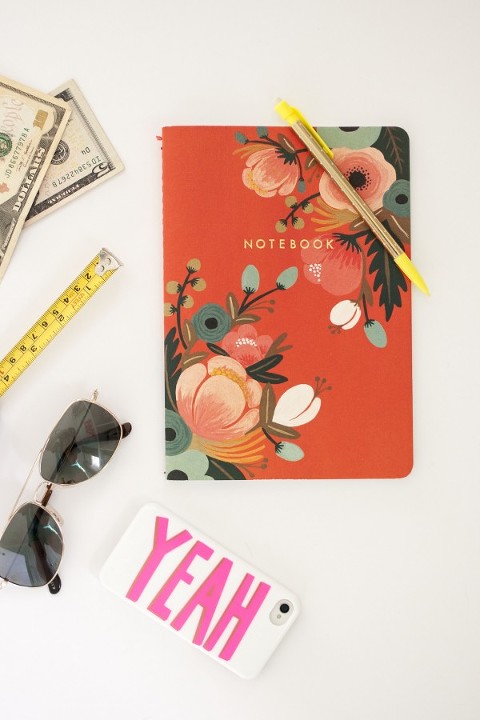 Lastly, a pair of decent sunglasses helps for those midday runs to the outdoor nursery or parking lot estate sale (especially during these summery months!). I always have my fully charged phone on hand, too, for snapping photos of items I need to think on or for making emergency calls to the hubby for permission to buy "the perfect mid-century chair ever!!"
Now I have to turn to you: what are YOUR DIY-to-go essentials? Oh, and before I go, if you haven't entered yet, I'm giving away a fabulous prize pack from Waterpik! Click here for the details.
This post is a collaboration with Spartina 449. All ideas, words and opinions are my own. Thanks for supporting the sponsors that allow me to create fresh, authentic content like this on Dream Green DIY!
CONNECT WITH SPARTINA 449