Before I dive into today's post, I just want to give a BIG shout out to all of you who commented, emailed and Tweeted to me in response to yesterday's post. I think we all agree that a little less branding would be appreciated and I'm all for it! There are just two quick points that I want to clarify before I put this topic to rest.
The first is that I still wholeheartedly stand by the idea of sponsored posts. I don't find them icky on their own, just when they come too often. So, that's where my new goal to achieve balance comes into play. My brand partnerships mean a lot to me, in terms of my business (of course!) but also because these are products that I love and stand behind. Again, I'd shout them from the rooftops anyway! But I'm looking forward to cutting back.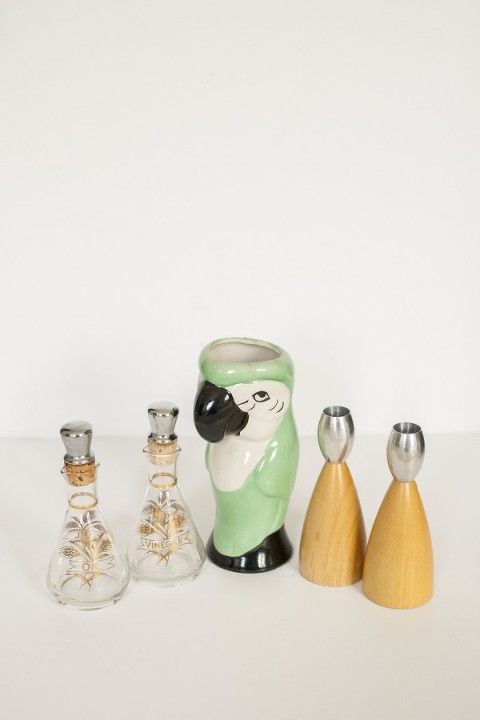 Secondly, I am SO excited to hear the call for more thrifting posts, which makes today's (totally coincidental) post particularly poignant. The reason those have petered off in the past year is really just a spacial issue. Until we move out of this tight little townhouse and into our forever home, I've had to curb my appetite for second hand treasures. But those will be coming back in full force within the next year—if all goes as planned, that is.
Again, thank you SO so much for your support and encouragement and for sticking with me as I enjoy this blogging journey.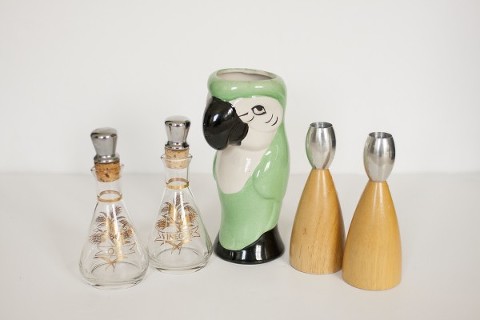 Now, back to the topic at hand. A couple of weeks ago, John and I made the one-hour trek out to neighboring Charlottesville for a little R&R and, on the way home, we stopped in at one of my favorite antique shops: The Covesville Store. Although I couldn't pile up any of the furniture that I was dying to buy, I was able to collect a little armload of miniature goodies.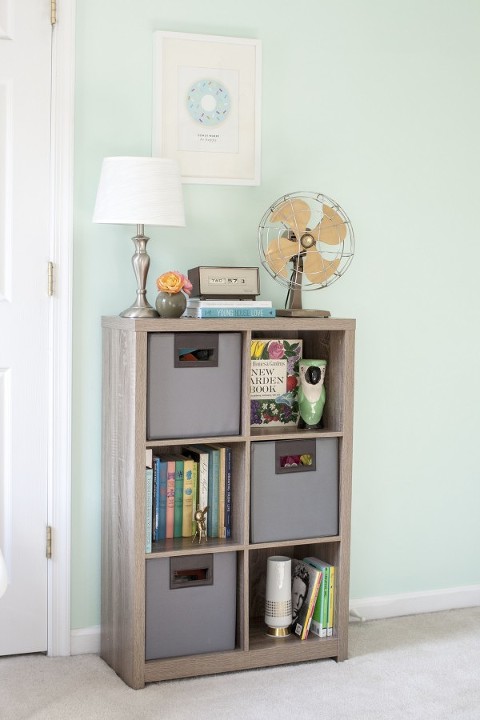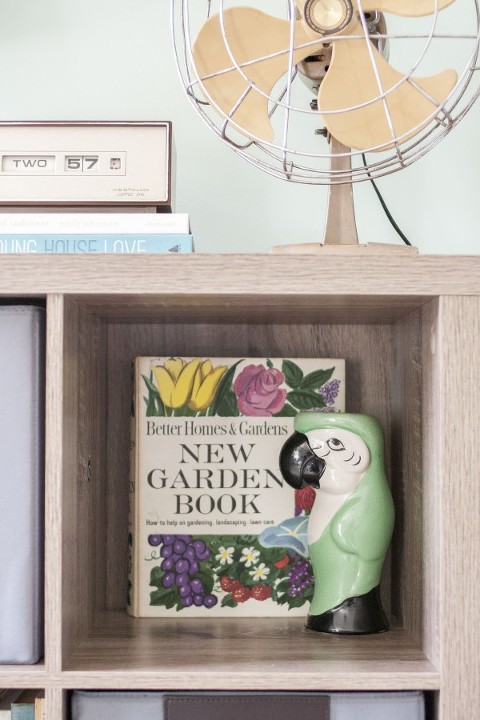 The first piece was this little painted parrot vase, which you may have spotted in Wednesday's post. Clocking in it at just $4, I couldn't leave him behind. Who knows what I'll fill him with—movie ticket stubs, paper clips, flowers perhaps—but it's these types of little conversation pieces that I live for.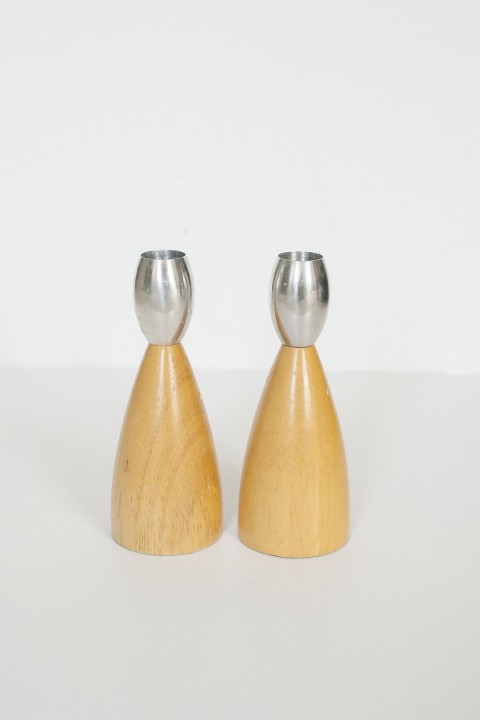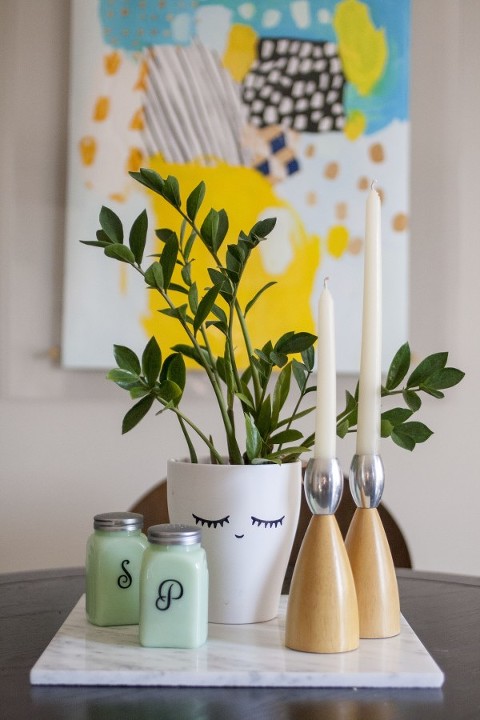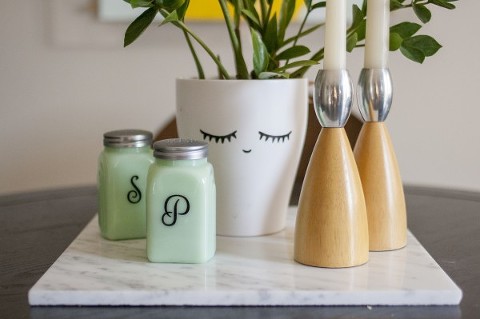 Maybe no one is more aware of my mid-century obsession than you. So, it should come as no surprise that I snatched this pair of candleholders up as soon as I spotted them. Sleek, space age and super cheap, it was another score that I just couldn't leave the store without.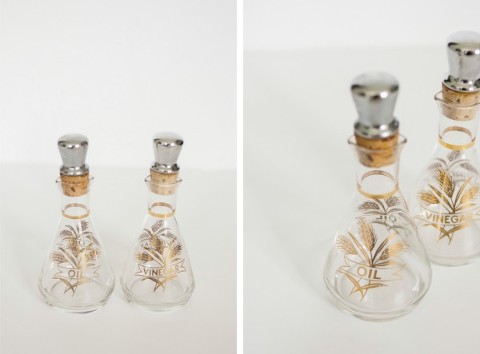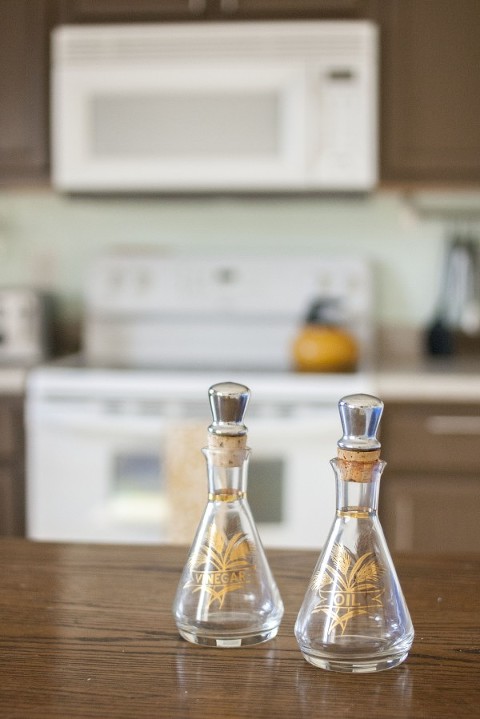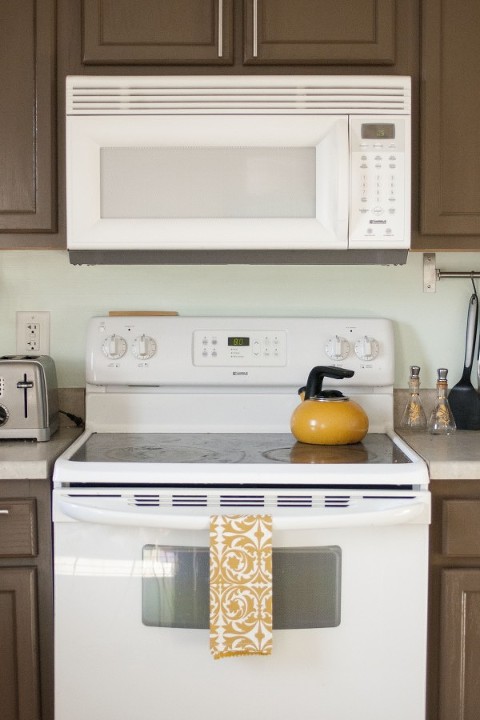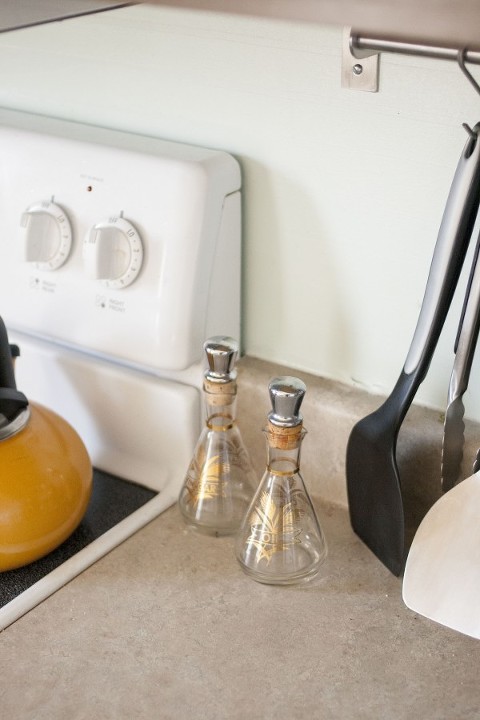 Gold also is one of my (many) guilty pleasures when it comes to home decor, so my new-to-me oil and vinegar bottles are probably my favorite purchase from the day. Although they have yet to be cleaned and filled with their respective liquids, they sure do look pretty sitting on the counter in the kitchen.
What Thrift Store Scores have YOU guys snagged recently?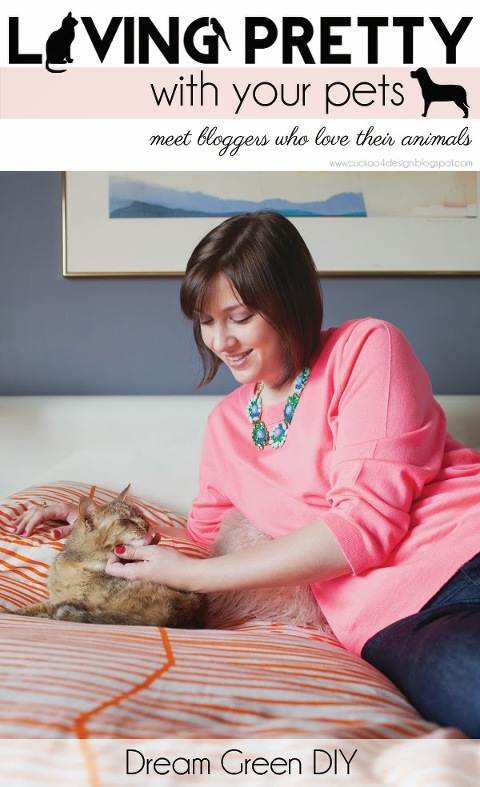 P.S. I'm thrilled to be guest posting over on Cuckoo4Design today!! Julia is letting my four little cuties have the spotlight on her blog and I couldn't be more proud…Click through for the back story on our family, plus tons of photos.