THIS GIVEAWAY IS OFFICIALLY CLOSED.
KEEP SCROLLING TO SEE IF YOU'RE THE WINNER!!
My studio just got a heck of a lot cooler (and more productive) thanks to the addition of a new Cricut Explore to my desktop! Although, at first, I was pretty intimidated by the pro cutting/scoring/tracing machine, it turns out that the Cricut is super easy to use. Now every time I troll Pinterest and my favorite blogs, I find myself pinning certain projects knowing that the tool will assist in turning my loftier visions into reality—without hours of laborious detail work (my least favorite thing on the planet).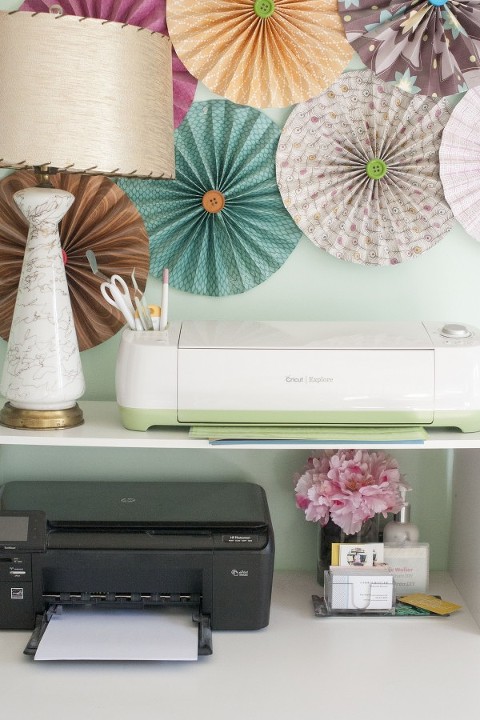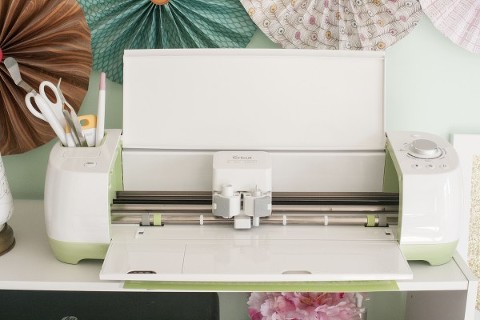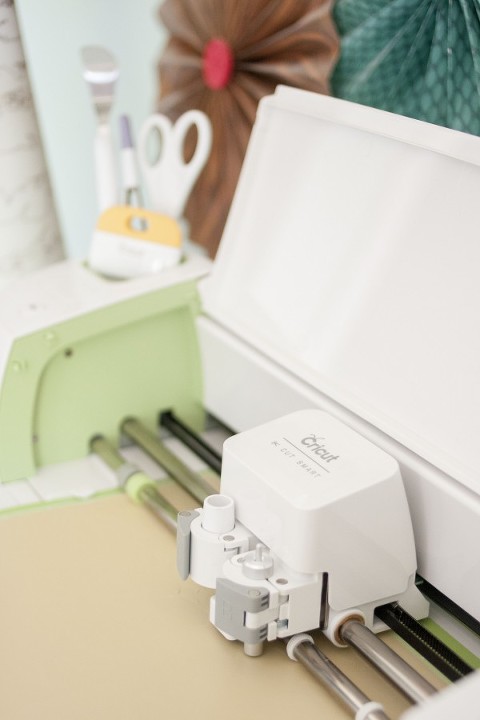 To challenge myself (and to help me move beyond the "intimidation" phase and into the much more fun "exploration" one) I decided to test out some studio-specific projects, things that would jump start my creativity on a daily basis. First up, I crafted two new journals—I just couldn't settle on one idea—made with vinyl decals. To make your own version of these projects, you'll need a plain kraft paper journal, a black permanent marker or Sharpie pen and vinyl contact paper in your colors of choice.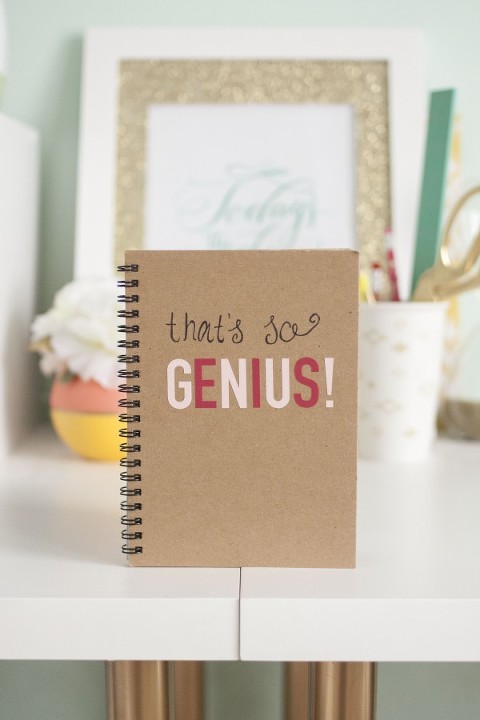 My first journal cover actually combined two different methods—a phrase written by hand with a fine tip Sharpie pen ("That's so") and then a single word crafted from multi-color vinyl ("GENIUS!"). I free-handed the first line, but then put my Cricut to work on the second one.
First, I grabbed a sheet of light pink vinyl and carefully laid it down on top of my StandardGrip Mat. The tacky surface made it a cinch for me to line the vinyl up just right. The sticky mat also turned out to be the perfect pet hair magnet, so my apologies for all the kitty and puppy fur visible below.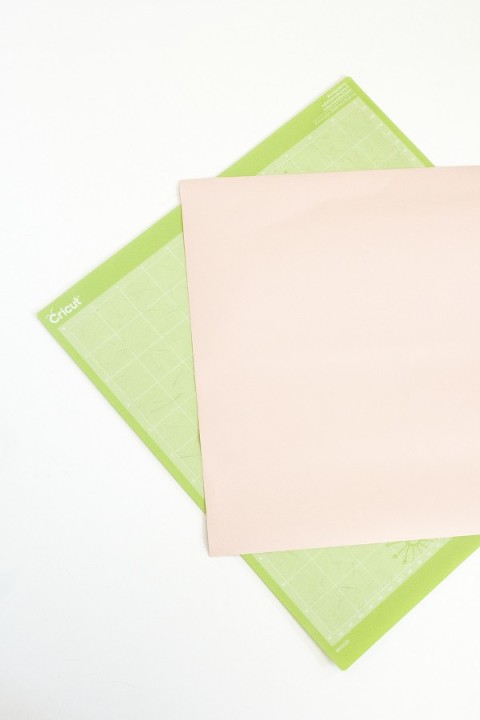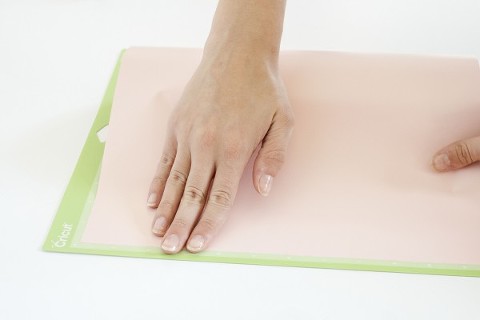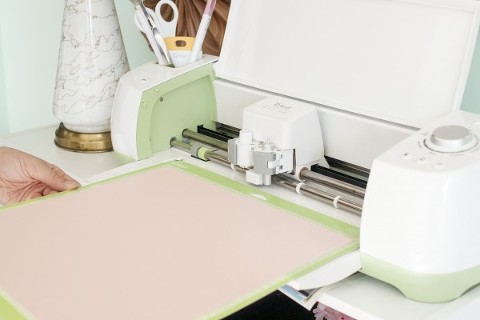 Then, after choosing my font and designing the "GENIUS!" line on the Cricut design center, I was able to follow the on-screen prompts to send it off to my Cricut. There's one button to help load your vinyl just so, and then another to get the cutting underway. Finally, you step back and watch that little blade do its thing.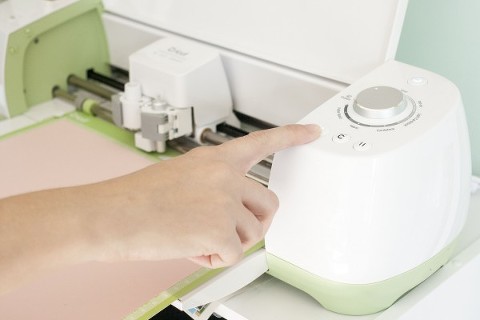 Since I wanted to do a multi-color decal, I ungrouped my word while still in the digital design center and deleted every other letter before cutting on the pink vinyl. Then, I hit undo to get the whole word back again and deleted the OPPOSITE letters in the sequence, cutting this time on red vinyl.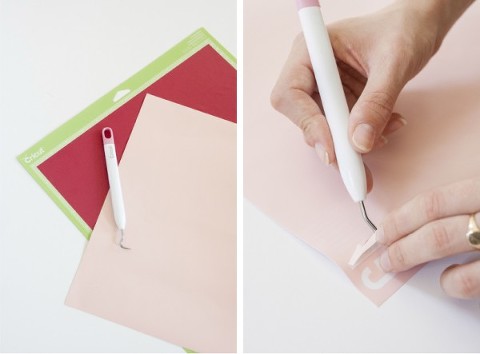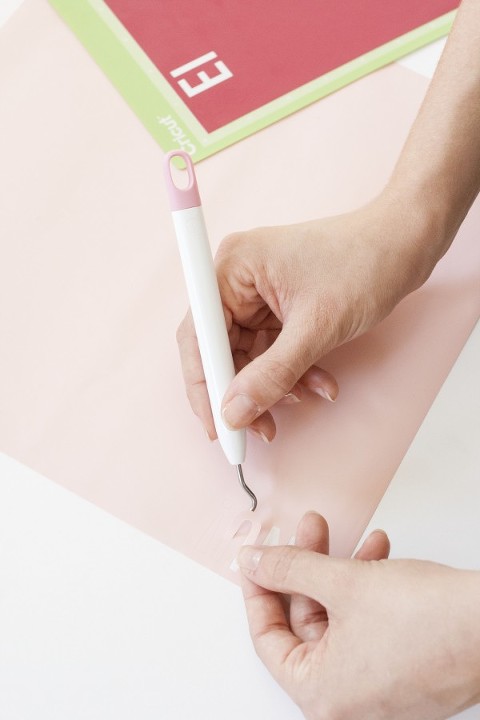 Once complete, I unloaded the mat from the machine's tray and used a Weeder tool to carefully peel each letter from the vinyl, alternating back and forth between the pink and the red vinyl until I had the whole word spelled out on my journal cover.
Happily, I found that mess ups were an easy fix. There were a couple of times where my letters got a bit off kilter or too close together, but the vinyl is fairly easy to peel back at first, so I was able to fix all of my mistakes to get the perfect finished product. Now, if only I could have gotten my hand-lettered line as neat and tidy… #practicemakesperfect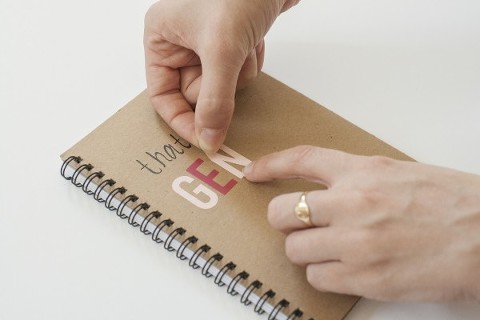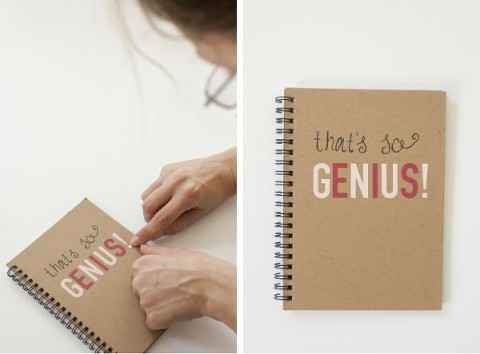 Continuing the theme of positive reinforcement (even when my ideas aren't quite so genius or creative), I used a pre-designed decal to decorate a second notebook—this time with the word "Create." Although the design was a bit big for my notebook, I decided to leave it that way and used a pair of detail scissors to snip the overhanging vinyl off for an asymmetrical vibe.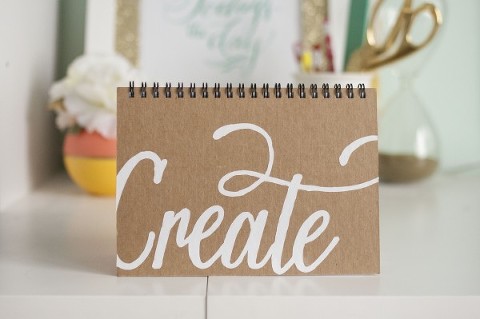 With my journals complete, I decided to tackle a non-lettered decal design next, ultimately choosing a diamond pattern originally created by Emily Henderson for her son's Sip & See party. I grabbed a $4 ceramic coffee cup from our local craft store, removed the top and added the cut Harlequin decals right to the side of the mug. Then, I finished by filling the cup with my go-to desktop pens, pencils and utensils. Simple as that!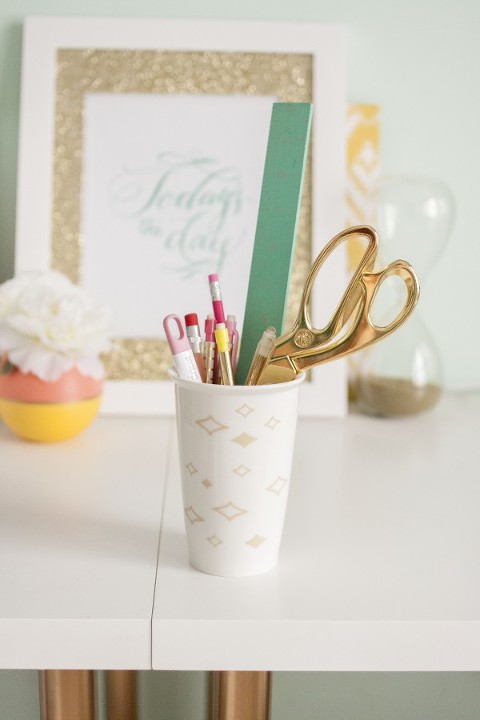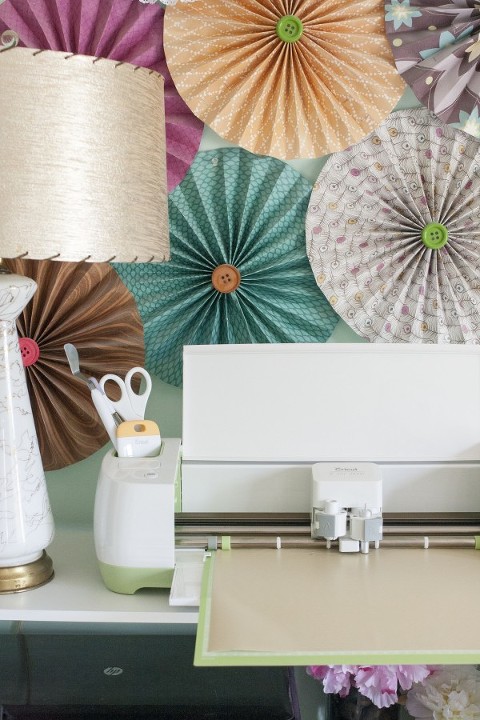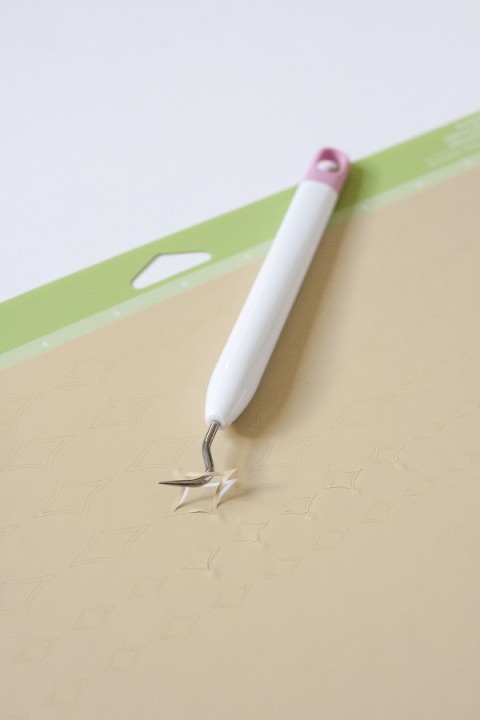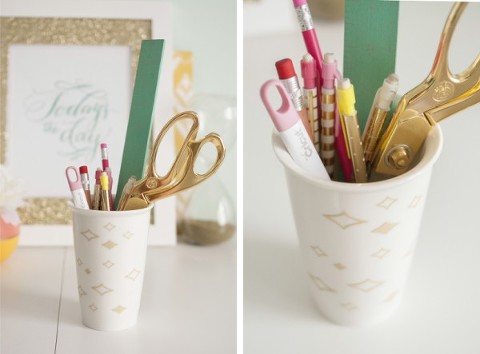 For my final project, I wanted to test out the writing capability of my Cricut machine. In retrospect, I think a vinyl decal would have been just fine for this particular project, but it sure was fun to see that Jade-colored marker zip back and forth over the cardstock!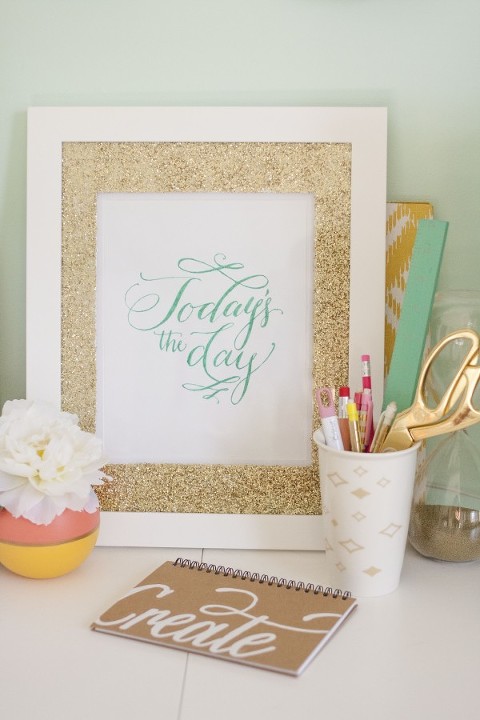 To make your own hand- (or really machine-) lettered quote, start by downloading the custom design that Kathleen, of Leen Jean, made for me here. Then, upload it to the Cricut design center and remove the white space to transform it into a proper Vector image. Next, resize the design to fit your paper and, before getting the drawing started on your machine, don't forget to remove the blade from side "B" and put a marker in place on side "A." When ready, click the Cricut button on the machine and watch the design come to life—no calligraphy skills required!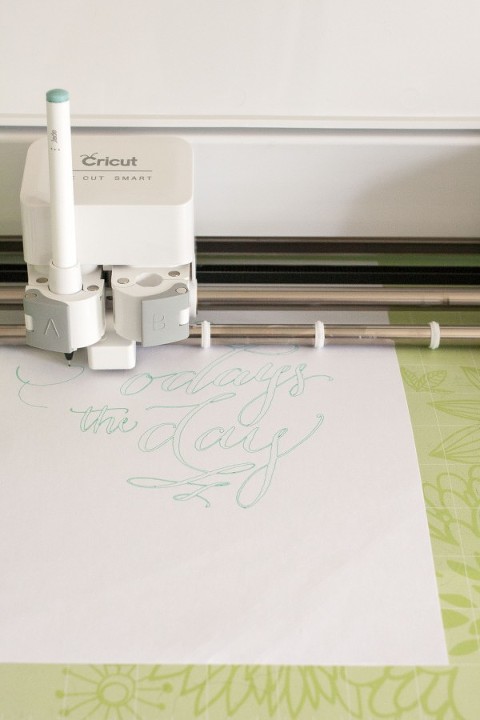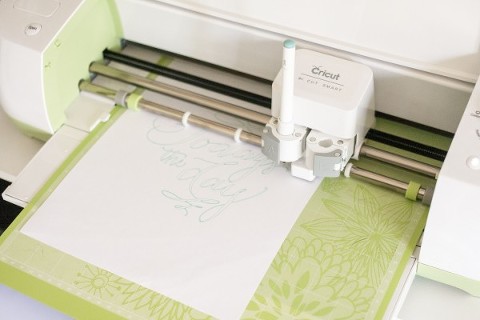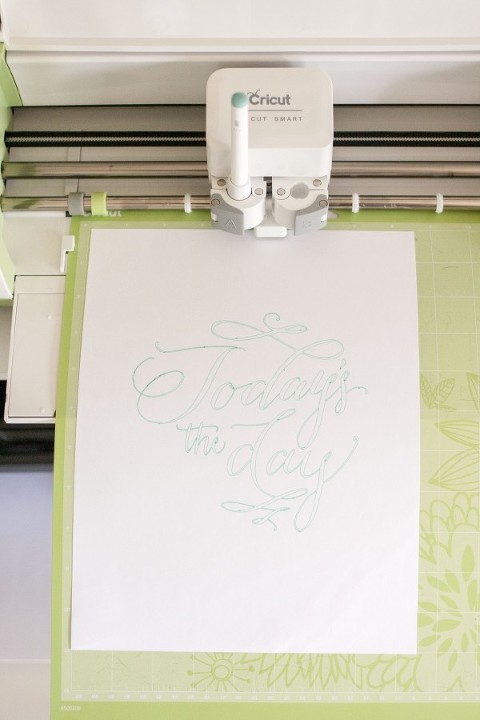 Although I liked the line quality of the finished design, I felt like it needed a bit more oomph. So I ultimately chose to fill in the lines by hand with the marker. It just took an extra five minutes or so, but I think the additional step really helped to make the art come alive. Since popping it into my ever-changing DIY glitter mat, I can't stop glancing over at it as I work on my computer.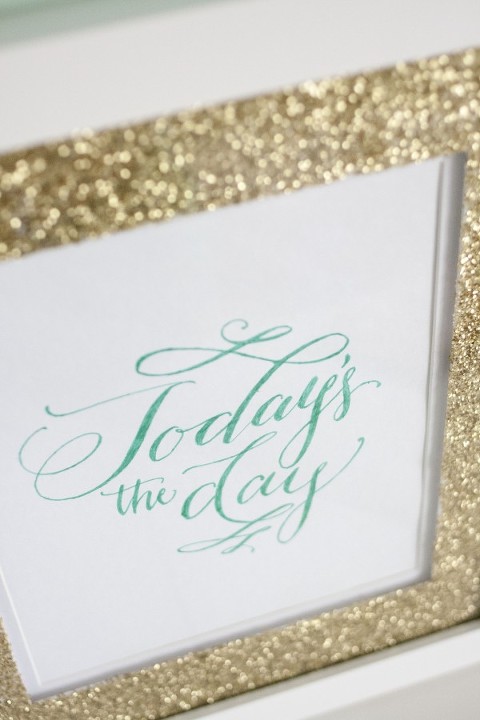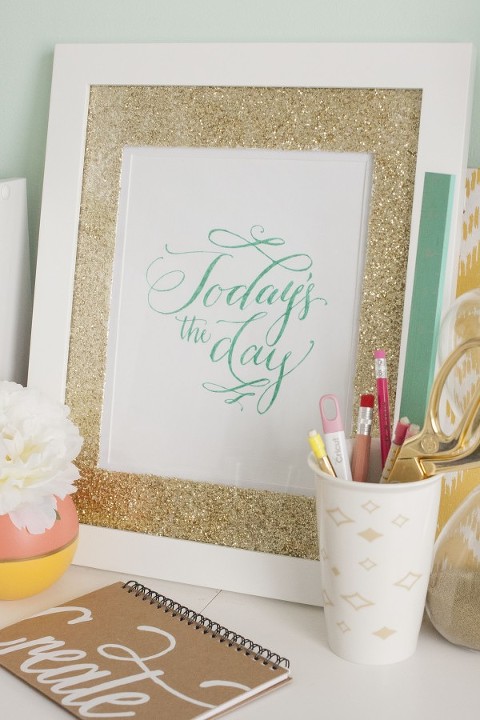 To be completely honest with you, I had no idea just how much this machine would change things in my day-to-day life as a full-time crafter. It took me weeks to find the courage even to open the box, but it only took me one day (one day!) to fall in love with it once I did.
And now you can, too! Cricut is generously offering an Explore machine to one DGD reader (a $299.99 value)—just use the Rafflecopter widget below to enter. Contest ends next Wednesday at midnight. Good luck!

P.S. Speaking of giveaways, the winners of the 2 paper+palette shop credits have been announced—Click here to see if you were one of them.
**********************************************************
GIVEAWAY UPDATE: CONGRATULATIONS TO VIVIAN R.!!
VIVIAN, I WILL BE EMAILING YOU SHORTLY WITH DETAILS ON YOUR NEW CRICUT EXPLORE. THANKS TO EVERYONE FOR PARTICIPATING!!