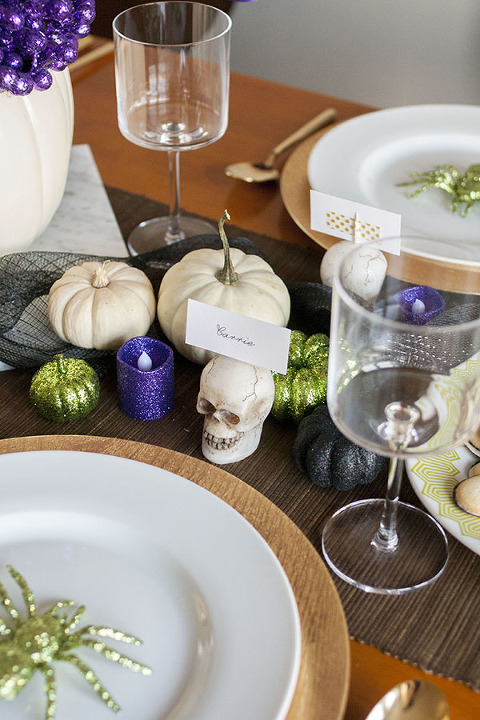 UPDATE: The Home Depot blog post where these projects originally appeared is no longer available as of this editor's note (October 2022). That said, I hope you're able to glean lots of inspiration from the photos below, and you can still access the DIY tutorials for my DIY Halloween-Themed Apothecary Jars and DIY Spooky Skull Place Cards by clicking those links. Thanks for reading!
Although I can hardly believe that we already are 7 days into October, our house has been in full Halloween spirit for several weeks now. You see, I've been gearing up for my part in this seasons' Halloween Style Challenge for the Home Depot, and am pleased to announce that my feature went live today.
Click through to the Home Depot Apron blog for the full run down, packed full of purple, green and black goodies that (I hope) will have you excited for Halloween—an event that I personally look forward to each year since it serves as the kick off to the holiday season. As a special bonus, I'm explaining how to create your own version of my DIY "Boo" Quote Pumpkin Centerpiece below. Happy Halloween!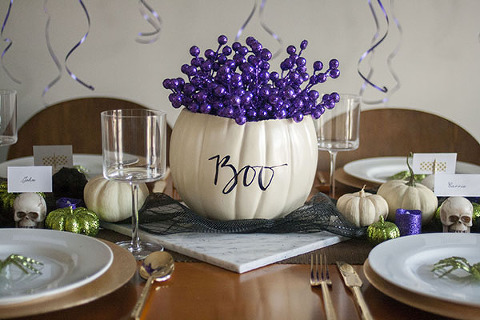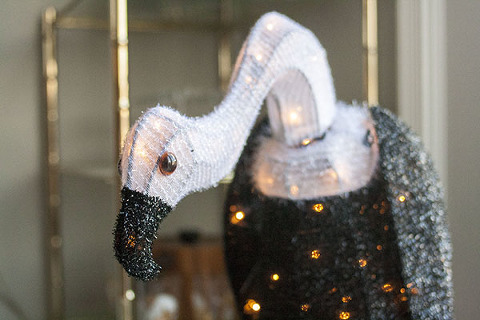 DIY "Boo" Quote Pumpkin Centerpiece
Step 1: Cut the top off of a hollow foam white pumpkin and discard it.
Step 2: Use a paint pen to draw the "Boo" phrase on the front of your pumpkin. To make this easier since I'm not a professional calligrapher, I looked up "Boo" calligraphy sign photos on Pinterest and did my best to copy it onto my pumpkin. You can do a simpler version of lettering if that's best for you!
Step 3: To finish, fill the hollow portion of the pumpkin with faux holiday stems. I used glittery purple ball stems from the Halloween section at Home Depot.