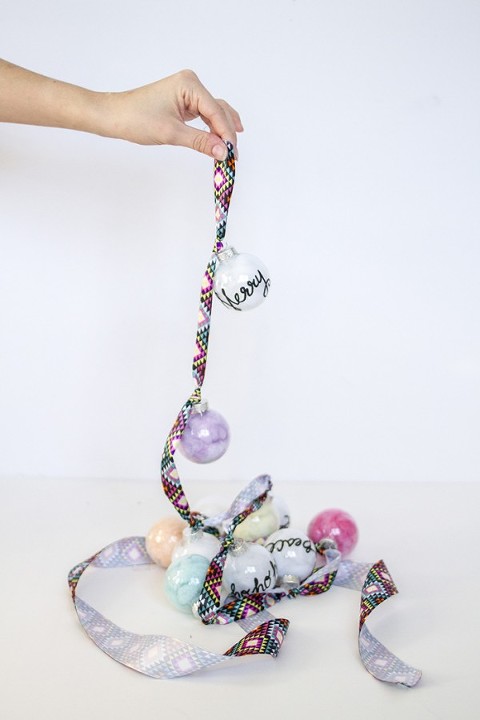 I'm back to share the full break down of my take on this season's DIY Mystery Supply Challenge, the ornament edition. If you're just joining us, this event challenged 11 DIY bloggers to put a collection of four mystery supplies to work to ultimately come up with a unique ornament craft that we all can try at home. As for me? My vision was of an ornament garland packed with cursive lettering, a bright color palette and lots of geometric, modern appeal.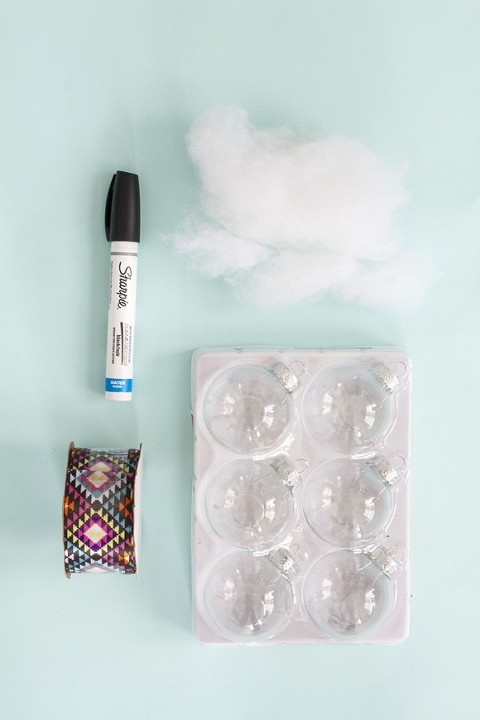 Clear ornaments
Roll of ribbon
Sharpie paint pen
Faux snow blanket
Acrylic paint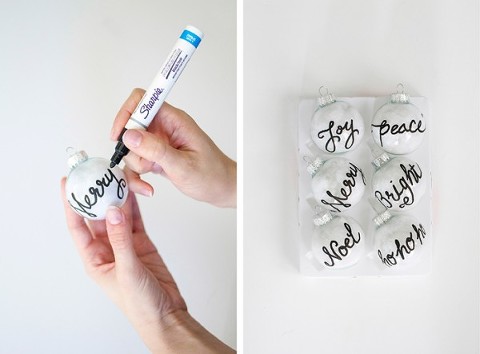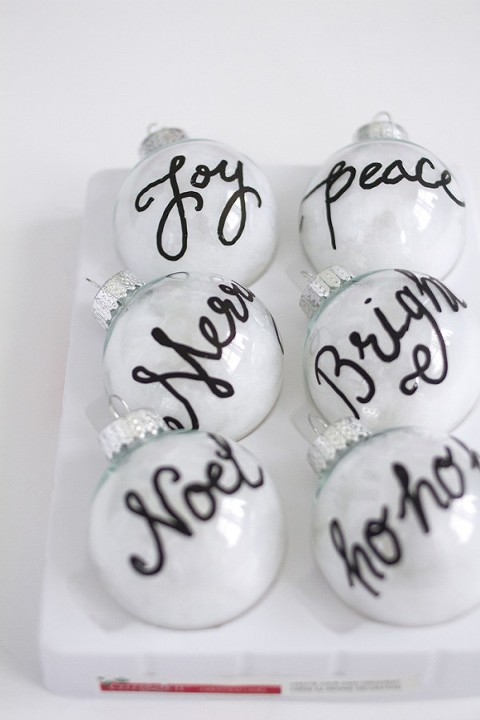 As you can see, my concept really centered on the idea of hand lettering—a practice that I've been (admittedly) obsessed with these past few months. I chose several quintessential Christmas words and phrases and then, using the black Sharpie marker, wrote each one out on the side of a glass ornament. Before writing my words out, I used the faux snow blanket to fill the ball ornaments in order to give them a bit of visual weight.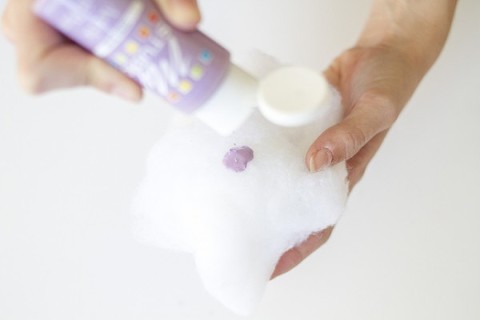 But I wasn't about to stop there. I'm not much for the classic red+green color scheme of traditional Christmas decor, so for my ribbon, I chose a vibrant geometric pattern with tons of layered color. Pulling inspiration from that, I added more faux snow to my remaining clear ornaments, but instead of leaving it white, I added color to match my ribbon—pink, yellow, purple, orange and so on.
To achieve the effect, all I did was squeeze a dollop of paint right onto a handful of faux snow and then I pulled the fluff apart over and over until the color was worked all the way through the snow.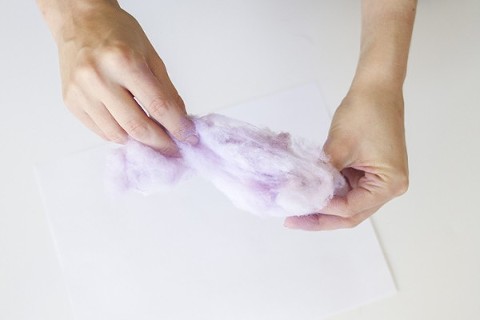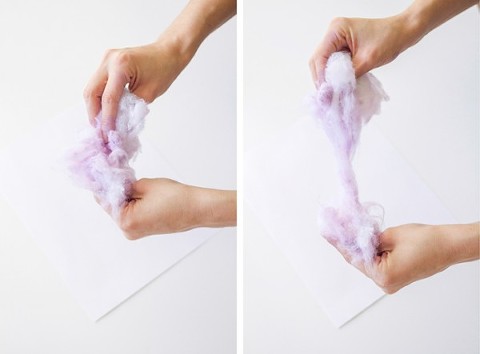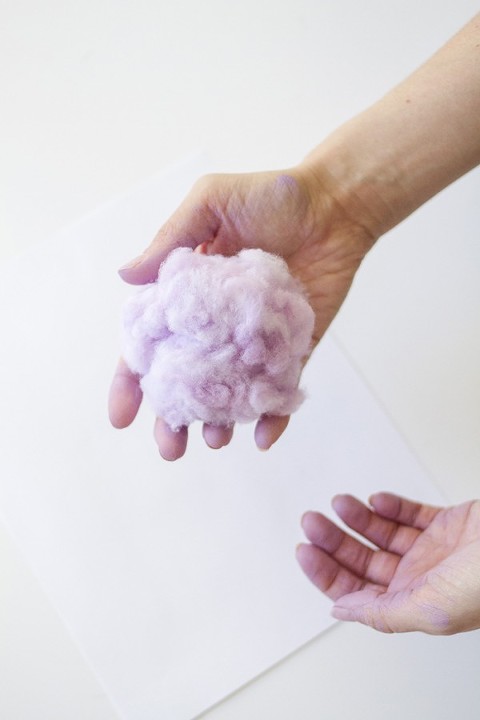 A quick note: I recently purchased an armload of super cheap acrylic craft paint just to have on hand (My Studio from A.C. Moore, if you're curious), but have since found out that it's not very high quality. I hardly ever use it for my nice painting projects. Happily though, the runny consistency was perfect for this project! If your acrylic paint is a little too syrupy in texture, try mixing in a bit of water before adding it to your snow.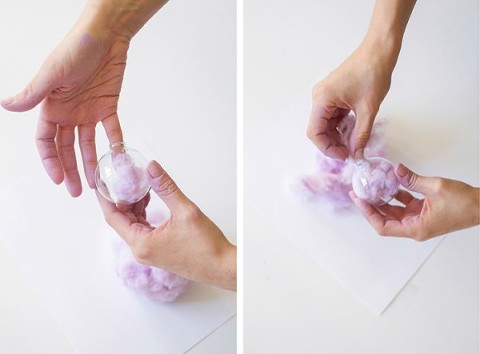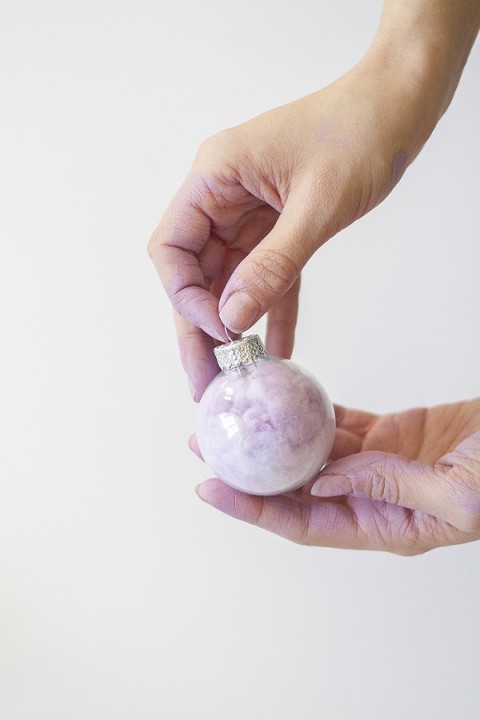 After giving the first batch of painted snow about 20 minutes to dry, I stuffed it into one of the blank glass ornaments, and then repeated the steps using different colored paint each time. Once all of the ornaments were filled with colored snow, I replaced the cap and then set about stringing them onto my ribbon.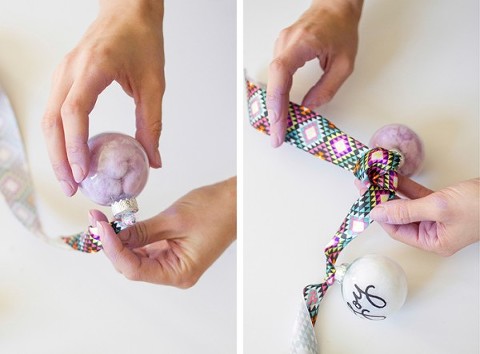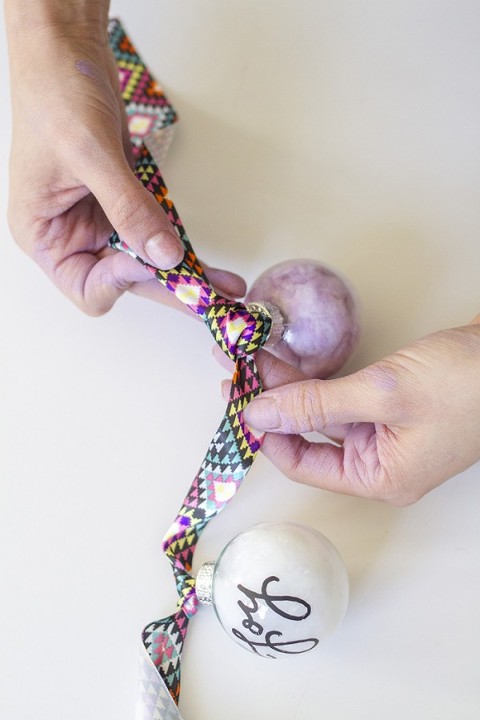 To keep my ornaments an equal distance from one another on the garland, I looped an ornament on and then tied a knot over the metal cap. I eyeballed the placement of each, but tried to keep them about four inches apart.
To hang, I used a bit of gold floral wire wrapped around the garland and our staircase bannister. The bright color scheme and festive words have added tons of character and life to our stocking styling—now it's really starting to feel like Christmas…Just 17 days to go!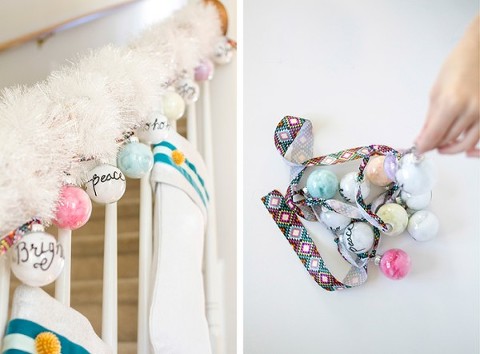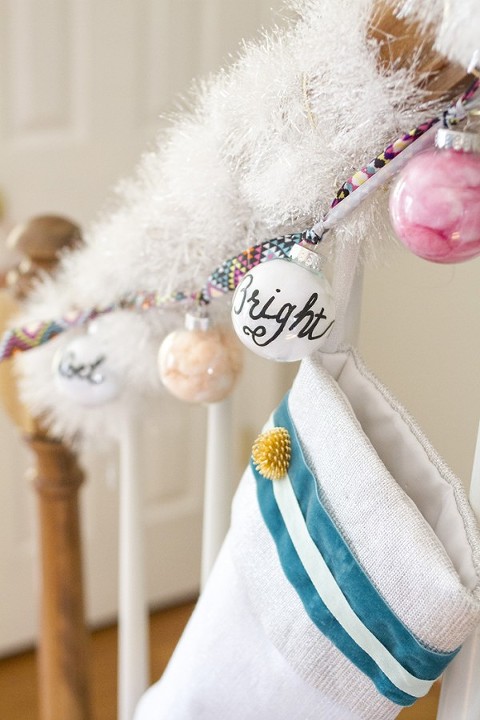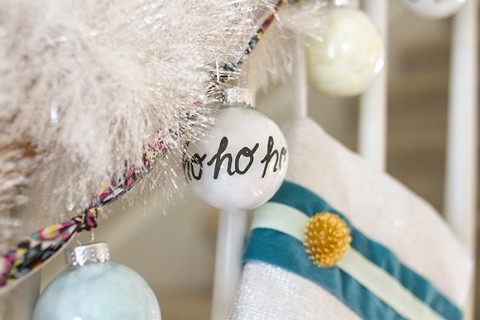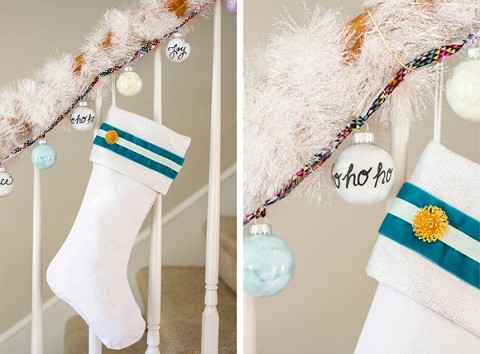 To see the other projects in our DIY Mystery Supply Challenge, click through to the links below: