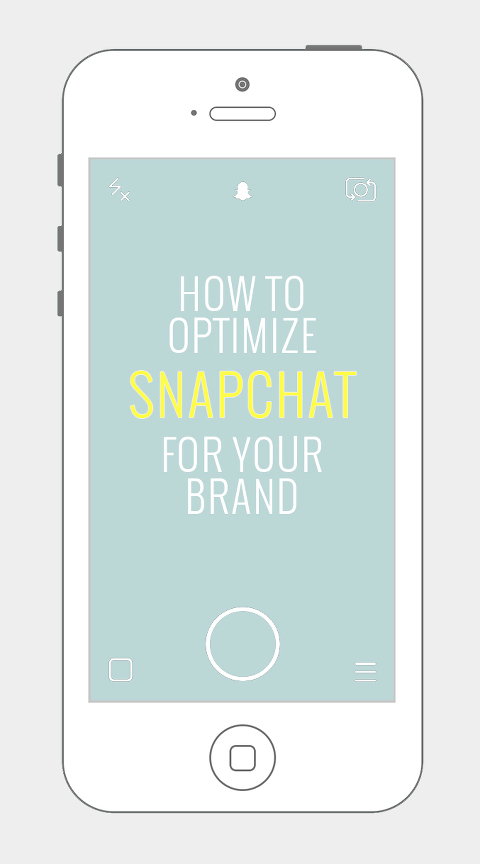 Have you noticed more and more of your favorite brands and influencers mentioning an extension of their content over on Snapchat? Well, in case you're curious about the newly sophisticated social platform—or if you're looking to find ways to optimize Snapchat for your own brand community—I'm here today to share the things that I've personally learned over the past few months.
Not really all that interested in optimizing this social app for your brand? Don't worry—I've also published a companion feature that focuses on how to optimize Snapchat for your BOREDOM instead! It's definitely a fun-filled, two-way street with this social media.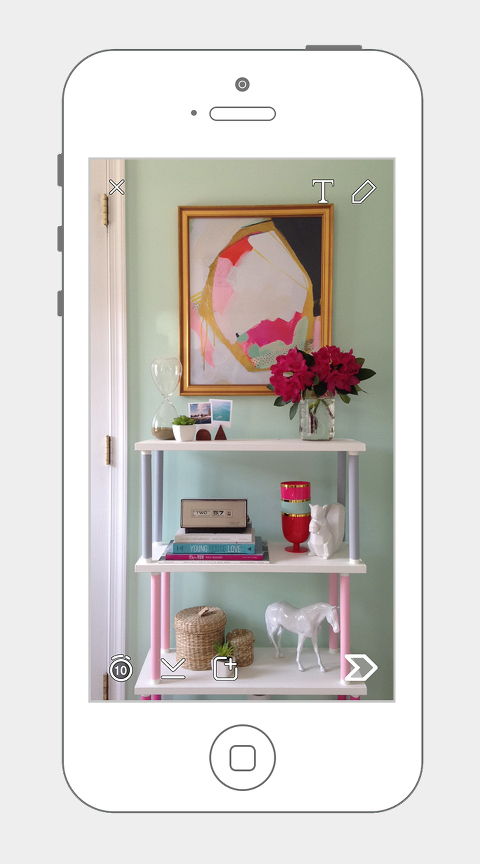 Although I'm going to assume that most of you have at least opened the app on your smart phones, I figured I'd start off by explaining the basic fundamentals. First, Snapchat is a photo- and video-based platform that allows you to share short snippets of your life (10 seconds is the max that you're allowed to capture and post) for an almost equally finite amount of time. Personal Snapchats are viewable only once, so it disappears for good after your specified friend views it, whereas public Snapchat Stories are viewable multiple times, but only within a 24 hour timeframe.
Taking photos/videos and adding captions
Open the app on your iPhone and you'll immediately see the camera mode show up. Frame your shot and then tap the little circle at the bottom of the screen to take a photo. If you prefer to take a video, simply hold the circle down for however long you want to capture your moment (again, 10 seconds is the max you're allowed to film). You can adjust the filter of the image or video slightly after you've taken it by swiping to the right. Swipe multiple times to get back to the unfiltered image/video.
The next step is to add a caption. After Snapping your photo or video, tap the middle of the screen to pull up a keyboard. Type in your caption and hit "Done." Note here that you are VERY limited by how many characters you can add—31 letters, symbols and/or emoticons is the max. To bypass this limitation when it comes to explaining your photos, try taking a video instead and say your intended caption out loud!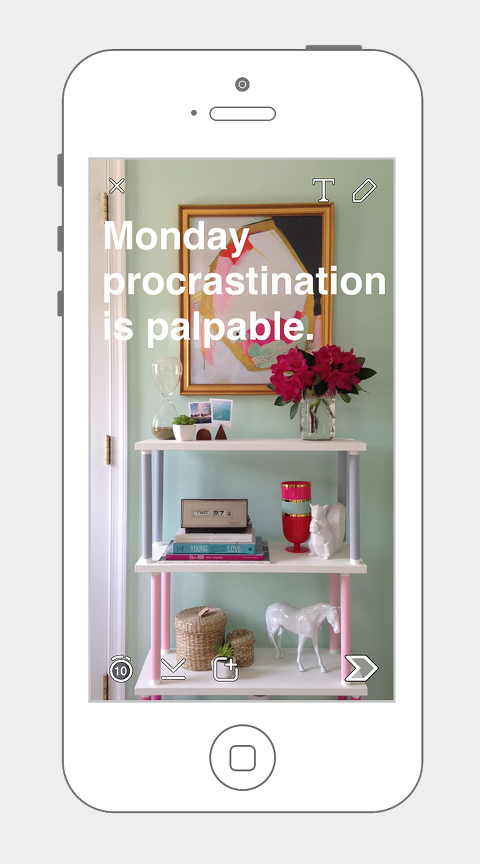 In case you like the look of blown out characters rather than small text on a grayed out box, tap the "T" in the upper righthand corner after you've entered your caption. You'll then see them turn into giant bold letters. Use two fingers and drag in or out to make the letters smaller, to tilt them and to move them around on the screen. To change the color of the letters, tap once on the letters and use the scale that pops up on the right to adjust. Tap the uppercase "T" in the corner again to change the orientation of the bolded text, or to go back to the gray boxed caption.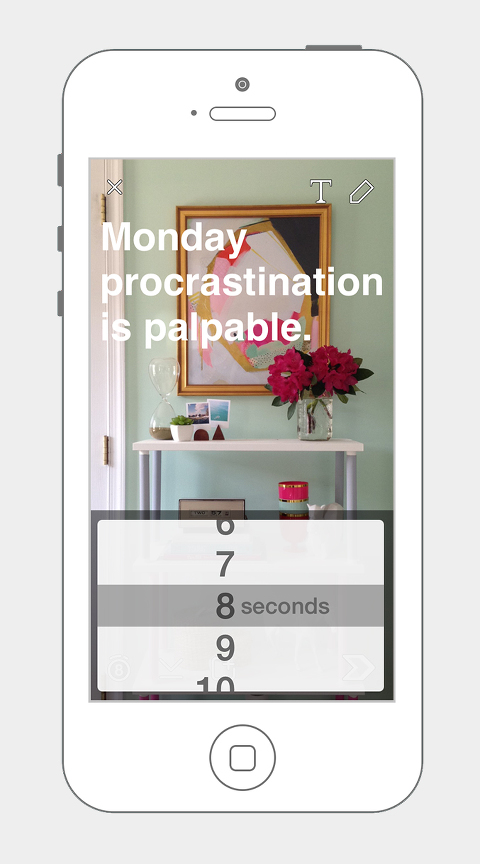 As you can see above, you also can adjust the amount of time your photo will show in the Snapchat Story list (or how long it will show to the person you send it to if you're using the app for personal Snapchats). You can only adjust this on photos—videos will only be as long as you hold down the button to capture the moment.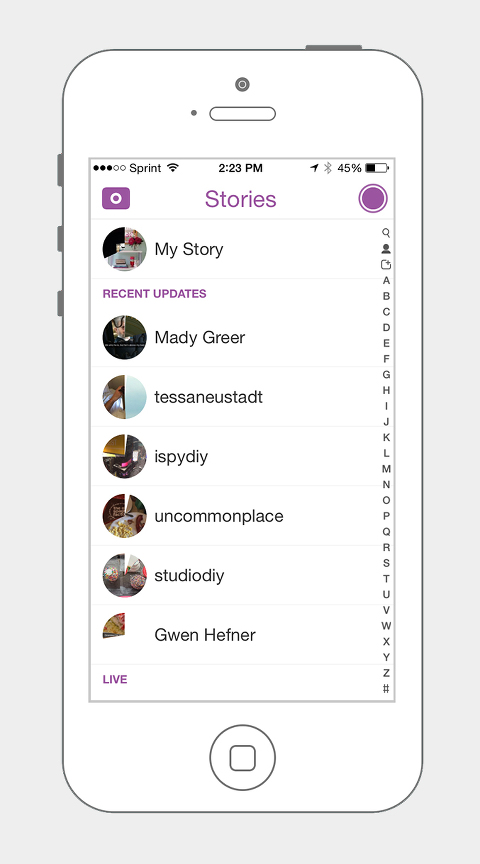 Sharing the Snap
After you're finished, click the animated arrow in the bottom right to send the Snapchat—this will take you to a list of those you follow. If you want the photo or video to be public, tap the circle to the right of "My Story," or send it privately to a specific person by finding their name in the list, tapping the circle by their name and then hitting the animated arrow that pops up.
If you send the Snap as a Story, it will "live" in the Stories dashboard for your whole group of followers to view for 24 hours. If you send it as a personal Snap, your specified friend will only be able to view it once. To view your Snaps or the Snaps of those you follow, just hold your finger down on the icon in the Stories list. If you want to skip over any of your friends' Snaps or Stories while viewing them, just tap the screen once and it will jump to the next one.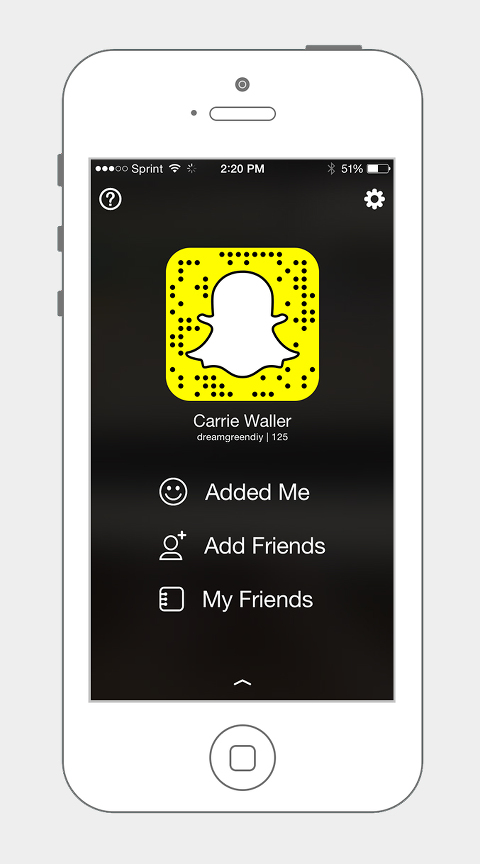 Viewing Followers And Following Back
Speaking of followers, let's go over how to add friends and see who is following you! If you're on your Stories list, swipe to the left (or tap the camera icon in the top left corner) to get back to the main screen, then tap the little ghost at the top. From there, you'll be able to see how many people follow you (it shows as a number beside your chosen handle under the ghost) and a list of who specifically has added you, plus you'll be able to add friends yourself.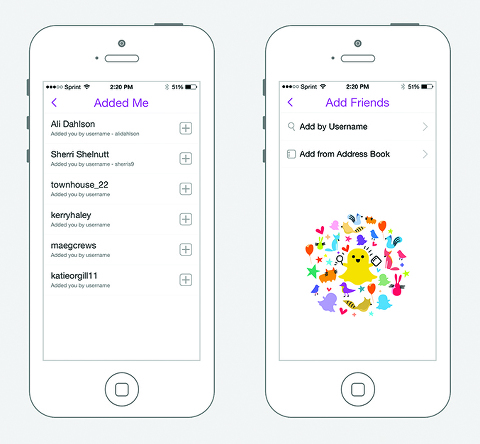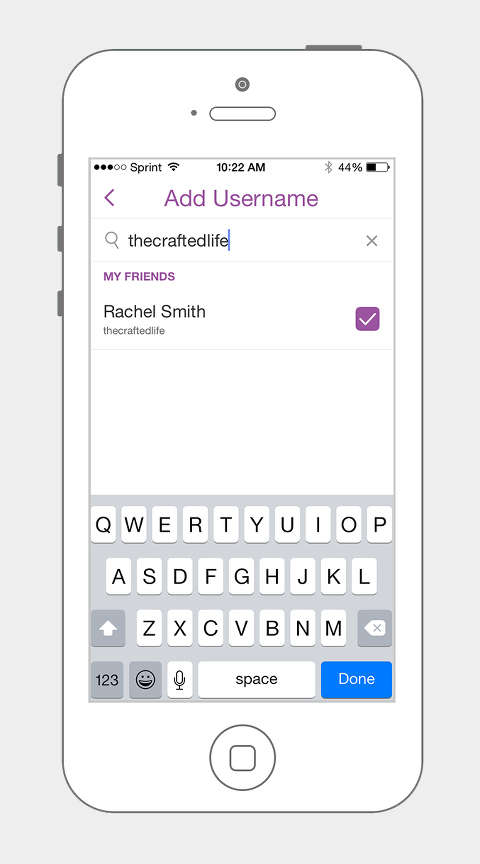 To add friends, tap on the "Add Friends" icon and you'll see two options pop up: "Add by Username" (where you'll type in the username of the friend you're looking to add), or "Add from Address Book" (where you'll click the plus sign beside the contacts you want to start following).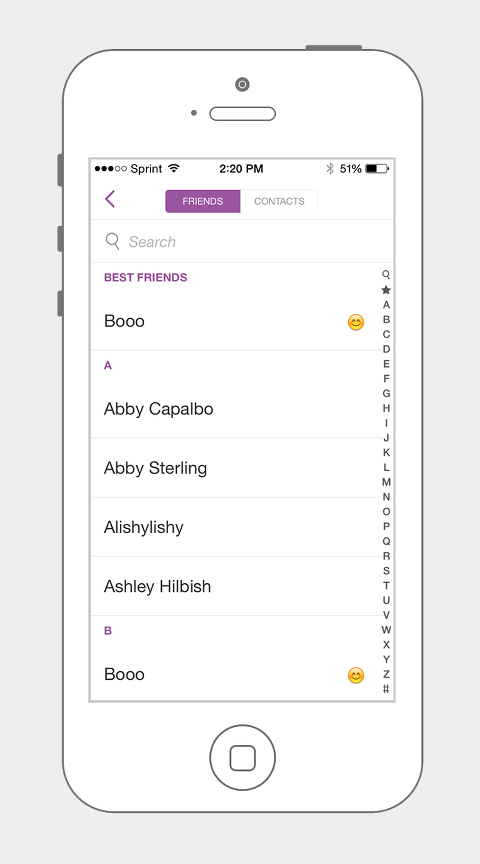 To go back, tap the arrow in the upper corner or swipe left again. From the main ghosty menu, you also can view a list of the people you follow. And yes, my husband is programmed into my phone as "Boo." Don't judge. You'll see smiley emoticons next to the friends you interact with the most. John and I almost purely use the personal mode to send photos and videos back and forth of our dog and cats. They offer endless entertainment.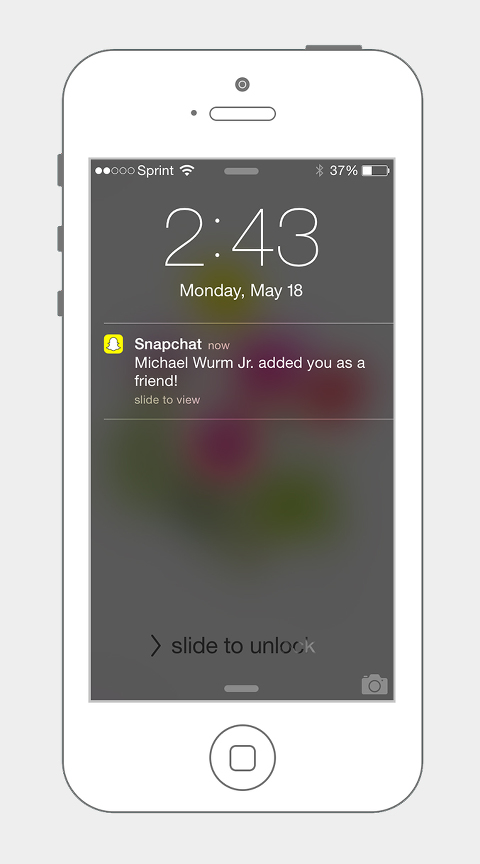 Once you get more and more active and begin the process of adding friends and contacts, you'll start to get happy little notifications on your phone when friends add you back. Thanks for the follow back Michael!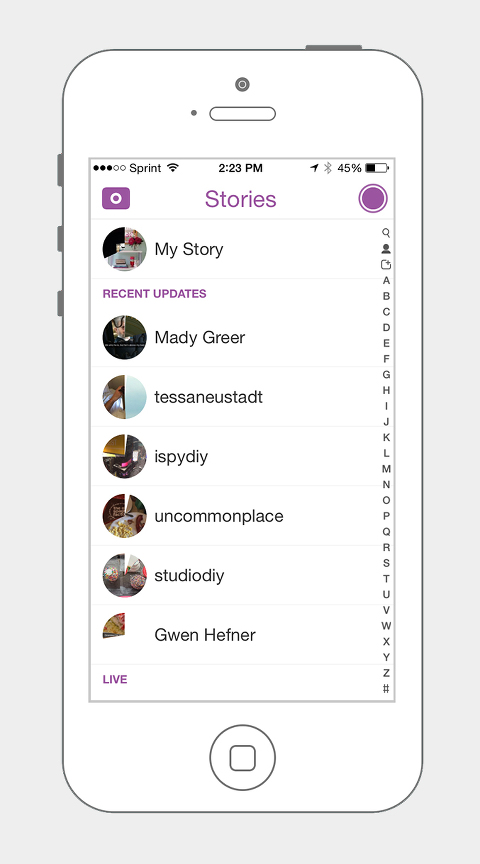 Building A Brand Community
So, that's the general idea behind Snapping content and adding or viewing your followers and friends. Now, let's get into the meat and potatoes of optimizing this casual platform for your brand.
The reason why I love Snapchat is how easy going it is. I have gotten super duper anal about my Instagram account and only share photos that match my brand, retro taste and bright white or color-packed aesthetic. I'm not really willing to kill the curated feel of my Instagram feed with unstyled behind-the-scenes peeks of projects in my studio (or the odd cat video), but now I'm able to turn to Snapchat to offer these snippets to my friends and followers. It's my way of adding a little more realism to my life as a creative, because it is NOT always perfectly styled.
And I love that many of my favorite entrepreneurs, editors and bloggers are optimizing Snapchat in the same way.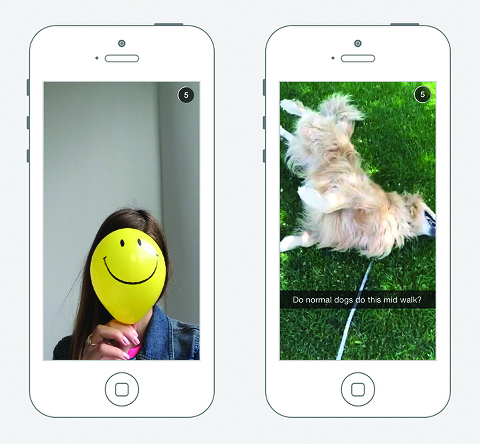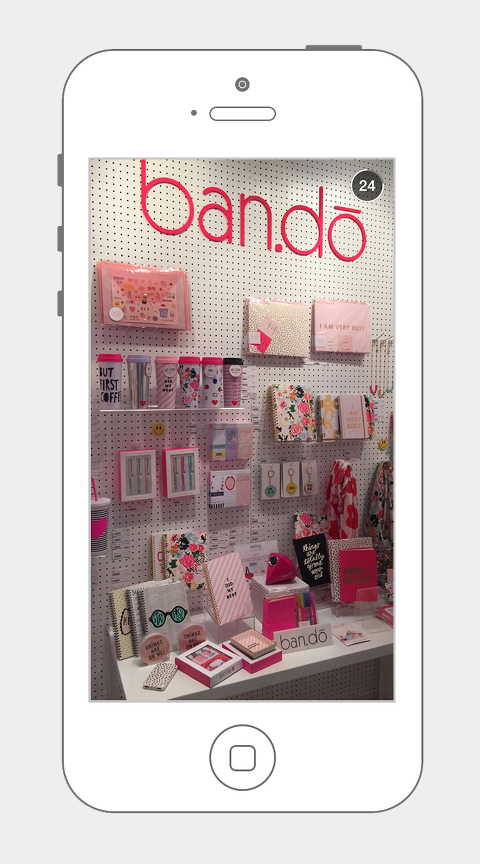 1: Studio DIY | 2: Abby Capalbo | 3: I SPY DIY
Creating a community has really gotten so much easier with the advent of social media, and I'm more than willing to hop on the Snapchat train just so that I can metaphorically let my hair down and share my work without fear of losing a follower or two. It's sort of a petty struggle, this constant follower tally, and I hate to admit to it but I think we all do it in some way or the other…The day that I start caring about my Snapchat follower count though is the day that I delete the app off my phone!
In case you're looking to get to know the real life story behind my brand and work (okay, and our pets, too), feel free to follow along on Snapchat—my handle is @dreamgreendiy. And for more information on how to optimize the platform, click through to my companion post for ways to optimize Snapchat for your boredom, or visit the Snapchat website for FAQ and more videos. Of course, I'm no expert and this is in no way sponsored by Snapchat, so if I misrepresented or mislabeled anything—or if you have some tips of your own—do share in the comments.
(iPhone vector image via)
P.S. Don't forget to enter the $100 Kate Aspen party supply and wedding favor giveaway!