I'm going to be flat out honest with you. I bought Paper to Petal: 75 Whimsical Paper Flowers to Craft by Hand, by Rebecca Thuss and Patrick Farrell purely, 100% for the cover. Is it not the most lovely thing you've ever seen? Since getting the book home though and finally tearing my eyes away from the front surface long enough to peruse the rest of the pages, I'm excited to announce that the book is much more than just a pretty cover. It's filled with swoon-worthy photos that you really have to see to believe. And the best part—and, of course, the real reason why you should buy the book? You can learn to craft every single detail on your own.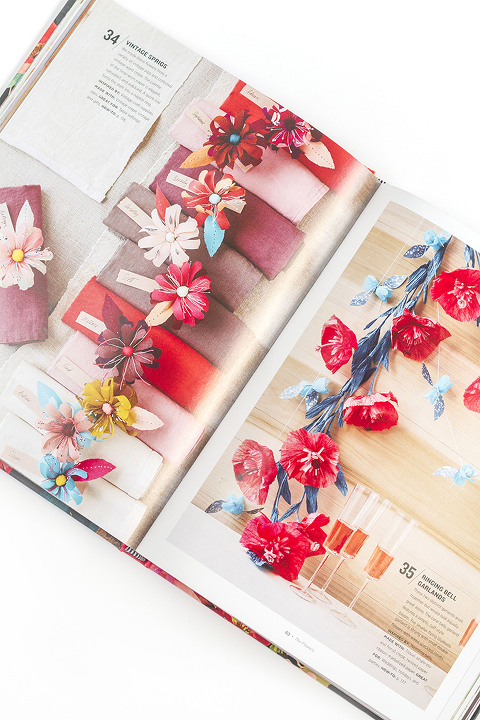 WHO SHOULD READ IT
This book is for the patient crafter looking to add a bit of pretty, delicate color to their home, their office—heck, even their car! If you have a love for party planning, decorating, weddings and styling then Paper to Petal may just be your new favorite thing. Even though the book is quite massive given its seemingly simple subject matter, it's broken into thoughtful sections so that you can go from little more than a wannabe fan to certified paper bloom creator in no time. It begins with a breakdown of the paper flower designs (spoiler alert: there are 75), and then goes into the step-by-step process for each one. The authors even break the stems down by difficulty level so you can hone in on those you want to tackle first before moving onto the big blooms.
THE TAKEAWAY
It's all a little overwhelming—but, truthfully, in the very possible sense. This is NOT the type of book you'll devour in one day. Instead you'll want to take it one page at a time and read the carefully crafted words and descriptions, again, one at a time. As someone who is a little impatient, I may have gone about this book in the wrong way, skipping straight to the "How To" section and bypassing all of the beautifully styled photos and descriptions. I was able to eek out a flower, but I think I need to take a deep breath and dive in for a deeper read my next go around. This book is a masterpiece that can only be enjoyed properly with a slow and steady read.
FAVORITE FLOWER
I adore the "Vintage Sprigs" from page 62 (pictured above on the left side). The designers used aged vintage crepe paper, which I think adds so much to the dainty little flowers. I'm also more than a little infatuated with the idea of turning them into napkin rings.
If you've read (or plan to read) the book, be sure to leave your own review in the comments when you're finished! And don't forget to tag us in your social shares and use the hashtag #DGDonmycoffeetable for a chance to be featured. Up next? Design*Sponge at Home, by Grace Bonney.