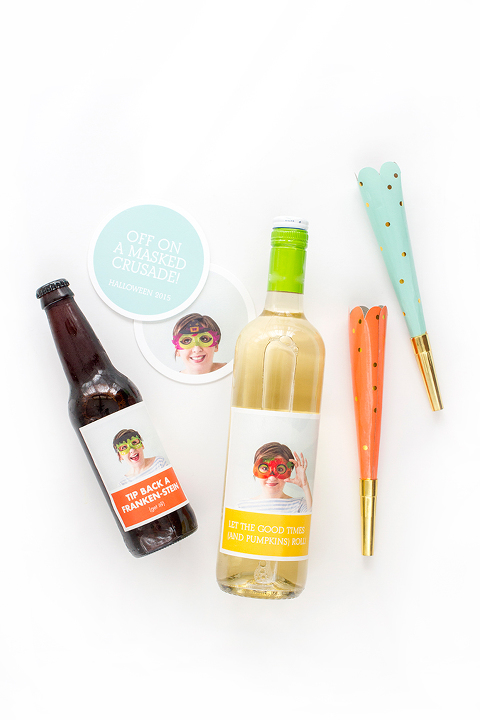 Want a beyond-simple way to dress up your Halloween soirée? Or maybe you're on the hunt for the perfect hostess gift for this weekend's adult-friendly festivities. Well, have I got a solution for you! For this 20-minute holiday-themed DIY project, I teamed up yet again with the folks at Pinhole Press. The idea was to create customized, cheeky Halloween bottle labels that suited an older drinking crowd, but with all the childlike fun that this holiday is based around.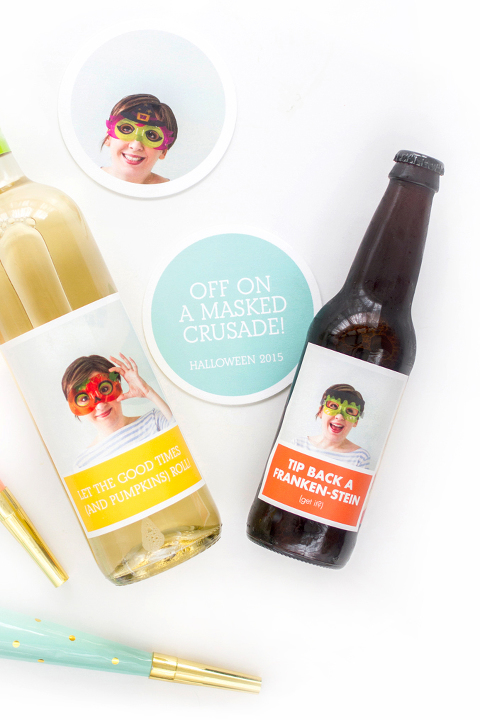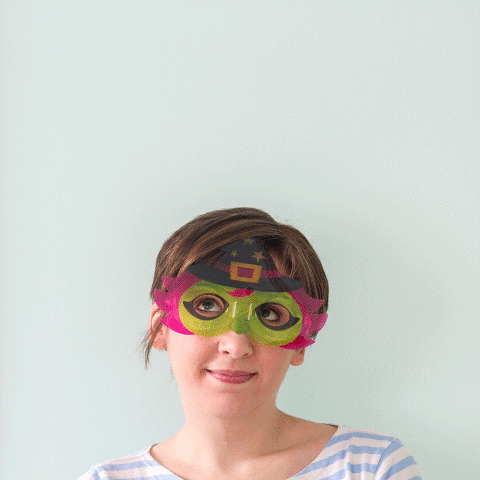 So, right before I packed up everything in my studio in the old house, I plopped myself in front of a blank wall with three Halloween masks (snagged from the Dollar Section at Target) and a tripod, and then got to snapping. All it took was about fifteen minutes to get my pics, and then I quickly uploaded them to the Pinhole Press website, where I added them to bottle labels and coasters.
For the beer bottle labels, I typed up a phrase to go in the box along with a (ridiculous) photo of me in a Frankenstein mask. The phrase? "Tip back a Franken-stein (get it?)" As for the wine bottle, that pumpkin-faced label got its own custom saying: "Let the good times (and pumpkins) roll!" I finished off the Halloween-themed collection of barware goodies with coasters that read simply, "Off on a masked crusade! Halloween 2015," on one side, with an array of masked portraits on the other side.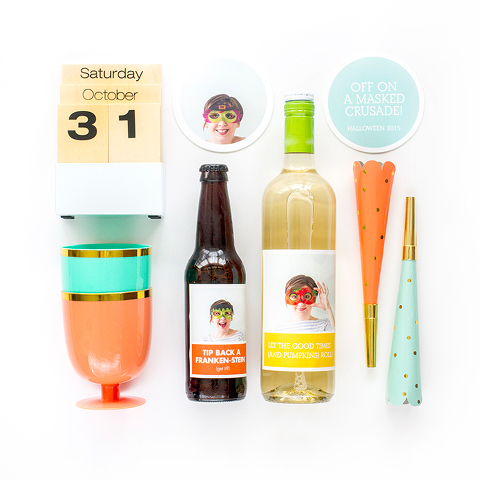 This collaboration was actually just supposed to be a quick styled shoot for the Pinhole Press Instagram account, but I had so much fun putting the project together, that I just had to tell you about it here. Plus, the whole thing is super speedy and budget friendly! Five days and counting—who are you going to be this year?

P.S. In case you haven't entered the contest yet, make your way back to last Friday's post for your chance to win a $50 shopping spree!