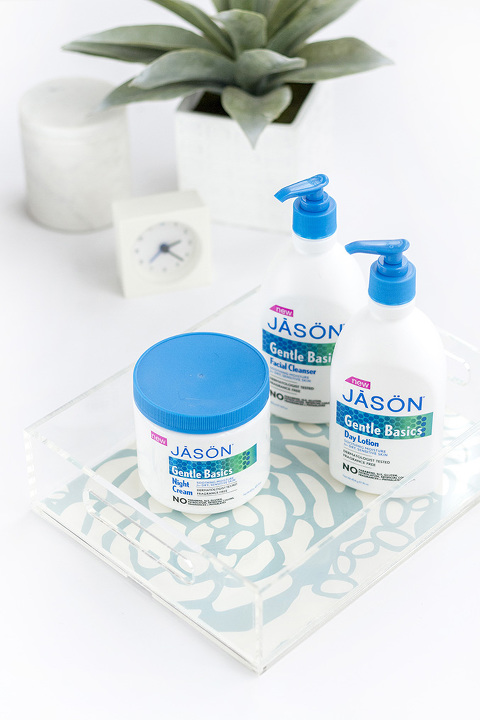 I know it's absurd—and I have a feeling that this personality trait of mine is John's least favorite thing about me—but I can't stand when things aren't impeccably tidy. Whether it's a lopsided throw pillow on the living room couch, or a pile of mail on the counter, I immediately go into panic mode and have to tuck, arrange, or primp until everything is "just so."
It's, of course, the worst in the bathroom where utilitarian beauty products and toiletry items are aplenty and difficult to group together in a pretty way. So I decided to head off my OCD reactions with a pleasing-on-the-eyes DIY Wallpaper Lined Beauty Tray that corrals everything in orderly bliss. Honestly, this tutorial is so simple, it hardly warrants an explanation! But you know I'm anything but short-winded, so I'm breaking the 10-minute project down for you below just in case you're looking for a play-by-play.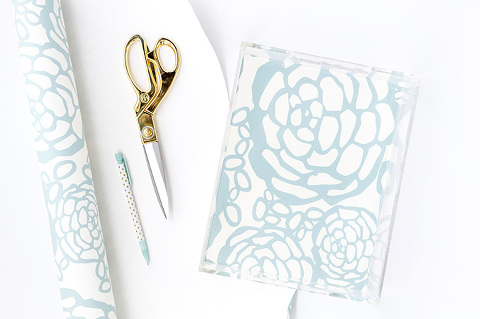 Lay your wallpaper flat on a level surface, patterned side down, and then lay your tray on top. Trace around the edge of the tray onto the wallpaper with a pencil, and then cut the piece of wallpaper out.
Slip the cut wallpaper inside your plastic tray, or, if your tray doesn't have an insert area, use clear spray adhesive to attach it to the underside of your tray, patterned side up. Allow the glue to dry if you went that route and seal with a couple coats of Mod Podge Clear Acrylic Sealer. Finish by styling it on your bathroom counter with your favorite beauty products inside. That's it! You're all finished.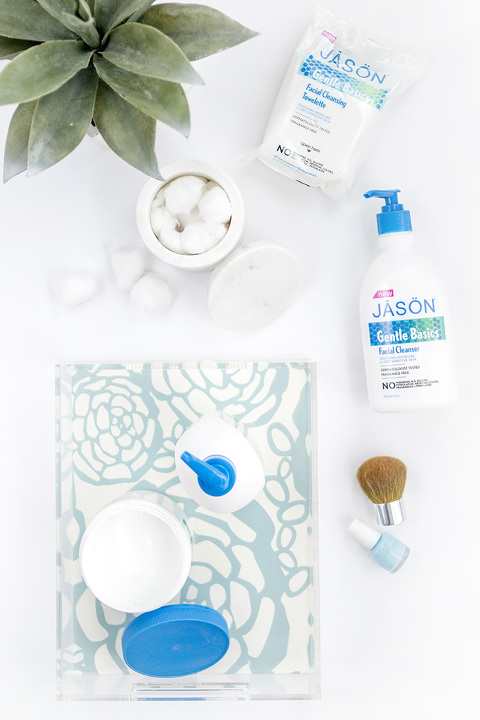 Of course, it's no secret that I intentionally picked a blue and white wallpaper pattern to match my collection of JĀSÖN Gentle Basics beauty bottles. Truth be told, I've never been all that good about washing my face every day—I know, the horror, right?! But we just added brand new white linens to our bedroom, and I'm not about to get my foundation and eye liner smeared all over our bright white sheets.
I've loved the JĀSÖN brand for a while now because their goodies don't contain any nasty parabens, artificial colors, and mineral oil. Since making JĀSÖN an official part of my daily routine, I've loved how soft my face has felt thanks to the non-irritating minimal-ingredient formula—you'd never believe that my skin was battling a dry winter. And now, I can keep my favorite products out on the counter guilt-free when styled in my made-over beauty tray. My skin is happy and my style-obsessed eye is satisfied, too—done and done!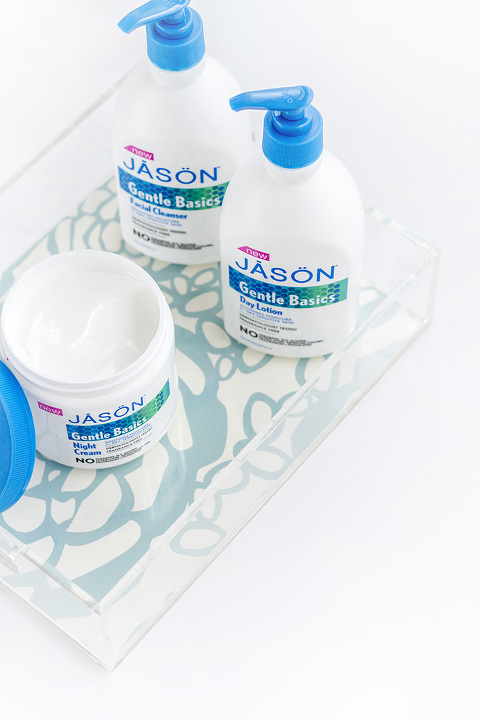 Are you a bit obsessive compulsive when it comes to cleanliness in your house, too? Please tell me I'm not alone! I'm working hard to embrace imperfection in all areas of my life this year, but I don't think I'll be giving up my need for order anytime soon.