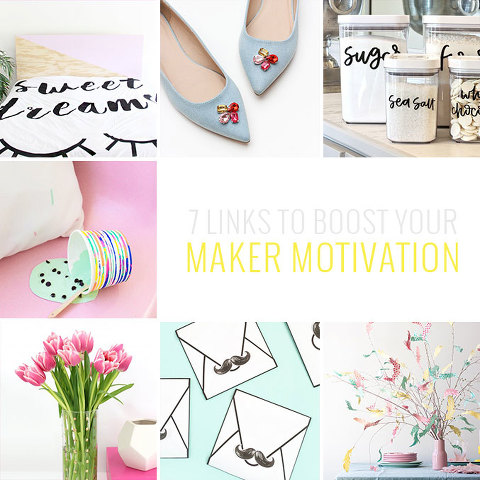 Well, folks…Let's just say that the fact that this post even exists today is an absolute miracle. I came down with some kind of bug or monumental migraine headache, which has succeeded in wiping me out for two solid days. I'm typing this from bed with an ice pack on my head and a pharmacy's-worth of pain killers by my side (partly kidding about that last one).
Suffice it to say, I didn't get a whole heck of a lot done this week in terms of projects, and my weekend is shaping up to be a quiet one, too, as I continue to recooperate. A little heads up that next week may be a little slower than I'd like, but such is life…Here's hoping that you skip over the seasonal illnesses that are going around so that you can tackle any of these cool DIY projects that caught my droopy eyes this past week!
7 DIY Links To Boost Your Maker Motivation
Painted Plywood Headboard

, via A Bubbly Life

DIY Rhinestone Flats, via The Crafted Life
Free Printable Pantry Labels, via The Creativity Exchange
DIY Ice Cream April Fools Prank, via Studio DIY
DIY Gold Polka Dot Vase, via Lines Across
DIY Mustache Seals, via Maritza Lisa
DIY Paper Feather Tree, via The House That Lars Built
And in case you missed some of the fun content that went live right here on DGD, click back to see my recipe for Couscous Tabbouleh With Feta, a quick DIY Wallpaper-Embellished Dresser makeover, and 3 Uses For A Copper Triangle Scarf Holder. Got a fun link of your own to share? Drop it in the comments!
Get daily maker inspiration on Pinterest