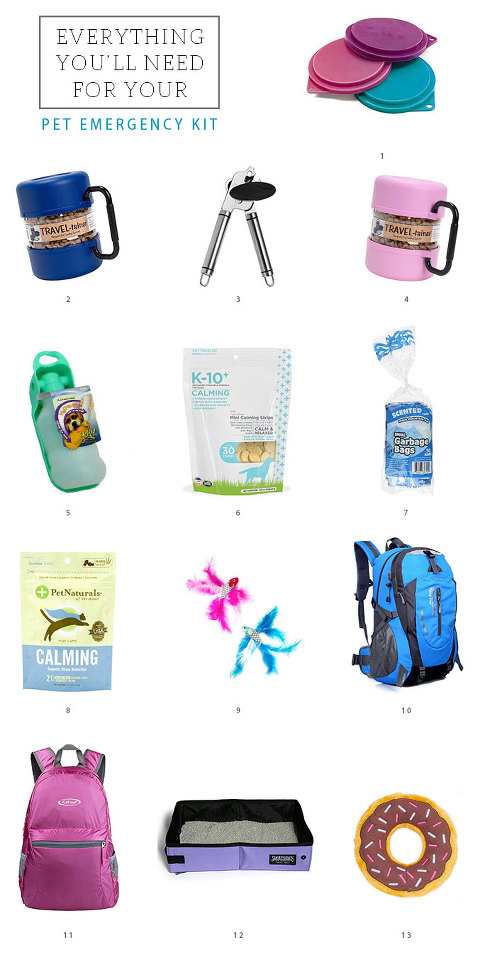 I sort of hate to admit this, but I am an incredibly, monumentally paranoid person. I always imagine the absolute worst. I just started to type out a few of the worst-case-scenerios that pop into my head on a daily basis, but then stopped myself when I realized that you guys would think I'm an absolute nutcase—you wouldn't be that far off the mark! At any rate, because I'm a big ol' worry wart, I tend to like to be as well-prepared as I possibly can be, and a fully outfitted pet emergency supply kit has been on my to-do list for ages.
In light of this season of organization and spring cleaning, I thought it was the perfect time to get this project crossed off my list. I spent about an hour researching and gathering all of the must-haves for our pet emergency supply kit—you know…Just in case! If you've been looking to put together your own DIY worst-case-scenerio supply kit, here's a quick breakdown of everything you'll need according to the SPCA.
Your Pet Emergency Supply Kit
A minimum of three days' food in airtight, waterproof containers for each of your pets. I like these Pet Travel-Tainer Bowls because they go from containers to bowls in seconds. The fun colors caught my eye, too! Don't forget to include a Stainless Steel Can Opener and Food Can Covers just in case you have to make do with what you're offered while outside of the house.
Three days' worth of water set aside expressly for your pet. This Water Dispenser is a great way to offer your pet comfort as they lap up away from home.
Leashes and extra collars for dogs. Have ID tags on hand as well, and if you want to be REALLY crazy, pack a Kitty Harness for each of your kitties. If we have to leave our house in a hurry with a dog and three cats, you better believe I'm not carting our trio of felines around in their crates while we're sheltering elsewhere! Time to put those long, lanky legs to good use, ladies.
Up to date photos of you and your pet in the same shot just in case you get separated, God forbid.
K-10+ Calming Advanced Chewable Formula for Dogs and Pet Naturals Calming for Cats to manage everyone's stress levels, which will likely be running high.
If you're able to bring them, pet carriers with blankets or towels tucked inside for comfort will be a luxury you won't regret prioritizing.

Foldable Water Tight Box

and pet litter. Bonus points for packing a pile of newspapers, a roll of paper towels, and Trash Bags, too!
Familiar toys and treats. Our kitties would go ga-ga for these Fish and Feather Teasers, and Rocky, our hound dog, wouldn't say no to this cute Donutz No-Stuffing Dog Toy either.
I keep all of our supplies packed in a Waterproof Nylon Backpack that's tucked away in the hall closet, and I also stuck a second Lightweight Packable Backpack inside the first in case we both need to shoulder a load.
Although I hope that we never have to use our pet emergency supply kit, it sure feels great knowing that we have it all packed and ready to go, come what may. What sorts of organization projects do you have up your sleeve this season?