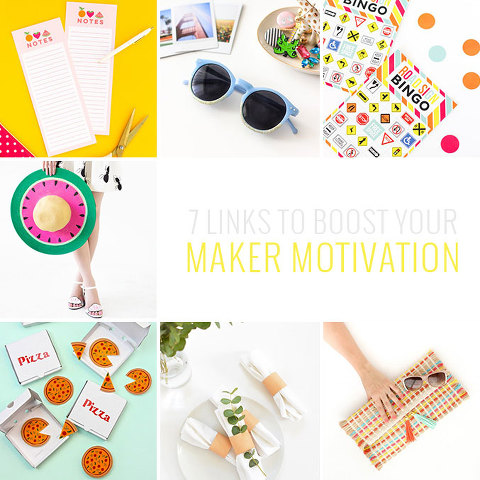 What do you have planned for Father's Day this weekend?! I hope you have lots of fun celebratory schemes up your sleeves. I am actually headed home this weekend to celebrate a dear friend of mine who's having her first baby, and I was also planning to make the most of my trip home by spending some quality time with my dad. Turns out though that he's headed out of town for the weekend, so I'll just have to take my mom out to brunch on Sunday instead! You're missing out, Pops! But I still love ya…
In case you're looking to get creative this weekend, here are seven links that caught my eye.
7 DIY Links To Boost Your Maker Motivation
And if you happened to miss some of the fun content that went live right here on DGD, click back to see the tutorial for my DIY Baby Shower Sticker Snack Toothpicks, the dramatic before/after reveal of our Reupholstered Mid-Century Lounge Chair, and the story behind my latest Thrift Store Score: A Pretty Pink Clock Radio. Got a fun link of your own to share? Drop it in the comments!
Get daily maker inspiration on Pinterest