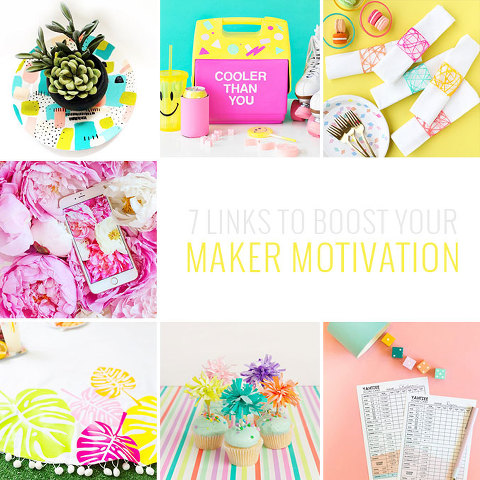 Not only is it my sister's birthday this weekend (yippee!) but it's also National Ice Cream Day on Sunday—so basically, I have a party-filled weekend ahead and I'm not complaining. In fact, I'm downright giddy at the idea of spending some quality time with my family to celebrate the occasions, and plan to hit up the J.Crew factory outlet and all of my favorite hometown restaurants while I'm visiting back home.
What are your weekend plans? Are you going to be indulging in your favorite ice cream flavors in honor of the holiday? If crafting is on your brain, any of these seven fun DIY projects should keep you busy now through Monday, so just take your pick.
7 DIY Links To Boost Your Maker Motivation
And in case you missed some of the fun content that went live right here on DGD, click back to learn How To Get Your Blog Noticed By Magazine Editors, a quick DIY Colorful "Meow" Sticker Cat Food Container, and my recipe for Homemade No Churn Chocolate-Covered Strawberry Ice Cream. Got a fun link of your own to share? Drop it in the comments!
Get daily maker inspiration on Pinterest