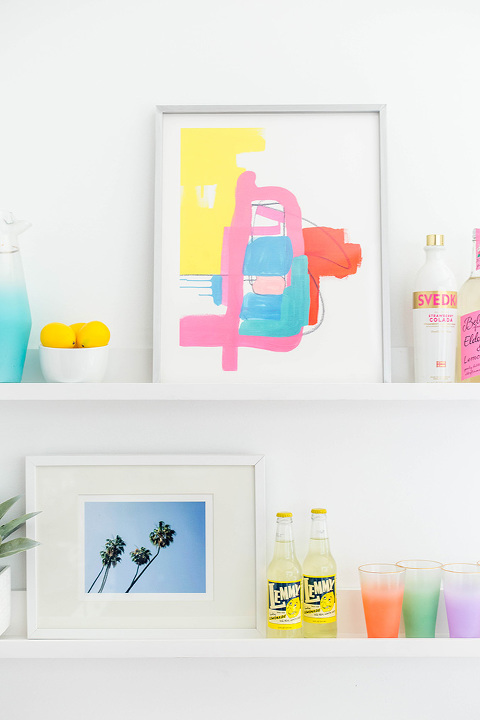 It's time for a brand new "How To Style [INSERT SURFACE HERE]" feature! You guys know that I am certifiably obsessed with the art of a finely arranged surface, and today I'm taking things up and onto the wall. More specifically, I had the chance to test out the new line of wall shelves from Minted, and couldn't be more infatuated with them—I seriously want one in every room.
As I waited for my two 4-foot white 'Artful Shelves' to arrive, I spent more time than I care to admit considering the room styling options. Do I put them in our bathroom to hold pretty perfumes and lotions, or maybe the bedroom to show off my jewelry collection? Or maybe I could hang them in our family room to display our vinyl records?! In the end, I decided to hang them front and center in our dining room, and you'll see the two arrangements I tested out below. I can't wait to hear which one is your favorite!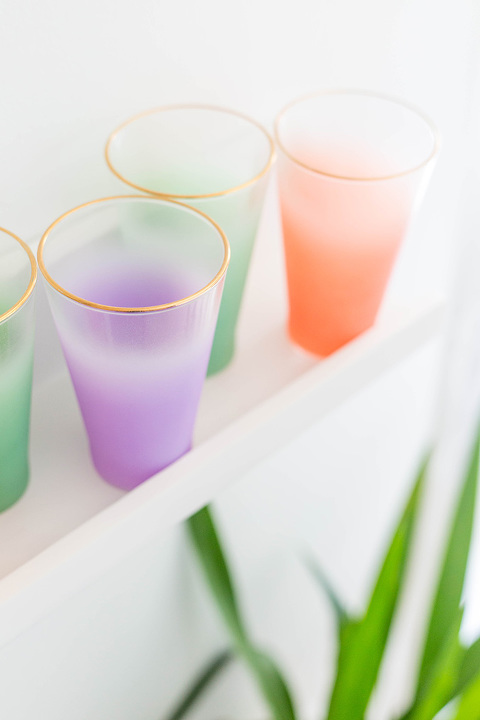 Styling Option #1: Floating Wall-Mounted Bar
In case you have kids (or pets with really enthusiastic tails—our dog is certainly guilty!), then a wall-mounted bar could be the perfect replacement for a traditional bar cart or buffet. This option gets all of those breakable bottles, glasses, tumblers, and cocktail accessories well out of reach from little ones and fur babies, but you can still easily access everything when the mood strikes.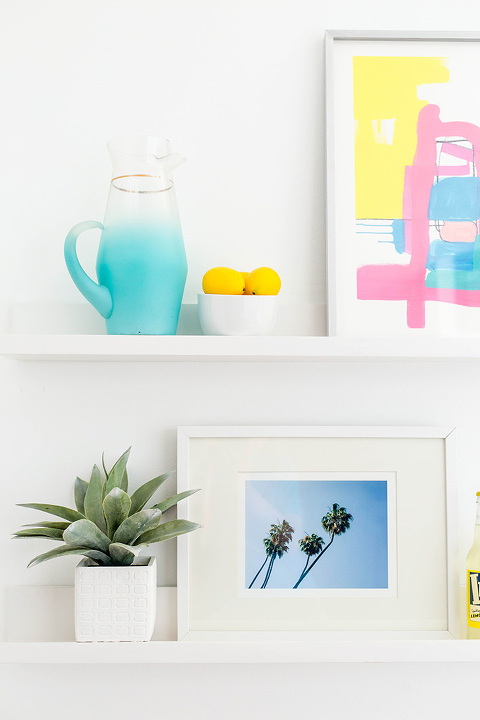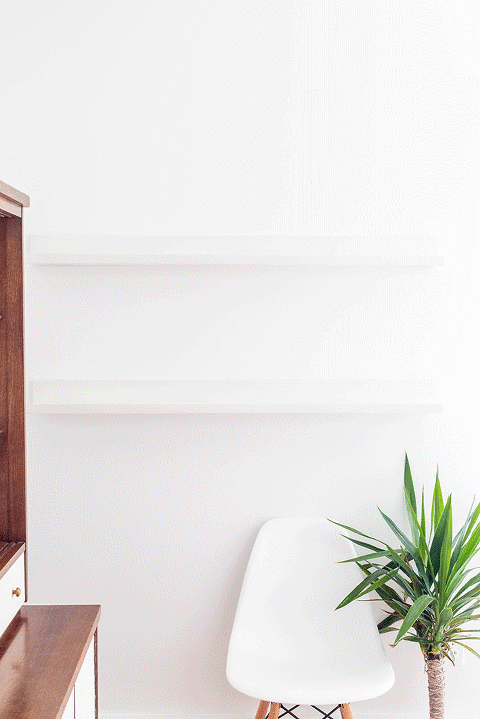 I filled the shelves in our dining room for this set up with my vintage Blendo pitcher and glassware collection, a few bottles of soda and spirits, plus a bowl of lemons for easy glass garnishing. Finished with a small plant and a couple of pretty Minted prints (Composition 2 by Jaime Derringer and Palm Lean by Alexandra Nazari), I was ready to entertain.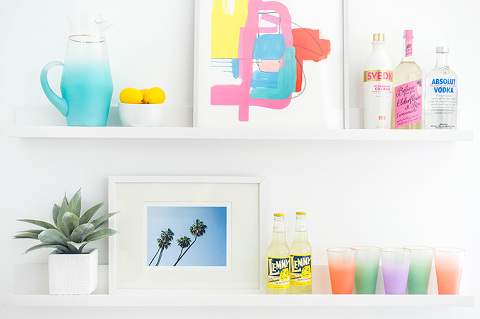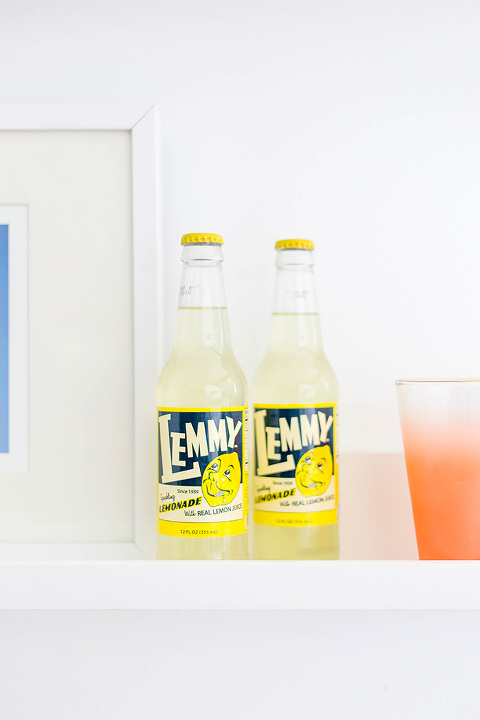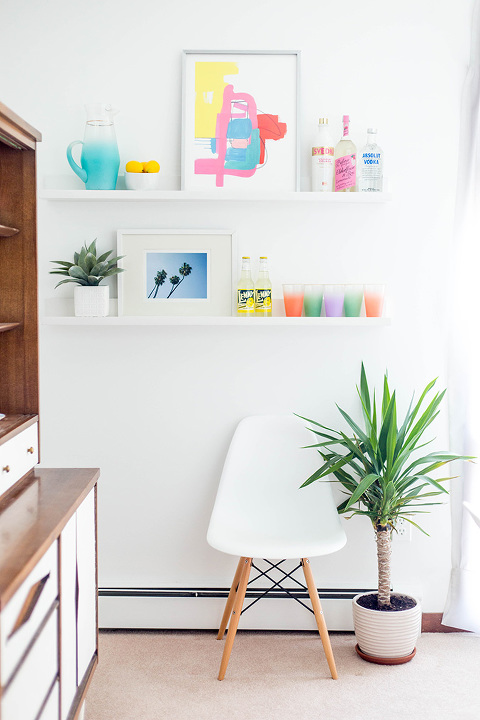 I think of the two styling options you'll see here today, this one is my personal favorite because I just love having the excuse to show off the bold Palm Springs-inspired colors pulled from our everyday bar cart, but I also think the practicality of this option makes it a winner. If you live in a small space and don't have room for a bar cart on wheels, this is the perfect way to make it work without sacrificing floor space.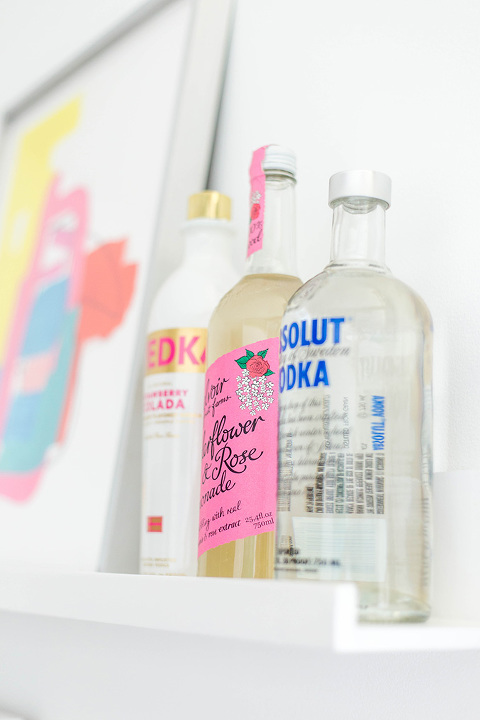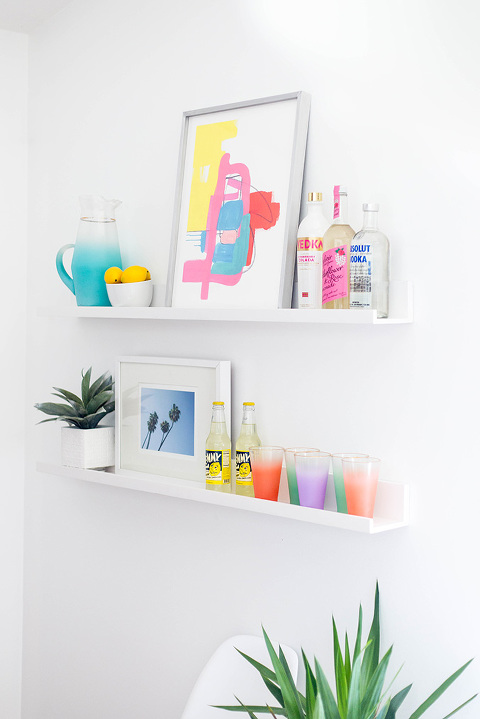 Styling Option #2: Cooking & Entertaining Books
Not be missed, option two sports its own wow factor and even a bit of practicality itself! For this idea, the plan was to create a zone where I could stash all of our entertaining books and heirloom-worthy recipes and cookbooks. I've recently been on a purging kick, and have donated armloads of old cookbooks that we never used, so having a spot to display the few that made the cut makes me practically giddy.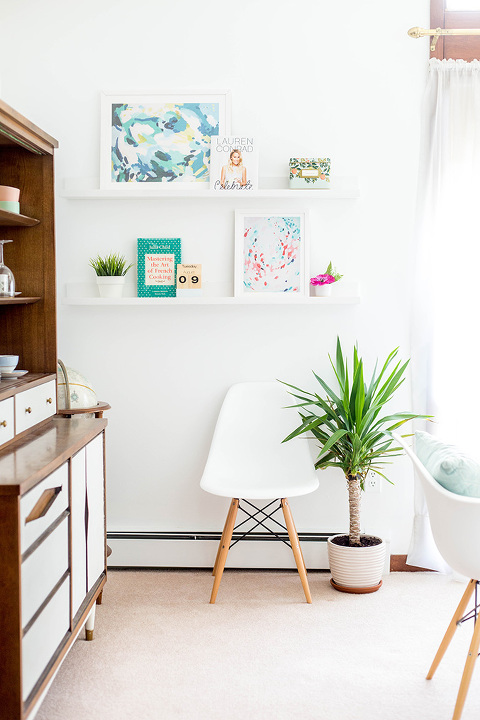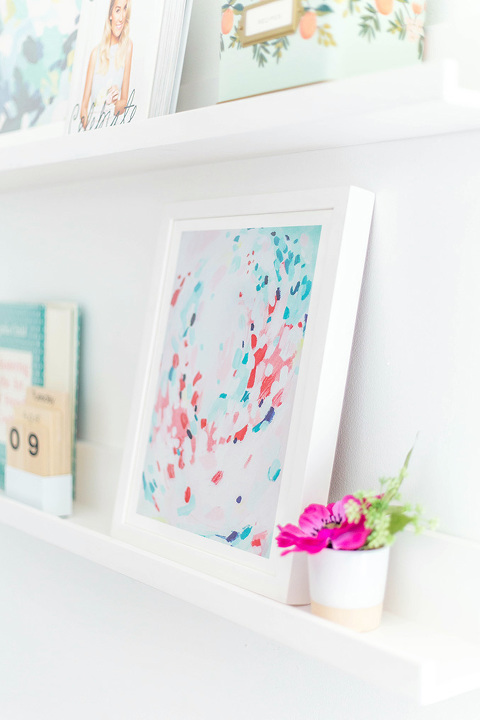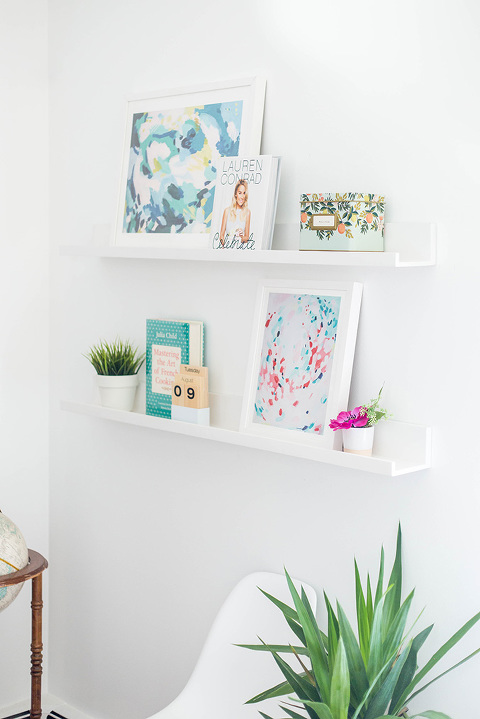 This styling option is a little more organic and decorative than the floating bar, but it's actually the one that I kept up after this shoot was finished. I just love having our go-to kitchen/dining room books within easy reach, plus the poppy art, plants and flowers are the cherries on top.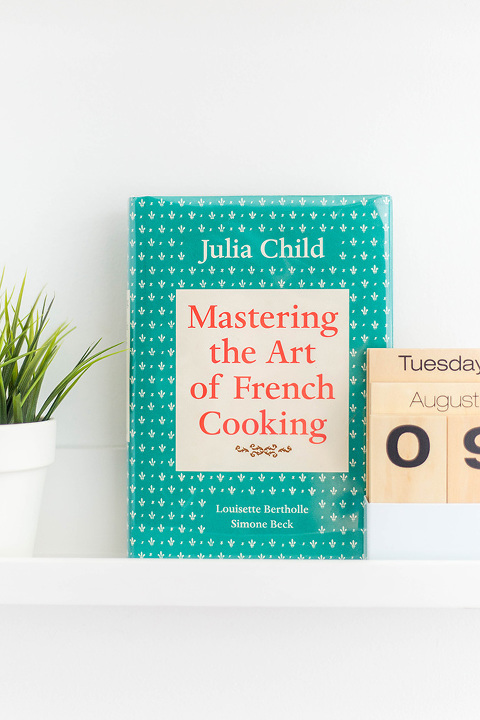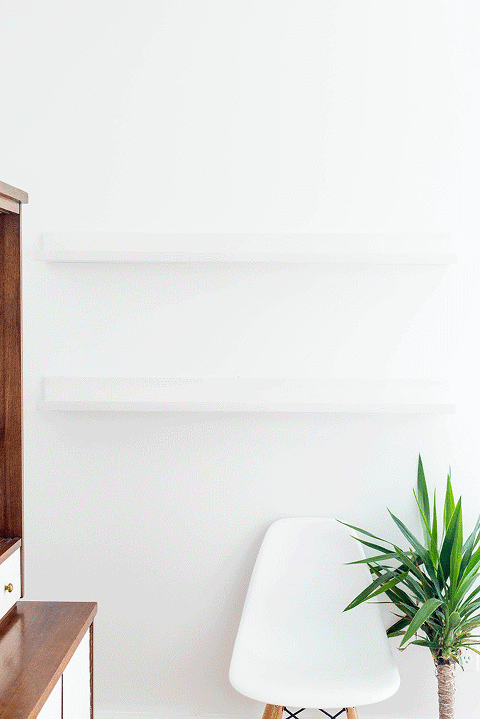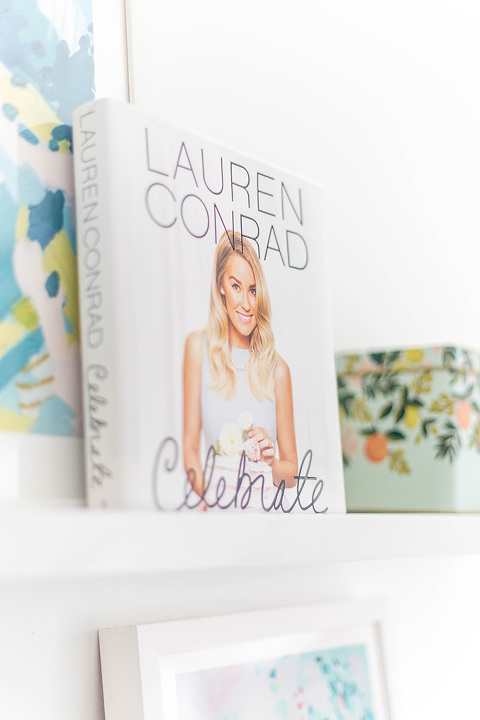 Speaking of art, for this arrangement, I chose to lean our printed and framed copies of Dash and Beep, both by artist Katie Craig. The abstract color palette is an ideal match to my vintage copy of Mastering The Art Of French Cooking, my new Celebrate book, and the Rifle Paper Co. recipe card box that my mother-in-law gifted me for Christmas one year.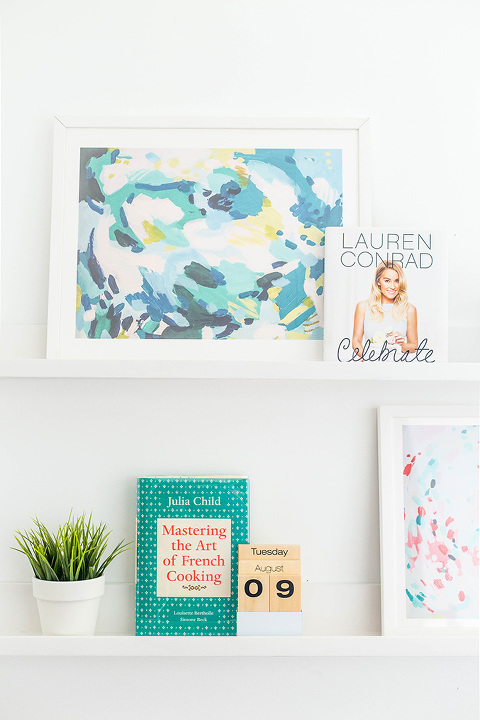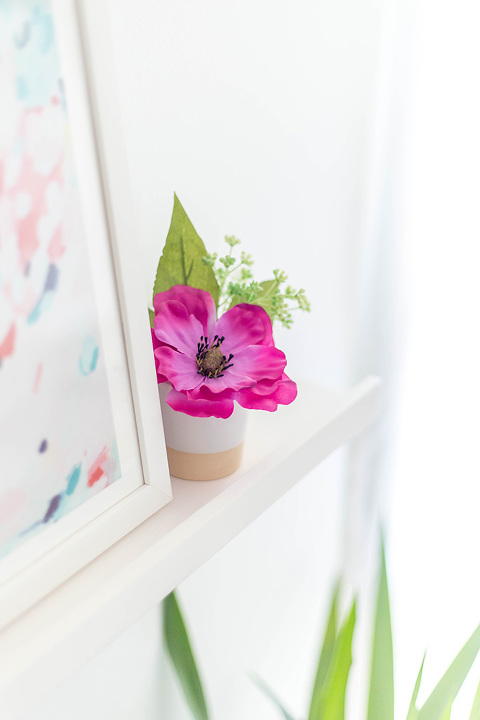 Do you have a favorite option between the two? Like I said, it's pretty hard for me to choose personally. I love the bold colors of the floating bar cart, but the muted tones and sentimentality of the book/recipe display has so far stood the test of time in our house. Leave your vote in the comments, and sneak a peek at the new line of wall shelves from Minted right here!
By the way, I highly advice you to Shop Dining sets at Furniture Superstore, because that's where I got mine and it's styling yet affordable.