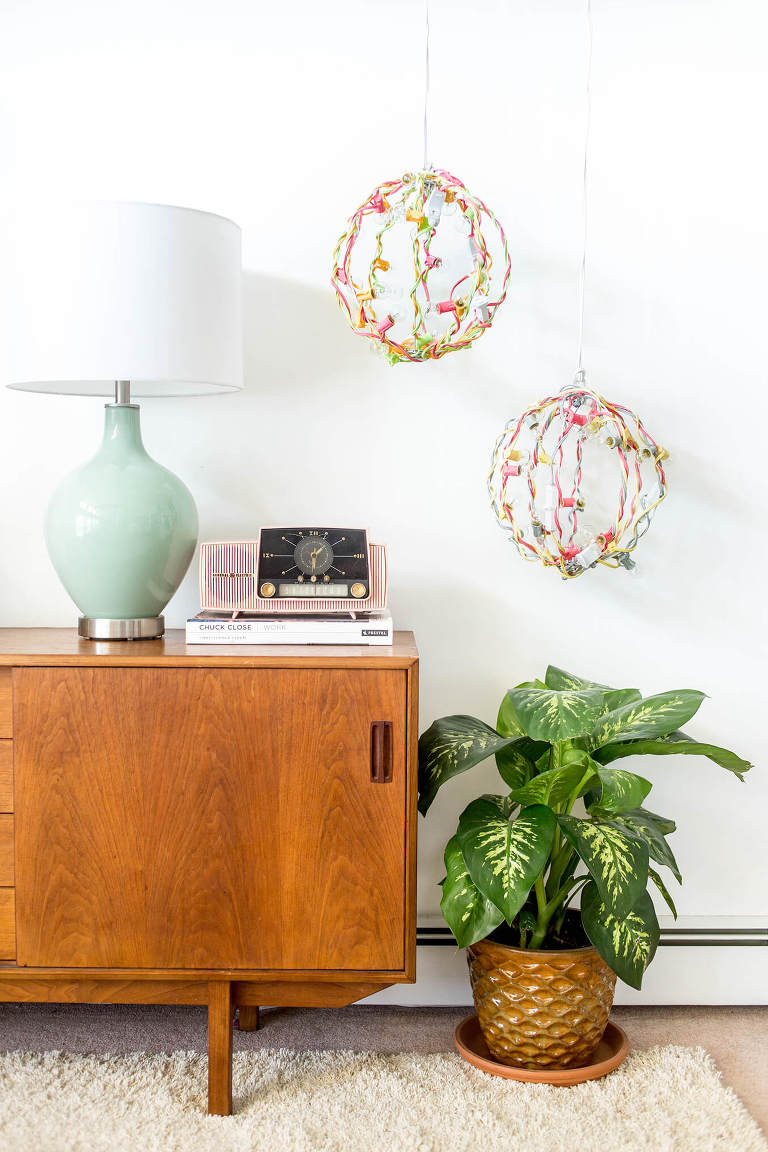 Although I'm no stranger to projects that involve supplies like paint, glitter, screwdrivers, and even a handheld saw or two, I tend to shy away from most electrical projects. Anything to do with intense wiring and the need to have a phone nearby for emergencies makes me nervous, so John often ends up spearheading those types of projects as they arise in our house. Long story short, when the idea came about for today's DIY Portable Industrial Color Pop Chandelier, I knew that I needed to make it so simple that all you had to do was craft it and plug it in. Happily, that's really all you have to do!
To get this vision off the ground, I partnered with the fine folks over at Lights For All Occasions. The goal? To create a lightweight light fixture that didn't need to be hardwired to enjoy. The inspiration? The Big Fake Wedding bridal show to be held in Seattle this October! The Lights For All Occasions team is slated to have their own booth at the vendor-filled event, and wanted to outfit their space with something totally one-of-a-kind that DIY-savvy brides could make on their own. And that, of course, is where I come in! Read on for the full tutorial or click here for a printable PDF download that breaks the steps down one by one.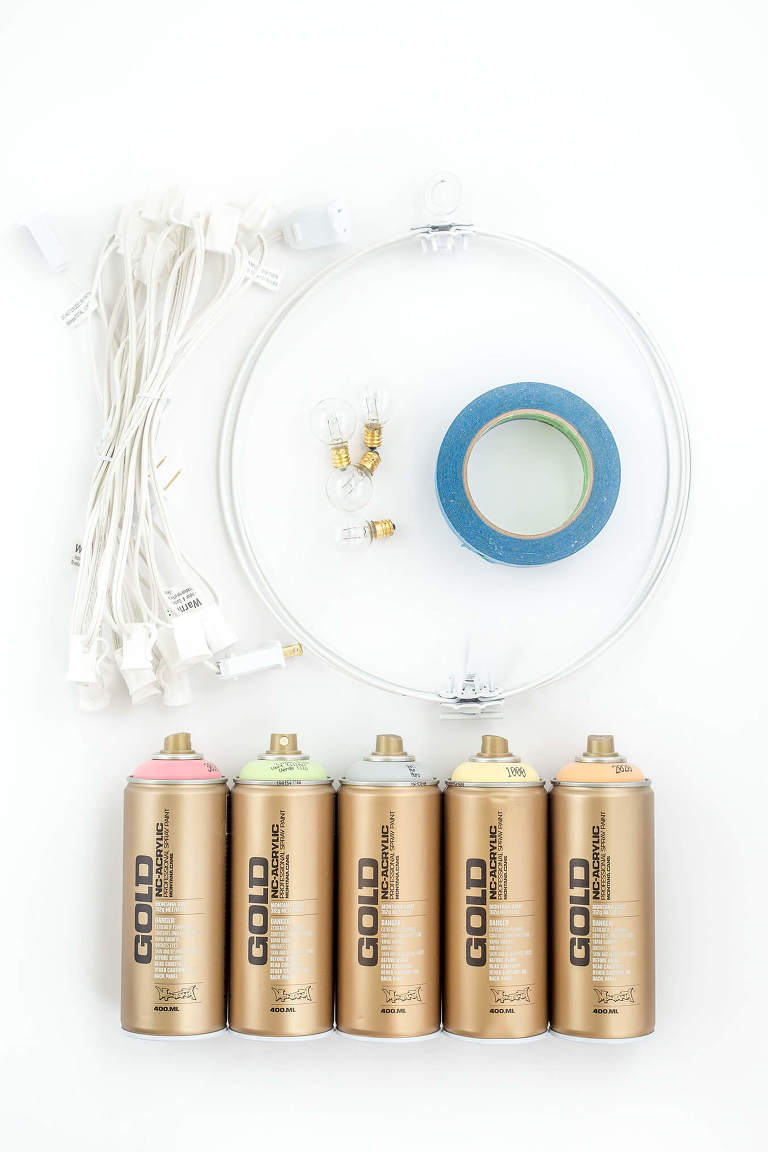 Painter's tape
Scrap cardboard
2 15-foot white extension cords
Hooks for hanging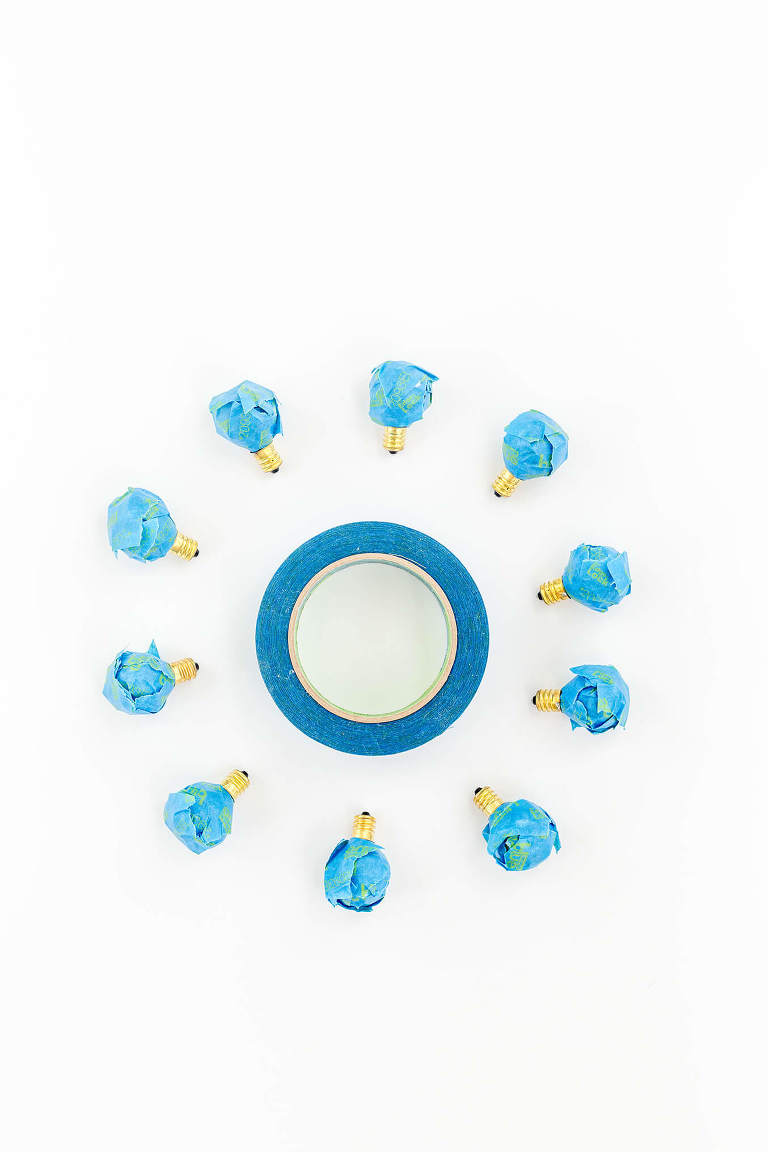 STEP ONE
Cover one set of Lights for All Occasions brand string light light bulbs with painter's tape. Since you have to mask off 10 bulbs and it can get sort of monotonous, I found that it was easiest to tear off a bunch of small strips and stick them to a nearby tabletop so that I could grab them quickly one after the other to mask off the bulbs.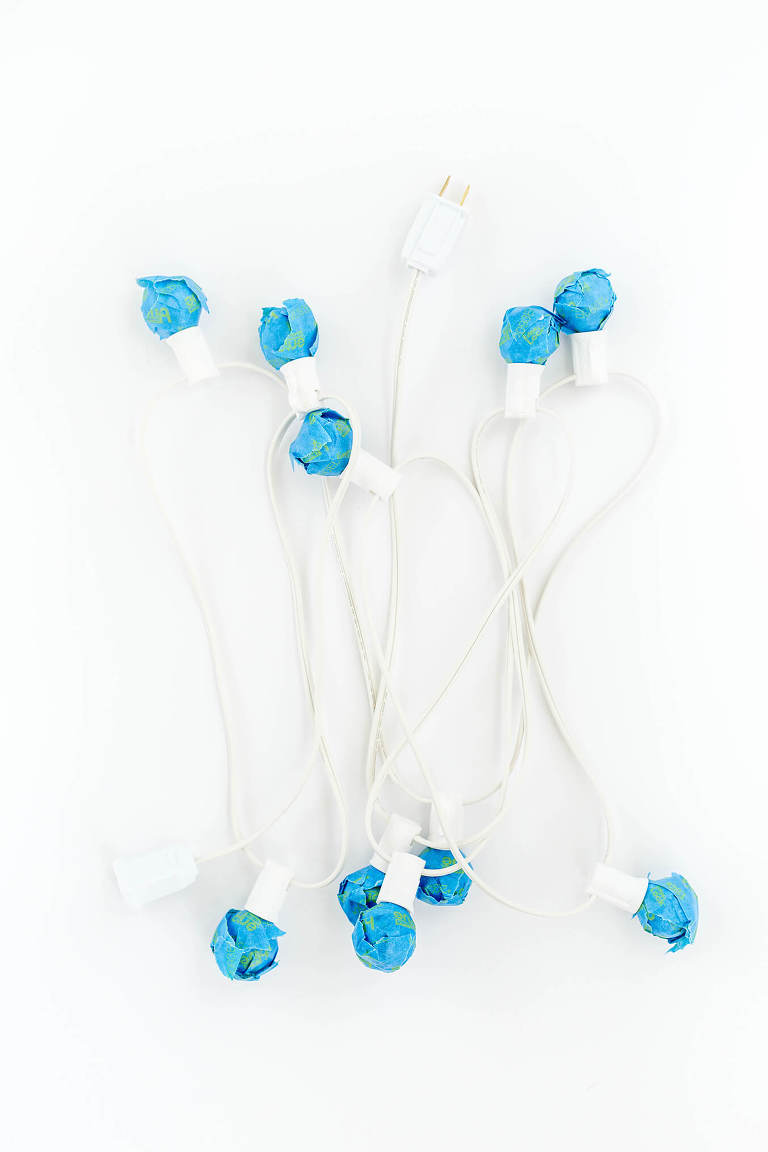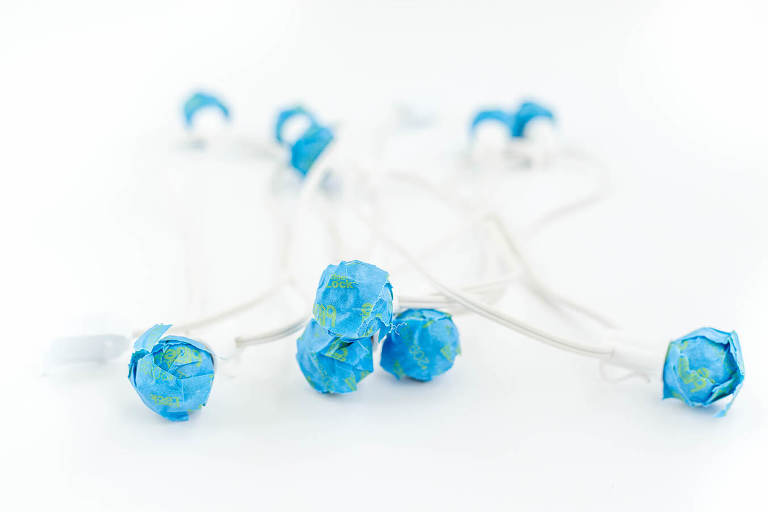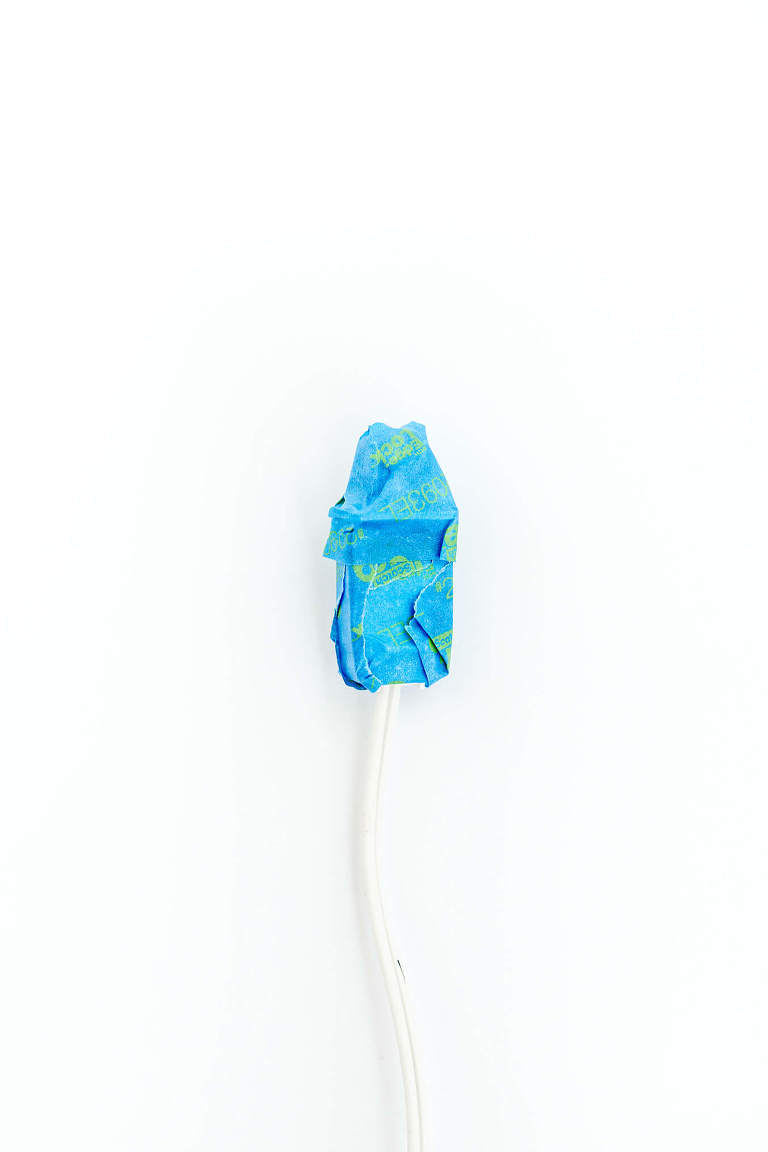 STEP TWO
When finished masking off all 10 light bulbs, screw them onto your first strand of lights. Don't forget to mask off the plugs on either end of the strand with painter's tape, too!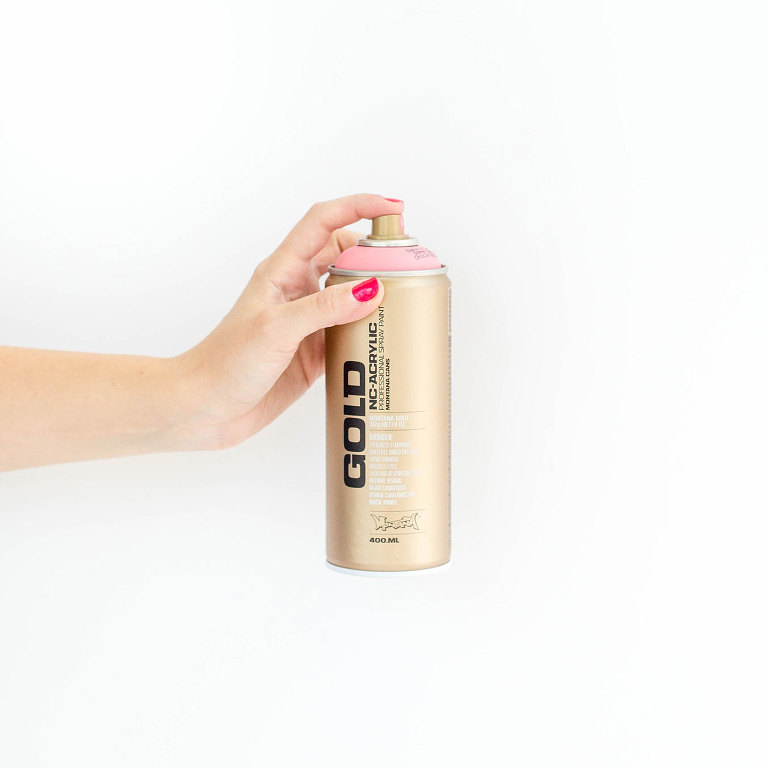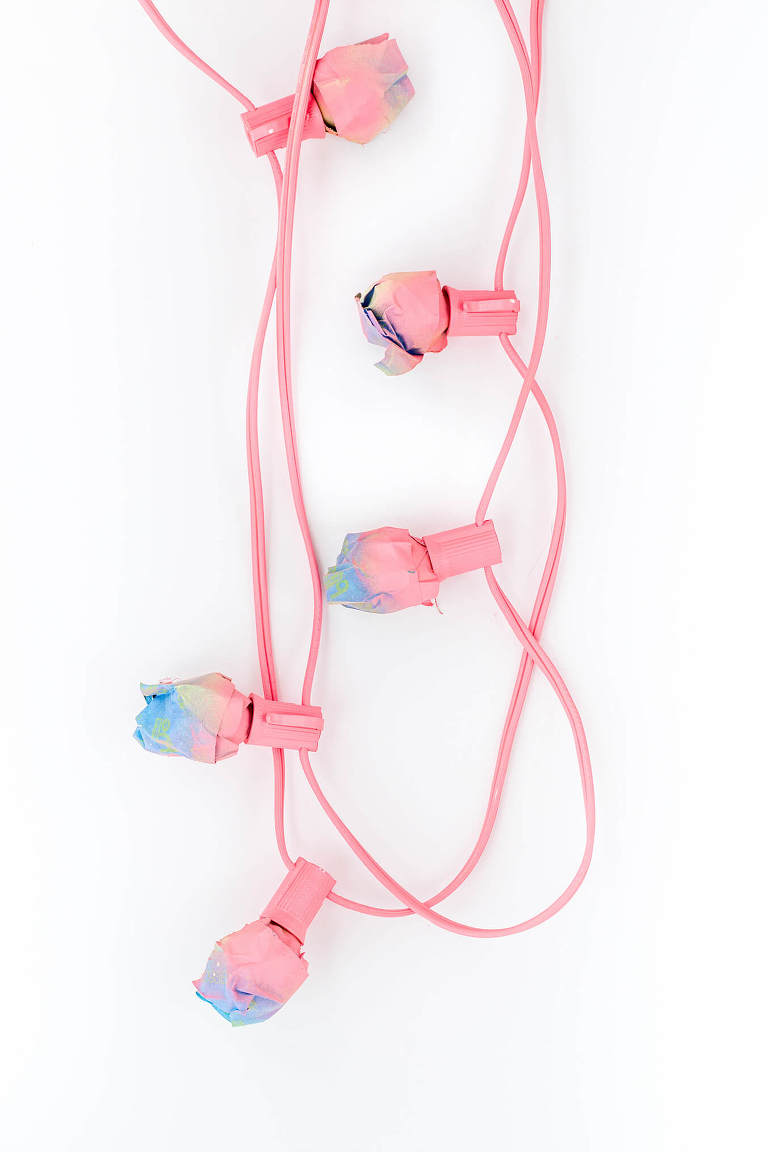 STEP THREE
Lay your first strand of lights on a scrap of cardboard outdoors or in a well ventilated area, and coat it with a thin and even layer of Montanta brand spray paint on both sides. Let dry for 2-3 hours, then unscrew and set aside the taped bulbs. Repeat with a different strand of lights and a new spray paint color. Reuse the taped bulbs.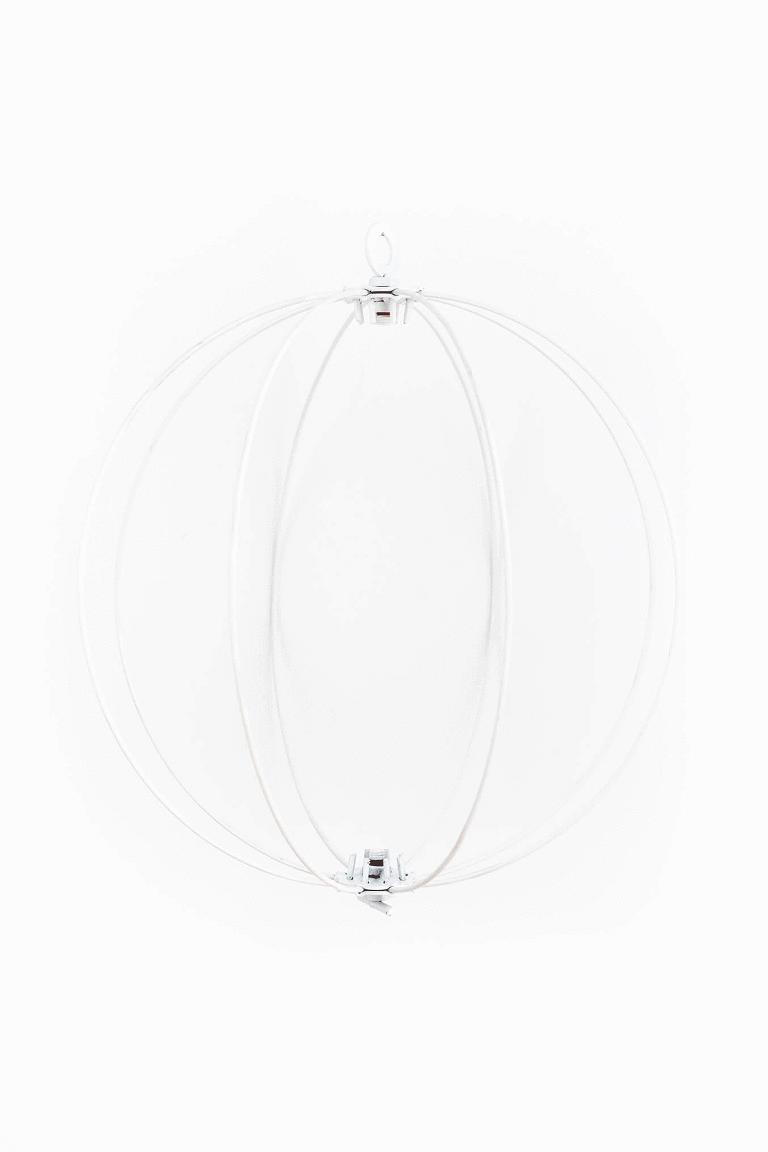 STEP FOUR
Assemble a 12-inch wire folding ball according to package instructions, and then wrap the dried painted strands of lights around the metal arms of the ball until they cover the form completely. I found that three painted strands covered the ball perfectly without overpowering it or weighing it down too much.
SIDE NOTE: As you'll see, some of the paint came off of the strands as I assembled them. This could be because of the matte texture of the string lights strand, or because I didn't wait long enough to handle the strands after painting them (I blame my general overexcitement and a looming project deadline!). At any rate, no DIY is ever really perfect, and I actually love that the speckled colors add even more character to the industrial-inspired project.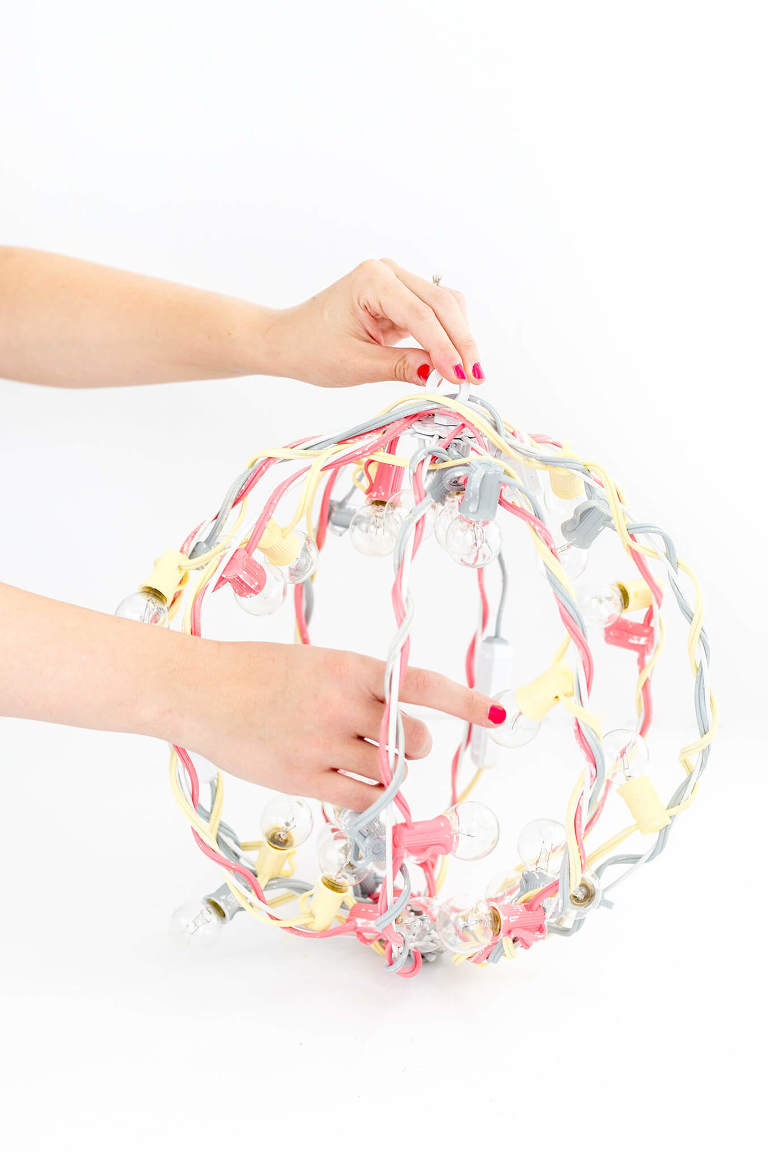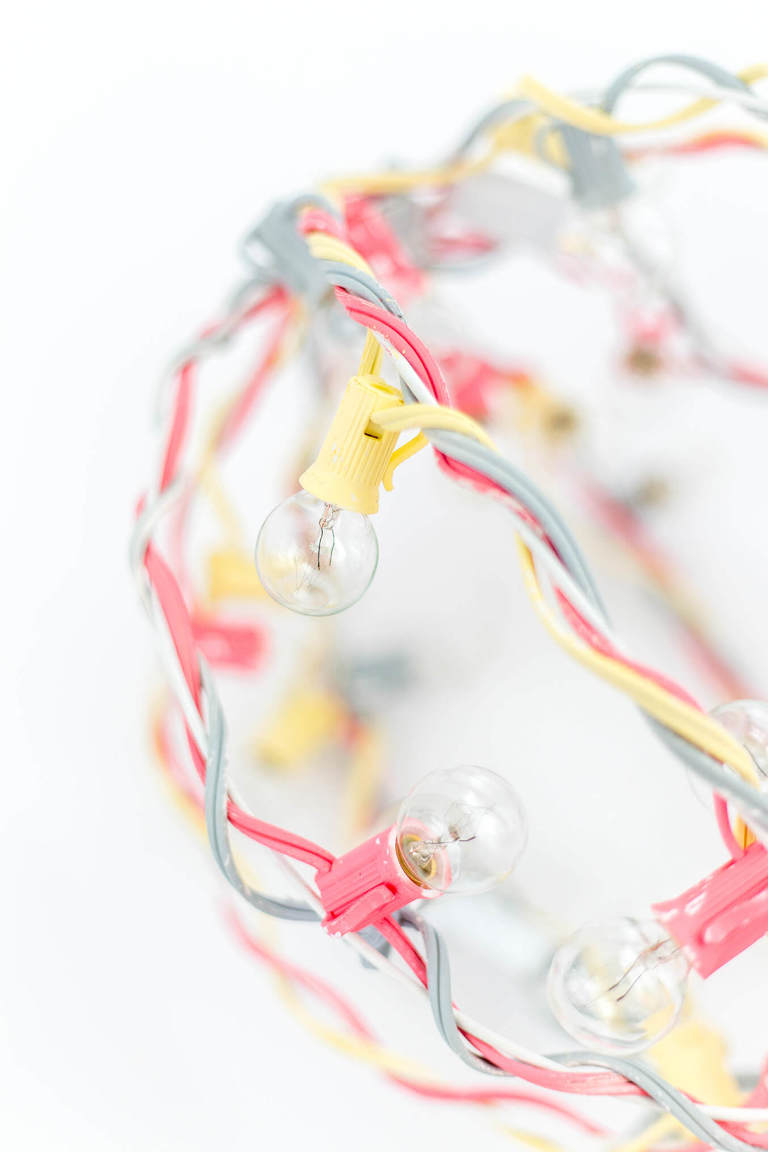 STEP FIVE
Screw clean light bulbs onto the strands of lights. Don't forget that you can remove the painter's tape from the light bulbs you used over and over again in the spray painting stage—they should be clean and ready to use alongside the other new, untouched bulbs. At this stage, you can also push some of the light bulbs on the strands towards the inside of the wire form. I found that keeping the bulbs all oriented to the center of the wire form helped give it a cleaner, more uniform look.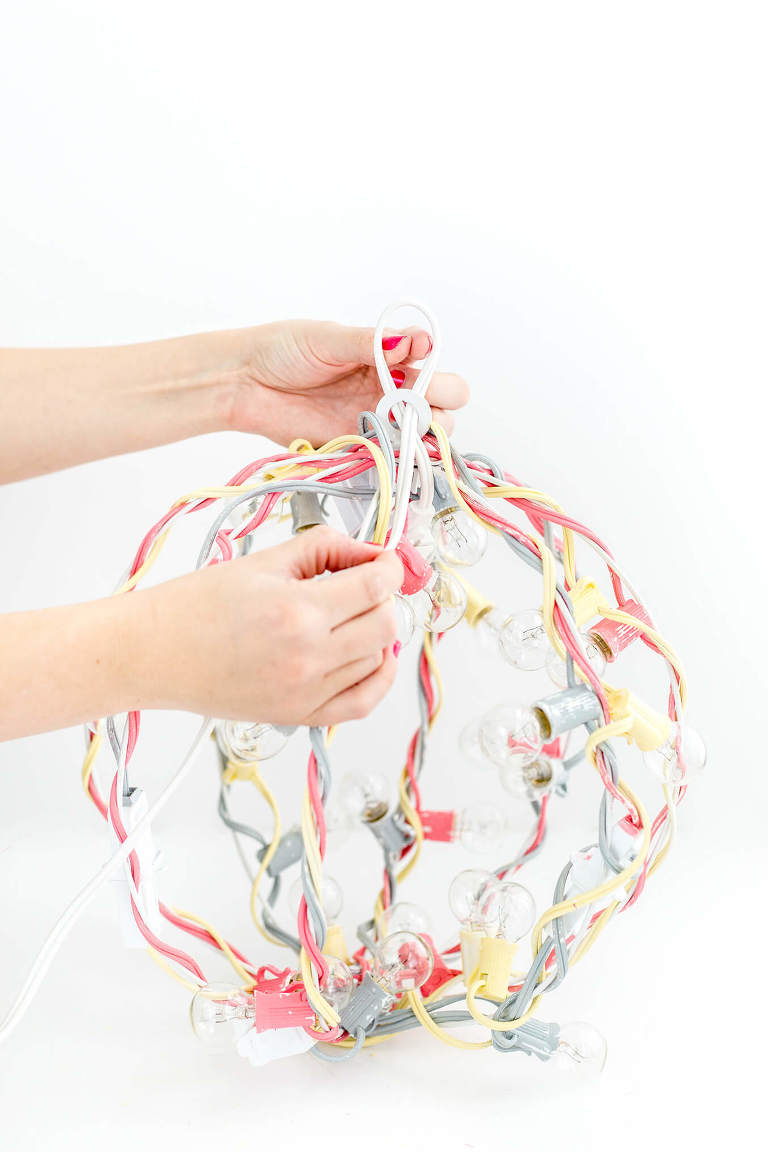 STEP SIX
Plug the last strand of string lights into the outlet end of a 15-foot extension cord. Create a loop at this end of the cord (the one opposite the pronged end) and push it through the ring at the top of the wire ball.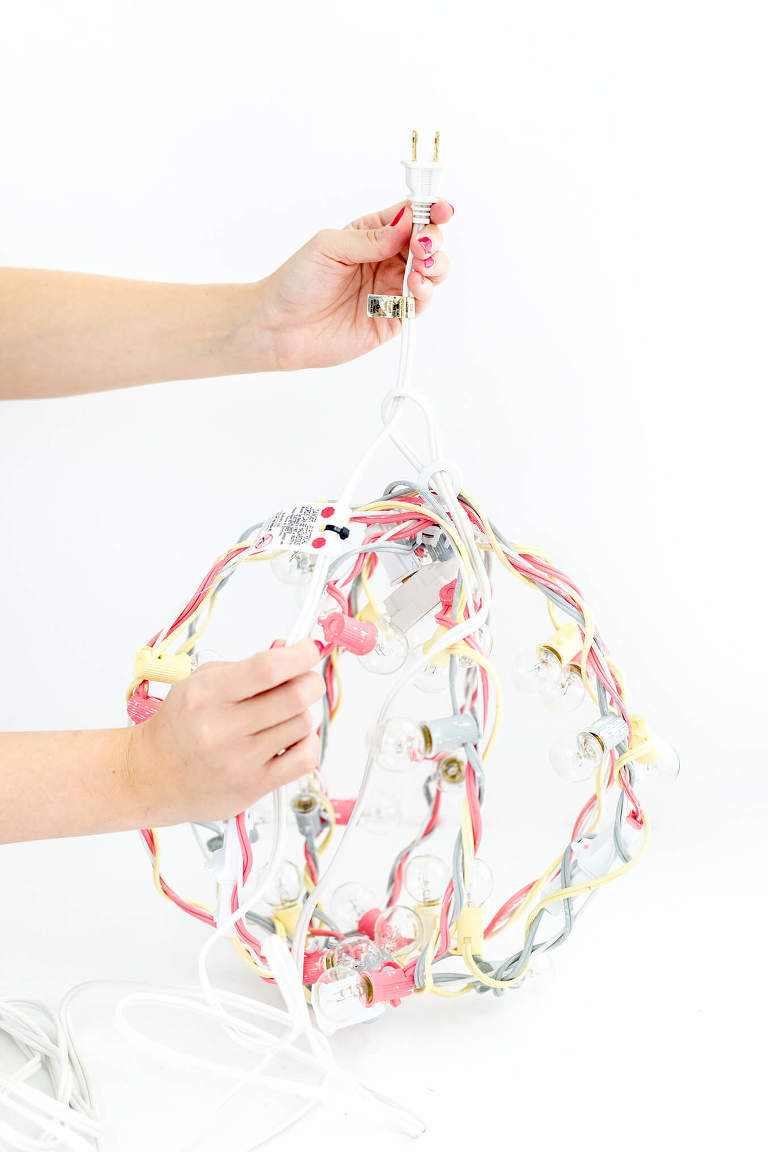 STEP SEVEN
Pull the pronged end of the cord through the loop you created in the extension cord at the top of the wire ball, and pull the slack through to create a snug knot.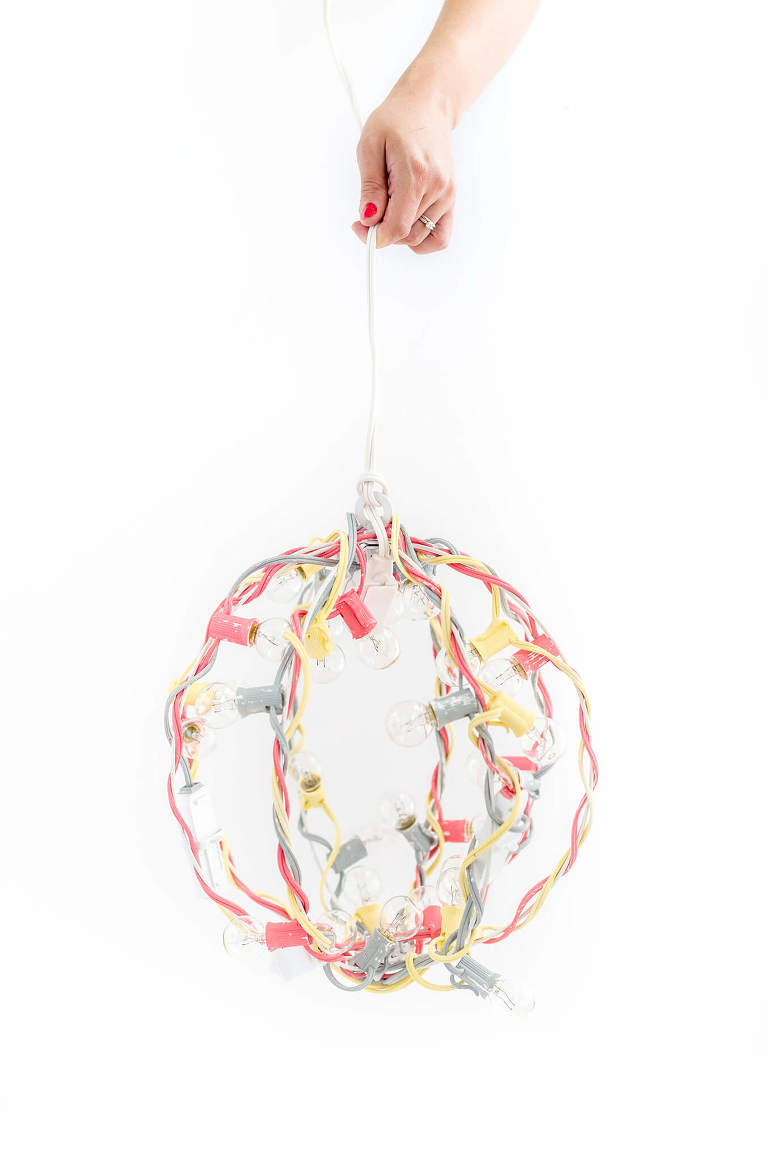 STEP EIGHT
Repeat steps 1-7 with as many colorful painted string light strands and wire balls as you like, and then hang your completed chandeliers from hooks. Plug them in and enjoy!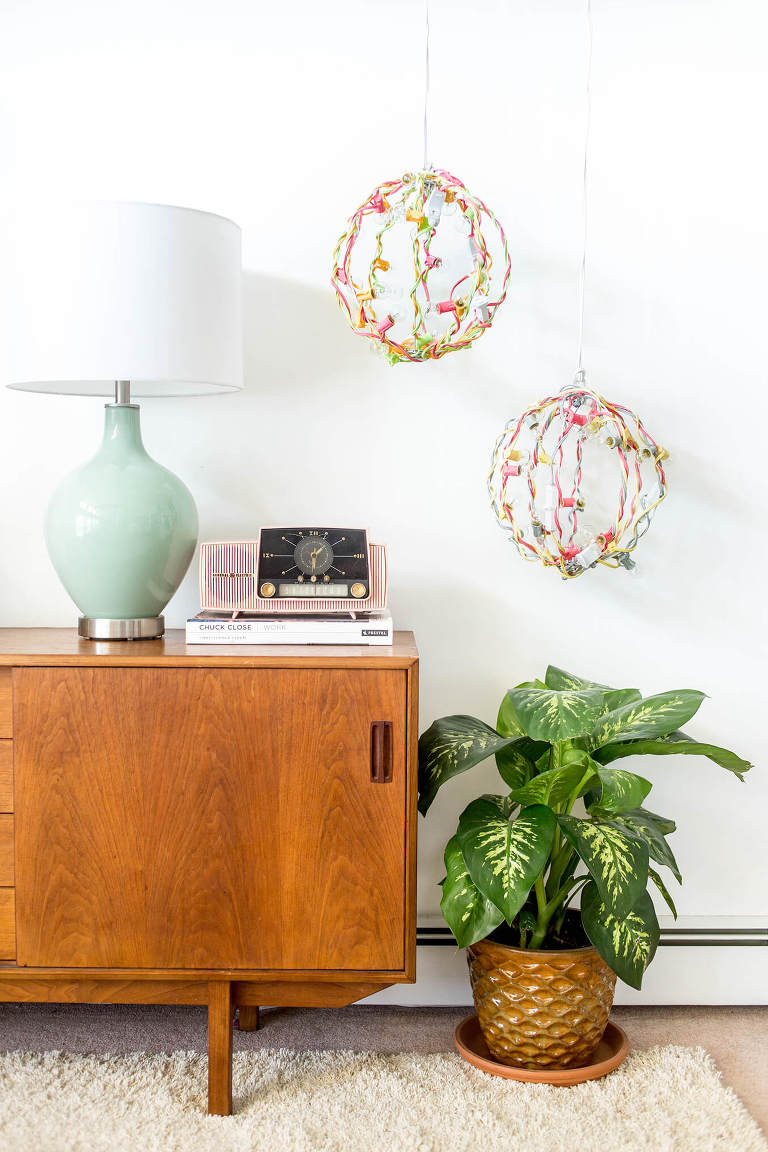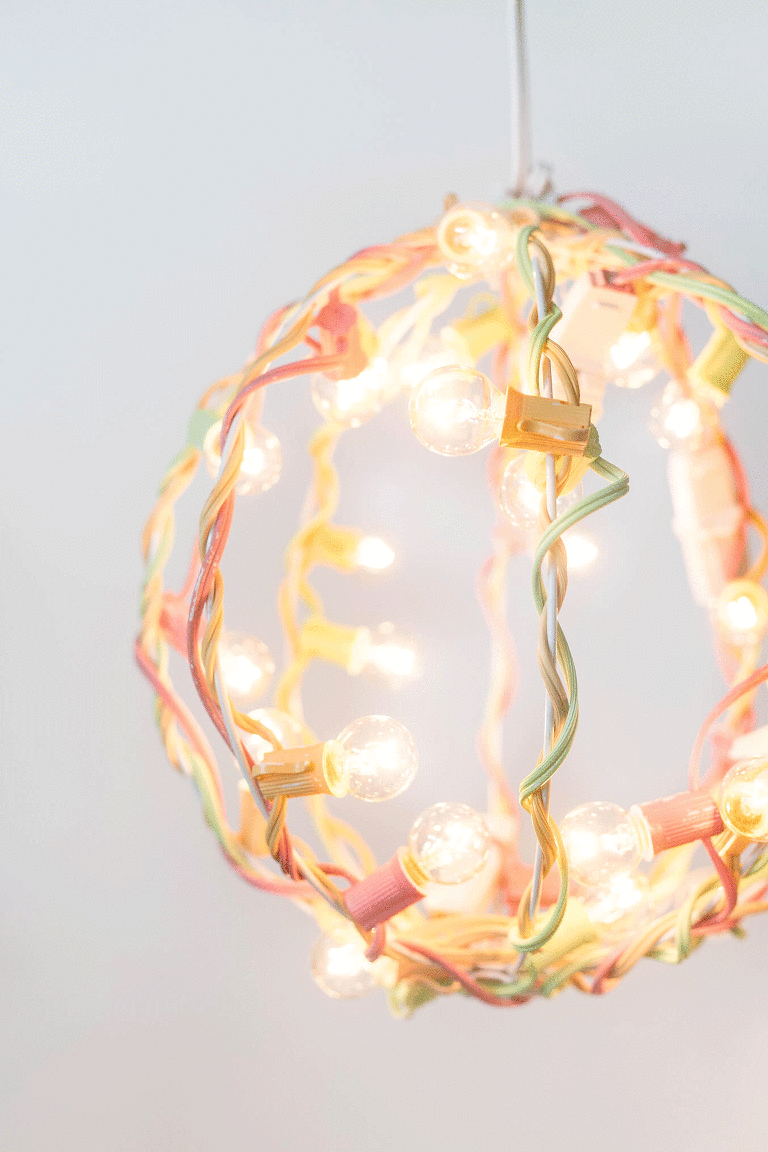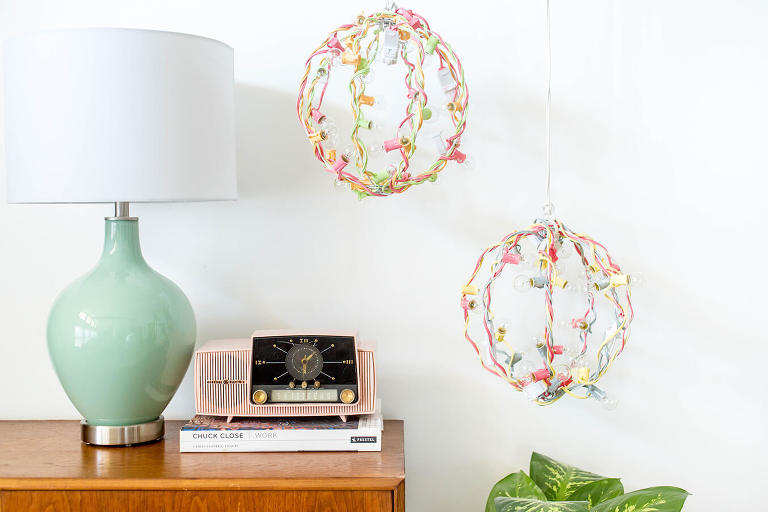 To celebrate our collaboration, I'm partnering with the Lights For All Occasions team to offer one DGD reader the following globe lights prize pack:
To enter, hop through to Instagram here, and follow the instructions. Don't have an account on the social media platform? Don't worry! Just leave your answer to this question in the comments below: "Which colors would you use on your own color pop chandelier?" I'll make sure that your name is entered for a chance to win the prize. Contest is open to US residents only and ends Tuesday, August 23 at 12:00 a.m. EST, so don't delay and good luck!
UPDATE: Congratulations to @llcandyll—you're the winner of this giveaway! Please email me at dreamgreendiy@gmail.com to confirm your prize and eligibility.