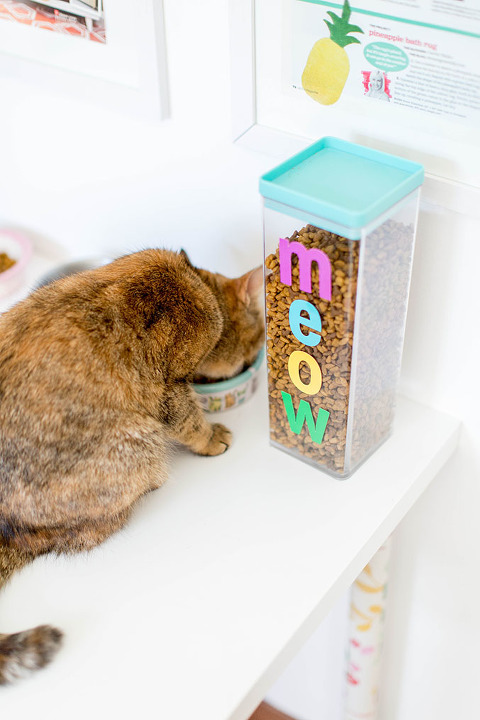 There's almost no doubt in my mind or any hesitation when I say that our pets are the center of our world. They make us laugh every single day (practically every single hour), and I worry about them on an even more frequent basis. Suffice it to say that our four adopted pets complete our family and I couldn't imagine life without them.
In case you didn't already know, Rocky (the dog) and Luna, Ginny, and Tonks (the kitties) were all adopted from animal shelters. Luna was the first to join the family. I adopted her in 2007 while I was still in college. The two of us were inseparable from the moment we laid eyes on each other, and we still are! With years of constant attention, cuddling, and love, Luna has really blossomed and is a totally different cat than the shy, reclusive, anxious kitten I adopted almost 10 years ago.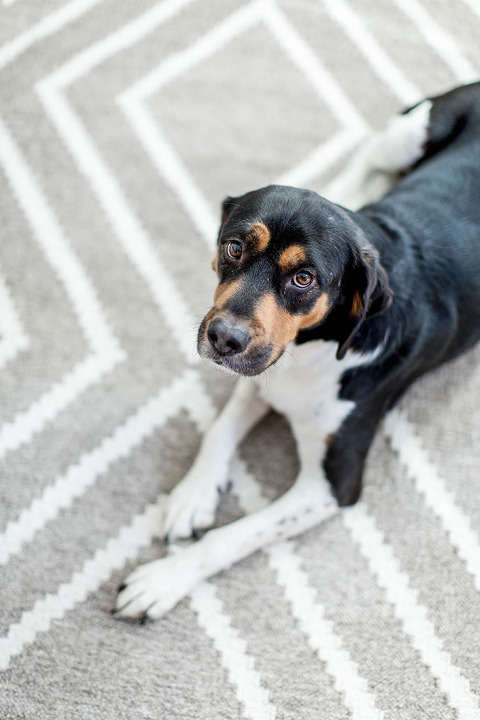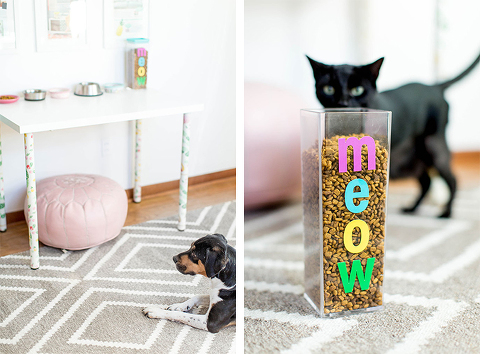 Ginny was adopted in 2008 so that Luna could have a pal to run around with, and the occasion was a major milestone in my quest to get Luna to come out of her shell. Then, in 2011, my two kitties and I moved in with John and his hound dog, Rocky, whom he had adopted from a local animal shelter. Unfortunately, the relationship between our newly blended family wasn't great at the beginning. There was a lot of hissing, chasing, and territorial disagreements. But then in 2014, we rounded out the group with our fourth and final animal shelter rescue, Tonks, the cross-eyed kitty, and things finally seemed to even out.
Nowadays, our four pets are feeling pretty well integrated. In fact, you'll often find them sharing a patch of sunshine in peace. The only remaining issue is a bit of litter and kibble stealing at the paws of Rocky, our sneaky hound dog.
The last time I mentioned our pets, I explained how we keep Rocky out of my office where our trio of cats has access to their food, water dishes, and litter boxes. In case you missed that update and my $10 DIY cat door project, click back here. Today, to continue my partnership with Petfinder in celebration of their 20th anniversary, I'm sharing how we keep Rocky out of the cat food bowls while we all coexist in the office together during the day.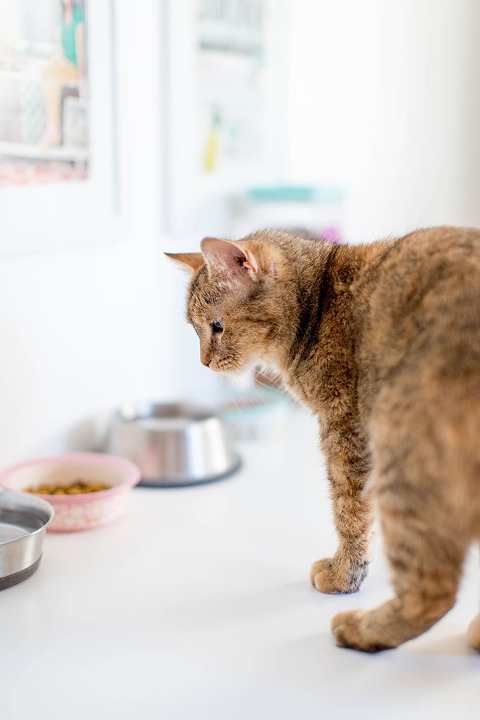 The concept, like our DIY chain lock cat door, is a simple one. Instead of keeping the cats' food and water dishes on the floor, I put them up on a tabletop where the dog can't get to them. We did this at our old house, and it has worked perfectly since the moment we made the shift over to an elevated pet dining and drinking station.
To make this set-up a little cuter, I decided to give the white IKEA desk a little pizzazz by wrapping the legs of the desk with bright patterned peel-and-stick wallpaper from Spoonflower. To do it, I measured the table legs, cut the wallpaper to size, and wrapped the legs with the patterned paper, sticky side down. About 20 minutes later, the "pet platform" looked a heck of a lot cuter and more playful than it did before, and Rocky can only gaze up longingly at the bowls. He can't reach them and hasn't tried since I set the station up a few weeks ago. Problem solved!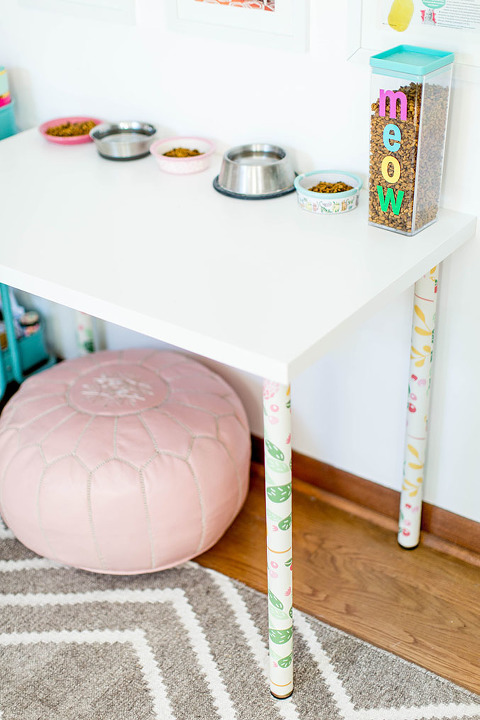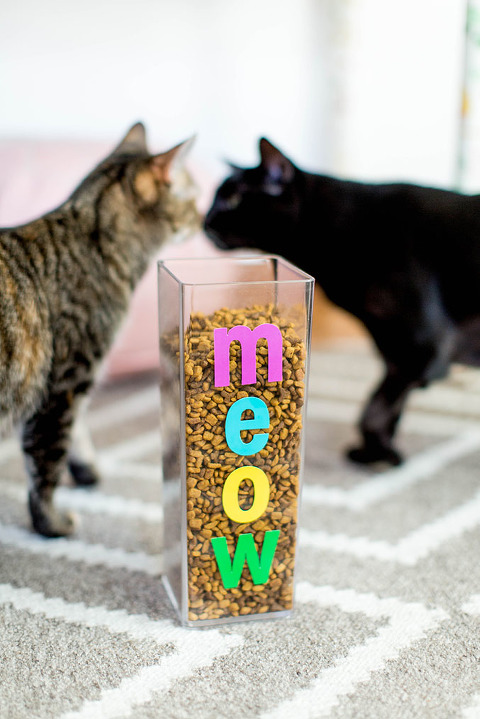 Before I sign off for the day, I wanted to share an extra exciting update for those of you who were following along last month with Petfinder's goal to see their video reach 1 million views. Thanks to readers and pet lovers like you, Petfinder has exceeded the goal well before the Oct. 24 deadline. They've decided to increase their donation by adding five more shelter and rescue members to the initiative and an additional $50,000, bringing the total donation amount to $250,000 for 25 Petfinder shelter and rescue member organization. You can still celebrate with them by watching and sharing the video with your friends, and by posting and sharing your adoption stories online using the hashtag #MetOnPetfinder!
I can't possibly thank you guys enough for your enthusiasm in helping Petfinder assist shelters and rescue centers (and, of course, countless sweet adoptable pets along the way) this season. We couldn't have done it without you! Now, I want to know: how did your own adopted pets come to be? Do you have multiple animals like our family does? Have you successfully blended cats with dogs? I'd love to hear your home hack strategies and stories in the comments below, so do tell.