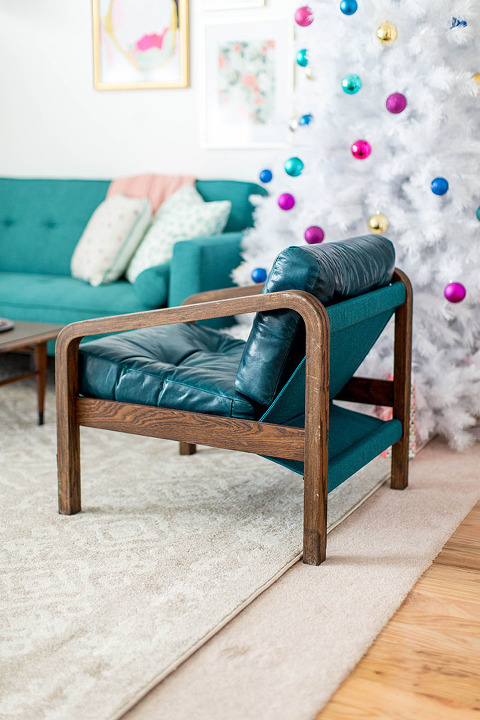 Care to take a looooooong walk down memory lane with me today? This saga all started back in 2013 (three whole years ago!) when I stumbled upon the sad little dilapidated chair you see below. It was hidden in the far recesses of my favorite second-hand estate shop in downtown Lynchburg, and despite the fact that it was ugly as could be (think: stained upholstery, tattered underlayment) I decided to cart it home as a project. I loved the tufted seat cushions, and I also loved the 80s-esque vibe. It was undeniably modern in shape and I just knew that it could be salvaged.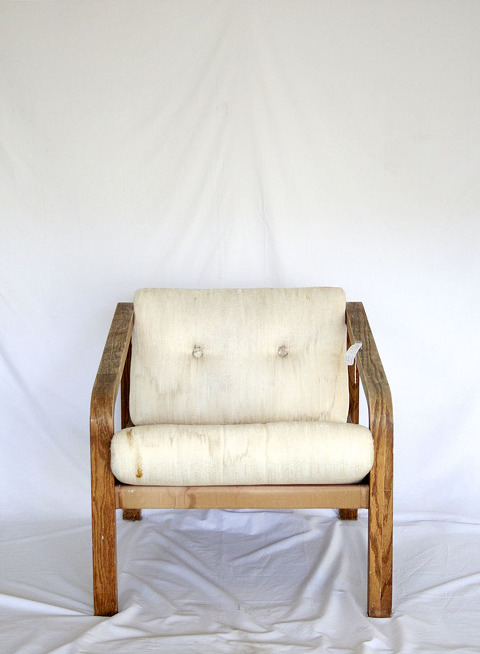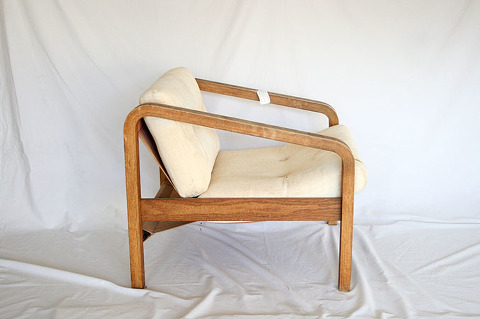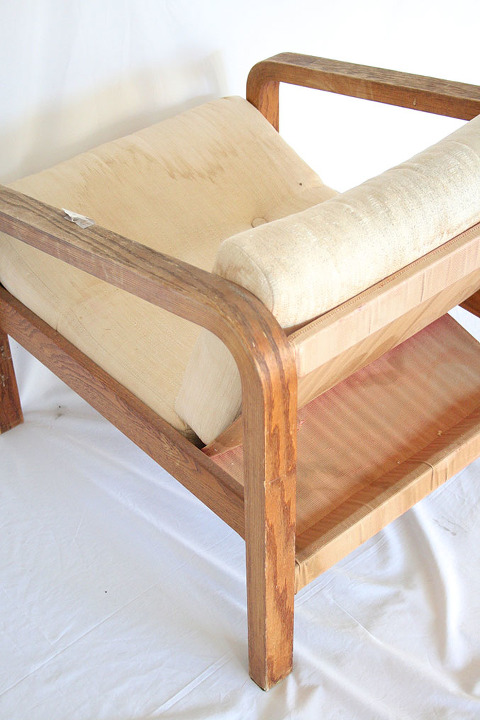 Those photos above show the chair in all its frightful finery right after getting it home. The piece was actually given to me for free by the shop owners with the promise that I would work my magic, so I felt a pretty strong obligation to breathe new life into the chair right from the get-go.
The first thing I did was toss the nasty cushions into the trunk of my car with the intent to have them professionally recovered (read more about the decision-making process here), and I also wiped down the existing canvas underlayment with a soap and water solution. Unfortunately, the canvas was so thin that it basically fell apart in my hands. I was able to get the main parts of the canvas back to its original bright red color, but the section you see in the back pictured above turned into rags post-cleaning. If you want an experienced staff can easily do duct cleaning, repairing, resealing and even replacing with perfection, look for Air Duct Cleaning Dallas for best result.
Two months after purchasing the chair, I had the cushions reupholstered at Phil's Upholstery in gorgeous teal leather from Moore & Giles (get all of those details in this Part 2 post), and I also refinished the wood frame, giving it a rich, dark color, but truthfully, we lived with the canvas underlayment just as you see it here for years and years.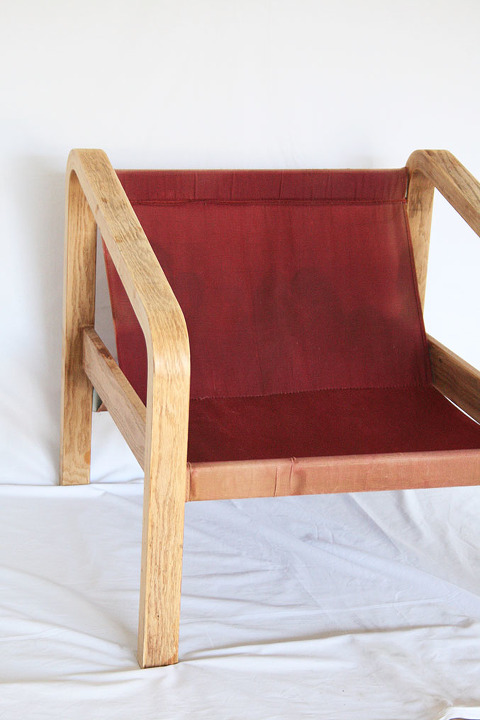 Why I didn't have the folks over at Phil's Upholstery replace the canvas support system when they reupholstered the cushions, I'll never know. I think, because this project was my first foray into reupholstery, I was just plain worried about the cost and hassle. Happily, the cushions only cost $60 to make over, and the chair was looking much, much better. But, of course, it wasn't done.
So, this past September, I carted the chair back to Phil's Upholstery where I asked them to replace the canvas, too. We ultimately chose a fabric that matched the teal cushions for a seamless look, and one week and $90 later, it was done. REALLY done.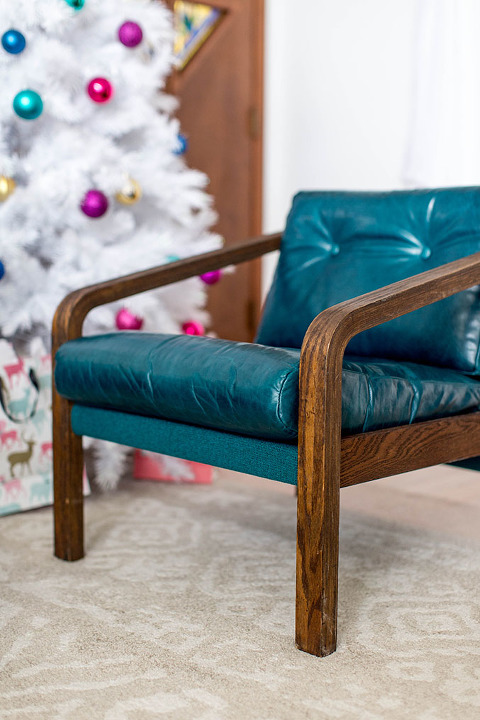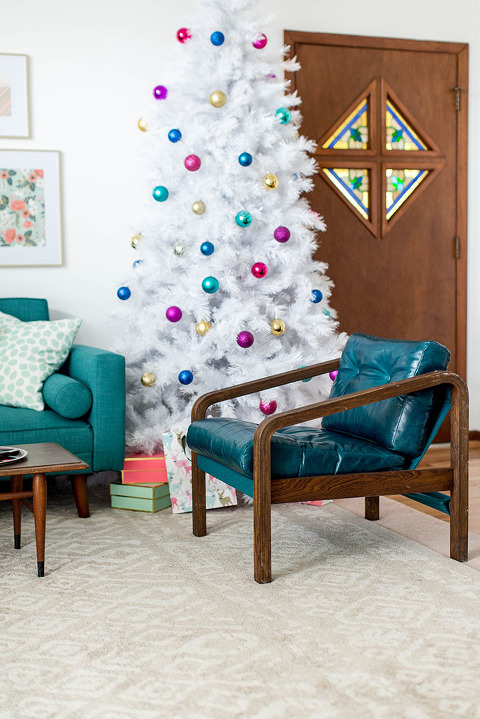 I almost feel like this little chair and I were destined to meet. It was likely headed for the dumpster had I not gotten the hair-brained idea that it could be beautiful someday, and although it took over three years to get it juuuuuuuust right, it is now the show-stopping piece it was always meant to be.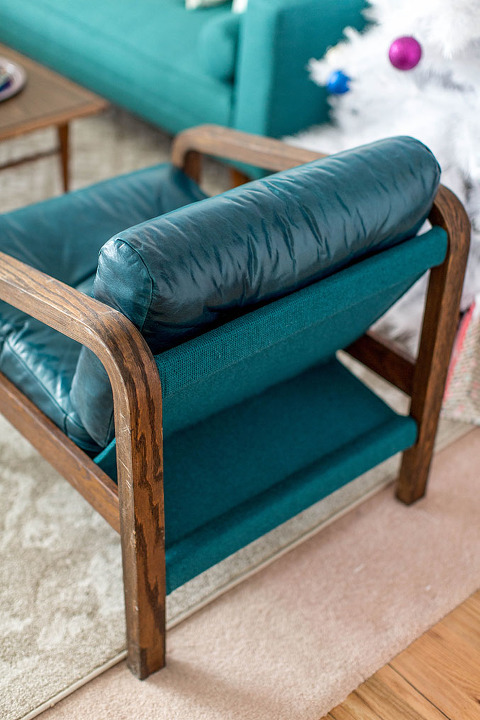 Can you even believe that it's the same chair in the before-and-after below? We're absolutely infatuated, and I am so thankful to Moore & Giles, Phil's Upholstery, and Estates & Consignments for supporting me in my quest to bring this sad little chair back to life. What do you think? What type of upholstery would you have gone with? Or do you love our teal beauty, too? Leave your thoughts and reactions in the comments below.