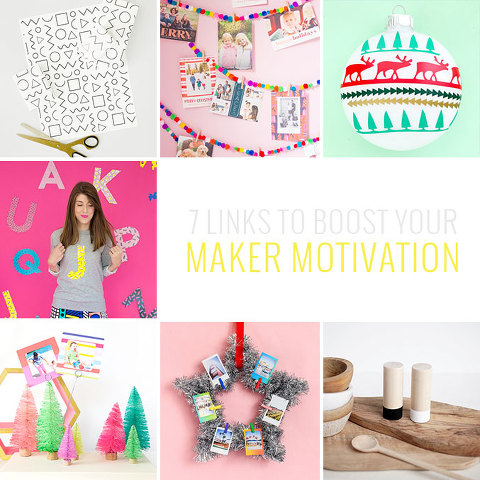 Well, we made it, folks! It's finally Friday, and I hope that you have an extra special weekend planned ahead to celebrate surviving yet another week. It continues to be a busy time here in my studio, but I can juuuuuuust about see the light at the end of the tunnel. I don't know about you, but I can't wait to shut my computer down, slip into some slippers, pour a cup of hot cocoa, and sit by the fire with family listening to Christmas music. This is the very BEST time of the year, and I don't care if I sound like a broken record for proclaiming that for the umpteenth time!
Here's hoping you'll forgive my repetitive, sleep-deprived self with this list of brand new DIY projects to try. These seven are my latest favorites! Which would you try first?
7 DIY Links To Boost Your Maker Motivation
And in case you missed some of the fun content that went live right here on DGD, click back to learn How To Make DIY Gift Box Ornaments, my tutorial for DIY Felt Monstera Leaf Canvas Totes, a list of the 10 Things You Need To Style Your Christmas Dinner Table, and 20 Last-Minute Gifts To Order Now For Christmas. Got a fun link of your own to share? Drop it in the comments!
Get daily maker inspiration on Pinterest