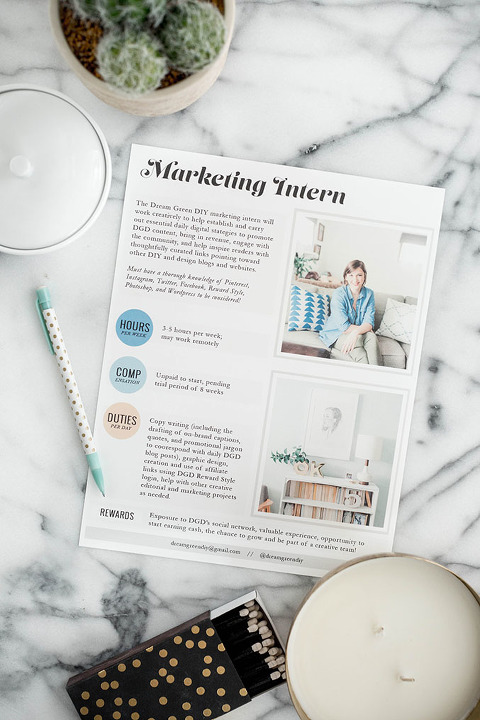 When I first started out on this blogging journey, I was working by day as an HR admin, and by night as a crafter. I had no idea that my little corner of the Internet would ultimately become my full-time job! Sure, I don't have a book or television show to my name, but Dream Green DIY is my greatest professional endeavor yet, and I'm kinda sorta selfishly proud of how far things have come since that first design project and DIY tutorial almost six years ago.
Although DreamGreenDIY.com is still very much based on its original oh-so-humble roots, I'm looking to step things up as we head into 2017. This small town girl has hopes and dreams of transforming her small town digital home into something just a little bit bigger—and to do that I'm going to need some big help.
So, for the first time ever as a working freelancer I'm adding a Marketing Intern to my team—someone who is ultra creative, way savvier than I am, and who can navigate the world of social media with a smile on her (or his!) face.
Dream Green DIY Marketing Intern Breakdown:
Must love coming up with creative SEO-based captions and stories
Needs to have experience using all of the big name social media outlets (think: Pinterest, Facebook, Instagram, etc.)
Familiarity with WordPress and Photoshop is also required
Being a DGD reader is a major plus as I'd love someone who knows what this blog is all about
Unpaid to start, but could grow into an hourly paid position following a successful 8-week trial run (and by "successful," I mean that we both need to be having a blast working together—it's not just up to me!)
Can work from anywhere in the world, but someone on the east coast here in the US is preferred so that we're on the same time zone
Click to read my DGD Marketing Intern Job Description for more details on what and who I'm looking for, and be sure to shoot an email over to me at dreamgreendiy@gmail.com (Subject line: "DGD Marketing Intern: [YOUR NAME]") if you like what you see and want to get in on all the fun.
I can't wait to grow Dream Green DIY in a brand new way this year, and to finally get some outside creative help with the direction of this digital space. Are you intrigued? Apply now!