Growing up, I used to say things to myself like, "When I own a stand mixer [or a car, or a fancy vacuum cleaner, etc.], I can officially call myself an adult." Well, it turns out that owning those things didn't actually make me a real grown-up. Nope, it wasn't until I owned an antique leather couch that I could OFFICIALLY call myself an adult.
Folks, I'm pleased as punch to introduce you to our freshly made-over mid-century leather couch! We've owned this vintage beauty for about three years now, having originally scored it for $500 through Craigslist back when we lived in our townhome in Lynchburg, Virginia. The upholstered fabric couch lived in the finished basement in our old house, but since moving to our single family 1960s ranch, it has been situated in a place of honor front and center in the living room.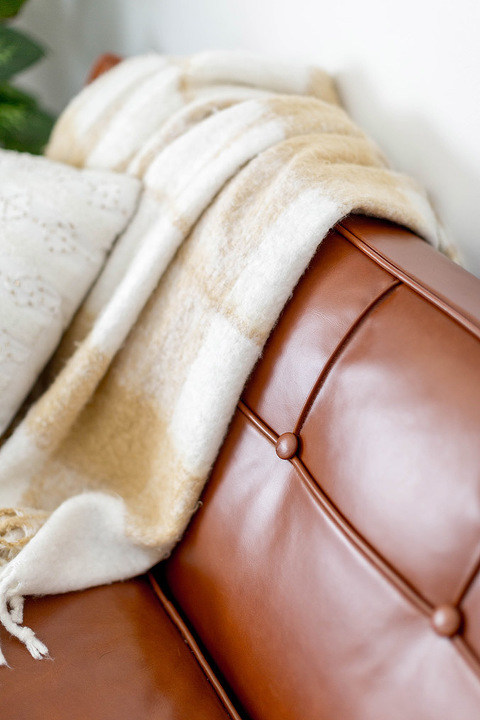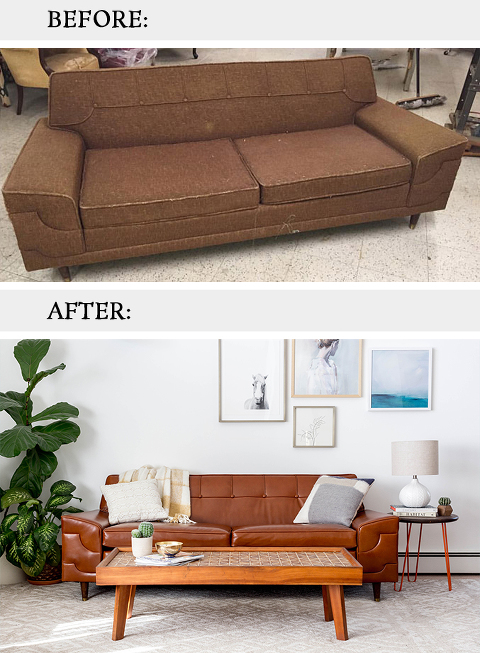 Even before paying for the couch and loading it into our truck, I knew it would be one of those multi-phase types of possessions. It had a few stains on the original knobby textured fabric upholstery (as seen above in the "Before" shot), and had lots of worn-in areas that gave the couch a less charming, more drab look.
We lived with it and loved it well for the three years we needed to save up for the reupholstery job, but I'm happy to report that that long-awaited fateful day has come and gone and, thanks to beautiful Moore & Giles leather and top-knotch work from Phil's Upholstery, we've got a practically brand new couch to show off and sit on.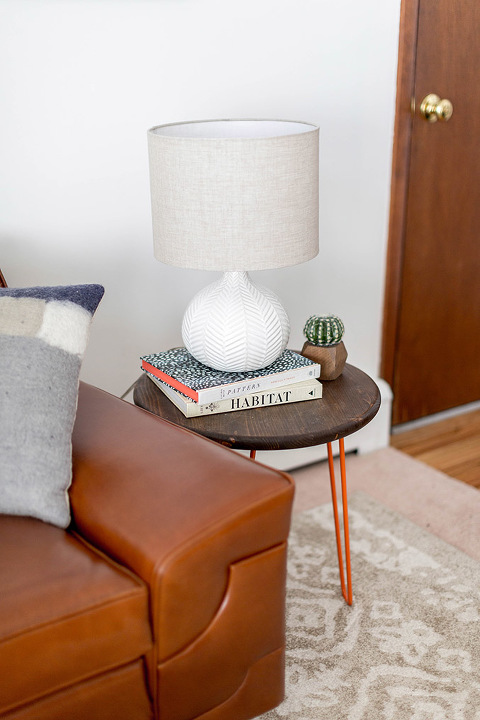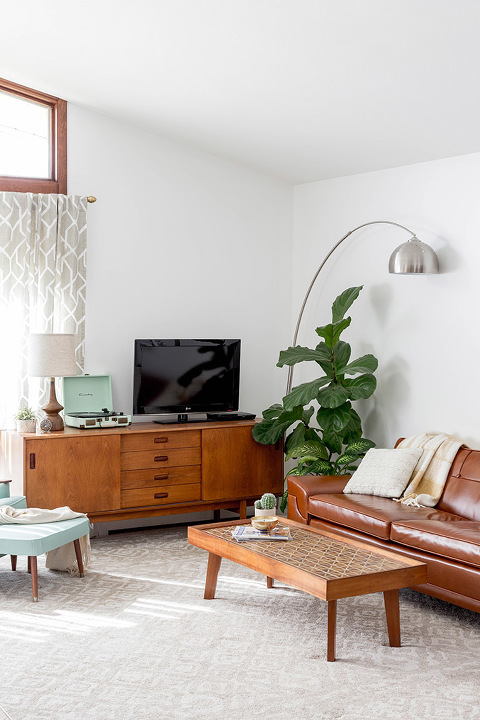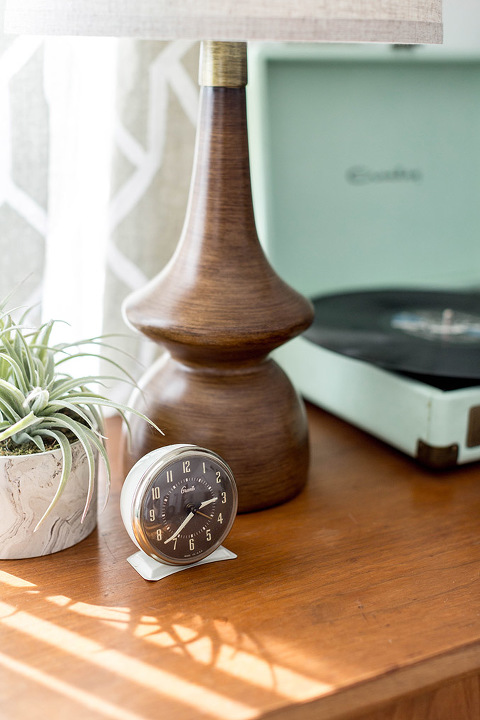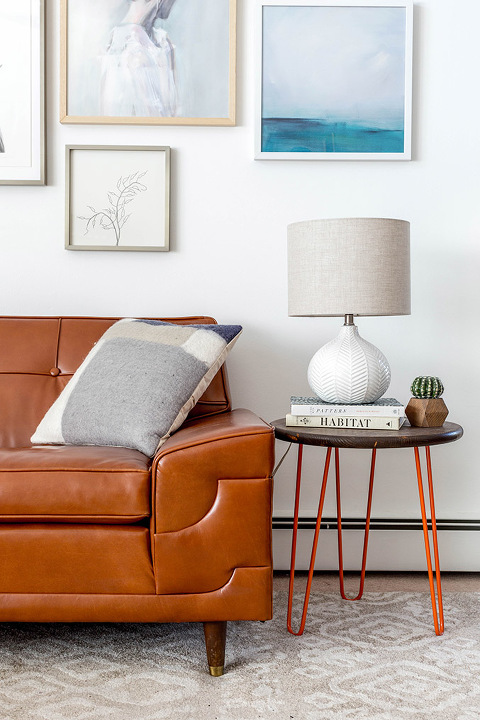 The bones of this couch were good—great, in fact—and I fell hard for the original tufted detailing and cool, meandering piping, but again, the upholstery had seen better days. Why did I choose leather? Well, as you know, we're a multi-pet family, and rumor has it that cats tend to shy away from leather because of the way it feels on their paws. Seemed like reason enough for us to try it out, not to mention the durability factor and ultra smooth sophistication.
If you remember, we worked with Moore & Giles and Phil's Upholstery on a different leather reupholstery job just a year or so ago, and that pretty teal leather side chair is still going strong in our household. So, it was time to up the ante with a larger scale job that would ultimately complete the living room makeover I've been working on since the start of the new year.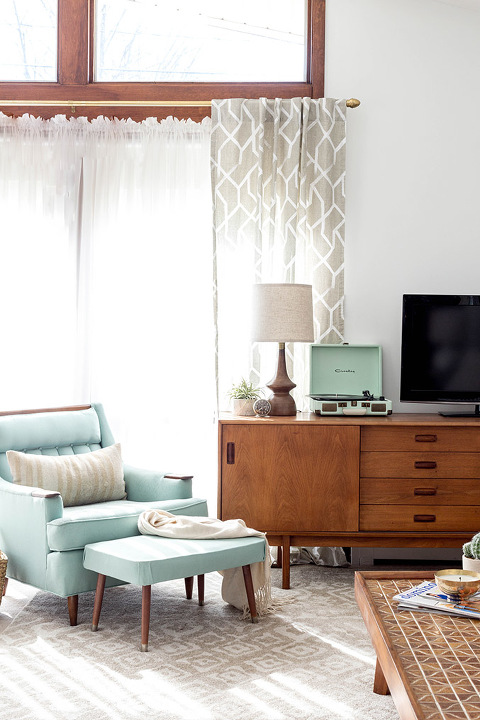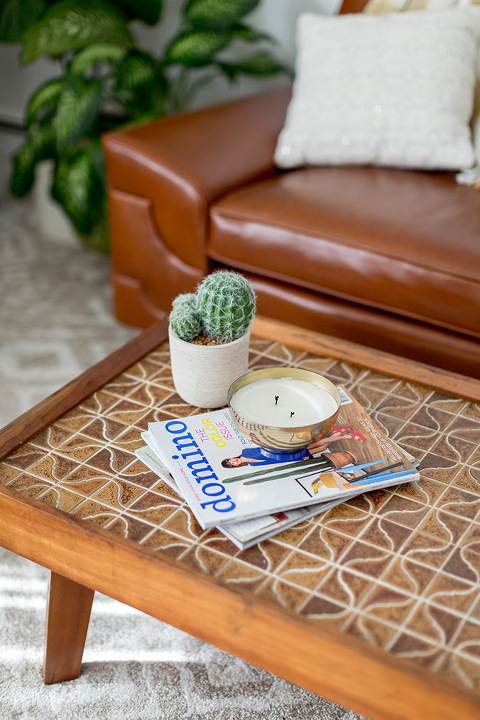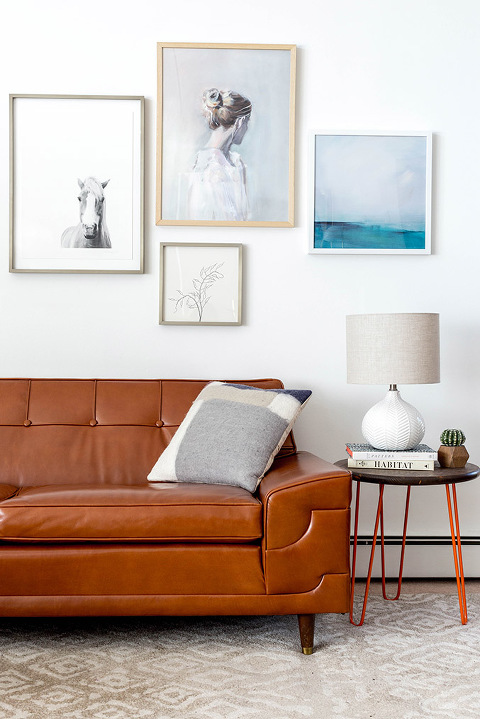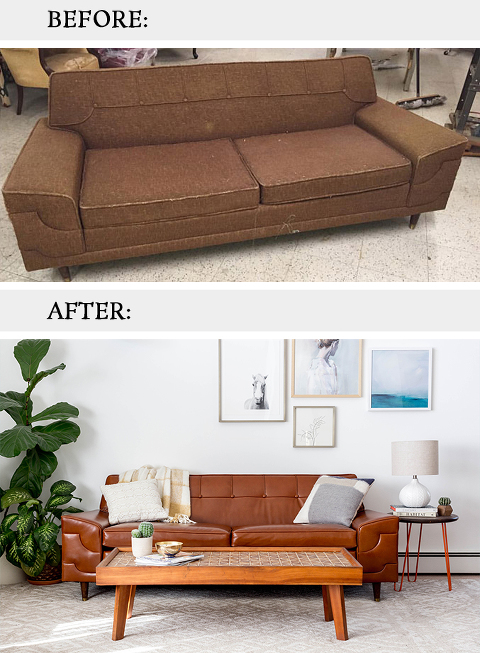 There's that before and after one last time! Isn't she a beaut? Although neither brand paid to sponsor this post, I couldn't possibly recommend Moore & Giles leather more, and as always, Tim over at Phil's Upholstery did an incredible job bringing our vision for this swanky "new" couch to life.
Have you ever had an antique couch recovered? How long did it take to save up to make your dreams of the perfect sofa come true? No matter how long it took, I'm willing to bet that the finished product was well worth the wait—it was in our case, at any rate!