Like many of you, before and after room makeovers are my absolute favorite things to see online and in shelter magazines. So when my friend Bethany mentioned that she and her husband, Aaron, were looking to transform their bedroom, I practically leapt at the chance to help out.
In a matter of minutes, she and I had parked ourselves at a table in their coffee shop, and we spend the next hour discussing options and her vision for the space. The funny thing was that Bethany's main inspiration image came from Almost Makes Perfect. Molly is a blogger pal of mine, so the fact that Bethany had zeroed in on her space felt like it was just meant to be.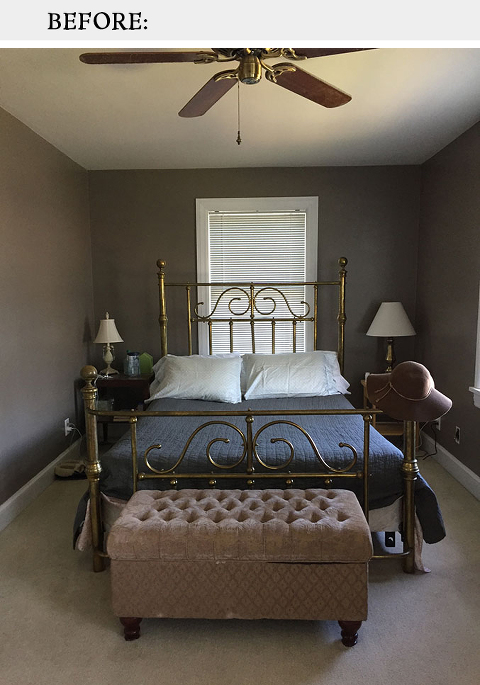 Before you read on, do yourself a big ole favor and click over to Almost Makes Perfect here to see Molly's stunning master retreat. Doing so will give you a better idea of what Bethany is hoping to achieve in her own bedroom makeover.
As you can see pictured above and below, Bethany and Aaron's bedroom is currently a hodgepodge of pieces that they'd love to refresh. While the two of them work behind the scenes to repaint the room a soft white and rip up the old carpet to reveal existing hardwoods underneath, I pulled together a mood board filled with items to complement a more modern, minimalist space. Neutral colors accented by exciting textiles keep the room feeling multi-layered and inviting, while rich wood grains ground the collection of pieces.
I'm really so thrilled to help Bethany and Aaron bring their dream bedroom to life, and hope to have updates to share very soon. What do you think? Does this type of modern-meets-miniamlist vibe pique your interest, too? Did I leave out any essentials? If so, shout them out in the comments below.
*My promise to you is that the affiliate links featured in this post spotlight items that I use and love myself.