*This post was sponsored by Home Depot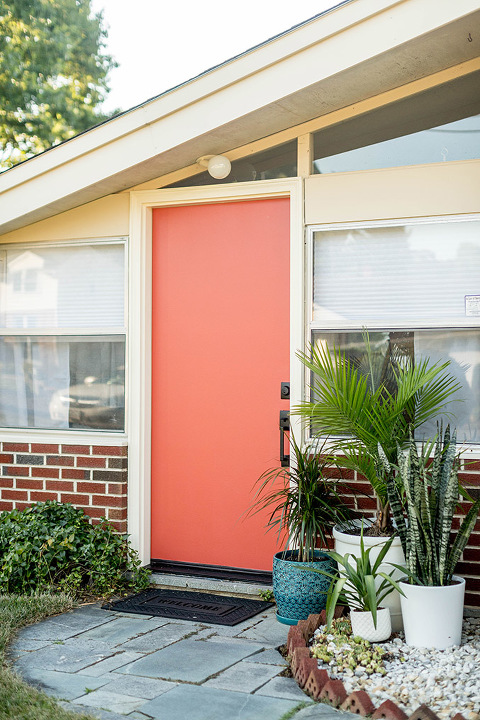 While a lot of home updates take a fairly small amount of time and effort to pull off, there are inevitably those certain projects that you think will be a cinch to cross off your list, but turn out to take months to really make happen. Our new front door is one of those types of deceptively simple projects that ended up taking a lot more time and a lot more money to see through to the finish line, but, happily, the results are worth all of the trial and, yes, the tears, too.
It all started back in the beginning of the year when I decided that it was time for a curb appeal face lift. Our home's unique A-frame shape already made it stand out from the neighborhood, but John and I always wished that the front entry matched the cool sophistication of the architecture itself. As is, the flimsy glass storm door was neither very secure nor very impervious to the elements (vines used to grow under the door, it was that loosely hung!), so we decided it was time to replace it with a professionally installed, weather-tight steel front door.
First, though, we needed to choose a style. I Photoshopped all sorts of different options onto an image we already had of the front of our house, and thought I had settled on this one, which I showed you a couple months ago in my mood board for the curb appeal makeover. I loved the pretty moulding, but after finding out that we needed a custom-sized door, the decorative style just wasn't within budget. Here are a handful of other options we considered throughout the process in case you're curious.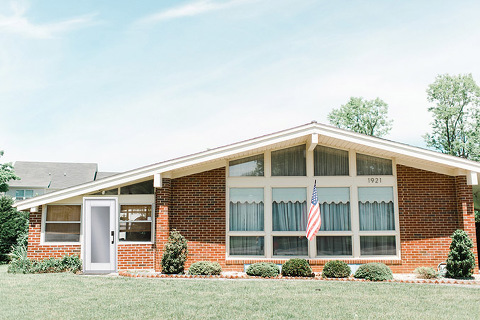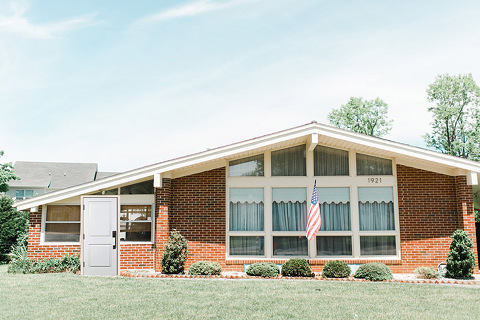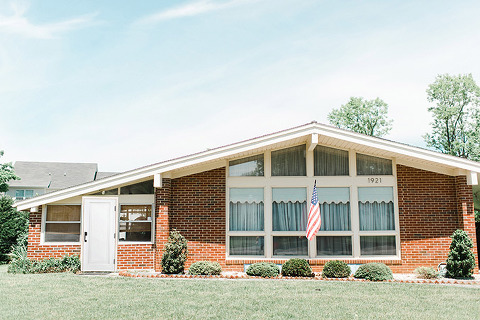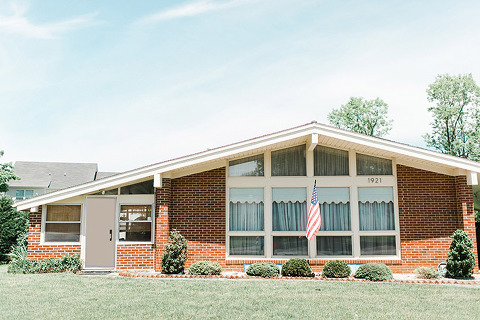 Instead, we settled on the plain, totally flat panel door you see mocked up above. I tend to ere on the side of simple anyway, so I wasn't upset at the last-minute change, but the inevitable up-charge that comes with a custom door was a little surprising. I just wanted to make sure that I mentioned it here in case you decide to upgrade to a steel door, too, so that you aren't taken by surprise at check-out like we were.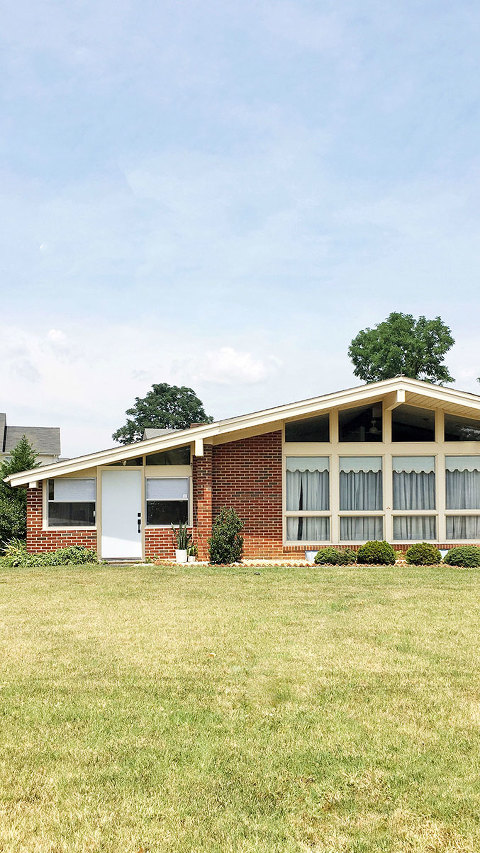 Of course, we could have saved hundreds of dollars by installing the door ourselves, but after working with the contractors that our local Home Depot sent out to do the work, I couldn't possibly recommend a professional install more. And I'm not being paid to say that. Home Depot did help us with a generous discount on the door in return for a mention on the blog, but this project was something we had been saving up for and invested a lot of our own money into as well.
Long story short, we never would have attempted to install the door on our own since it required a brand new frame, new weather-resistant vinyl and weather stripping, plus hinges, a matching sill, and multiple lines of caulk to make sure that everything was sealed up tight. They even installed our new matte black hardware and deadbolt, so it was completely worry-free for us. I welcomed the installers into the house at 9am one Thursday morning, and they were all wrapped up and hauling our old storm door and the tattered old frame out by 10:30am—no questions asked.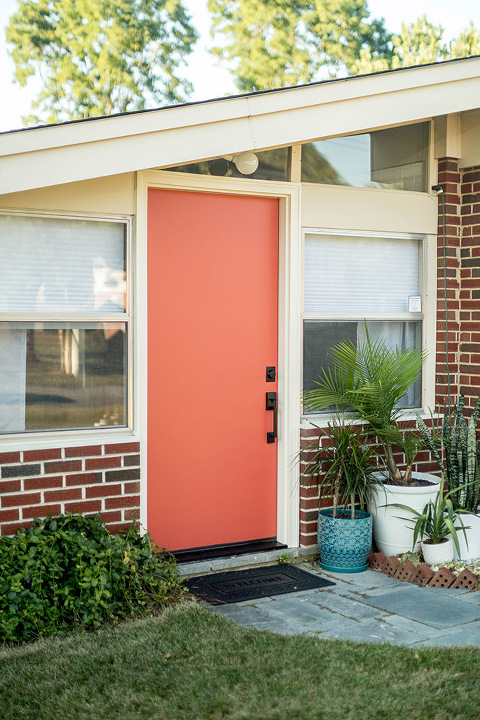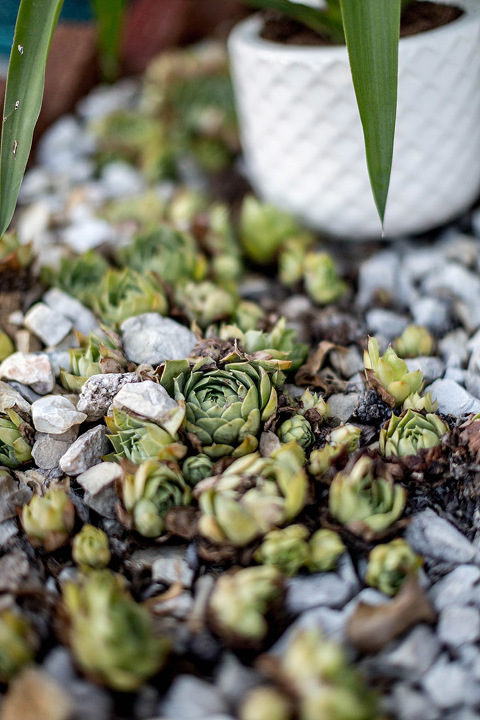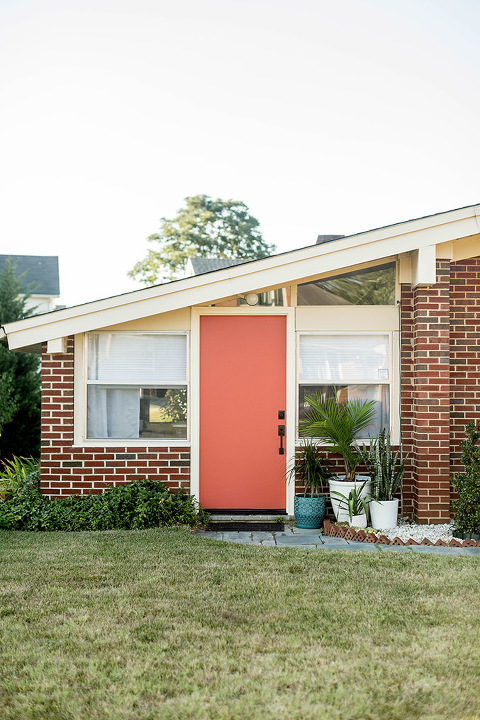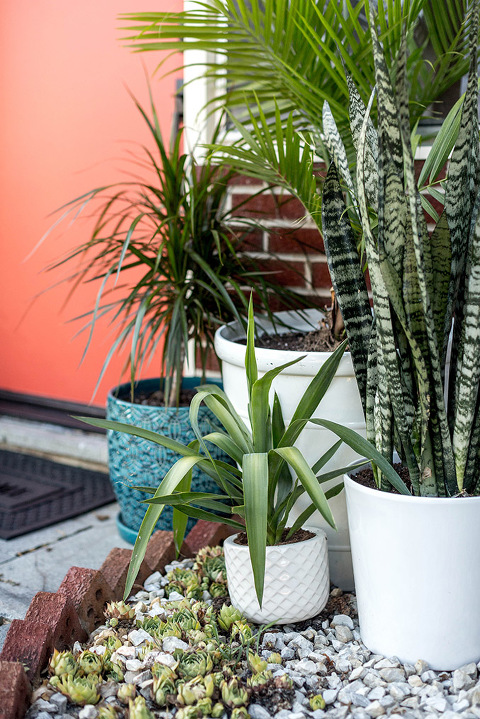 Next, we needed to choose a paint color. The door we bought came in a primed white finish, and after waiting 24 hours to allow the caulk to set, it was time to get rolling—literally. You can click here to see a GIF animation of all the paint colors we considered (including just leaving the new door plain white), but we ultimately decided on a quintessential mid-century shade of orange—something with a hint of red in it to coordinate with the brick, but with just enough "fire" to make it pop.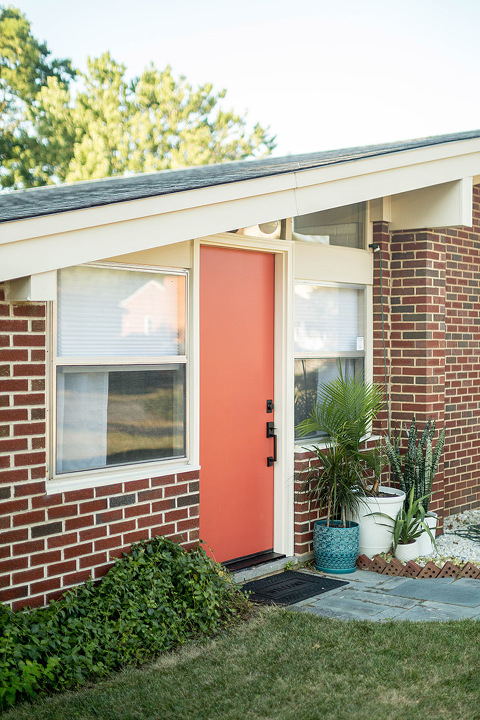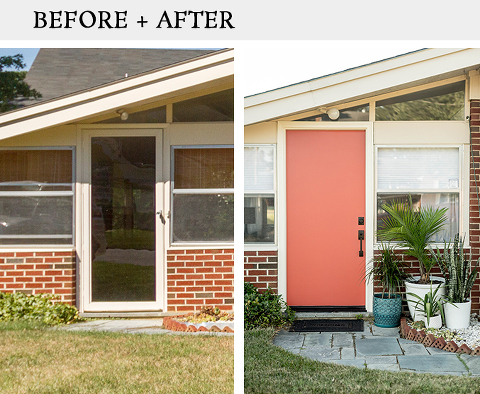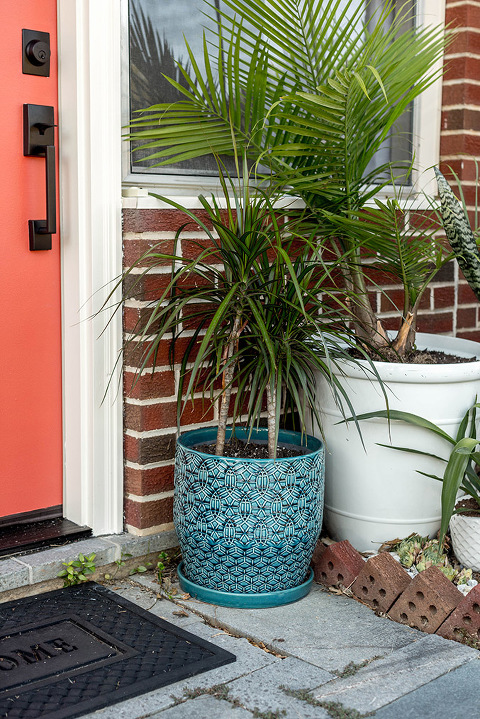 Truth be told, I impulse purchased a color from Behr called "Pimento," but it ended up being way too bright, so I raced over to Sherwin Williams, which is just a mile from our house, to grab a new, more muted version of the color to go over top. The final color we chose (that you see pictured here in this post) is called "Peppery" from Sherwin Williams, and, although I'm certainly biased, I think it's the perfect poppy-yet-sophisticated reddish orange for our 1960s house.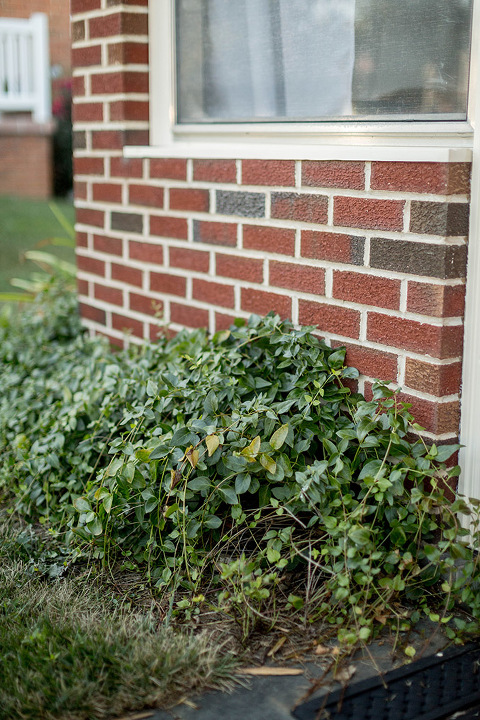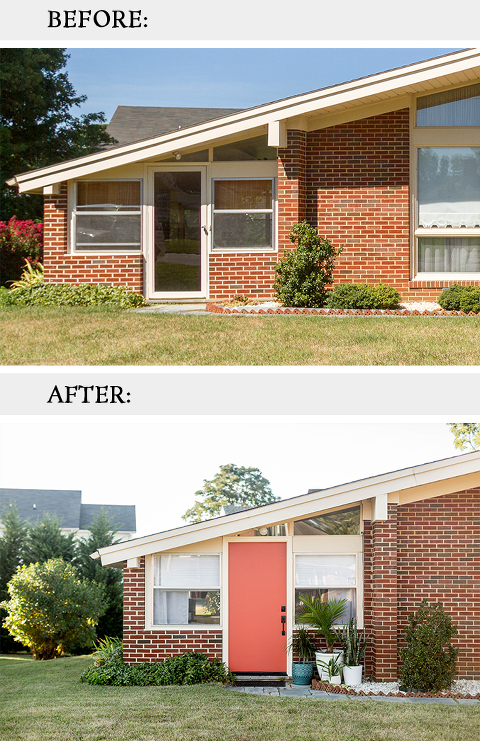 The new door not only looks more "official" and stylish, it also feels more official, too. The addition of a sill down along the bottom of the entry floor and proper weather stripping allow for a tight seal when the door is closed, and we're no longer having to deal with vines infiltrating the sunroom that sits just behind the door.
To round out the updates, we added some new potted plants, hung some custom-cut cellular shades inside, and filled in a few bare areas of the landscaping with new white rocks. I also replaced the old flood light with a round frosted lightbulb to make it feel a little more retro and finished.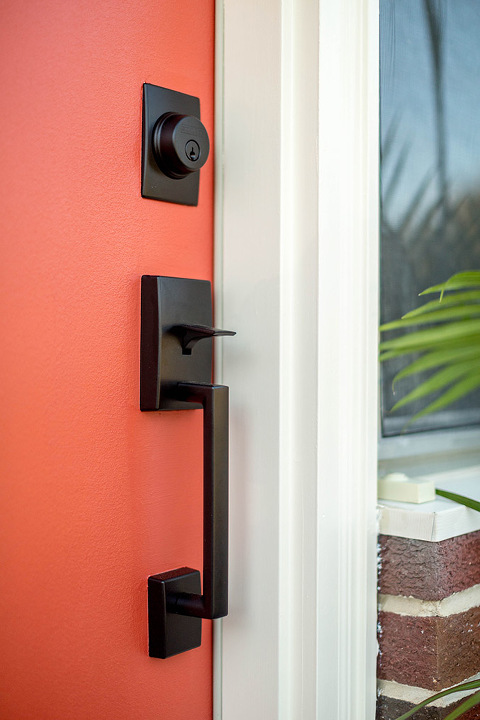 All in all, the project took about three months to complete, but I think the majority of that was just waiting on coordinating the official measure appointment (Home Depot sends their installer out ahead of time to take accurate measurements of your specific door frame), choosing and ordering our materials, paying for everything, waiting for the door to ship to the store, and then finally scheduling our install.
I won't lie to you. It was certainly a little more stressful then I had anticipated to get a new front door, but now that it's done, and it's done right, I'm so happy that we powered through. Hopefully, we won't ever have to replace the door again, and we couldn't be more in love with the before-and-after difference our new curb updates made. Let us know what you think of the new look below!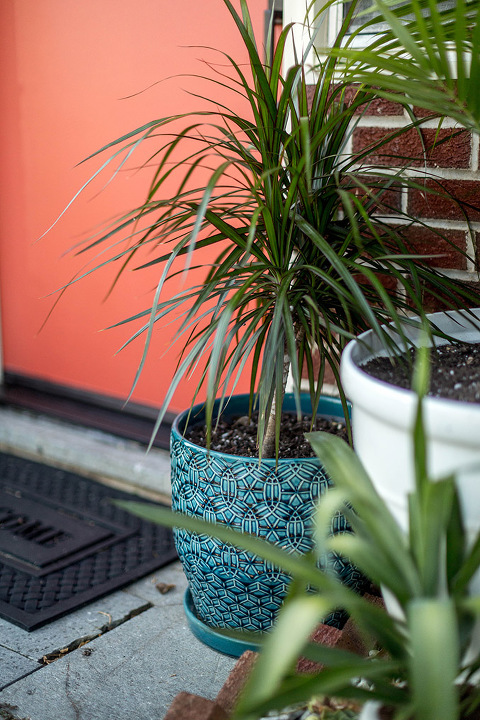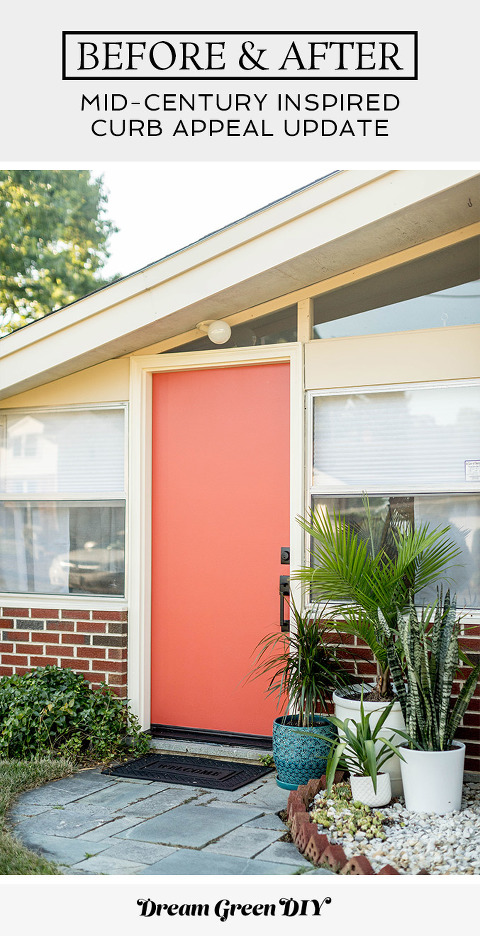 SaveSave