*This post was sponsored by KILZ®. All thoughts and opinions are my own.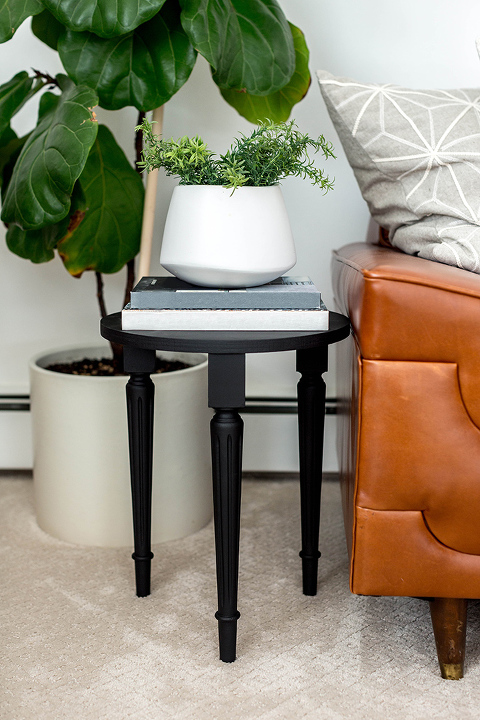 You guys know, probably better than anyone, that I love me a good before and after DIY furniture makeover. I've wallpapered and painted dressers, had chairs and sofas reupholstered, and I've painted trashy secondhand pieces in pastel hues to give them new leases on life. All this to say that I get so much satisfaction out of making over inexpensive thrifted pieces, and today's project (my first furniture DIY of the new year!) now holds the number one spot on my countdown of favorites.
The ugly little secondhand side table you see pictured below came into my possession from a thrift store here in town and cost just four measly dollars. I was looking for something that could go alongside the extra low leather sofa in our living room to act as a plant and book stand, and this tiny table was the perfect thing. Well, "perfect" in that it was the right stature and size, but not so perfect in finish. Happily, it was nothing a can of paint couldn't fix.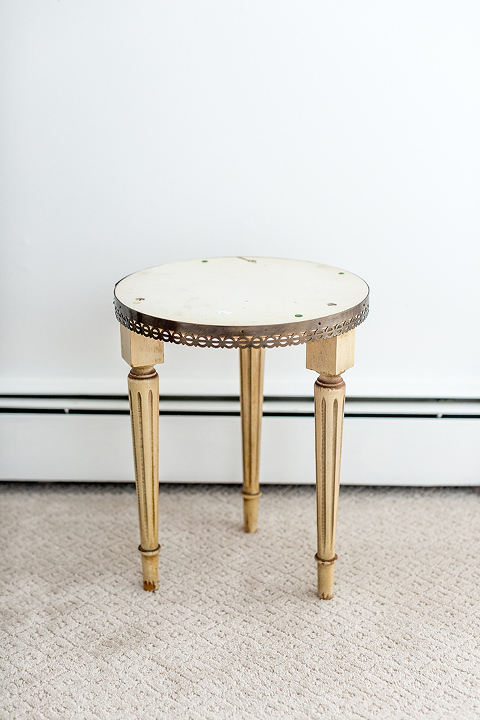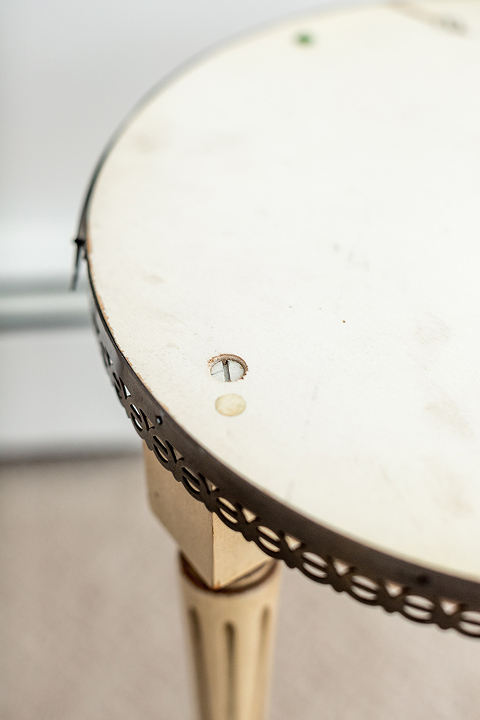 My new-to-me table was, I think, intentionally "antiqued" but it had lost a lot of its luster from years of apparent wear and tear. The legs were really wobbly and holding on by threads, plus I felt like the metal trim (while admittedly really pretty!) was too much alongside those elegant legs.
The very first thing I did was use a razor blade to remove the price tag, felt pieces, and other bits of grim from the tabletop. Then, I used a hammer to slowly peel back the metal trim piece, which, thankfully, was held on just by 12 nails—no glue in sight. Because the trim came off so nicely, I was able to carefully flatten it out and it's now sitting on my work table in the basement to be repurposed for a future DIY project.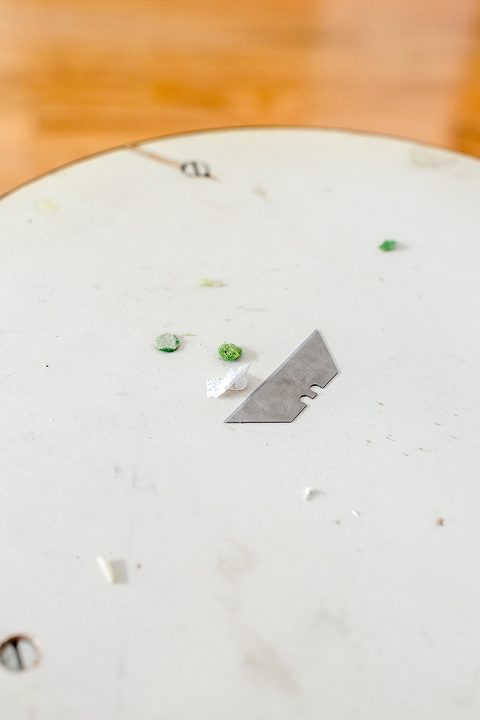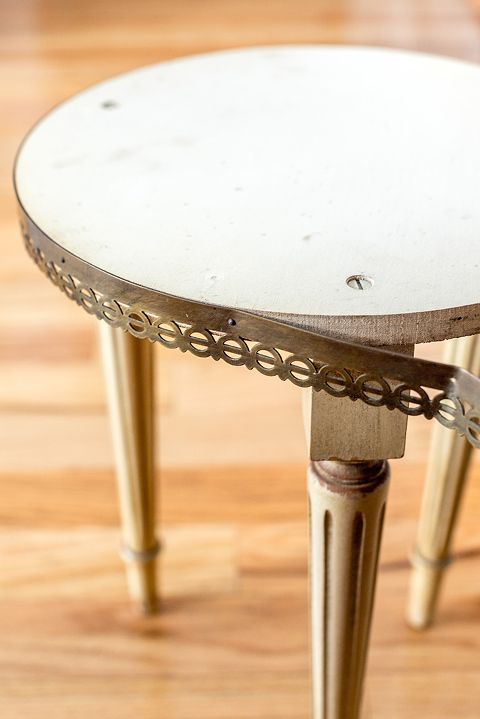 With the table cleaned up and simplified, I turned my attention to rebuilding it piece by piece. I unscrewed the three legs, and squeezed small dots of wood glue inside the open screw holes. I also added layers of glue to the tops of the legs, too, and finished by reattaching all three securely to the underside of the tabletop. The addition of glue on each of the legs helped shore them up and give the table a much sturdier silhouette, perfect for balancing heavy potted plants and stacks of books, per my design vision.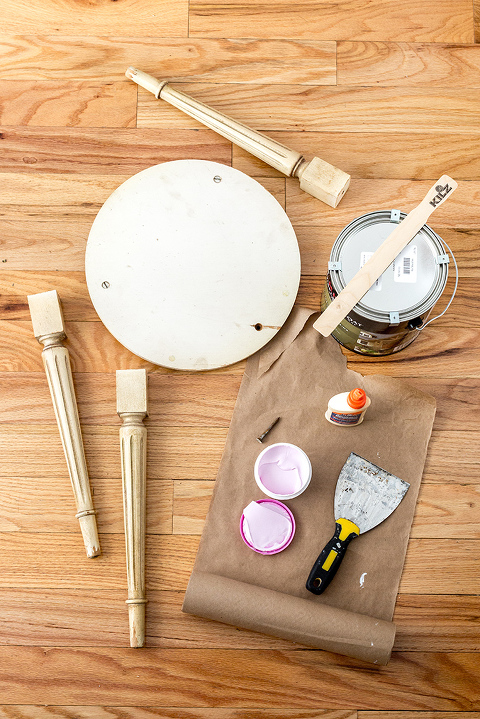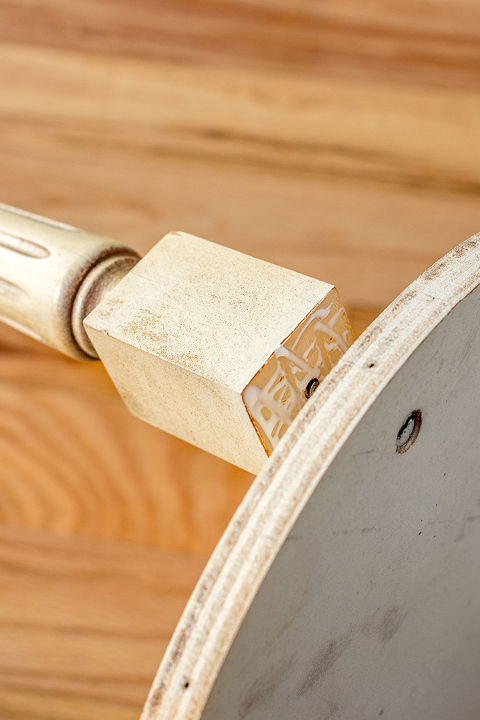 Finally, after filling all of the cracks and screw head divots with wood filler and sanding it all down again the next day, I was ready for paint. This time around, I put KILZ COMPLETE COAT® to the test, and can confidently say that I'll be using it again in the very near future. The paint went on so smoothly, as you'll see in just a minute, and it only took two coats to cover that ugly original finish.
Since I wanted my little side table to sport a matte black finish, I ordered a gallon of flat paint and primer in one in a color called "Rebel®" from Walmart ('cause free shipping—yay!). Honestly, I think I probably could have gotten away with buying the smaller can of paint, but I've learned my lesson one too many times having to run out for more paint, so I always overbuy now.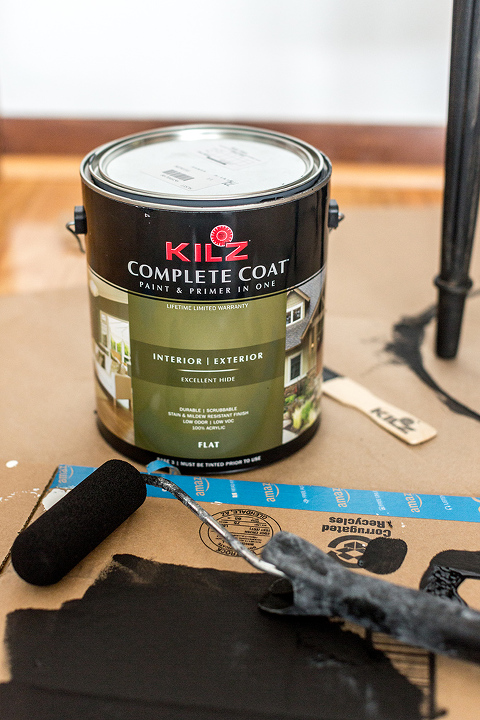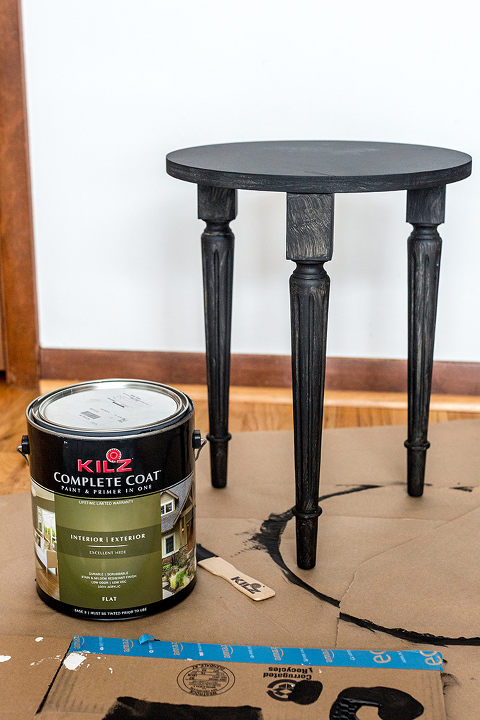 Here's a random tip! I had just settled down to get started on the painting phase of this project only to realize that I didn't have any paint trays. Luckily, we had plenty of cardboard, and since I knew I only needed a small amount of paint to roll on top of the table, I dipped my roller right into the paint can, and rolled off the excess on my scrap cardboard. It worked like a charm! For the legs, I simply dipped an angled brush right into the can of paint and slowly spread the paint along the surface of all three, being careful to fill in all of the small details.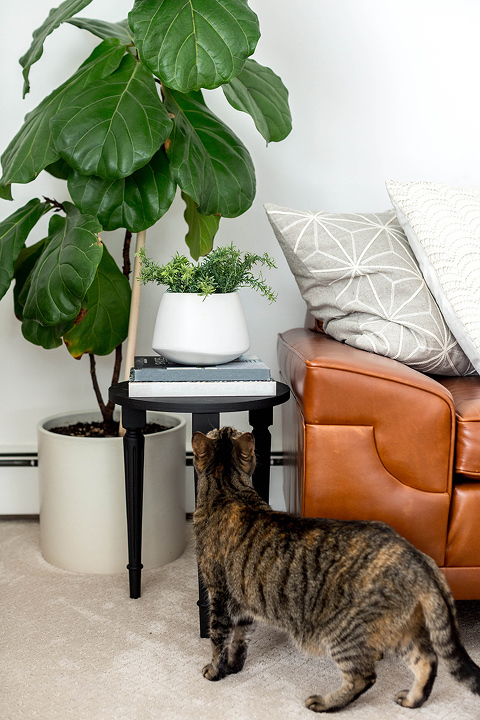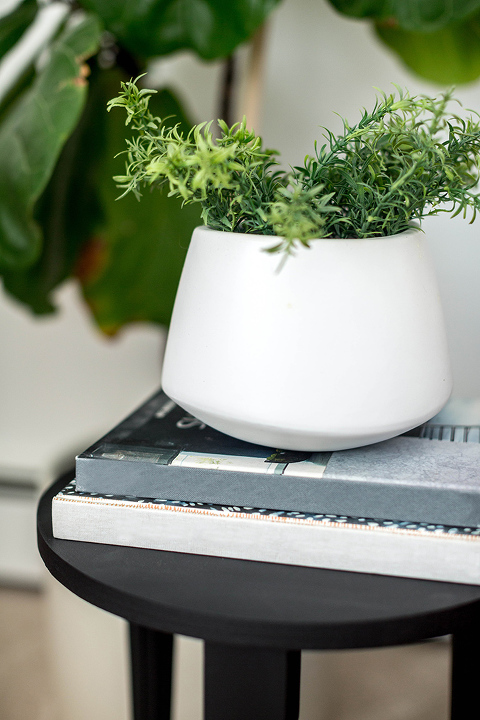 It only took two days and two coats of paint to completely (and I mean completely) transform that once-ugly ultra-traditional side table into a piece fit for our mid-century modern home. There's just something so sleek and edgy about the table now that it's all done in matte black color. Sure, the faux antiqued finish on the original table brought out the detailing in the legs, but I think the soft black paint brings those out even more, enhancing the dips and curves as the light hits it.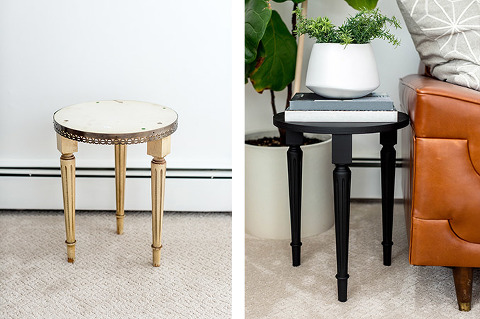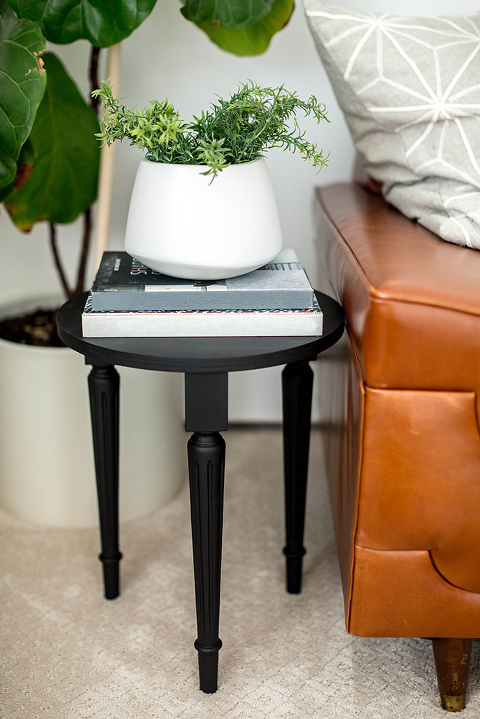 One thing you might have noticed when looking at that Before/After shot above is that I made the executive decision to give the side table a true "front" side. Originally, the table legs were oriented at angles to follow the round tabletop, but I glued the legs back on in an even manner. In other words, the flat sides of the legs are all pointed forward. This helps the three-legged stance feel a little more intentional and balanced.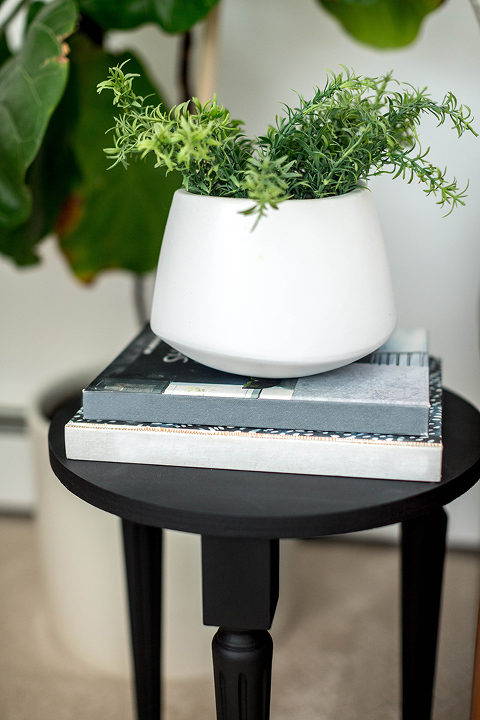 Isn't it just so amazing what a can of paint can do? I'm clearly biased, but I think you can hardly recognize the new matte black plant stand from the faux antiqued table it was before. Pick up your own KILZ COMPLETE COAT® paint at any local Walmart, and then tell me in the comments below: what's your first painting project of 2018 going to be?