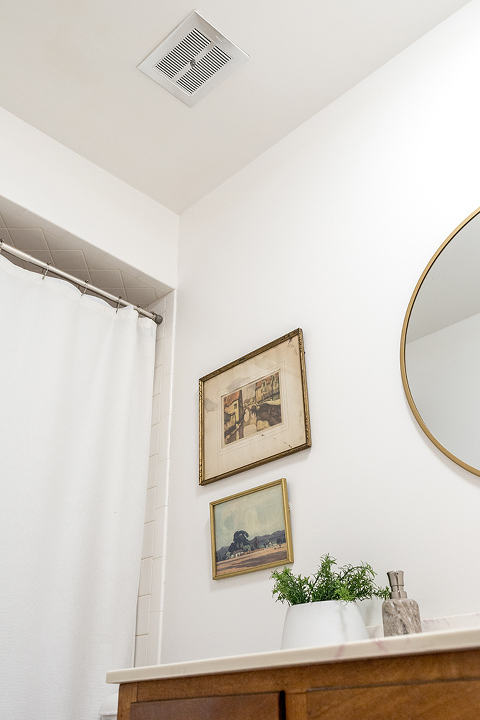 It's fairly often that I have an idea for a blog post—usually something to do with a project that we're working on around the house or some kind of organization hack—that I think could be of interest to you guys, but then I worry that the photos won't be "pretty" enough. I remember seven years ago, wayyyyyy back in the day, when I would just post whatever I thought might be practical for you to know (un-styled, late night photos and all), yet, these days, it seems that this industry is all about perfect Pinterest-worthy images.
Well, today, I've decided enough is enough. Sure, a pretty picture is worth a thousand words (and they're still my favorite to see and share!), but a practical project can be just as worthy of those words, too. How do you feel about that? Are you interested in learning how to do a project even if the final images might not be something you'd find in a home magazine?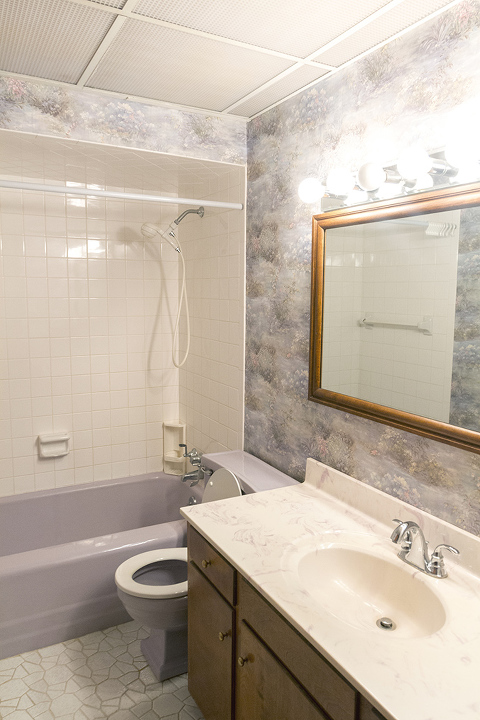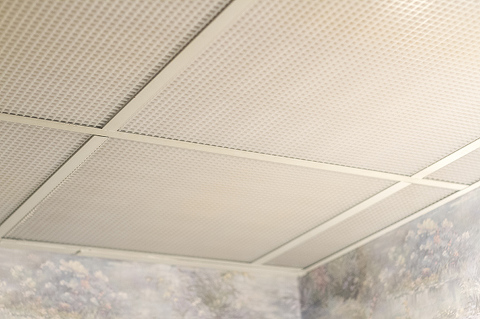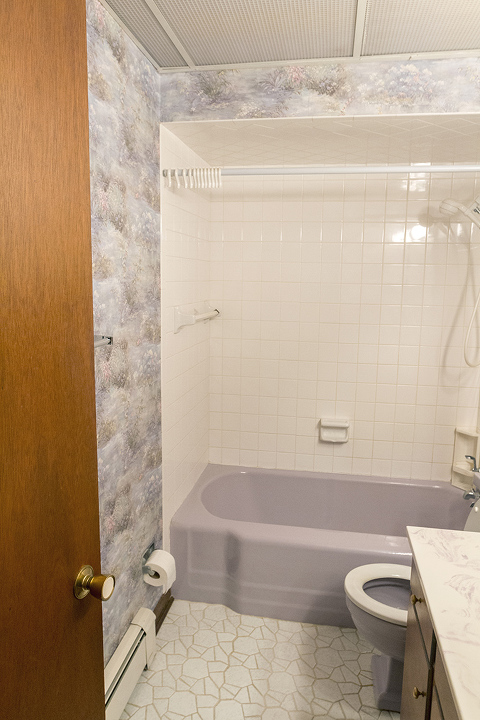 In case you need an example of these "real life" home projects, let's talk about the dated drop ceiling tiles in our upstairs bathroom. As you can see in the before photos above right when we moved in, the room was capped off by a weird metal and plastic drop ceiling that covered three defunct fluorescent lights and a ventilation fan. One day, about two years ago, I was getting ready in the morning and happened to look up. I scrutinized the hardware holding the ceiling together and remember thinking to myself, "That doesn't look like too big of a deal to remove."
At the time, we actually had just cleaned out junk left behind in the basement by the previous owners of our home, and had a pile of trash out on the front yard to be picked up by the city. The dump trucks were set to arrive in a day or two, so I still had time to add to the pile. In the blink of an eye, I had our step ladder out and my screwdriver in hand with the intent to rip out those drop ceiling tiles once and for all.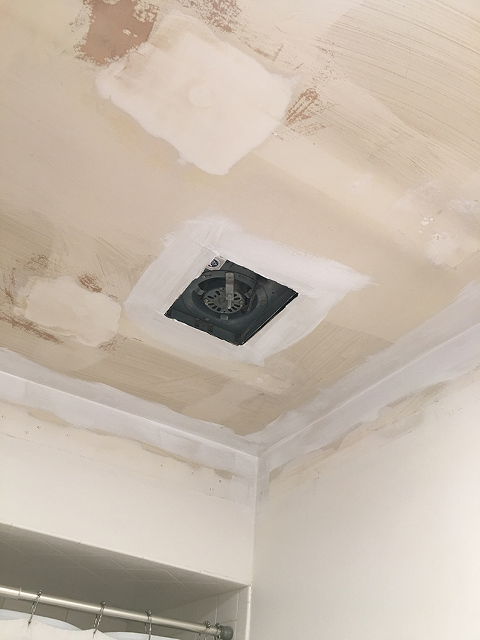 It took about 10 minutes to lift out and remove the plastic tiles, and then I spent another 20 minutes ripping the metal grid out of the walls. Once I was finally able to survey the damage, I realized that I was going to need to call in a professional electrician to help me remove the useless fluorescent lights that were revealed. Because the ceiling was out of the way and not posing any kind of practical issue, I'm kind of embarrassed to admit that I waited a good 13-14 months before getting said electrician in. It just wasn't a priority, but I finally had it taken care of this year.
I don't have any photos of the old fluorescent lights because I really didn't think I was going to talk about the project here on the blog, but now that I am, you can click over to our full home tour video to see what the ceiling looked like with the old fluorescent bulbs in place  (I pan up to it with my camera at around the 5:40 minute mark). In the end, I had our electrician remove the wiring from the two furthest fluorescent fixtures, but I asked him to leave the box and wiring in place on the third since it was situated right over our sink. After he left, I ran out to the hardware store and picked up a round ceiling flush-mount light fixture, and installed it by myself within 30 minutes.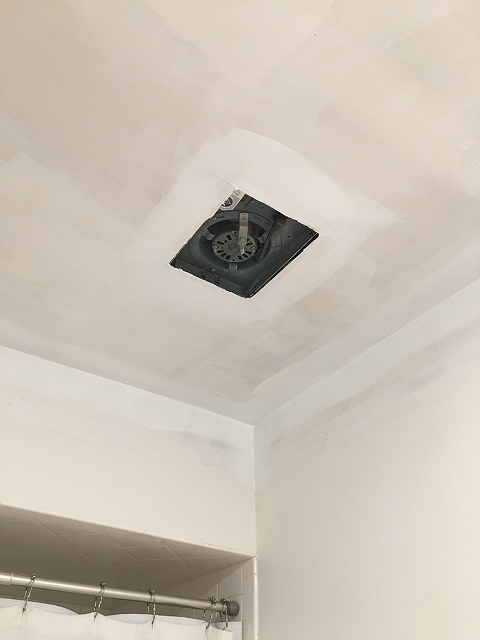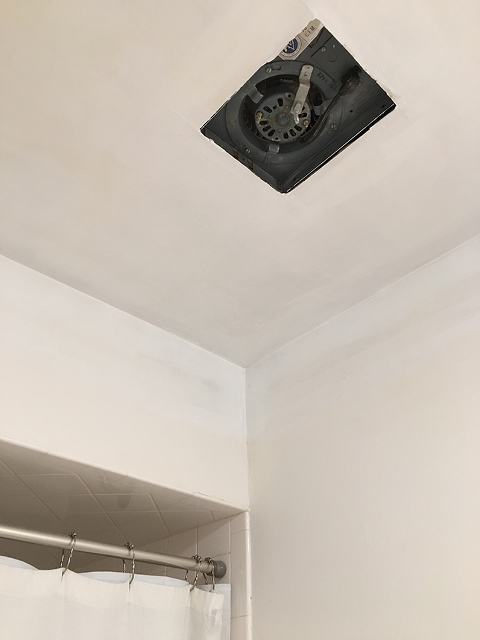 The final step was to work on cleaning up the mess that was left behind from the drop ceiling tiles and fluorescent bulb removal. There were multiple nail and screw holes to patch, as well as the holes in the ceiling where the fluorescent fixtures used to be, so I used a handful of store-bought drywall patches to cover everything up in preparation for the final finish work.
Once the drywall patches were in place (follow the specific instructions that come with your own patches since each will be different) and the patching compound was dry, I sanded everything smooth, then rolled several coats of primer over the walls and ceiling. Our particular ceiling had some kind of weird reddish grime on it, so it took about 3-4 coats of primer to completely cover. Hopefully yours won't be quite so labor-intensive.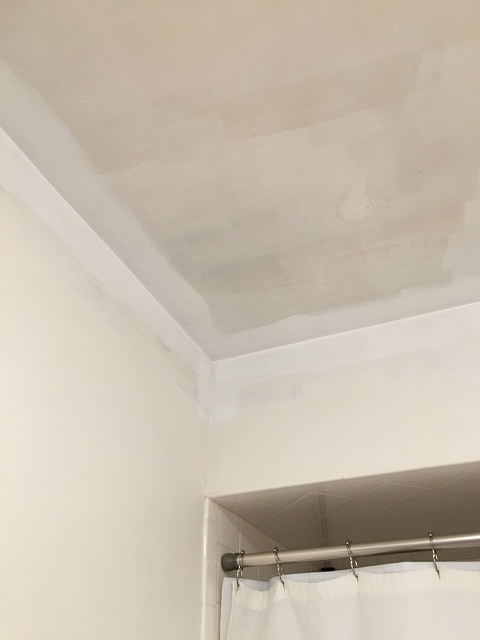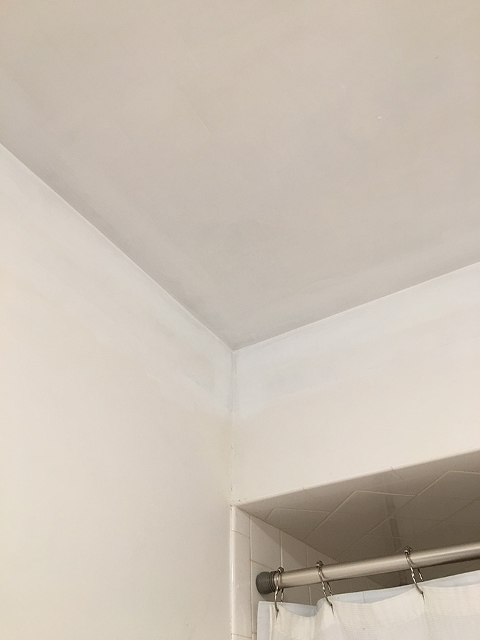 After the final coat of primer was done, I went back over the entire room with paint I had chosen for the room back when we removed the wallpaper in 2016—a color called "Snowbound" from Sherwin Williams. I had planned on just painting the ceiling and the parts of the walls that had been hidden by the old drop tiles, but ended up giving the whole room a facelift with new paint. This made sure that everything was nice and even, plus the full room's worth of fresh paint seemed to brighten the entire space once I had a chance to step back at the end of the project.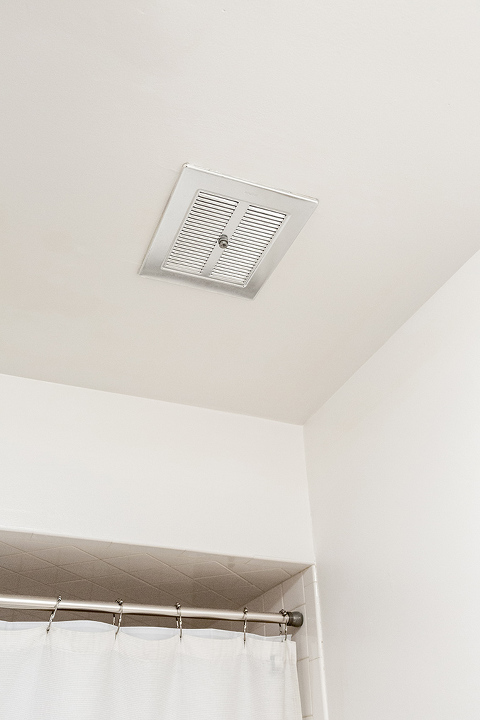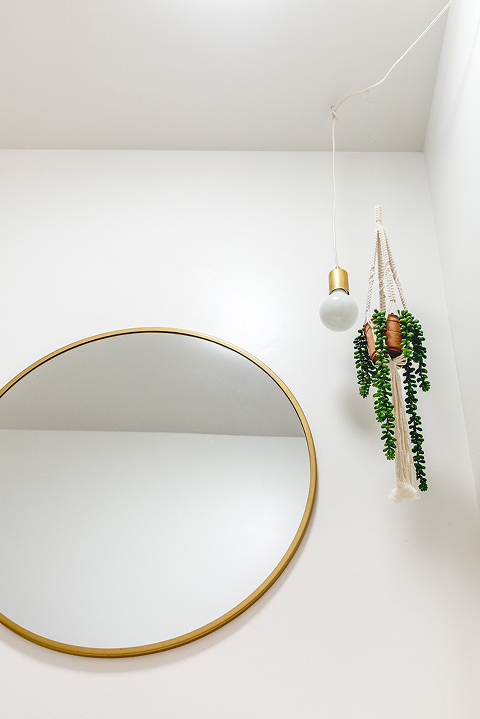 This is a little bit of a convoluted side story, but when we took out the fluorescent lighting, my electrician and I discovered that the original vanity fixture over the mirror was actually rigged up from wires that were left exposed behind the drop ceiling tiles. With the ceiling now open, there was no way to salvage the vanity light without running new hidden wiring down from the attic.
Ultimately, like I explained before, we decided to nix the vanity light for an overhead flush-mount fixture, which meant I needed to patch, sand, prime, and paint a gaping hole over the mirror, too. In order to add a little bit of supplemental light by the mirror for putting on makeup, I hung a simple gold plug-in pendant in the corner, and it's now the perfect light collection that we can turn on and off depending on our needs.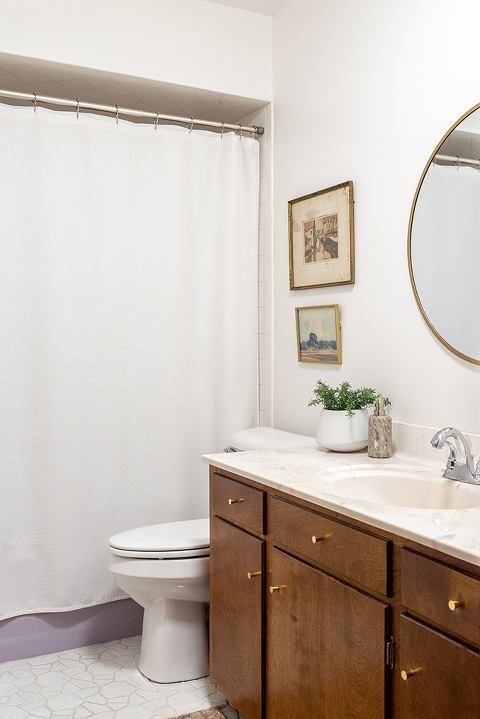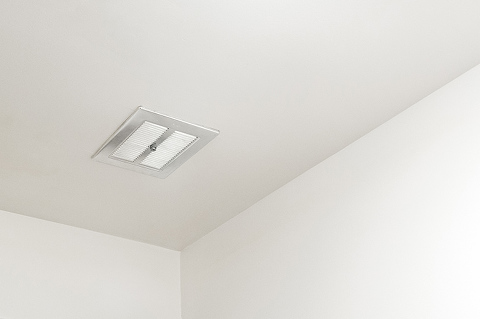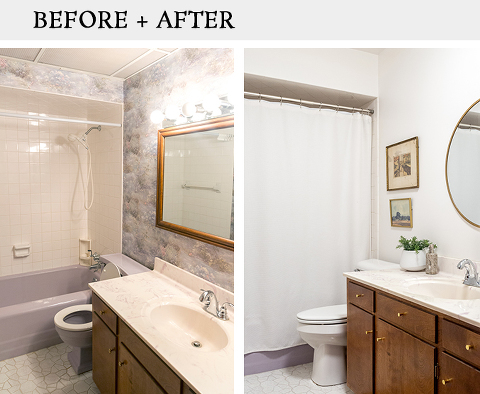 Of course, the best part about removing the dated drop ceiling tiles is that we no longer have the eyesore to look at, but what I didn't anticipate was just how much bigger the room would look without them. The tiles were hung about seven inches from the true ceiling, so we gained a ton of height with them gone. Now that the ceiling and walls match in that same pretty, slightly-off-white paint color, the bathroom feels extra spacious and clean.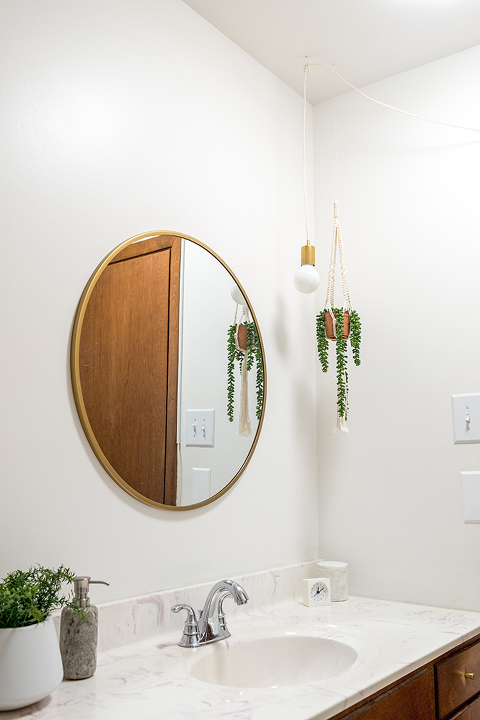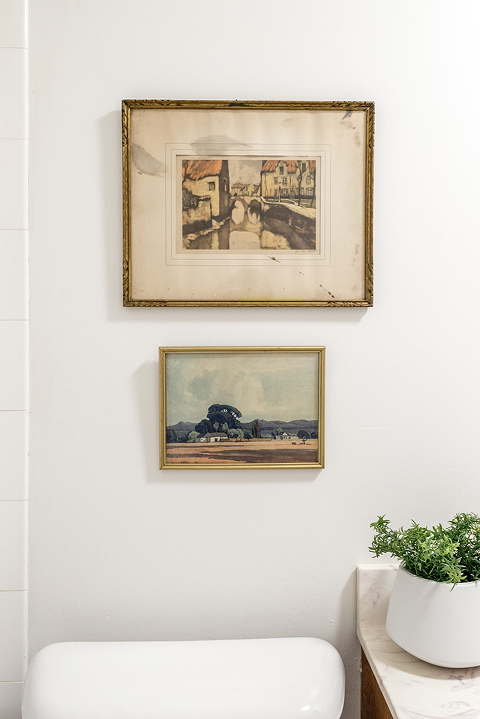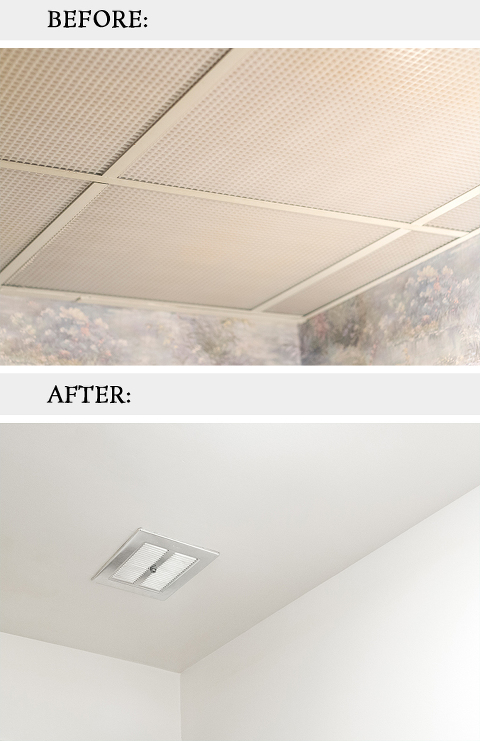 So, that's the full twist-y, turn-y story behind our updated upstairs bathroom ceiling! I know this post probably contains more information then you ever thought you'd need about drop ceiling tiles, but I wanted to go through the whole process just in case you're dealing with a dated set-up yourself. It's really simple to cross off your list as long as you take the project one step at a time, and as long as you know when to enlist the pros to help get you to the finish line.
Oh, and please feel free to weigh in below if you like these types of more casual home project tutorials. Of course, I'll always make it a priority to share Pinterest-worthy photos to help inspire your own home décor journey, but, as we all know from personal experience, not all projects are pretty. As long as you're okay with it, I'll plan to work in a few more useful home maintenance tutorials in the coming season.