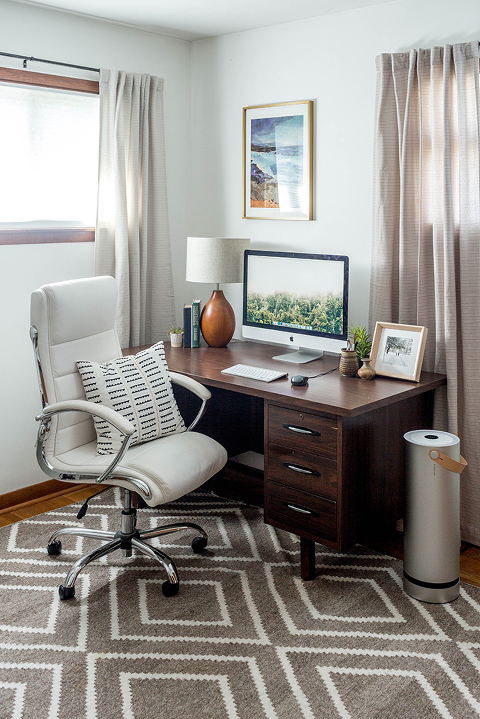 Back in 2011 when I started this blog I figured most of my time would be spent dreaming up projects and bringing DIYs to life. Seven years later, that's still a major part of the work I do, but I didn't anticipate just how much of my day would be taken up with teaching myself how to use a camera to document it all.
I've talked about photography here on Dream Green DIY before, but I've lately been getting lots of reader questions about the equipment I use and requests for tips on how to take good interior shots. To be honest, I still feel like a newbie (especially since most of my friends are professional wedding photographers), but I figured it was worth me sharing the things I've picked up over the years in case you're looking to take better photos for your own blogs—or even Instagram!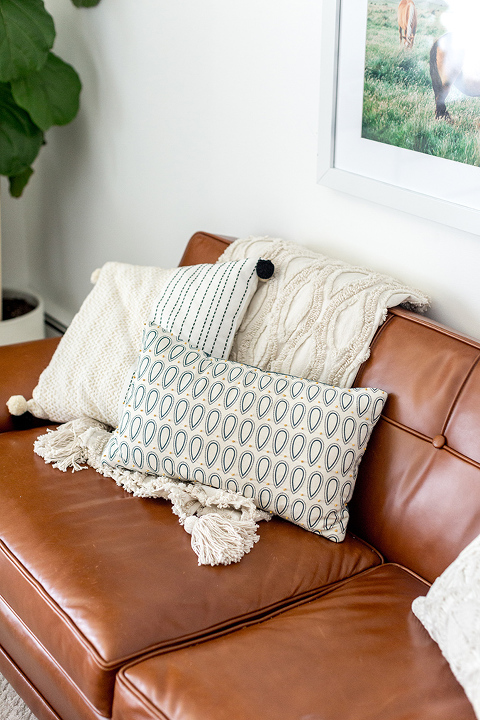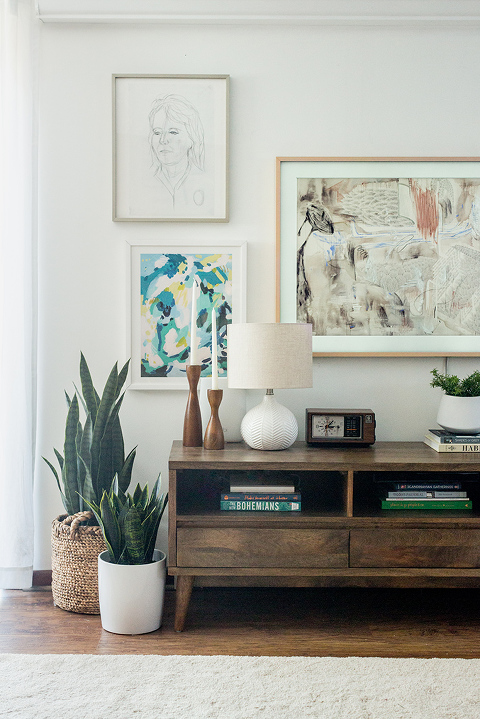 It's Always Better To Over-Shoot
On average, I shoot 300-500 images for each project or room I photograph. This allows me to schedule just one shoot to get all of the images I need. I remember back in the day when I used to take just a handful of images (during the right time of day to get the best light) only to realize that I missed out on photographing key elements when I actually got down to editing. Do yourself a favor and shoot way more than you actually need so you can get all the angles and details needed for final image selections.
Speaking of selections, I usually edit those collections of 300-500 photos down to about 25-50—those are the only ones I actually edit. I don't use all of the images from each collection for the final blog posts, so that allows me to have lots of extras that I can use later on for my Instagram feed or even for future blog posts about a similar-but-different topic.
For example, the photos just above and below came from the updated family room tour I photographed for the blog in February. Because I had overshot the space, I was able to use extra photos that didn't appear in the first post in a second post in April all about my three favorite corners in our home. Again, I repeat: it's always better to over-shoot!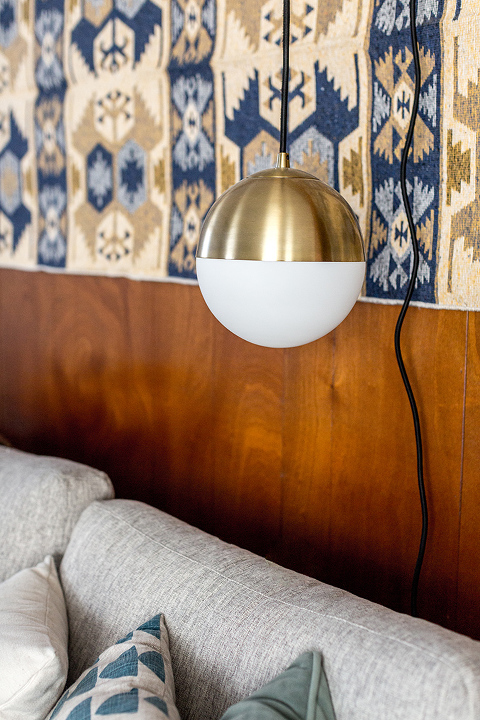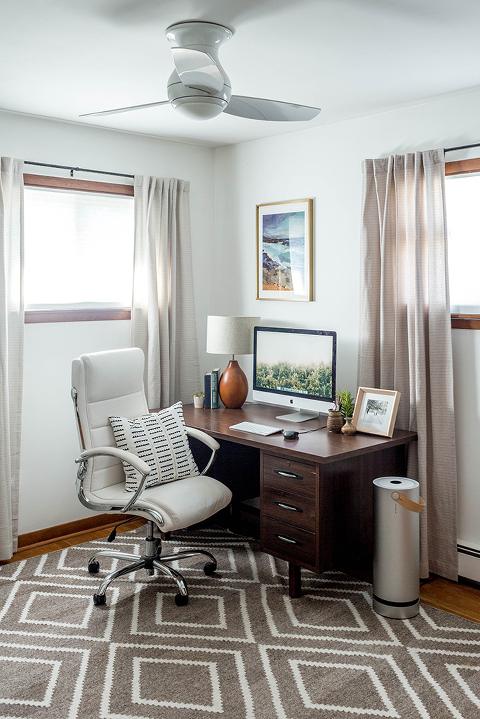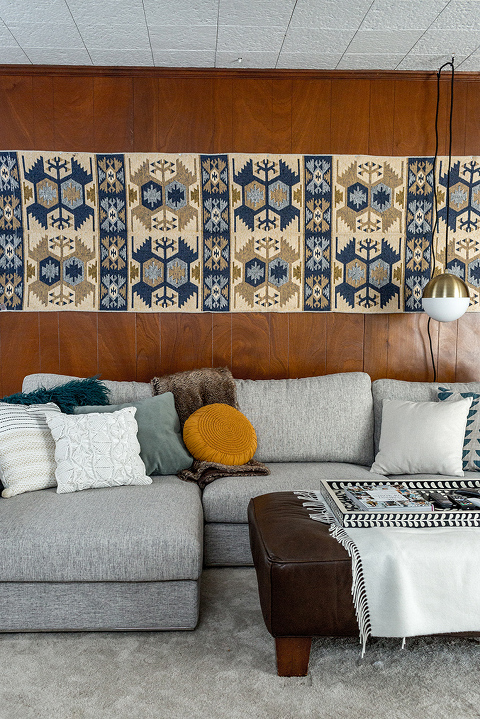 Try Composing Your Shots Straight-On
One thing I've learned from flipping through shelter magazines and interior design books is that a lot of professional photographers shoot rooms straight-on. In other words, the photographer literally crouches down right smack in front of a piece of furniture or doorway to shoot it. This gives the photo a really crisp, clean look because all of the straight lines sort of sync up within the rectangle of the image.
Take a quick look at the photo of our family room couch above. This was shot straight-on with the back of the couch lined up perfectly with the hanging rug and the ceiling, and then, finally, with the top of the photograph itself. Now scroll down to the photo just below of the same set-up shot at an angle. It's a pretty different look and feel, right?
As I mentioned in the point before this one, I always try to get a few straight-on and angled images of each vignette, but I tend to use straight shots for the main photos in each blog post I use them in. While it's certainly personal preference, I still recommend trying to shoot straight-on if you want to mimic the look of the photos you see in magazines and design books.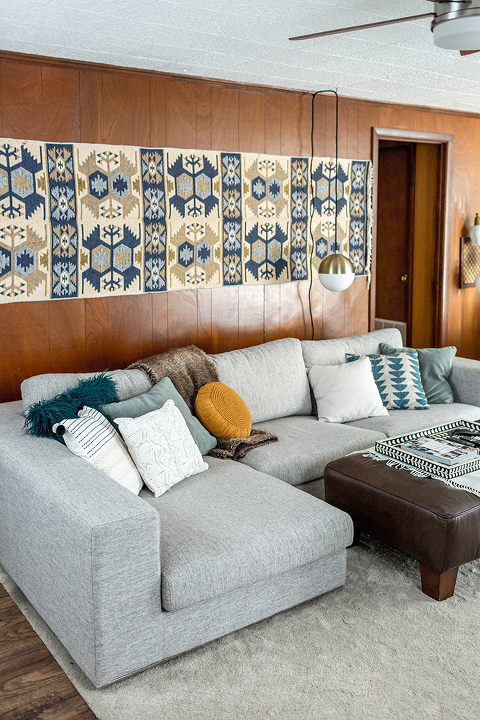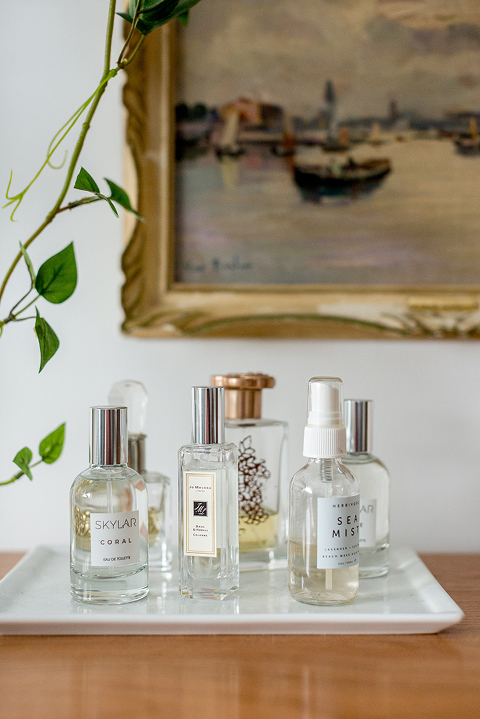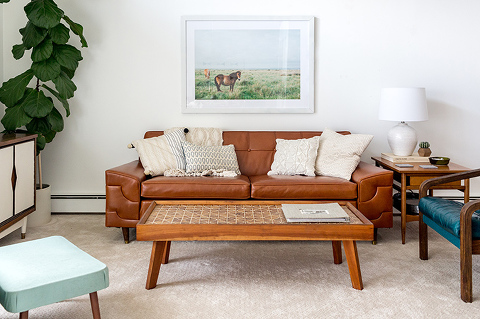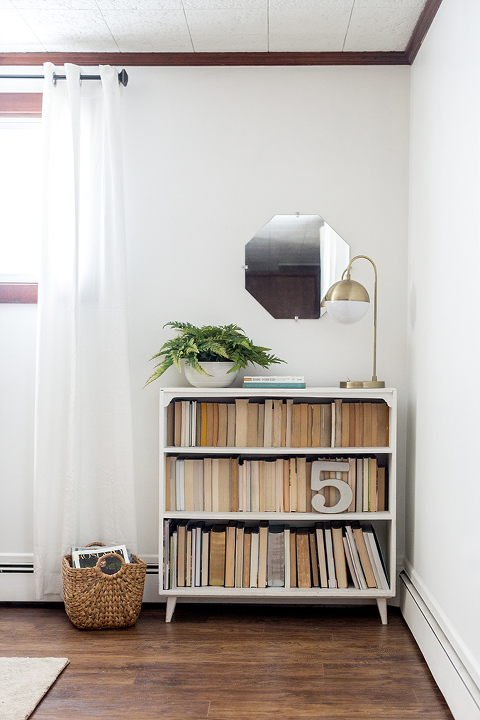 Don't Forget Soft Details
One thing I didn't mention before about those pulled-back, straight-on photos is that I usually shoot those with a smaller aperture (like f/8, f/11) in order to maximize the depth of field. This allows me to get most of the photo in focus. For detail shots, on the other hand, I like to set my camera to a larger aperture (like f/1.4 or f/2.8) for a smaller, softer depth of field.
If you're not shooting manual then those numbers probably don't mean all that much to you (and look backwards, haha), but the basic idea is to make sure you photograph a bunch of soft details in any room you're documenting. I always try to snap a few soft close-ups of things like greenery, light fixtures, book spines, and other little decorative details that help give a room tour a bit of intimacy and interest. Let me know if you want a full blog post about how to shoot in manual!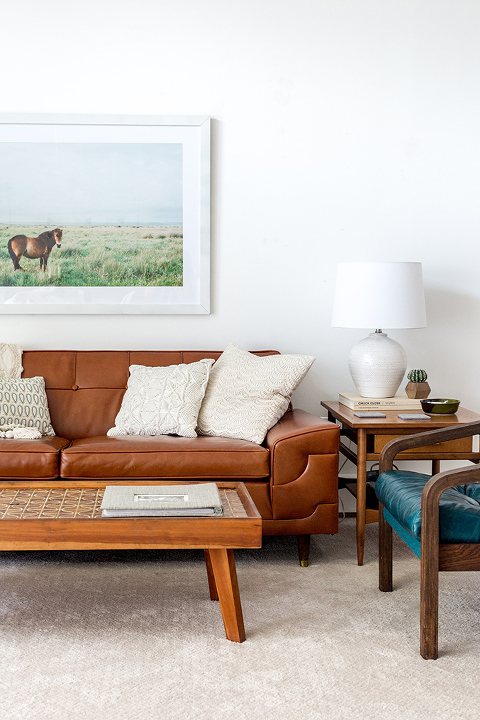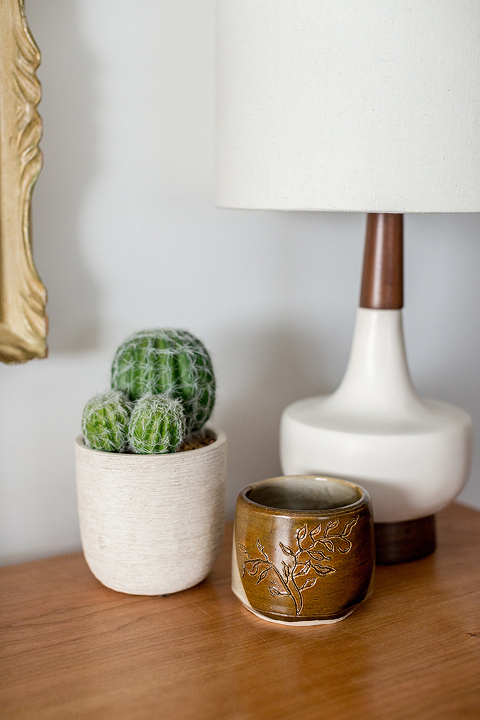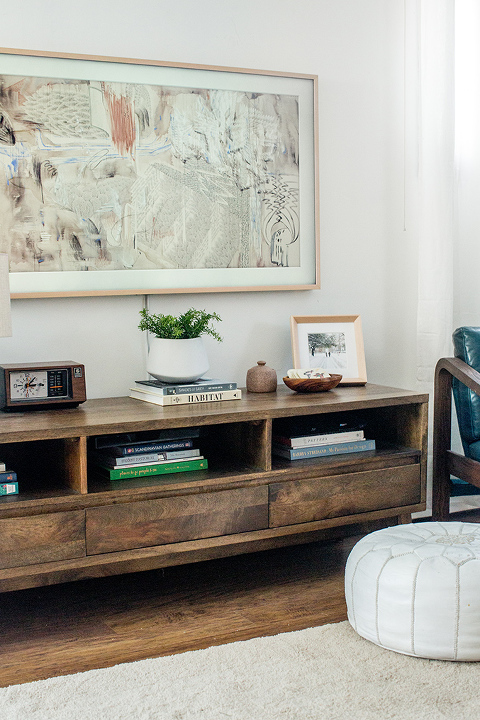 Make The Most Of Bright Natural Daylight
Thinking back again to my early days of blogging, I used to shoot projects and rooms any time—day or night. I turned on overhead lighting to brighten whatever it was that I was photographing, which often led to lots of shadows and over-saturated colors that felt unnatural. It took me a couple of years, but I eventually discovered that there's so much truth to what they say about photographing only when there's lots of natural light to be had.
I could go into detail about how to make a room look bright with manual camera settings, even on dark, dreary days, but that would probably need to be an entirely different blog post. The best thing you can do for yourself when starting out is to wait for the brightest time of the day to photograph your room. This will make the colors look more realistic and you won't have to fight high contrast shadows.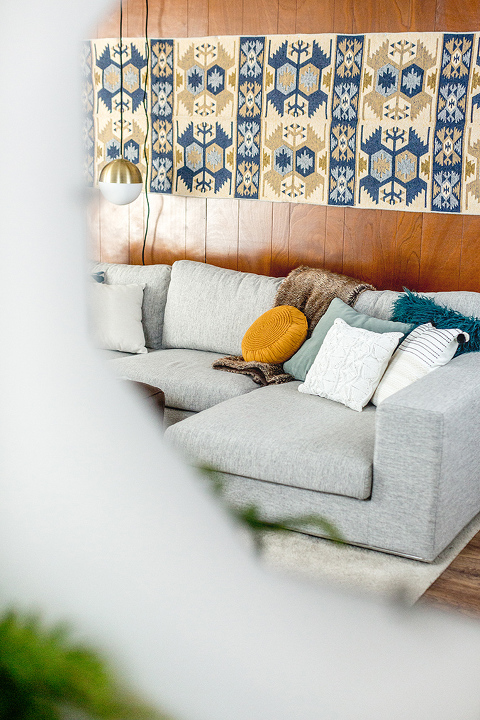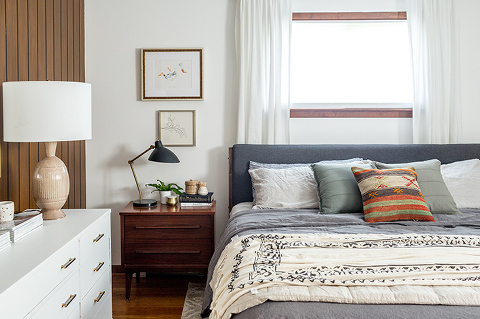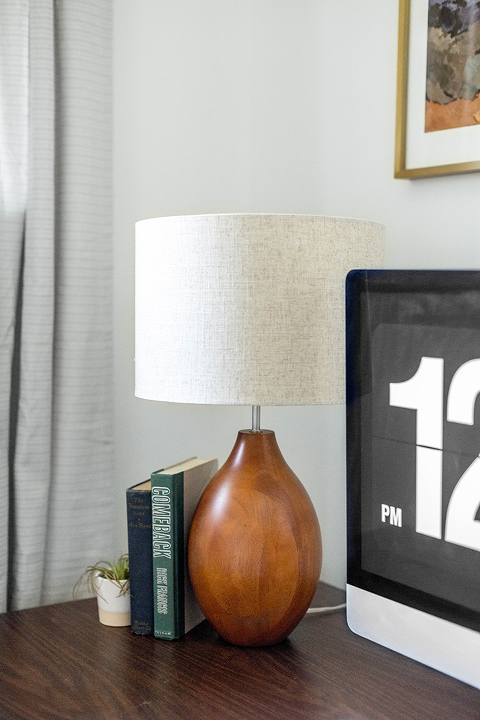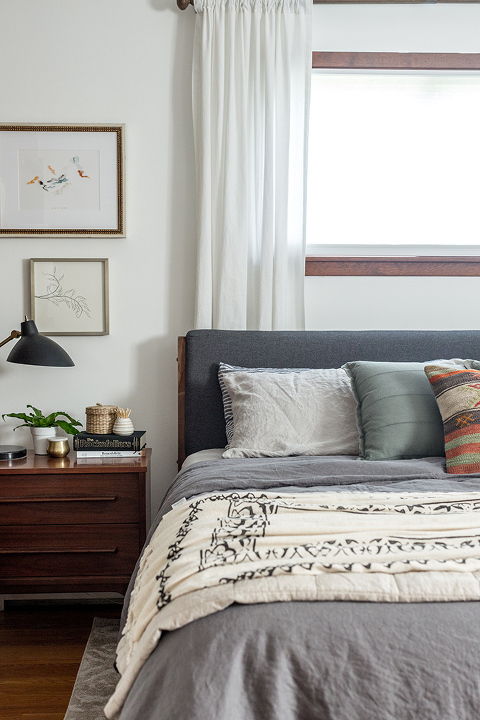 Invest In Good Equipment
…but do it over time! I have gone through three cameras thus far in my blogging journey, which has helped me budget incrementally for each upgrade. To be entirely candid, my current set-up cost me exactly $4,787.39. This includes my main camera body, a 35mm wide angle lens, a 50mm lens for closer shots, and a PowerShot G7 X that I use mostly for videos but occasionally break out for blog photos, too. Everything I purchased came from authorized used sellers on Amazon.
When I first started blogging in 2011, I used a Canon Rebel camera (that John already had) and an inexpensive 50mm lens. I eventually upgraded to a Canon EOS 7D, and then sold that a couple of years later to invest in my current Canon 5D Mark III. My more expensive L-series lenses were also purchased over time as my budget allowed.
By upgrading slowly, I never felt overwhelmed by the equipment I had. It would have been silly for me to invest over $4,000 in equipment when I first launched the blog because (1) I didn't have any clue how to use a camera, and (2) I wasn't even sure that blogging was right for me. Now that it's my full-time job, though, the investment is definitely worth it. Moral of the story? Don't rush into major camera purchases until you've had a chance to really decide that it's the right thing for you.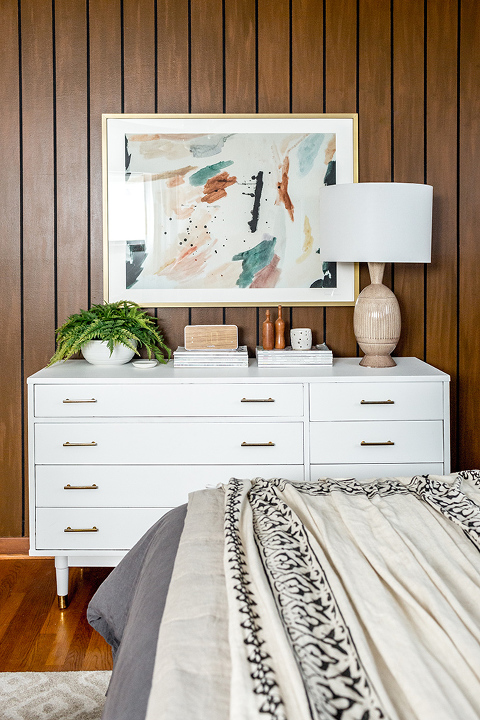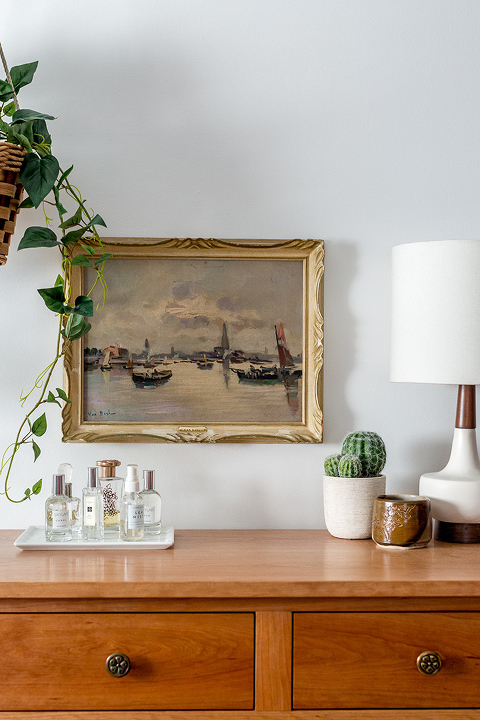 I feel like that was a ton of information, but I still only just barely scratched the surface! Is there anything else you'd like me to talk about where interior and lifestyle photography is concerned? Any takers for a full post about how I edit photos, or how to use a manual camera? I'm an open book, so feel free to make any requests or ask questions in the comments below.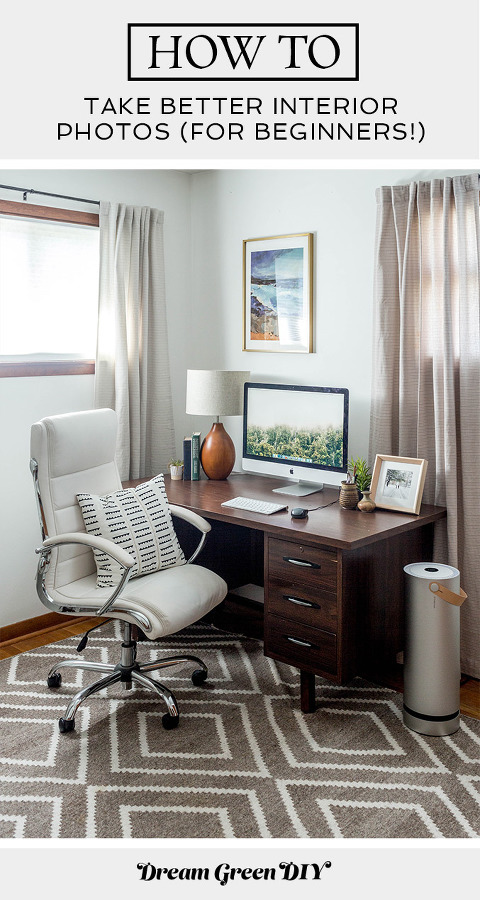 *I earn a small percentage from purchases made by the affiliate links above. Affiliate links are not sponsored. You can rest assured that I would never recommend a product that we don't use and love ourselves!