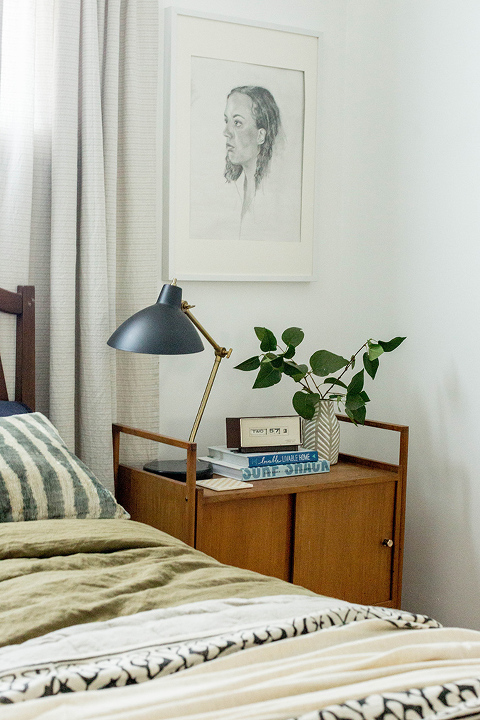 You know that scene in You've Got Mail when Meg Ryan's character eats her breakfast sitting on the floor in a random corner of her home? She just sort of looks around and seems content to ponder her apartment (and life) quietly by herself? Well, I find that scene so endearing because I love to do that, too!
It may seem silly, but one of my favorite things to do is take a seat somewhere in our house that I don't normally go just so I can get a fresh perspective on the space. Sometimes, I'll sit cross-legged on the floor in our living room or dining room or even at the top of the stairs, my back propped up against the door jamb. I'll often spot a tiny detail about our retro home that I never saw before, and this quiet time has been known to inspire more than one or two spontaneous ideas. Read on for a roundup of the three corners I love most in our home, and what I especially love about each one.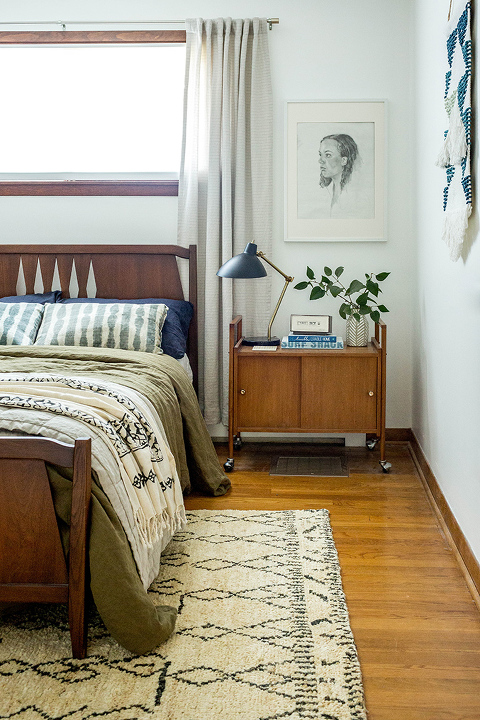 The Bed In Our Guest Room
I know a lot of people who never go into their guest rooms, but I'm not one of those people. I treat our third bedroom as a comfy little oasis that I get to borrow from our visitors from time to time. The bed in there is smaller than ours, so it doesn't feel quite so commanding. Because of this, I love to lounge across the small full bed as though it were a daybed or even a couch. I read books there, watch chick flicks on my laptop, and I even take 20 minutes out of my work day just to sit on the bed with my eyes closed whenever I need a mental break. This quiet, secluded corner in our home is an extra special one to me.
The Chair In Our Living Room
Nine times out of ten, though, you'll find me in our living room on the small side chair right by the windows up front. This room gets tons of natural light because of the floor-to-ceiling windows across nearly the entire space, so it's just a really happy place to be. It's our pets' favorite corner of the house, too, because it's absolutely ideal for sunbathing. Even on cloudy days, it looks bright. My favorite thing to do in this happy little corner of our home is listen to music on the record player, or I'll ask Alexa to shuffle songs by a singer or band I love.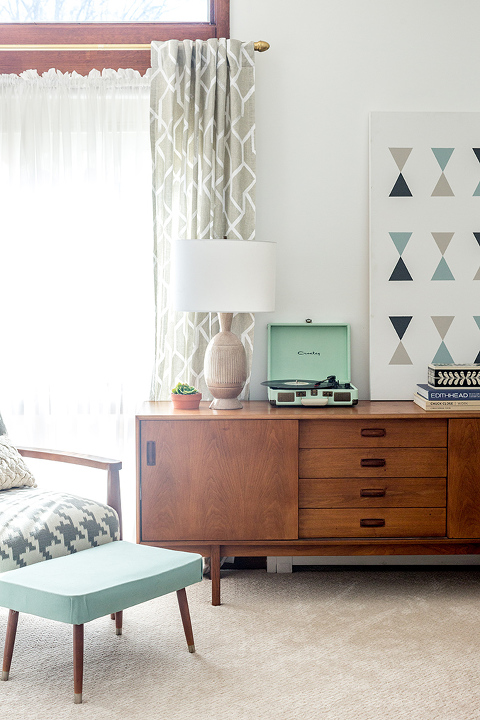 In The Family Room
Oh, the family room…Is there a corner I don't love in this cozy lower level space? Probably not, but one of my go-to's lately has been the nook in our big sectional where the chaise lounge meets the sofa. I love to nestle up there with a big blanket and a book, or even my laptop to type up things like today's post.
Because this room is technically a finished basement, a good portion of it is underground so it's almost too quiet to put into words. I think it's because the earth behind the walls sort of cushions all the sound. Thankfully it's a walkout, so there are still tons of windows and a big slider door that lets in natural light. Even still, it's darker than our upstairs living room, so it's a great place to escape to when I'm feeling the need for moody quiet time.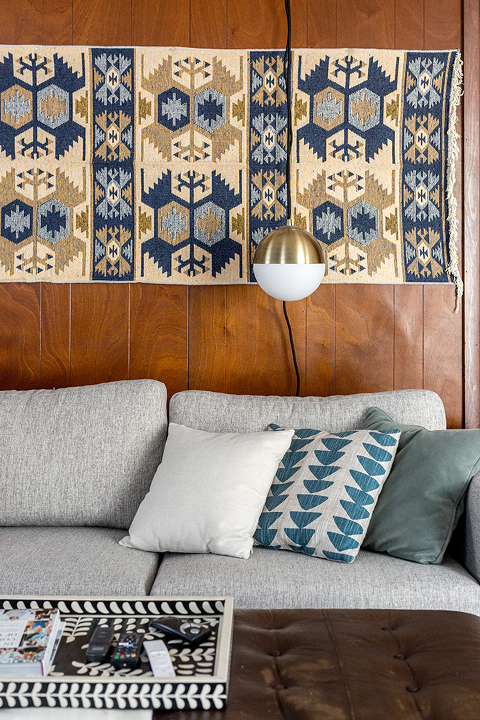 So, tell me about a favorite corner or two in your own home! Is there a particular room that you love the décor of, so much so that you don't mind lounging there just to take it all in? Where do you love to plop yourself down when you want to get away from it all? In the meantime, if you need me, I'll be making the rounds between our guest, living, and family rooms—book (or glass of wine!) in hand.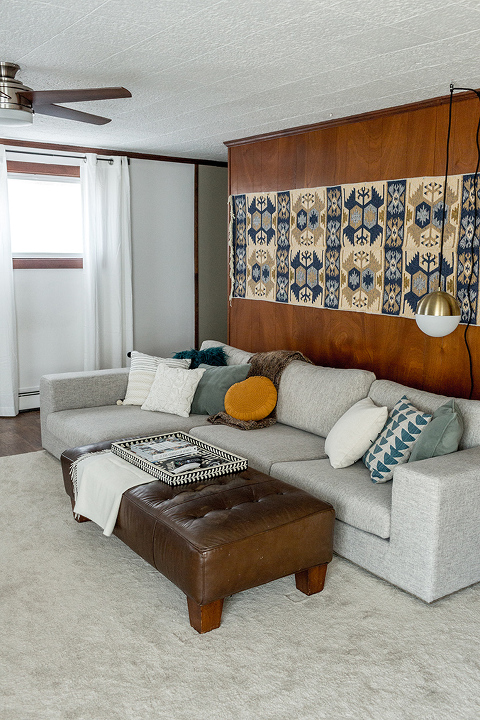 *I earn a small percentage from purchases made by the affiliate links above. Affiliate links are not sponsored. You can rest assured that I would NEVER recommend a product that we don't use and love ourselves!