I used to be all about the biggest, heaviest statement necklaces and earrings a girl could buy, but lately I've shifted my focus to dainty jewelry instead. Smaller pieces (think: short gold chains, tiny hoop earrings, plain bracelets) are so much easier to store, for one, but they're also easier to wear day in and day out. They never get in the way, and add the perfect hint of shimmer to my go-to jeans-and-a-T-shirt outfit. Here are some of my current favorite pieces of dainty jewelry below.
Dainty Jewelry To Love This Season:
5. Sun necklace
6. Gold-plated octagon ring set
10. Hue necklace
11. Initial bracelet
Knowing me I'll swing back to bigger statement pieces in a year or two, because (if you haven't already noticed) I rarely stick to one style for long. If you're looking for something a little more "in between" yourself, then check out these small white heart-shaped earrings from Sarah's shop. They're the perfect happy medium between dainty and chunky. Now tell me: who are some of your favorite jewelry designers? Leave your resources in the comments below!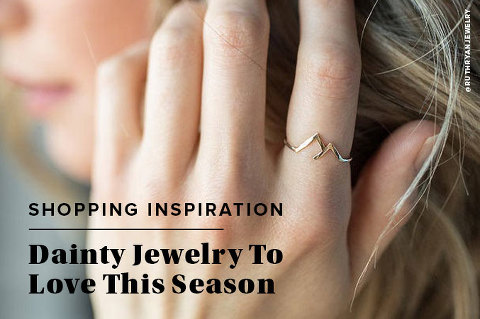 *I earn a small percentage from purchases made by the affiliate links above. Affiliate links are not sponsored. You can rest assured that I would never recommend a product that we don't use and love ourselves.