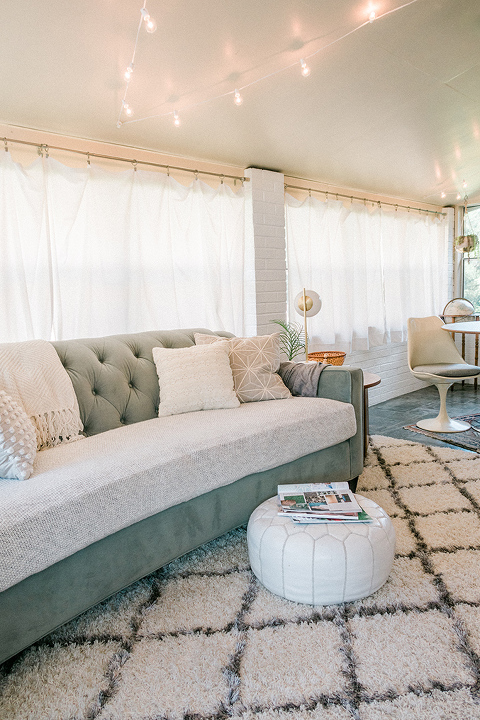 As something of a "pro DIY-er," it should be expected that things won't always go my way. That's the nature of hand-making things, right? At least that's what I'm currently telling myself to calm my humiliation over today's project fail. In all truthfulness, the project isn't a complete failure, but it's definitely something I wish I had never started, and I wanted to be as candid with you guys as possible in case you want to either learn from my mistakes or skip the project altogether.
I'm getting ahead of myself, though. What am I even talking about? Well, this story is all about the brand new café string lights I hung last month in our sunroom. The idea was simple: line the bare ceiling in our sunroom with delicate light bulbs so we can enjoy the ambiance come fall when we start spending more time out in the three-seasons room.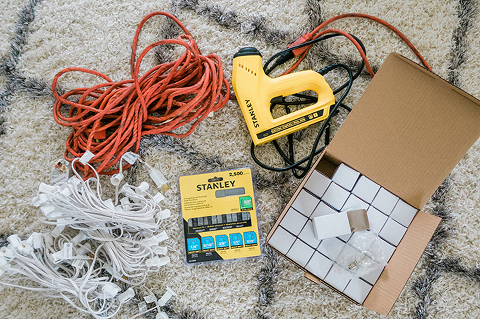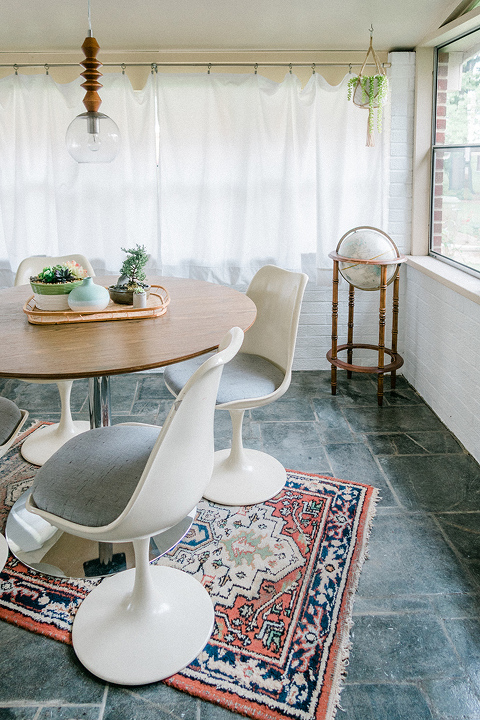 As it stood before tackling this string light project, our sunroom didn't have much electrical light to speak of. We had a plug-in fixture dangling over the dining table, but that was about it other than a few table lamps. Suffice it to say, our sunroom was a pretty dark space in the evening, and that's what we consider to be the space's prime time, so I wanted to fix that before cooler days arrive next month.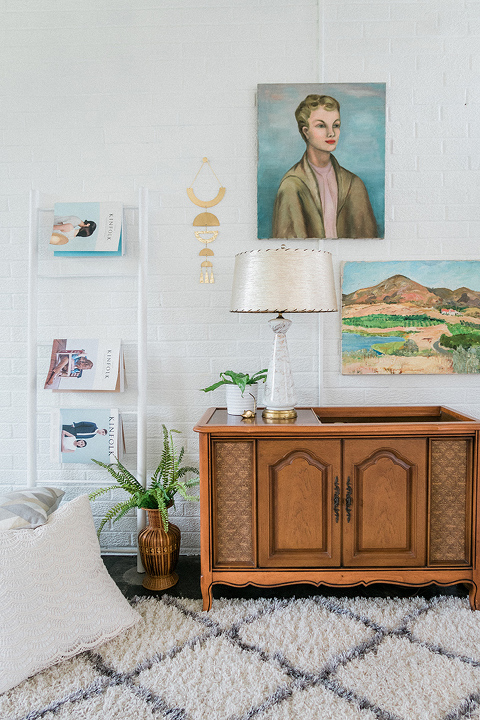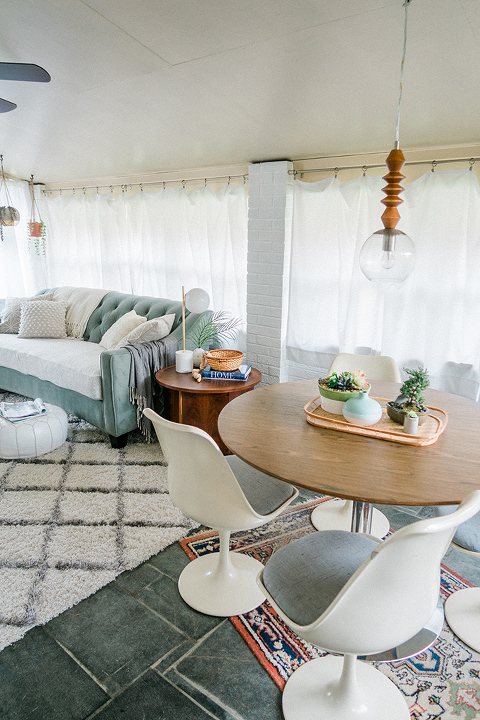 The easy choice—or what I thought would be easy—was to hang a few strands of plug-in café lights up above. This would allow me to skip the process of hard-wiring anything into the ceiling, and I could also use lights that were specially formulated for outdoor use since the sunroom doesn't have insulation or temperature control.
So, I hopped online early last month and ordered myself several strands of string lights from Amazon. I bought them in white thinking that they would blend a little bit better into the ceiling, and I'm happy to report that they do. They're pretty inconspicuous when installed against a white (or, in our case, off-white) ceiling. Check!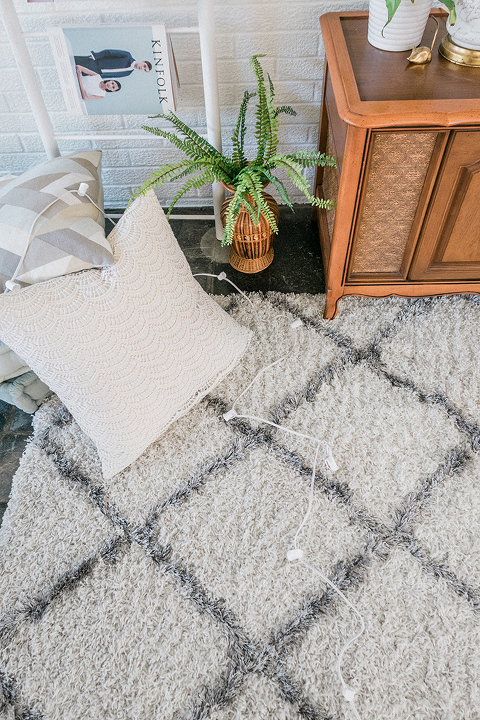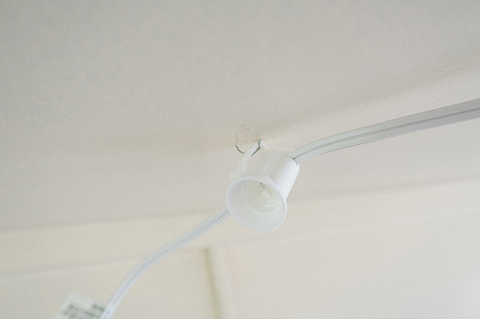 My process for hanging the lights also worked out exactly as planned. First, I laid the strands (sans bulbs) out on the floor to make sure I could cover the area I wanted to, then I used an electric staple gun to put staples into the ceiling every 4-5 feet. After that, I backed the staples out of the ceiling just a bit with a flathead screwdriver so that I could slip the tab of my light bulb sockets through.
I attached every fourth or fifth socket to the ceiling using a staple, the only exception being the area near our ceiling fan. Every single socket was installed flush against the ceiling in that area to avoid the string lights falling into the fan blades while they're spinning.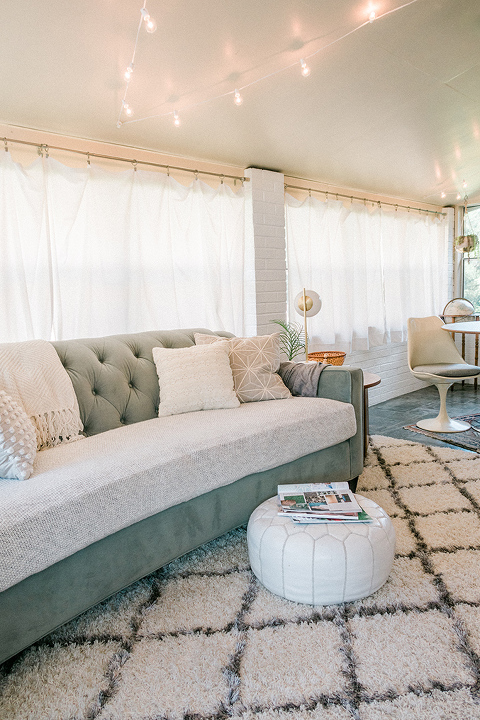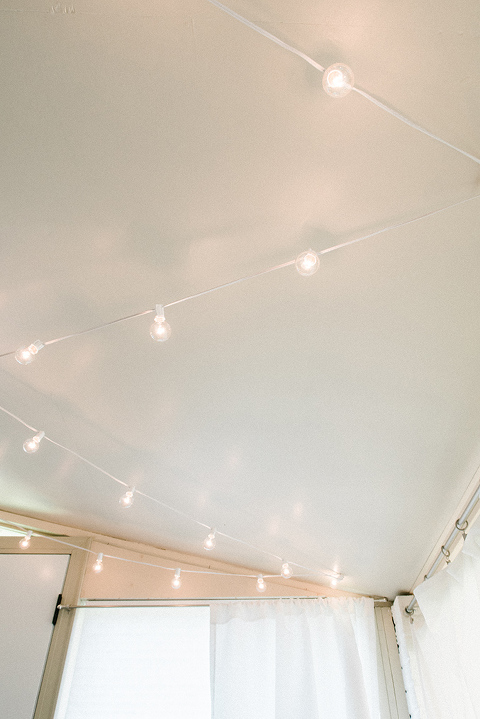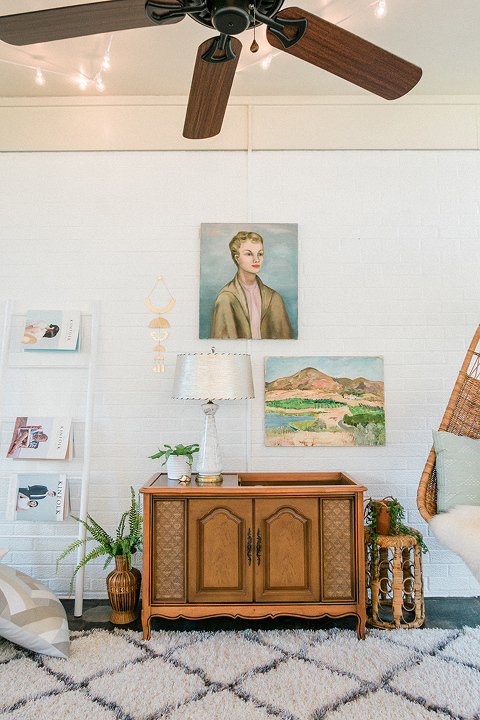 After all the strands and sockets were connected and attached to the ceiling, I just needed to screw the lightbulbs in to finish. That sentence is so, so, so much easier to say than do. If you catch my drift, this is the part when the entire project almost got derailed.
I'm not sure if it's the particular brand of string lights that I bought (read: cheap) or what, but I've never handled more delicate bulbs in my life. About six or so bulbs in, I dropped my first on the slate floor. Although a big bummer at the time, I told myself that it was an accident to be expected. The worst part about dropping the bulb, though, was how badly it broke after it finished falling. The thing literally exploded all over the place into thousands of tiny shards. I'm not exaggerating.
I remember staring down at the destruction for a beat, sighing heavily, and then climbing down off my step ladder to immediately clean it up. It took about 20 minutes to find and suck up all the glass with my vacuum cleaner, but afterward I was back up on my ladder working my way along the strand with more bulbs. About five bulbs later, it happened again. I was pretty pissed at myself, but just told myself to clean it all up again and be extra careful moving forward.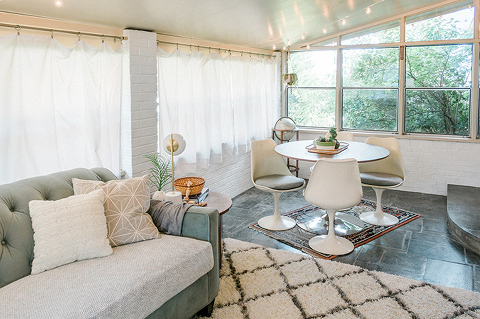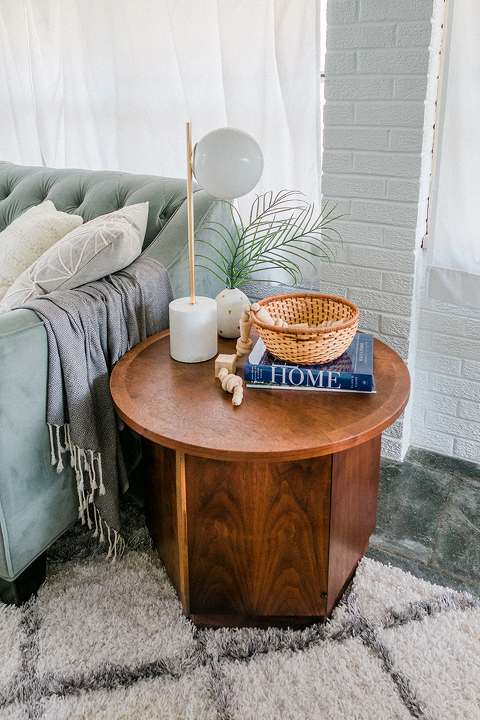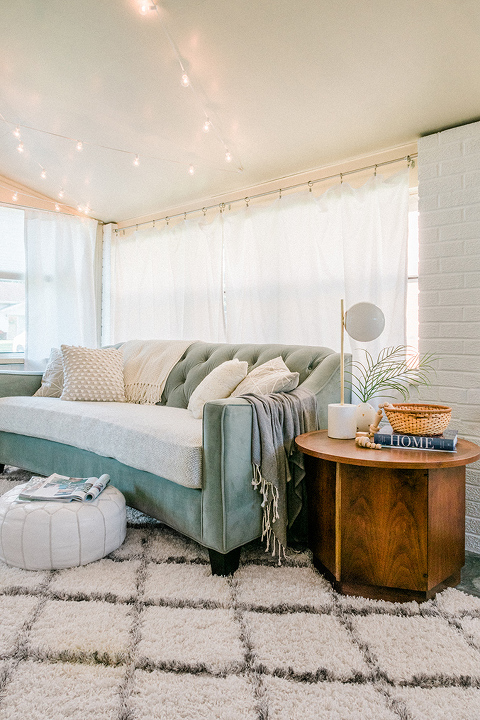 From then on out, I gingerly picked up the bulbs one at a time, stepped at a snail's pace up the ladder, and never let my hands or fingers off the bulb as I slowly twisted it in place. Guys, I was so careful! Even still, I broke another bulb. The frustration was utterly excruciating, especially considering how much effort it took to clean up all the shards each time. And I swear it wasn't just me and my clumsy motor skills—the bulbs exploded even when dropped onto a soft surface. I think the glass on the bulbs was just that flimsy and thin.
I'll never be able to fully convey the depth of my despair when one of the connections between the strands came undone, sending an entire line of bulbs down to the brick wall where they exploded in multiple places over my cleaned and re-cleaned floors and furniture.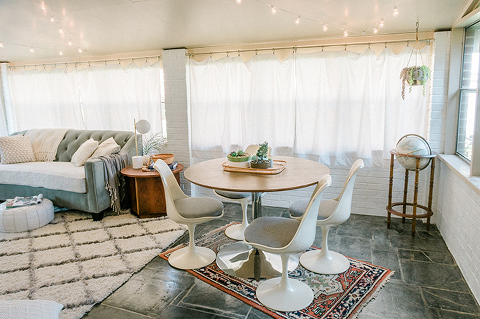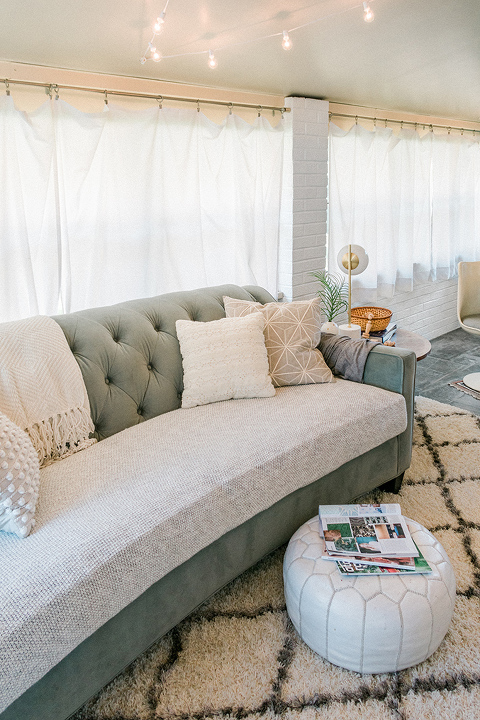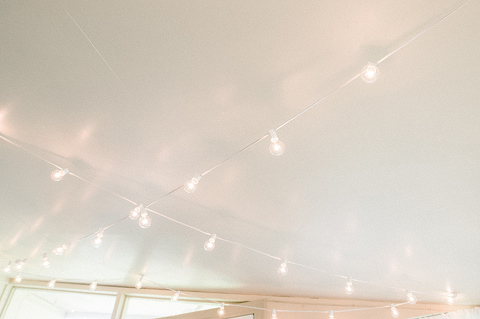 Somehow I managed to get all of the strands and bulbs in place and connected, but I am absolutely terrified now of going into the room for fear that some freak of nature will send the bulbs down to their doom. I should probably go back in and take them down, but I'm pretty darn nervous about even breathing on those sockets and bulbs, let alone spending another few hours handling them.
The problem is that they do look really nice when all lit up. So, I'm going to ask you guys. Do I suck up my anxiety and leave them in place, or suck up my pride and take them down? I think the thing to do if you want to try this at home is to keep these types of lights to outdoor areas only over grass so that, if one falls, you're not dealing with solid flooring and indoor textiles. I'd love to know your thoughts, so feel free to share them in the comments below. In the meantime, I'll just be sitting here admiring our lovely lit-up sunroom from afar through these photos.