*This post was sponsored by Molekule

It has been more than a year since we added a Molekule air purifier to our home, so I figured it was the right time to share an update and a review. I also wanted to talk about ways to design your space around a Molekule, so I put together a full mood board inspired by this ultra cool, mod device.
But let me step back for a moment before I get into all of that. I know the idea of an air purifier isn't the sexiest topic of conversation, but I've been pleasantly surprised by this particular one—not only in the way it functions (which, of course, is key), but also the way it looks. You all know better than anyone that I care a lot about how things work within our home from a decorative standpoint, and I'm happy to report that our Molekule looks good in every. single. room. No exaggeration!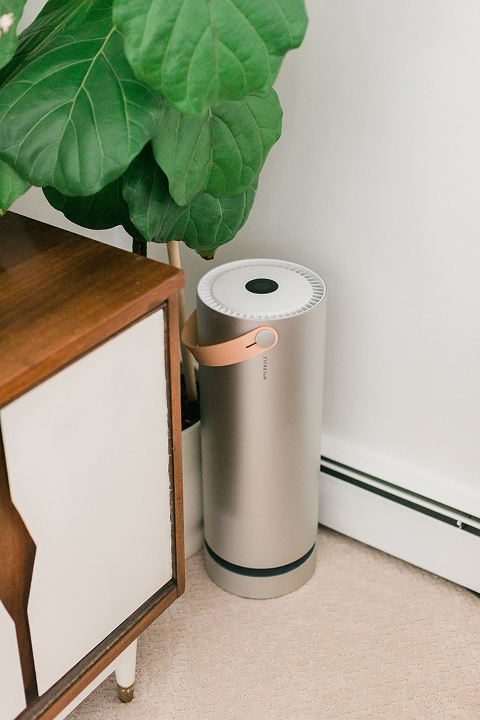 The main reason we decided to work with the Molekule team on this post (and the first one) was because we really do believe in the technology they built the device on. We have three cats and a hound dog, all of whom are indoor pets, so we're constantly battling things like dander, dirt, and litter dust. Gross.
Needless to say, John's allergies got pretty bad, especially when we moved into our home back in 2015. Our last house had a central heating and air system, and we were always really good about replacing the air filters, but our current ranch has no central air system at all. Instead, we rely on baseboard heaters and a collection of wall- and window-mounted AC units. Because we don't have central air, we don't have a way of filtering the air in our home, so we eventually figured out that we needed to run dehumidifiers and air purifiers to help keep our air cleaner and healthier.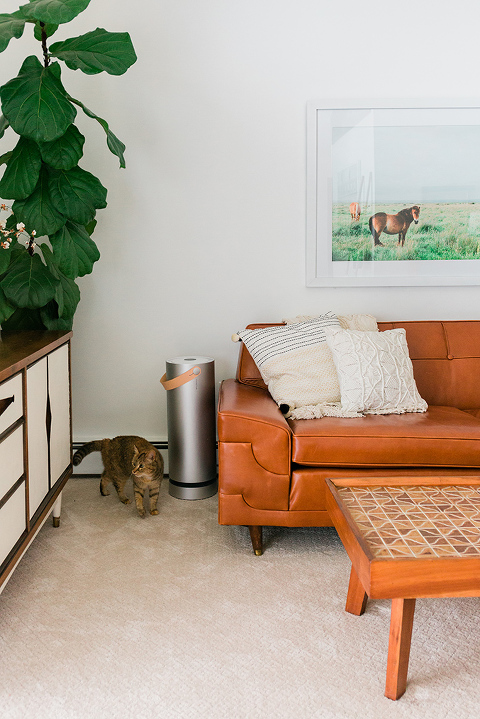 Since setting our Molekule up in our master bedroom last year, John's been able to sleep better and has felt much less stuffy. We still have to dust, of course, but I find that our air purifier helps cut that down so we have to break out the microfiber duster less often. The Molekule uses two filters to help purify your air, and you can sign up for recurring deliveries of your filter replacements so that you never have to worry about remembering to replace them each season.
The other thing I love about it one year later is the fact that it's so mobile. I've moved the thing from our bedroom, to the guest room, to the office, to the living room, and back again. Whenever I feel like a certain space smells kind of musty, I just use the touch screen to turn off the device, unplug it, and lift it by the handle to move it into its new space.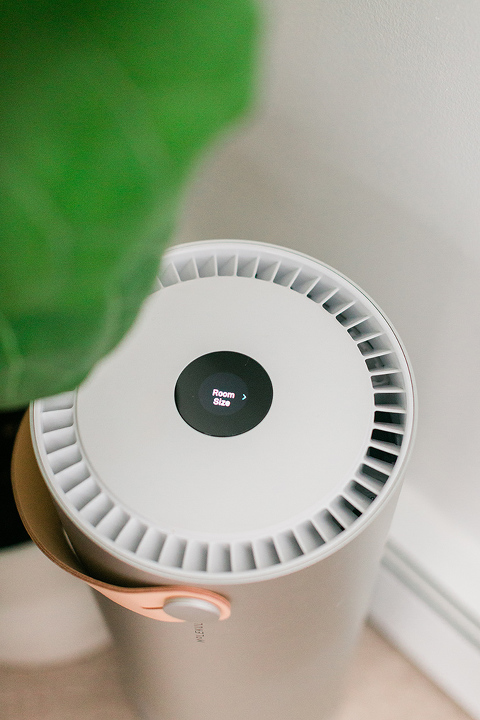 As for the looks factor, I hope the mood board at the beginning of this post and the photos of it set up in our living room (its current location) are enough to prove that the Molekule is one of those types of functional pieces of equipment that you won't mind seeing out in plain view. Since I don't suffer from allergies, myself, I'm admittedly more enthused about the purifier's looks, and the sleek lines and minimalist color palette just speak to me.
So, are there any cons? To be totally and completely honest, not really. It's not the least expensive purifier you could buy for your house and the filters are a little on the pricier side of things, too, but it's one of the best devices you can buy on the market, and if you have allergies in your family like we do, then the investment is worth it. You can also sign up for monthly payments to help spread out the cost of your new Molekule, too.
Another question I get asked a lot is if the purifier is loud. My answer is yes and no. There are three settings you can put your Molekule on: Silent, Auto, and Boost. It's probably pretty self-explanatory, but here's a very brief rundown of each. Boost is great for a particularly dusty, musty space, Auto is perfect for everyday use, and Silent is a great setting when you want to run the machine at nighttime, when you have company, or certain situations like that.
Boost is the only setting that is sort of on the louder side (kind of like a hair dryer, but still on a really low setting). Auto is a soft hum that you get used to with everyday use and won't notice at all after a while. I would definitely not characterize the machine as loud. As with any type of air purifier, just be prepared for a little white noise, but this particular one is very modest and blends right in with other daily sounds.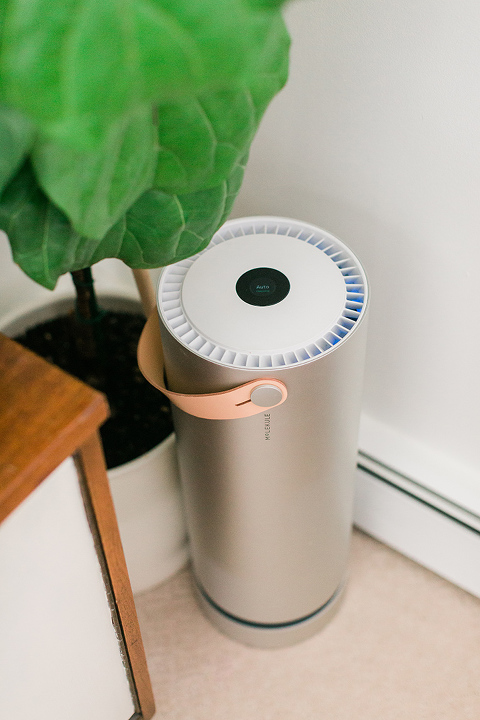 As I said, the Molekule is a pretty big investment, and we are extremely grateful that we were given the opportunity to test the product in our home because of the blog. That said, I'm certain that we would have bought this air purifier out of pocket if it had been necessary. I could clearly go on and on about the sleek, beautiful design, but it really makes such a difference with the air quality in a home, too, so I have zero qualms about encouraging you guys to look into the device to see if it's a good fit for your home.
You can find out everything you need to know on the Molekule website here, and feel free to revisit my first post on the topic here to learn more about the purifier's technology and our first impressions of its impact on our day-to-day lives. Questions? Leave them down below and I'll make sure to answer everything I can—if I'm unsure, I'll reach out to my Molekule contact to get you all the details you need!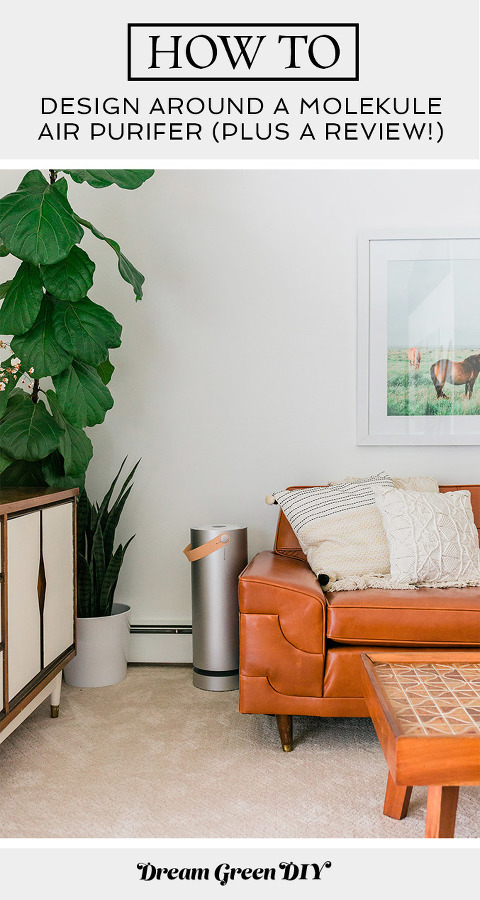 Mood Board Product Sources: Molekule Air Purifier, Chair, White Planter, Clock, Vase, Striped Pillow, Diamond Pattern Pillow, Black Planter, Lamp, Mirror, Coat Rack, Blanket, Art, Sofa (this list contains affiliate links)