*This post was sponsored by Astek Home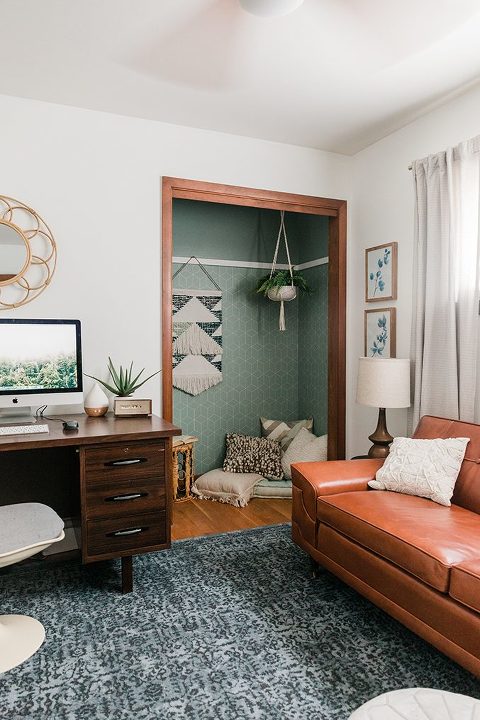 I'm currently in that season as a design-centric homemaker where I don't have all that much to do. We've worked hard to stay on top of any sort of maintenance projects (think: replacing the roof, putting in a new hot water heater, etc.), and all of our rooms have been freshly painted since moving here in 2015. We've perfected our art collection, and even have most of the light fixtures updated throughout the house, so that's all done. Now I'm finding myself switching gears and tackling some of the projects that have been on my "someday" list for almost four years. Namely, the closets.
I've already done quite a bit to update our guest room closet, but the one in my office hadn't been touched at all. The nook still had its splotchy, scuffed-up yellow-painted walls, and it didn't really serve much of a function since I didn't need to use it for office storage. After thinking it through for a couple of weeks earlier this spring, I eventually decided to give it a fresh new look with paint, custom wallpaper from Astek Home, and an armload of simple accessories that would give the closet more of a purpose.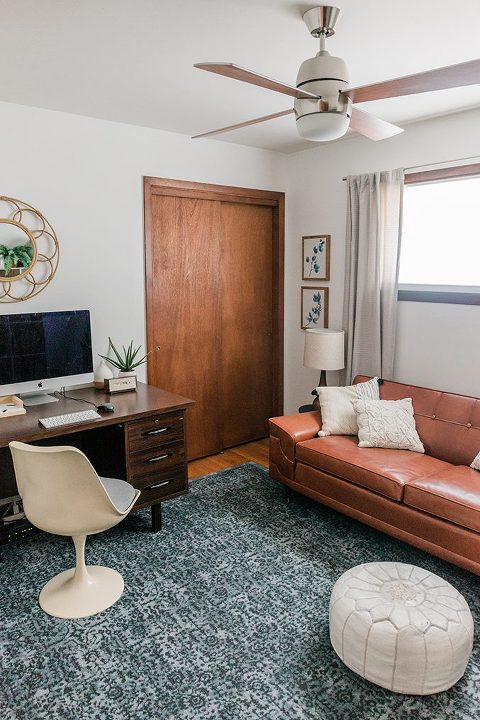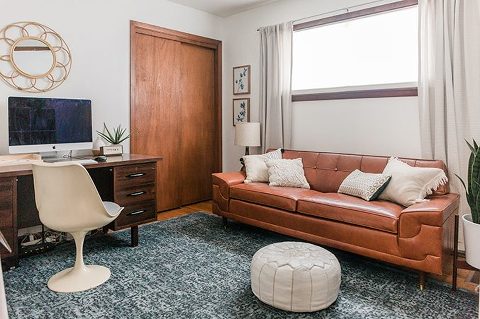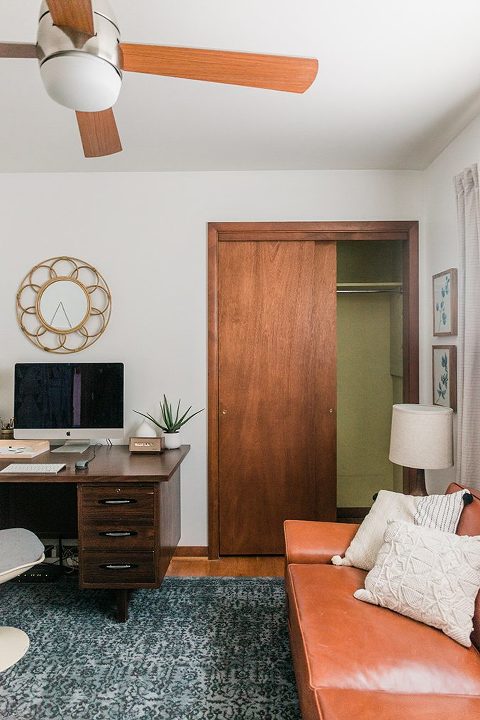 First, let's go back to the beginning. Those photos above show what the closet looked like before. It was empty, and, like I mentioned, was painted a yucky yellow color that had been chosen by the previous homeowners. I hated even sticking my head in there, so I mostly just kept the sliding doors shut.
Then, a perfectly timed email landed in my inbox from the team at Astek Home, giving me the excuse I needed to refresh the closet once and for all. They offered to let me try out their custom wallpaper design service, and after scrolling through the patterns they had in stock, I chose the 'Stacked Cubes' design. I loved the modern, retro feel of the pattern, and was excited to have the team come up with a few color options not already listed on the site. I explained that I was hoping to turn the closet into a calming mini retreat in my office, and they came up with this lineup of choices below.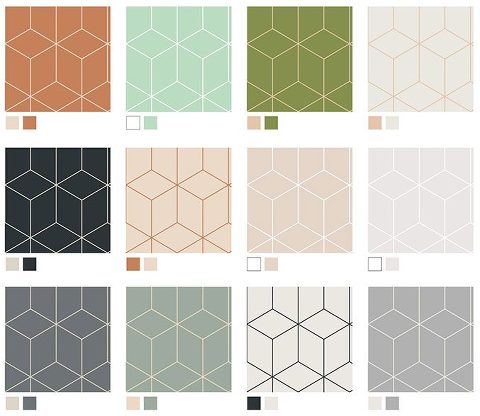 Although I thought all of the colors they put together for me were gorgeous, I was almost immediately drawn to the rich orange color at the top and the soft aqua version shown there on the bottom line. I eventually took the decision to Instagram in the hopes that you guys could help me narrow down from two to just one, and the 24-hour poll proved that aqua was the right choice. After popping the design into a mood board I mocked up for the space (seen below), I was officially convinced and placed my order with Astek Home.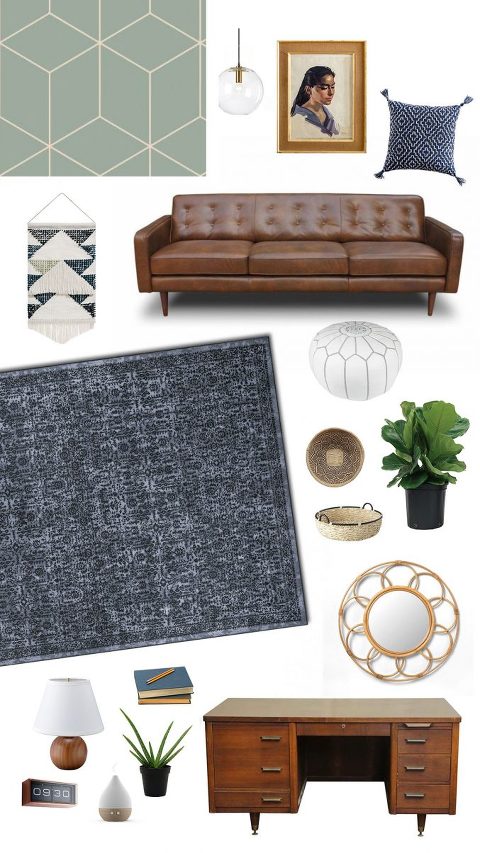 A few weeks later, I had a chance to sample the custom wallpaper in person, approve it, and then my final roll of custom paper came in the mail. This was my first time using peel-and-stick wallpaper, but it definitely won't be my last. In case you've never done it before either, I'm offering a general breakdown of the process below.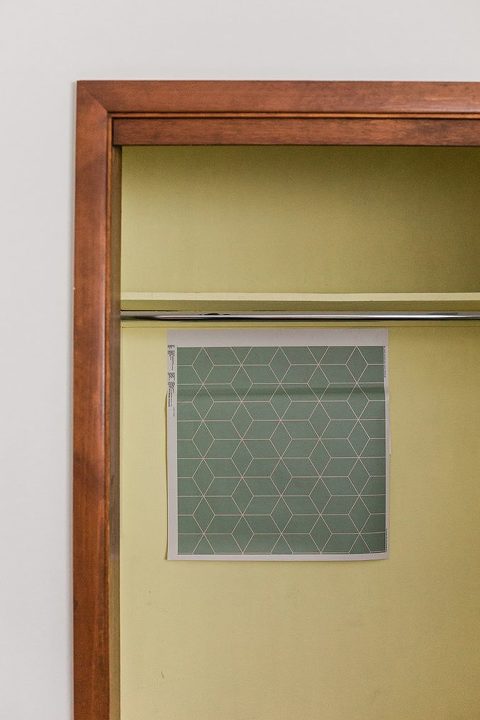 First, of course, determine how much wallpaper you need. The Astek Home website offers a handy wallpaper calculator on each of their product pages, or you can just share the wall dimensions with your custom wallpaper designer and they'll figure it out for you.
Next, prep by removing any socket covers, if you have any, then patch and sand down your walls to a smooth finish. You might also want to wipe down your walls with a damp sponge to remove any leftover dust or grime.
At this point, you may also paint the walls to give them an ultra smooth finish, like we did. Note that glossy or satin paint works best for peel-and-stick wallpaper—the sticky side of the wallcovering grabs onto this type of finish better than it will over matte paint. You'll need to let the paint fully cure for three days before laying down your wallpaper, so make sure to add extra time to your install schedule if you go this route.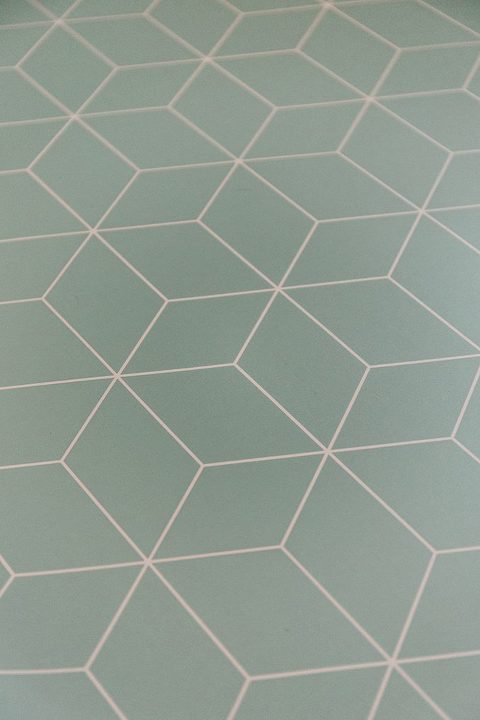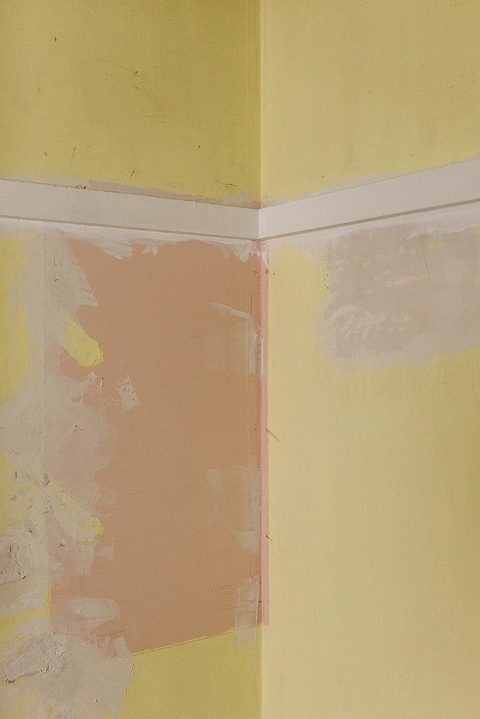 After your surfaces are prepped, make a level guide from which your wallpaper can run down. This could be a light pencil mark that you draw on the wall using a level, or you could use a piece of trim. I decided to keep the existing trim that was already in the closet at about eye level, and used that as my guide. I painted it a fresh white color to make it feel more intentional, then painted the walls and ceiling above the trim to match the background color of the wallpaper (I had the exact color matched by the paint department pros at our local hardware store) for a clean finish.
Next, measure your first wall and cut a strip of wallpaper to size. Peel back roughly 10-12 inches of backer paper at the top, then press it onto the wall along your level mark. Use a plastic wallpaper smoother (or credit card if you're in a pinch!) to smooth out the paper and push out any air bubbles. Slowly peel and stick the wallpaper to the wall, peeling more of the backer paper off as you go. Once you get down to the bottom, fully remove the backer paper, and smooth out the entire sheet against the wall. Use a razor blade to trim off any excess paper from the sides and bottom, if needed.
Repeat the steps, being careful to line the pattern up as you go. The cool thing is that Astek Home wallcoverings include a built-in 1-inch overlap, unless otherwise requested, to help make lining up your patterns a little easier as a DIY installer.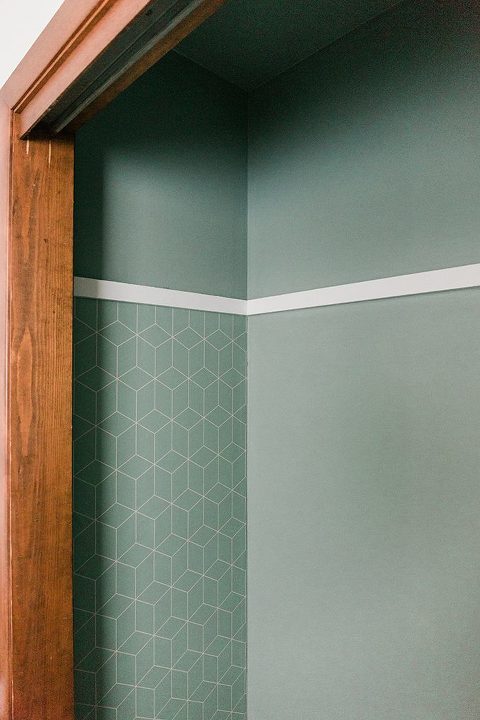 Although everything I read online discouraged me from doing this project by myself, I often find that I do better with these types of things on my own. I can troubleshoot better and keep my temper in check easier if I'm not trying to manage a partner's expectations and patience in addition to my own. Happily, I didn't run into any issues, and was able to knock out the entire closet by myself in just a little over an hour.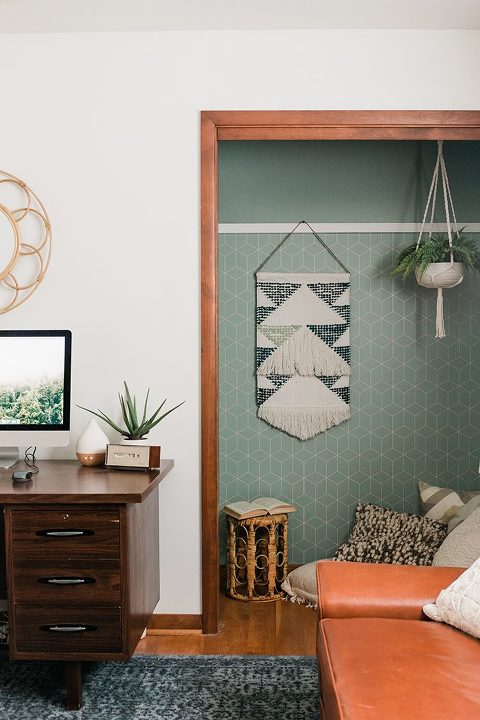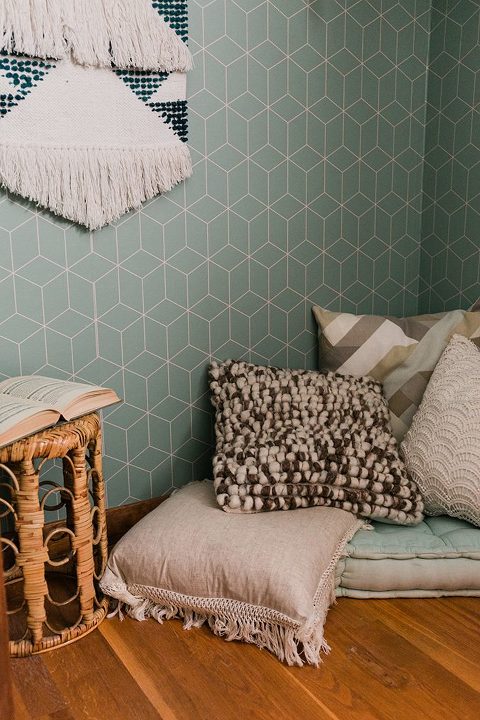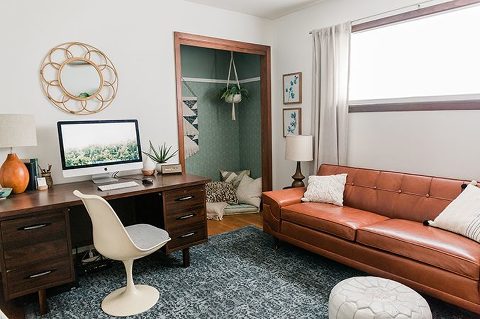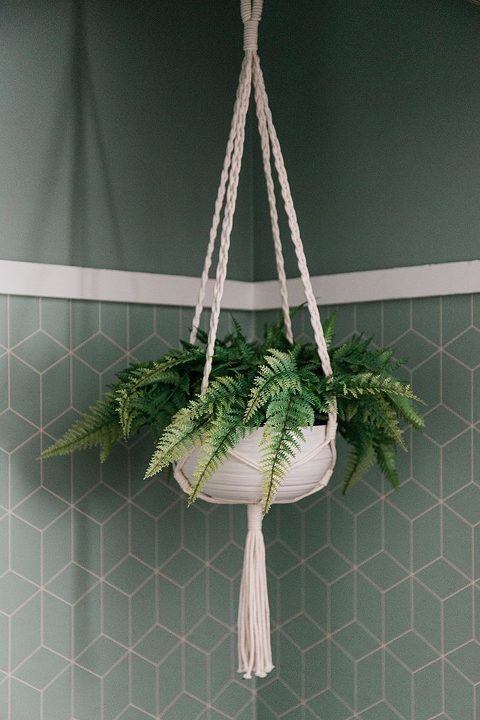 My days of prepping the closet ahead of time (i.e. patching, sanding, cleaning, and painting) helped this project go off without a single hitch the day of install, and I couldn't love the final look more. Removing the doors of the closet instantly made my office feel bigger because you could see into the extra square footage from the room's doorway. The new paint and modern wallpaper also turned the open nook into the type of focal point I think the room was missing.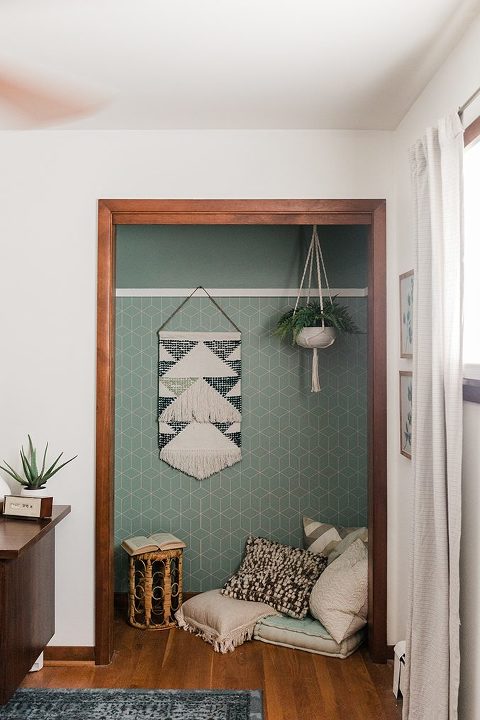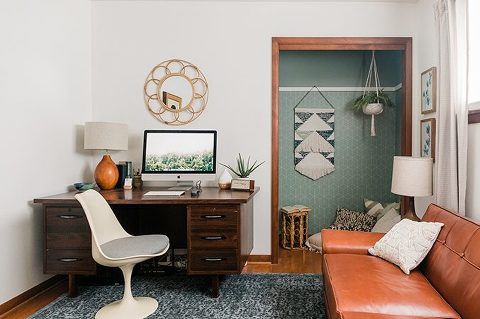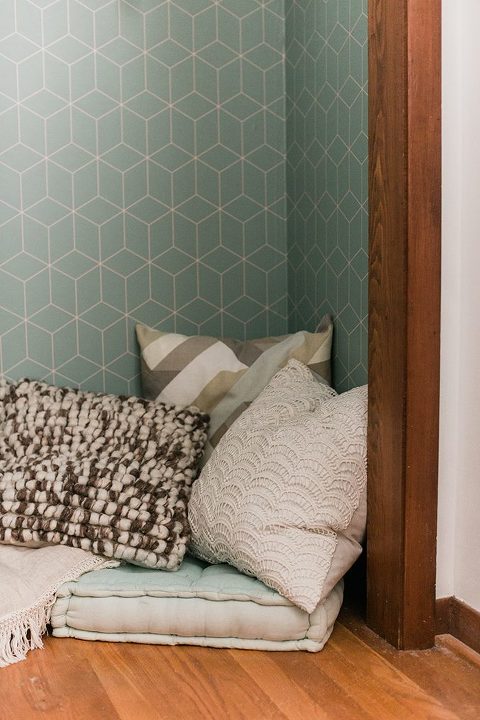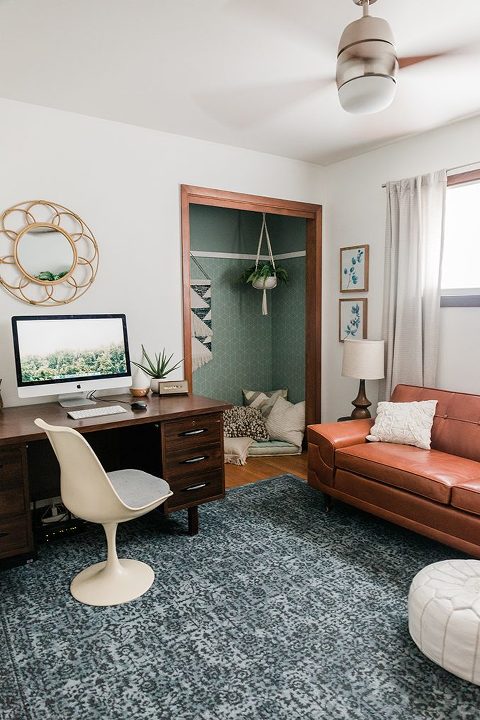 I thought long and hard about the actual function of the closet now that it had been opened to the room, and I came up with all sorts of ideas. I could have built in a bench for extra seating, but the couch that I had already moved into the space took care of that need. I could have, instead, added shelving and turned it into open storage, but I have a nice cabinet in my office that takes care of that need.
In the end, I left it really open-ended so I could play with the functionality as the seasons change. It's currently filled with floor cushions with a little table off to the side so I can use it as sort of a meditation and reading nook (FYI, I use the Calm app in case you're into the idea of guided meditation!). I'll keep you posted as the function evolves over the course of the year, but let me know in the comments if you have any alternate ideas.
Big thanks to Astek Home for finally giving this otherwise useless closet its moment to shine in the spotlight, and for giving me a new project to tackle during my downtime this spring. The closet is now my favorite spot in the house, and I'm already brainstorming other walls to makeover with custom wallpaper (FYI that you can customize the peel-and-stick option for all of their repeating digital patterns!). Leave your suggestion for which room to do next below, and then shop the online collection for yourself with an exclusive 20% discount using code DGDIY!