Did you hear?! I had our home professionally photographed last week for a home tour feature that's coming down the pipeline later this summer! I shared a few pretty major sneak peeks from the day over on Instagram (click here to follow along with me if you'd like!), but this was, overall, just a great chance to document the big changes we've made around the house since our last home tour went live last August. We've switched out our couch, moved chairs and art all over the place, not to mention the addition of a pretty bold paint color in the dining room.
At any rate, things are looking quite a bit different around these parts, and it was so much fun getting to document them in a big way with a professional photoshoot. Before the big day, though, I was running from room to room like mad trying to prep the house for its close-up. I made more purchases than I probably ought to admit to, but I also managed to stem the tide a little bit by deciding against some new things that we didn't really need—I know better than to buy something just for a pretty photo if we're not going to use it in day-to-day life.
Just because we couldn't use it, though, doesn't mean that you can't! For that reason, I rounded up a big list of all the décor, lighting, and textiles that made it onto my wishlist but not into our actual home. Everything is from Amazon, so all you fellow Prime members out there can get free shipping on most of these goodies, too!
My Amazon Home Décor Wishlist:
2. Brass Finished Taper Candle Holders
8. Modern Wall-Mounted Coat and Hat Rack
9. Modern Ceramic Triangle Pot
Do you have a favorite from that list? I think mine is that Wireless Bluetooth Speaker. I had spotted it in a photo while scrolling Instagram a few weeks ago, and just couldn't get it out of my head. It's got such great retro flair, but we already have plenty of speakers throughout our house, so in my shopping cart it stayed.
Let me know what caught your eye from my Amazon wishlist in the comments below, and stay tuned for the big reveal of our 2019 home tour in just a few more weeks!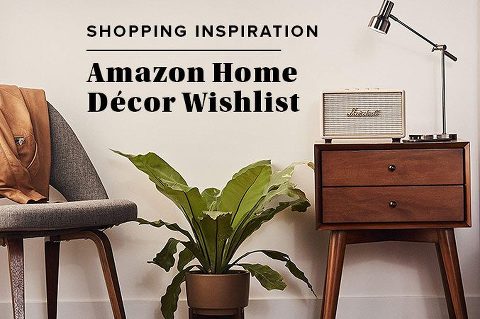 *I earn a small percentage from purchases made using the affiliate links above. Affiliate links are not sponsored. Rest assured that I never recommend products we wouldn't use or don't already love ourselves.