Welcome back from the long holiday weekend! If you celebrated here in the states, I hope you had a wonderful Fourth of July. We spent our own time with family drinking wine, watching fireworks, and eating yummy cookout food, as is tradition for Independence Day. It was a fabulous break, but I'm ready to get back into the swing of things.
Now that I'm all rested up after my mini vacation, I've set my sights on a few new projects around the house. Namely, a big reorganization and purge. We don't have much room for new treasures in our house right now, which actually is the perfect push I need to go through our items and give them a good hard look.
Do we really need extra lamps, art, and past DIY crafts sitting in storage in the basement, just waiting for the right spot somewhere in the house? I'm starting to think "no." I really actually do shop through my hoard of extra treasures in the basement when I want to refresh a room, but having something on hand when the mood strikes (IF the mood strikes!) is no longer worth the stress I feel opening the door to our basement and seeing piles of displaced décor.
I think my new priority for the month of July is to go through our items and trash what needs to be trashed, donate what needs to be donated, and I'm even thinking about selling the rest! Which brings me to today's post topic: have you ever sold antique items online before? I love looking at mid-century antiques on Etsy just for fun, which makes me think that it might be worth looking into an online retail space of my own to sell my hoard of vintage pieces that we no longer have a use for.
The only problem is that, during the course of researching Etsy as an option for selling my stuff, I get distracted by all the things I'd like to buy! Don't worry. I've been able to resist the urge so far, but in the meantime, I thought it might be fun to share all of the things I've got on my Etsy wish-list right now.
My Wish-Listed Mid-Century Antiques:
1. Abstract Patterned Danish Style Table Lamps
2. Mid-Century Modern Bassett Credenza
3. Vintage Pasadena Moire Kyes Serving Tray
4. Pair of Mid-Century Planters
5. Vintage Bennington Potters Trigger Handle Mug
6. Pair of Mid-Century Walnut Wood Candle Holders
7. Restored Mid-Century Modern Walnut Lowboy with Flared Legs
8. Vintage Cathrineholm Mustard and White Enamel Lotus Bowl
9. Dark Westnofa Maroon Brown Leather Reclining Armchair with Matching Ottoman
10. Atomic Era Mid-Century Modern Lamp
11. Marcel Breuer Style Cantilever Chrome and Cane Chair
12. Mid-Century Teak Bird and Fish Wall Art
The best part about having a dream list like this is that it's more great motivation to get serious about purging what we already have. Knowing that pretty treasures like those above are up for grabs makes me want to be extra cut-throat with our current hoard. Who knows—if I sell enough of our existing collection, maybe I'll make enough money and enough room for just one of those items from my wishlist…What's your favorite thing on the list?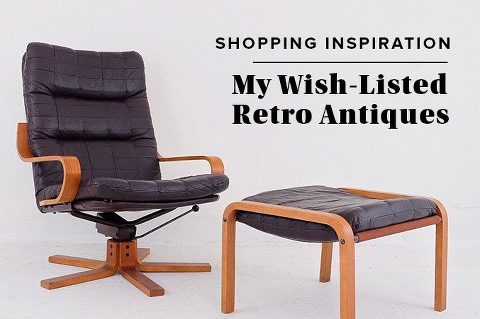 *I earn a small percentage from purchases made using the affiliate links above. Affiliate links are not sponsored. Rest assured that I never recommend products we wouldn't use or don't already love ourselves.