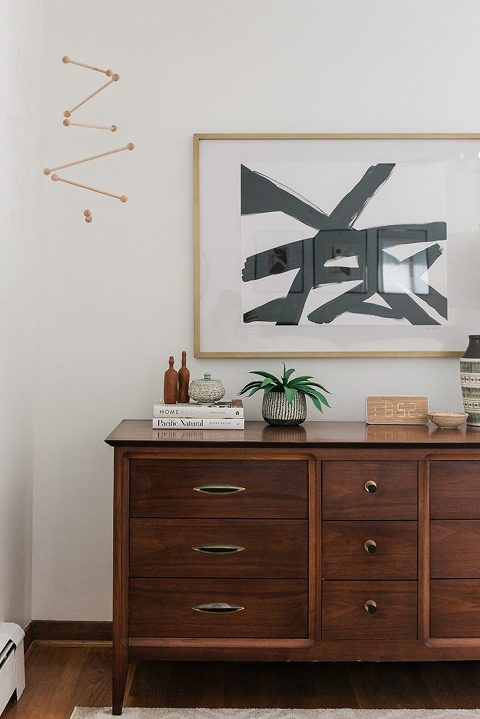 Have you ever gone to an art museum and muttered to yourself something along the lines of, "Well, I could do that!" while standing in front of an abstract painting? Today, I'm challenging you to finally make good on your claim!
One of the most-asked requests after revealing our master bedroom makeover was source information for the black and white painting I hung over the dresser. The truth is that I whipped it up myself in 10 minutes, and I 100% believe that you can do the same thing—even if you have little to no painting experience.
I didn't actually take any pictures of the process while I was doing the painting because I never imagined that it would turn out to be such a popular piece with you guys! That said, the step-by-step method I used can easily be explained in words, as you'll find out below.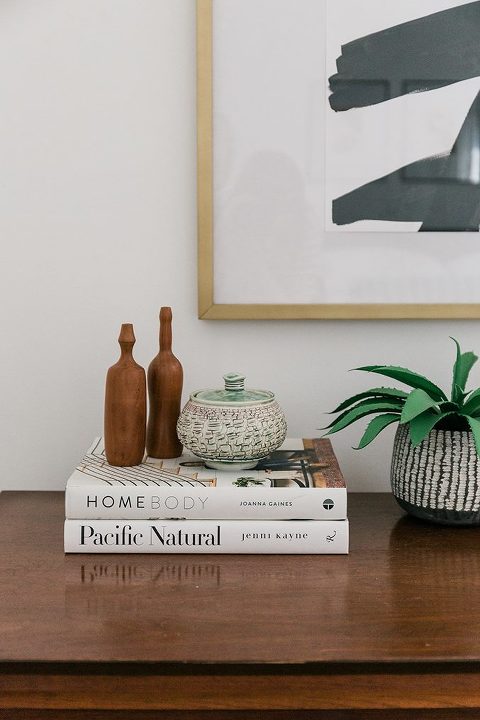 But before we get to all that, I thought I'd talk through my inspiration for the piece. It actually came from this photo that I spotted on the @chrislovesjulia Instagram feed. They had hung an abstract painting over the bed in their own master bedroom, and I loved the neutral, sophisticated tone of the framed piece. It didn't take away from the pretty greenery, colorful rug, and bedding they had in the rest of the room, and that was exactly what I was hoping to achieve in our own space.
The only problem was price. I had used up most of my makeover budget on things like a new lumbar pillow for the bed and the new thrifted dresser, so I couldn't justify spending almost $600 on the exact same piece that the Marcums' used over their bed. But I already had plenty of black paint in my craft closet, the brushes I needed, and I could also reuse the large gold frame that was already hanging in our bedroom (I had planned on switching out the art in that frame anyway).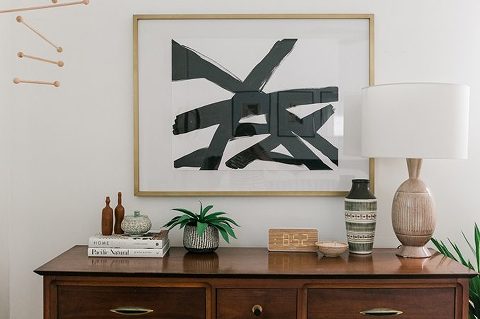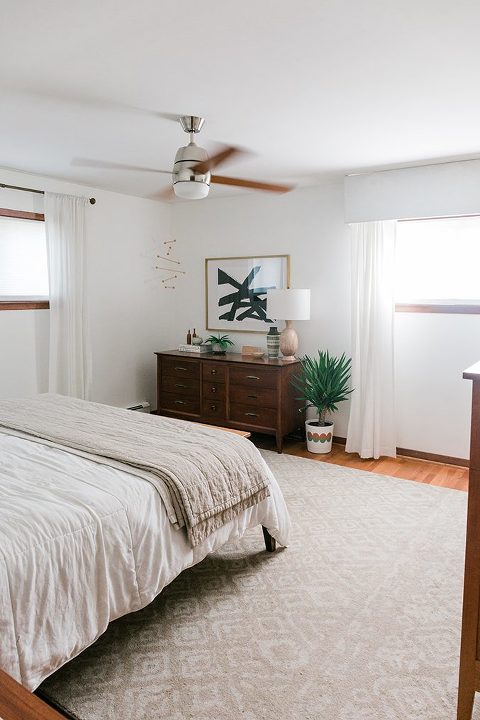 Not wanting to have an exact replica of Chris and Julia's art print, I took to the web to find a different piece to "copy." A quick Google search of "Black and white abstract art" yielded hundreds of options, so I just picked the one that looked easiest to mimic, and went from there.
The one thing I did buy for this project was a large piece of white drawing paper. It cost about $5 at Michaels, so definitely not a budget-buster. Once I had that home, I grabbed my black acrylic paint and a 1-inch foam paintbrush, then laid the drawing paper out on our kitchen floor over a drop cloth.
Next, I went at the paper with my paint and brush, making sure to have my inspiration painting pulled up on my phone to reference. Since this is your own handmade creation, feel free to take artistic liberties with the shapes and design you end up doing on your own paper, but having an image of your inspiration painting handy will help guide you as you work.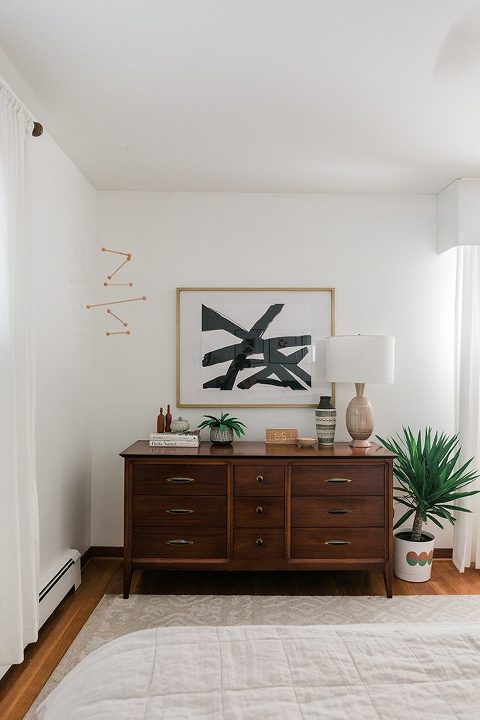 This project really is so easy to do, but just in case you're feeling trepidation about doing it for the first time, here are a couple of small things I would suggest when doing this on your own.
1. Buy more than one piece of drawing paper at the store so you have a backup. That way, if you mess up or don't like your first piece, you can start fresh.
2. Mix a little water into your black paint to make it easier to work with (think: 1 tablespoon of water to every 1/4-cup of acrylic paint you use).
3. Be long and quick with your paint strokes so you get more of a fluid look.
4. Make some of your paint strokes go all the way to the edge of the paper, and some that stop a few inches in from the sides to balance things out.
5. After you have your solid black paint strokes in place, and you're happy with the look, wring some of the paint out of your brush and add some drier strokes along the sides of the solid ones. See how my painting has a few "see-through" strokes across the paper? Where it looks like I didn't have enough paint on my brush? Those were intentional to help give the finished piece more of a free-form, painterly look.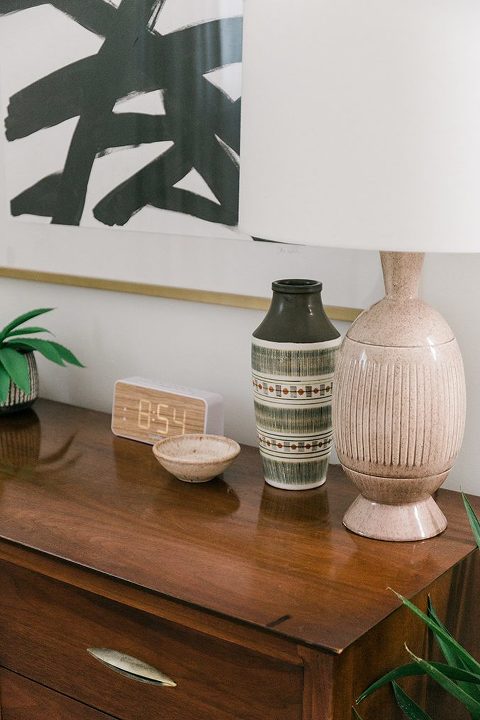 The last thing I want to suggest before sending you along on your way is this: Sign your finished painting! If you're going for a professional look, like I was, scrawl your name in cursive in the corner. This is a super fast way to take your painting from "DIY" to "masterpiece." Trust me!
It might feel silly, but I promise that it makes a difference. And don't forget to put the paper behind glass in a (matted!) frame. That also helps make your handy work look like you bought it from a high-end art store. Now, tell me in the comments below…Would you try this art craft at home? Or would you buy a ready-made version from the store?