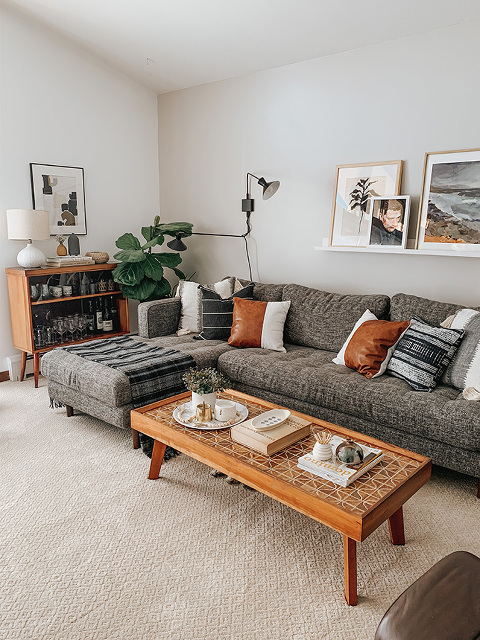 Truth be told, I usually get a huge amount of projects crossed off my list during the "in between" time spanning from Christmas to New Years, but this year was different. This year, with my parents living here in town now, I spent a big chunk of my 2-week winter break with them and my sister for the holidays, so I didn't get as much uninterrupted time at our house like I'm used to during the annual year-end vacation that I give myself.
The one thing I did manage to get done after my sister had traveled back to North Carolina and John went back to work was a painted feature wall in the living room. This is something that I've been meaning to take care of, literally, for years, so it feels oh-so-good to have it finished. Keep scrolling to hear why I needed to repaint the wall, as well as the paint color I chose.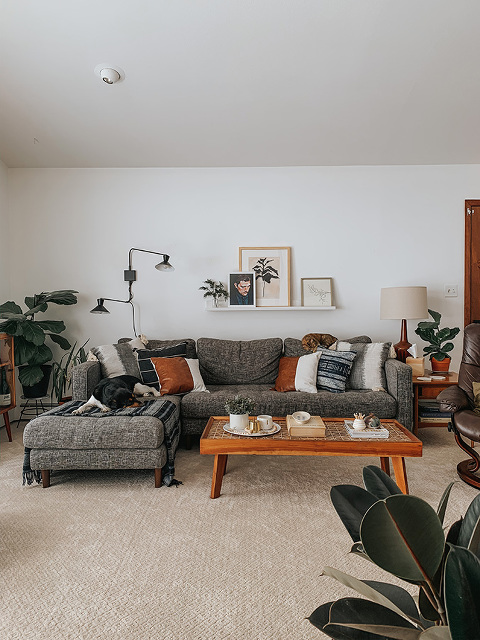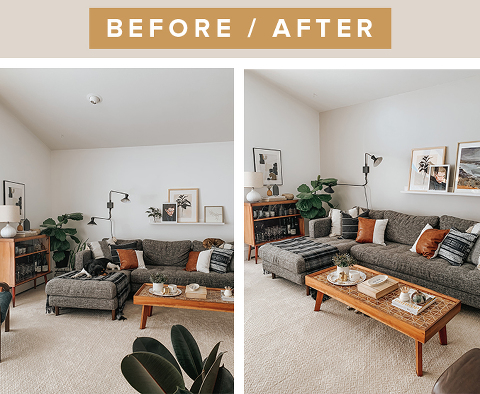 First of all, I know you're probably looking at that before/after photo above, squinting your eyes hard to even see any differences. Trust me, I know it's a subtle change (especially in photos), but the wall itself looks soooooo much better than it was before!
The biggest reason I needed to repaint this wall was because of poor patch work I had done over the years. As you know, I change my mind about art a lot. Like, "A LOT" a lot. So, I'm sure you can imagine the amount of nail holes that have found their way into the white painted wall behind our living room sofa over the years.
I was fairly diligent about patching the holes and repainting over them, but apparently I bought the wrong type of paint because it didn't match the original finish of the wall. You could see every paint brush stroke and roller line if you got anywhere near the wall, and I knew I'd eventually have to repaint the whole wall to fix the issue.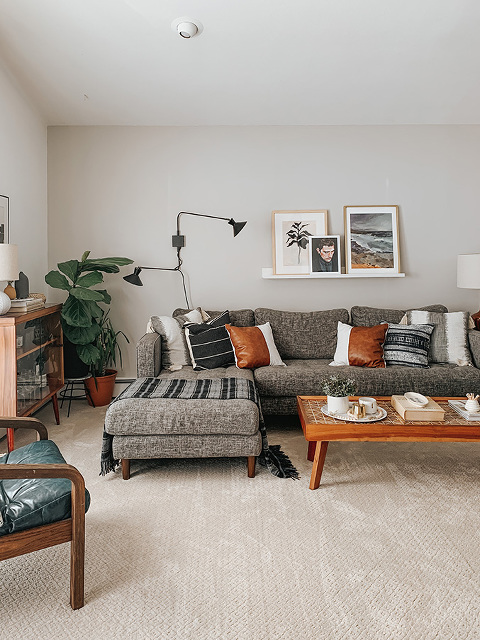 I didn't really want to repaint the wall the same exact shade of white ("High Reflective White" from Sherwin Williams, by the way) because that just seemed hugely anticlimactic and boring to me. Instead, I used a totally new color for our house: "Agreeable Gray," also from Sherwin Williams. My parents were the first ones in the family to use this color at their house, and I thought it looked gorgeous. I'm happy to report that I love it just as much at our house.
The color is pretty close to what everyone has lately dubbed "greige," which for those of you who are unfamiliar is a light combination of gray and beige. It's the perfect warm gray color, and helps add just a hint of dimension to the room. I love that it helps frame the sofa, too, and turns it into even more of a focal point in our living room.
What do you think?! Do you like the new color, or would you have gone even darker? Dark paint really seems to be all the rage these days, and I'm kind of excited to use it more at our house. You saw how we added a dark feature wall to the dining room, which is why we didn't go darker on this living room wall. The dining room is open to the living room, and I didn't want to overwhelm the space with too much dark color. But I'm considering taking dark paint into a different part of the house…Stay tuned for that, and let me know what you think of our new greige wall in the comments below!