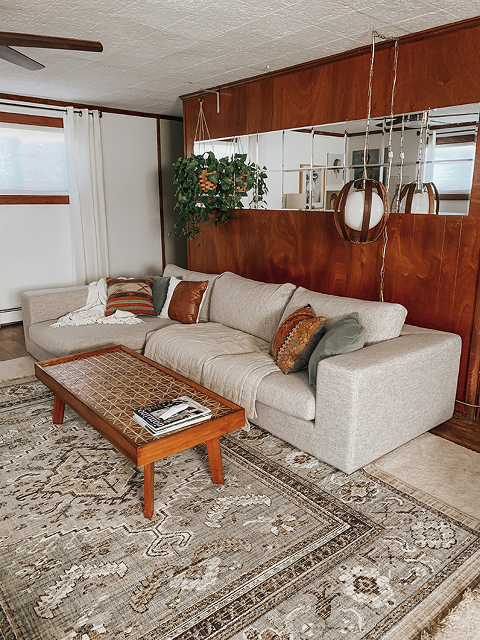 When you buy a 57-year-old house, you're bound to inherit some not-so-nice vintage character. Now, I'm pretty passionate about most of the mid-century architectural details in our house—including the dark wood doors and trim that most people seem to hate—but one thing I do not (or did not) love is the collection of beveled mirrors glued to the paneling in our basement family room.
Today, I'm explaining a bit more about the love/hate relationship I've endured where these mirrors are concerned, and I'm also offering some advice to those of you who are battling built-in home characteristics that you loathe, too. Keep scrolling for the scoop!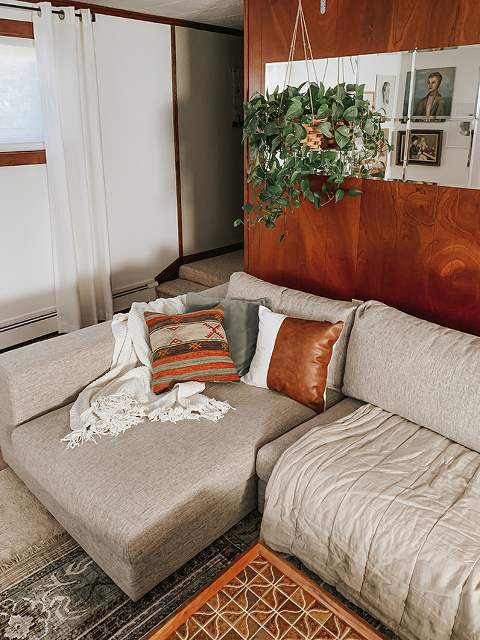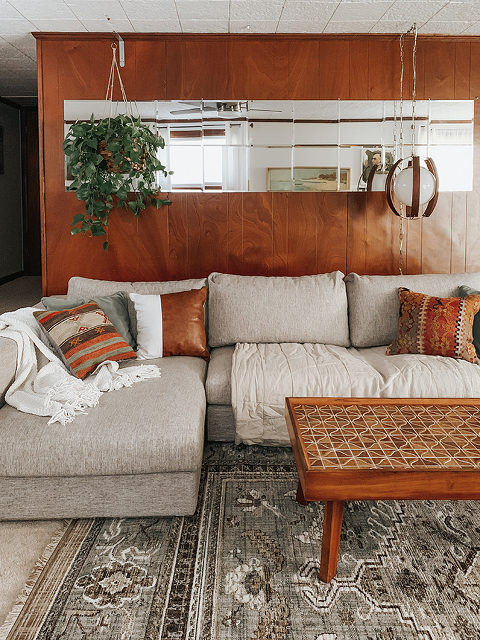 Truth be told, I've hated the mirrors in our family room pretty much since the very first day we stepped foot inside the house. I remember pointing them out with a sneer when we were touring the place as prospective homebuyers, and I'm certain I made some kind of claim that they'd be the first thing to go if we decided to buy the house.
Do keep in mind that, back then, the other non-paneled walls in the room were painted "canary yellow," the floors were covered in ancient berber carpet, and the windows all had dated patterned treatments surrounding them. The package as a whole was a bad one, and that wasn't doing the mirrors any favors.
Fast forward five years, and those mirrors are still exactly where you see them in the updated pictures in this post. I've tried covering them with a runner rug, and then when I got sick of that look, I ordered nine of these $4 IKEA mats to hang over the mirrors like a tapestry. In the end, I just felt like I was covering a bad makeup job with even more makeup, so I decided to start from square one, taking everything off the mirrors to brainstorm with a clean slate.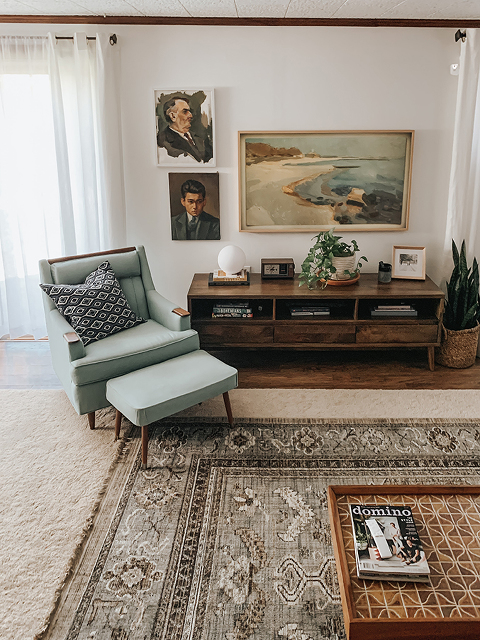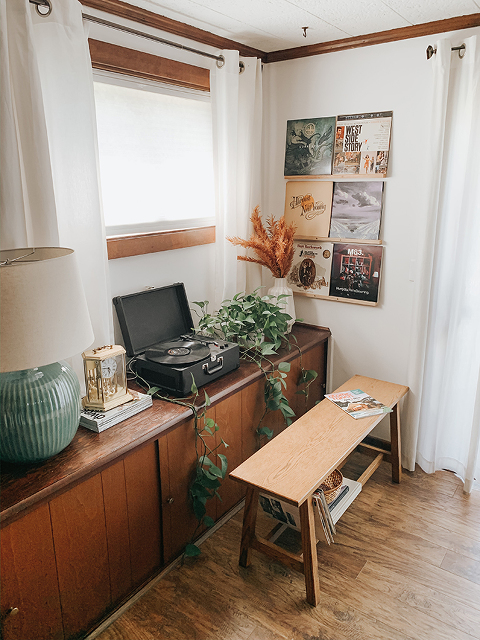 As you can see from these other pictures of the room, we have a lot of wood and warm earth tones going on. I love our paneled walls because I think that they just add to that rich character in the rest of the room. The only thing I didn't love was the mirrors! I hated the idea of tearing the paneling off and just drywalling, but that seemed to be the only option.
Oh, and I should mention that I did try to get the mirrors off, but they are super-glued to the walls. I tried wire sawing, and a pry method, but neither worked. I only ended up cracking one of the mirrors. I thought about using a heat gun, but I'm pretty sure that would have left behind a big old mess on the paneling, so I'd have to rip it all down anyway.
I detailed this whole woe-is-me tale over on Instagram earlier in the year, and that's when I got a direct message from my friend (and one of my favorite designers/homemakers) Emily Jane Lathan. She had a simple, concise response to my run-down of the options for ditching the mirrors. She essentially asked why we were trying to get rid of them, and that she'd pay good money to have our exact paneling+mirrors situation in her home.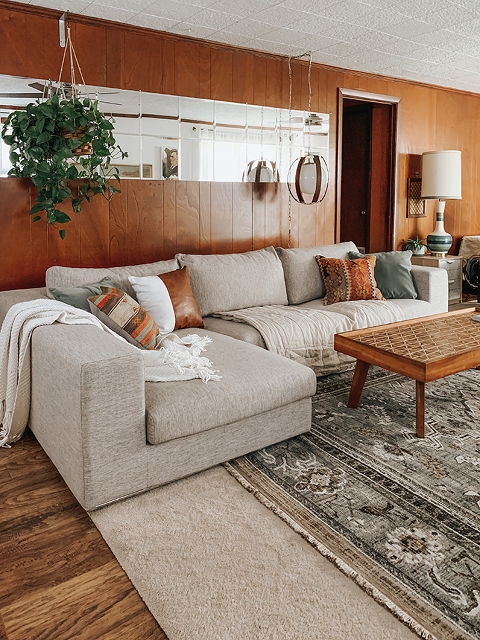 It was like a lightbulb moment. Why was I being so hateful toward the mirrors? Sure, they're a little dated, but I'm fairly certain that my distaste for the mirrors had become more of a mental thing. I couldn't change them (or at least I didn't have the budget to change them), so I poured all of my frustration into wanting to get rid of them or cover them up. I had completely overlooked the fact that we had worked so hard to update the rest of the room (i.e. new white paint, updated laminate flooring, fresh white window treatments), and that now the mirrors had taken on a totally different look.
It took that message from Emily to make me realize that it was all in my head, and that the room was already looking pretty darn good—mirrors and all! So, I basically closed my eyes, took a deep breath, and then reopened them to see the mirrors in a new light. It was honestly kind of magical, as silly as that might sound, and I've since "accepted" the mirrors as a cool original feature of the space that's worth loving.
A couple of small things I did do to help me feel like I was taking back some control of things was adding a hanging pendant light and a planter from the ceiling right in front of the mirrors. These two accents helped play up the reflective quality of the mirrors, and also put more dimension into the whole vignette. I love the way it looks now.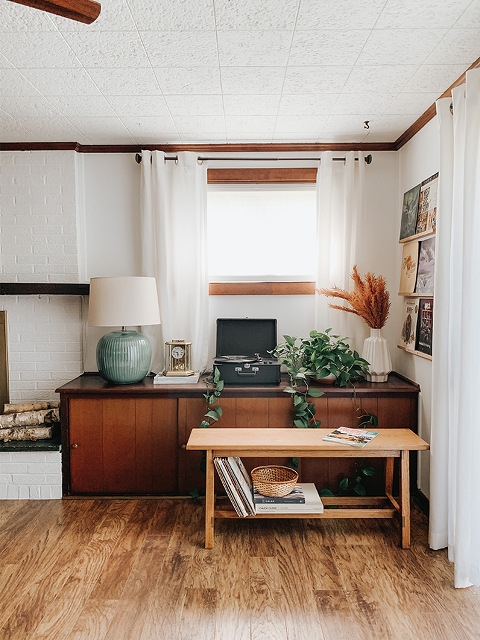 The moral of the story, I guess, is this: if you've got a built-in detail in your home that you absolutely loathe, consider taking a breather from the situation. Strip away all the stuff you've done or added over it to try to hide it, and then step away. Ask yourself why you hate it so much, and see if that feeling is actually rooted in anything concrete. If it is, then start saving to get rid of it once and for all. Life's far too short to live with something in your home that truly makes you unhappy. But if you can't really answer the question as to why you hate it, maybe consider trying to embrace it! You could see things in a whole new light, like I did.
Another idea is to sit down with Pinterest or a pile of home décor magazines. Rifle through them and see if you can spot anything similar in homes you actually do love. You might be able to see things from a different perspective, or you might find some inspiration for how to refresh the thing in question so it feels more like "you."
For example, if you've got a built-in shelving unit that you hate but you don't have the budget to tear it out and build the space back up, try looking for similar styles or silhouettes in inspiration images. Maybe you could gently take apart the moulding to make it straighter for a more modern look, or maybe it's just a matter of painting the built-ins and adding new hardware.
These types of situations aren't exactly fun to live through, but I think they can teach us a lot about our ability to see the bright side of things. Now, I want to know…What's one thing in your house that you've always loathed? Maybe we can come up with a solution together!