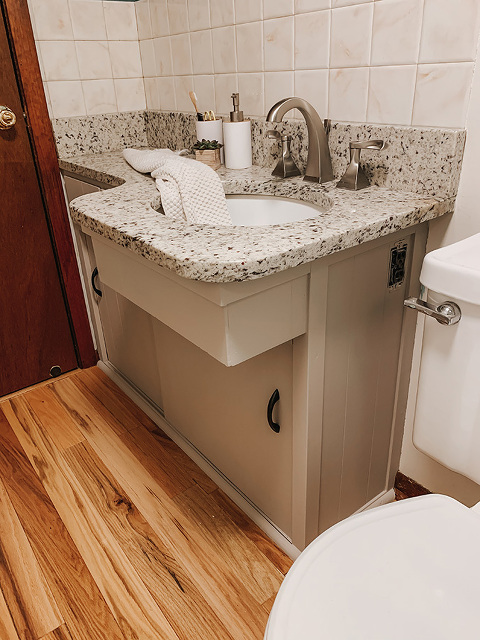 Week 1 | Week 2 | Week 3 | Week 4 | Weeks 5 & 6 | Week 7 | Week 8
(FYI that links will "go live" one at a time as the event progresses)
Thanks for following along with my role as a guest participant in this season's 8-week extended One Room Challenge event! If you're new to Dream Green DIY, hop over here to find out a little more about me. You can click those links above if you need to catch up with this year's progress as we refresh our downstairs hall bathroom, otherwise, keep scrolling to see what's next in this room renovation!
For week three I'm finally diving into the demo phase—and by "demo" I just mean that we took a few handles off our existing vanity, and sanded it down in preparation for paint. Thank goodness, there's no major ripping out of materials in this bathroom reno, but this week's project was definitely the messiest one of the entire makeover.
As I'm sure you've guessed by now, my main goal for this third week of the One Room Challenge was to update our dated wooden vanity, taking it from dark brown to a light gray, a shade that has just a hint of lavender to complement the purple flecks in the granite countertops we had installed back in 2018.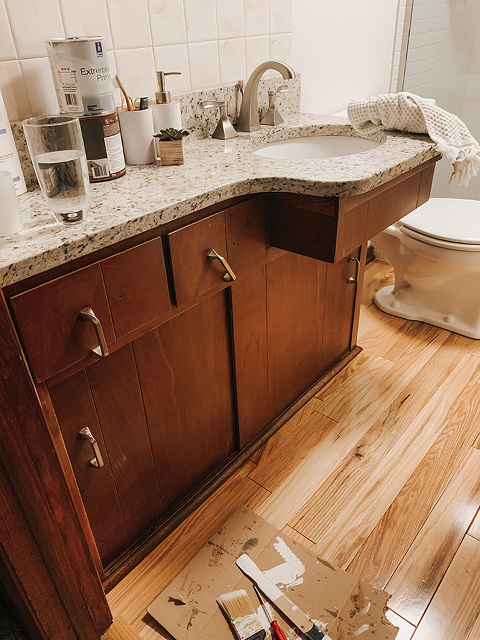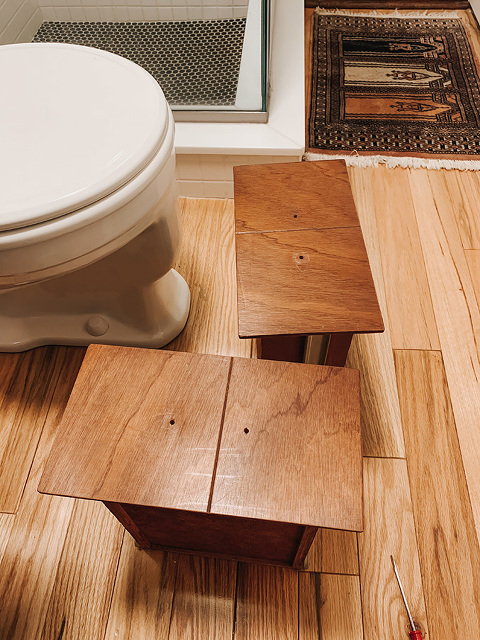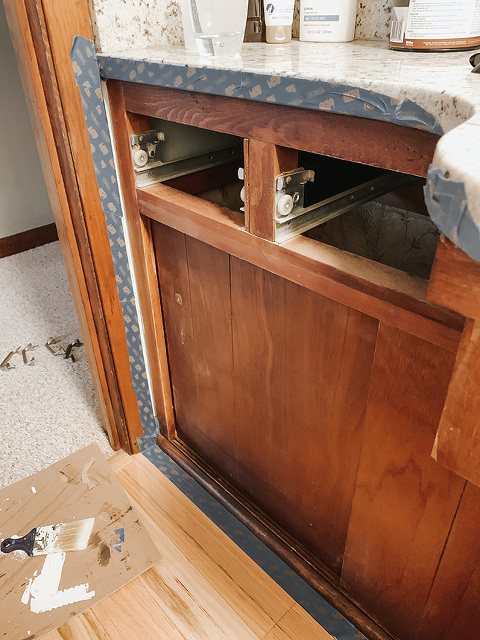 The first step was taking the vanity apart (i.e. removing the drawers and unscrewing the pull hardware), then John helped by taking care of the sanding phase. The vanity is actually made of a particle board-type material, so he didn't need to do a lot of heavy sanding. I just asked him to get the sheen off the vanity so the paint would take better later on. He gave the vanity base, its sliding doors, and drawer fronts a light sanding with our electric Mouse sander, and then he wiped everything down with a tack cloth to get all the debris up, followed by a vacuum with our shop vac.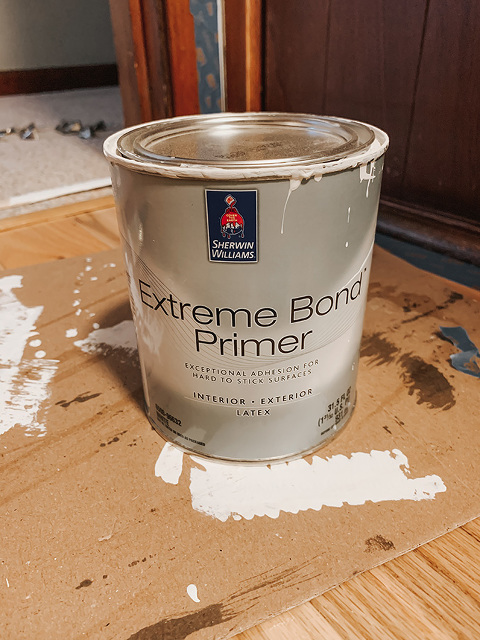 It was also around this time that John gave the original hardware from the vanity (the original, original hardware circa the 1970s) a fresh coat of matte black spray paint to match the soon-to-be-installed matte black sink faucet. With those to-do list items done, it was time for me to take over.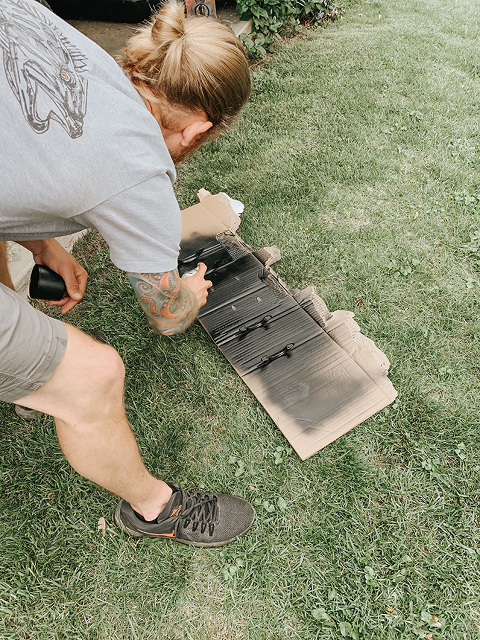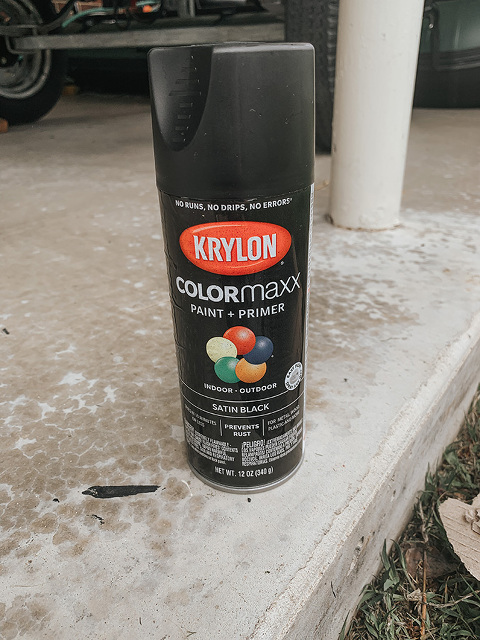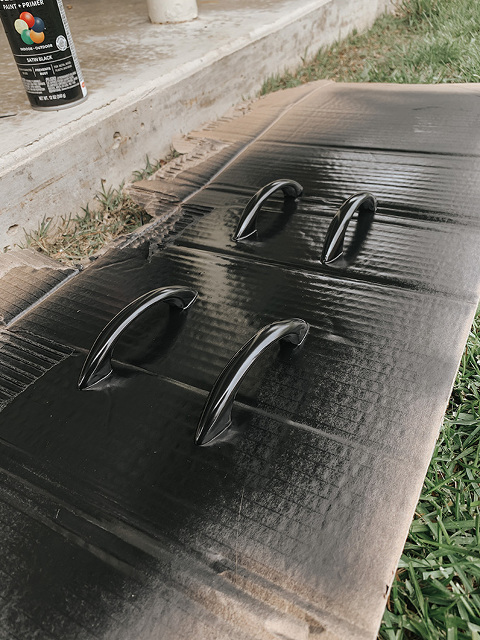 Even though I had always planned to use a Chalk Finish Paint on the vanity (I love that this product allows you to skip the sanding and priming steps before painting), I still felt like going the extra mile. So, after taping off all of the edges surrounding the vanity with painter's tape, I went ahead and gave the vanity a single coat of this primer, just to be safe.
I let that dry overnight, then came back the next day and painted on two coats of my BEHR Chalk Finish Paint, in a color called Pale Sepia. If you remember, I had used this same type of chalk paint on a mid-century dresser makeover project last year, so I knew I could trust it to give me good coverage, and one that would last.
As expected, it was a dream to brush on. I didn't even have to break out the roller, which meant less clean up and less wasted paint, too. I still need to do a coat or two of wax to give it a protective finish, but since that's just a clear topcoat, I'm not rushing it. I'll get there!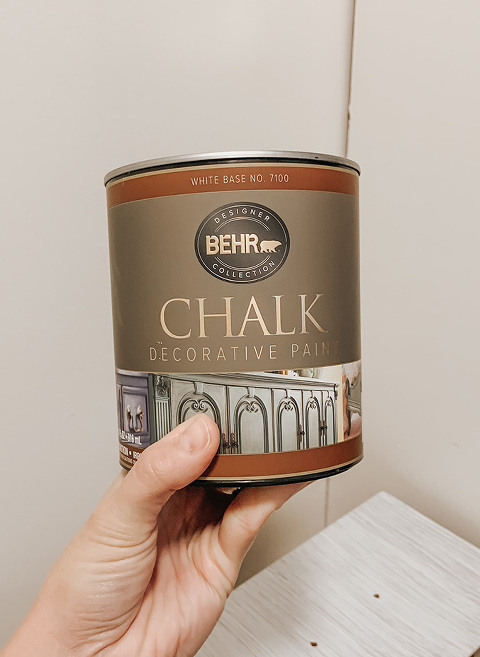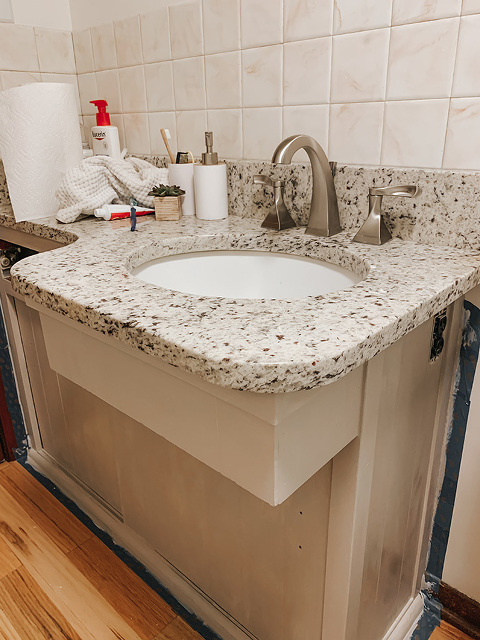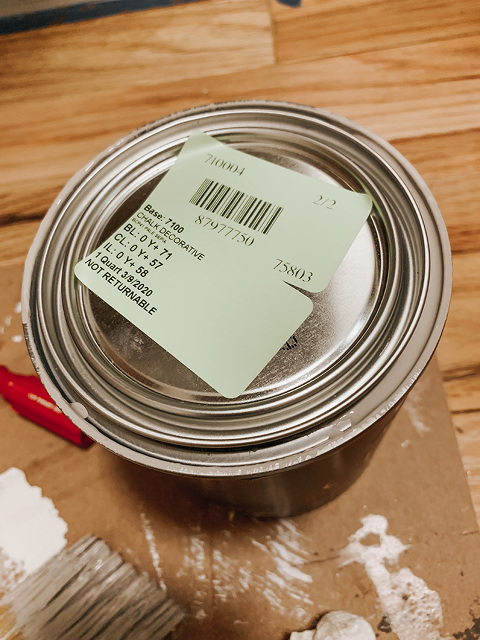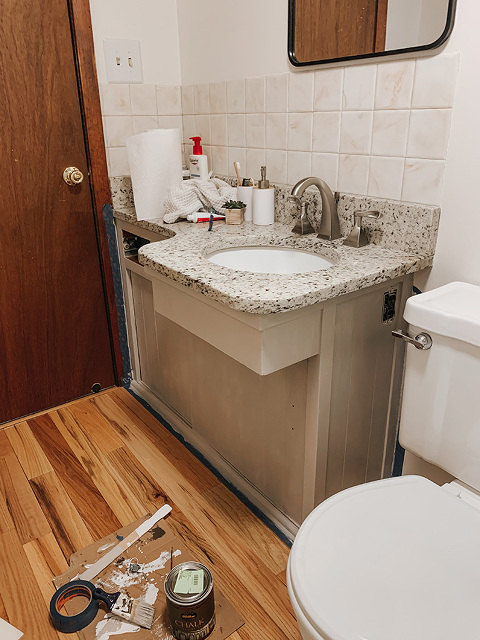 I love how the new crisp gray paint color instantly updated the vanity. It brightened it up so much, which was essential given the tight quarters of this small bathroom, and it also helped hide the somewhat odd shape of the little built-in cabinet. Now, instead of focusing on the old vanity, you look at our still-practically-brand-new glass shower. It directs your focus where it belongs, and for just two days of work and $19.98 spent on paint (my parents gave us their leftover primer, so that was free), I'd call it a job well done.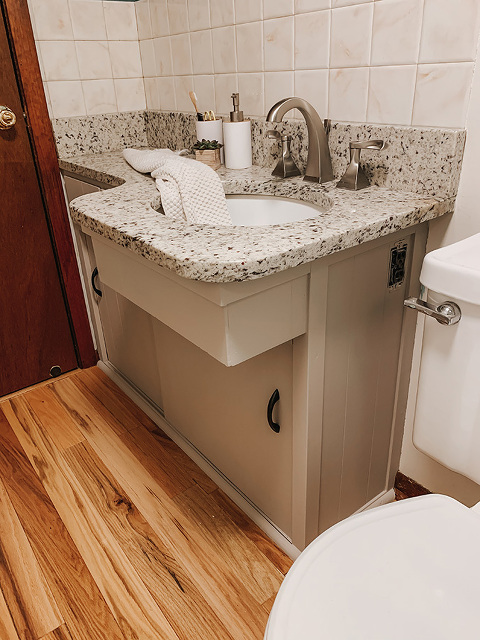 Next week I've got even bigger plans involving paint in this small space, but this time we're going bold. Stay tuned as we makeover this small space, and make sure you visit the One Room Challenge event website hosted by Linda, of Calling It Home, for even more design inspiration. Thanks for following along!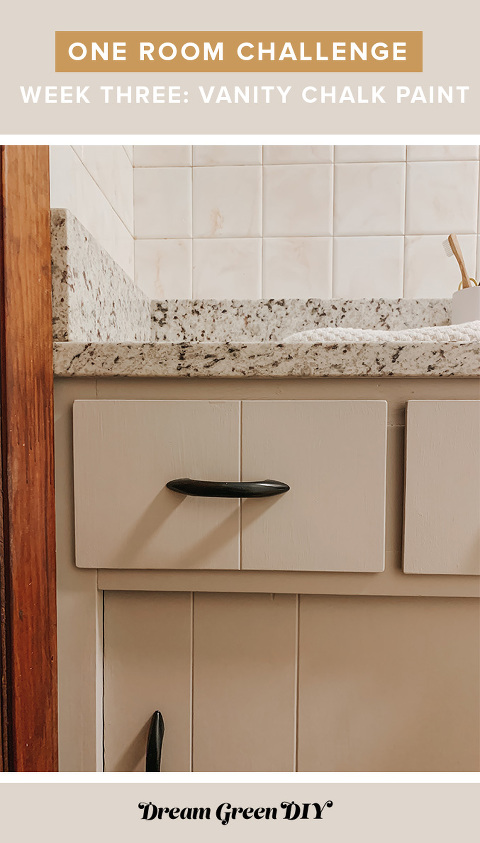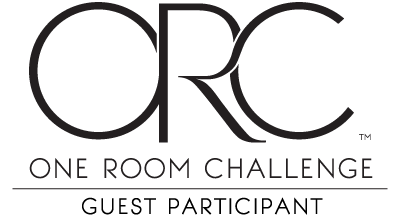 *I earn a small percentage from purchases made using the affiliate links above. Affiliate links are not sponsored. Rest assured that I never recommend products we wouldn't use or don't already love ourselves.