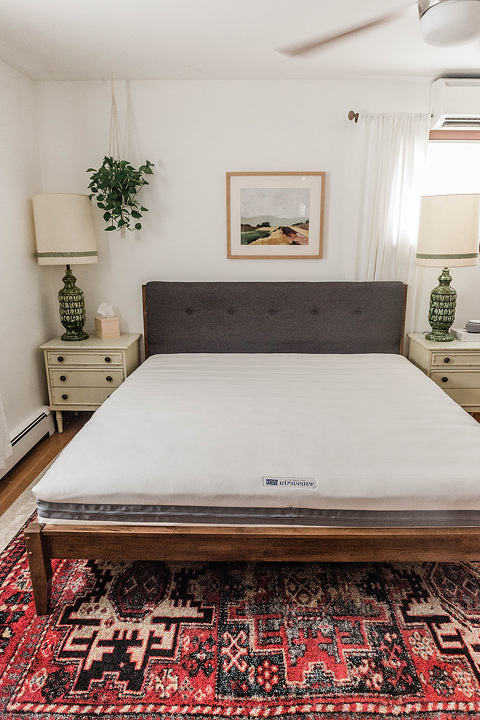 *This post was sponsored by Airweave USA. All thoughts and opinions are my own.
If you've been following along for any length of time, then chances are good that you know all about our commitment to being as eco-friendly as possible when it comes to home goods and the cleaning products we use. We're no where near perfect, but whenever we have the opportunity to be sustainable, we do it!
And that even goes for mattresses. To be honest, I didn't really know eco-friendly mattresses were a "thing" for the longest time, and while I'm a major supporter of living a sustainable lifestyle, I don't think I can claim to really know what all of that entails from a production standpoint. I'm still learning.
So when the Airweave USA team reached out and offered to let us try one of their eco-friendly modular mattress designs, I figured it was the perfect time for me to get more familiar with the process and to share a new type of mattress option with all of you in case you're new to this brand, too.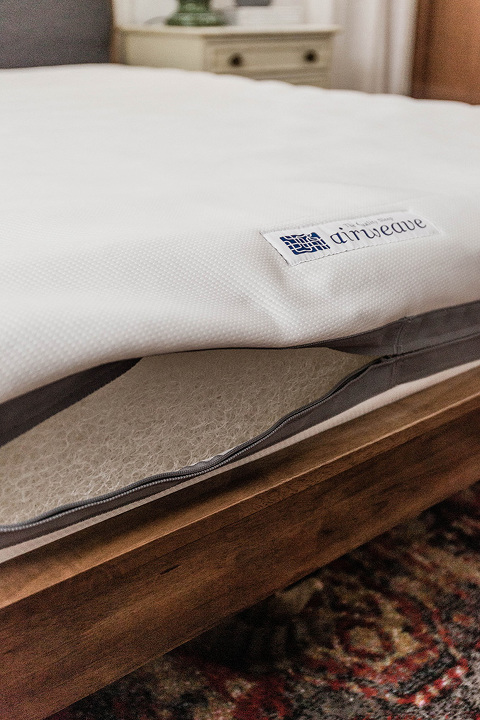 This mattress is absolutely unlike anything I've ever come across. Up until this point, I've tried two different kinds of mattresses: the type you buy from a warehouse that has to be professionally delivered because of how bulky it is, and the type that comes shrink-wrapped and puffs up after you unwrap it.
Our new Airweave mattress, on the other hand, arrived in two boxes and requires a bit of assembly before you can enjoy it. That said, I want to tell you right away that (a) assembly is a breeze and can be done by yourself (even in the king size, like we got), and (b) the assembly factor is what makes this mattress so amazing. Let me explain…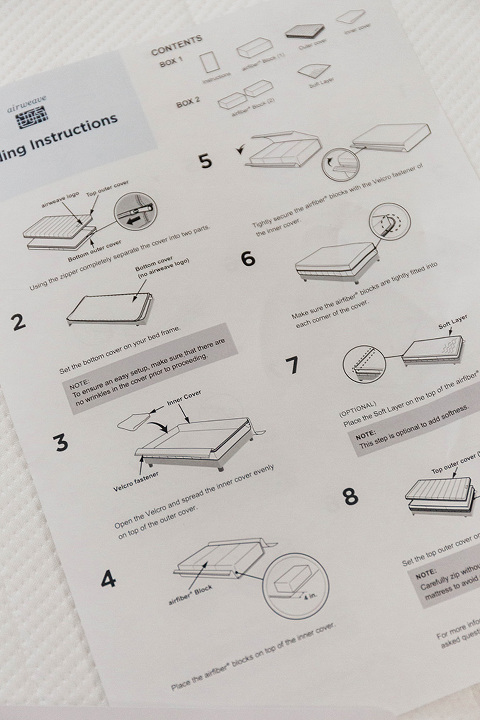 Imagine for a second that you're eating breakfast in bed, and you suddenly spill your entire cup of orange juice all over the mattress—bedding and all. With a traditional mattress, you'd have to quickly toss all of your linens in the wash, and hustle to sop up all of the juice before it soaked into your mattress. Even if you hurry, you'll probably end up with some juice getting down deep into the fibers of the mattress where you can't get to it, and that could make your mattress smell terrible for weeks or months.
If the same thing happened with your Airweave mattress, you can (I kid you not) take the pieces apart within minutes and launder the cloth parts, then hose down the inner core pieces in your shower or on your back deck. Yes. HOSE THEM DOWN!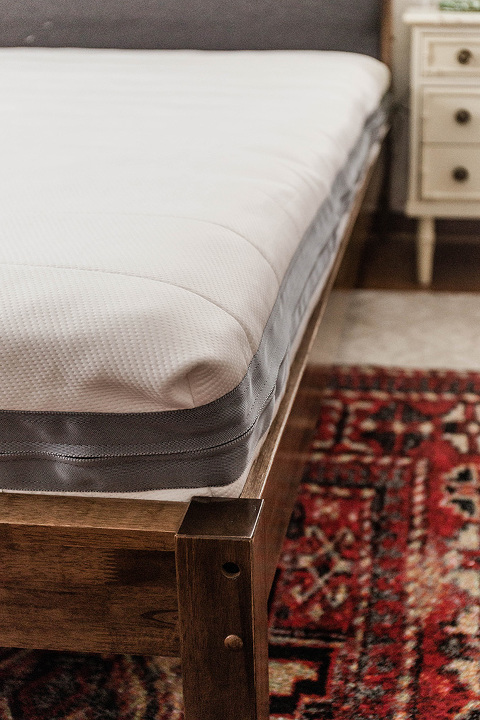 Since everything about this modular mattress is washable, you're able to worry less about spills and even dust and allergens. John has suffered from allergies for years, and I think I'm starting to develop them, too. So, the fact that we can clean this mattress down to its very core is something that really speaks to our family.
If you scroll up a handful of photos, you can see what I mean about that washable core. I left the cover unzipped by a few inches so you could get a peek at the airfiber core, which is made up of a thickly interwoven (but soft) plastic material similar to fishing line. The material allows you to move easily, evenly distributes your weight as you sleep, and also helps with airflow so you don't get overheated.
The best part? At the end of your mattress's life, you can disassemble the plastic parts of the mattress and recycle them without having to add to your local landfill. You can also replace just parts of the mattress as needed without having to throw out the entire thing like you would a traditional mattress.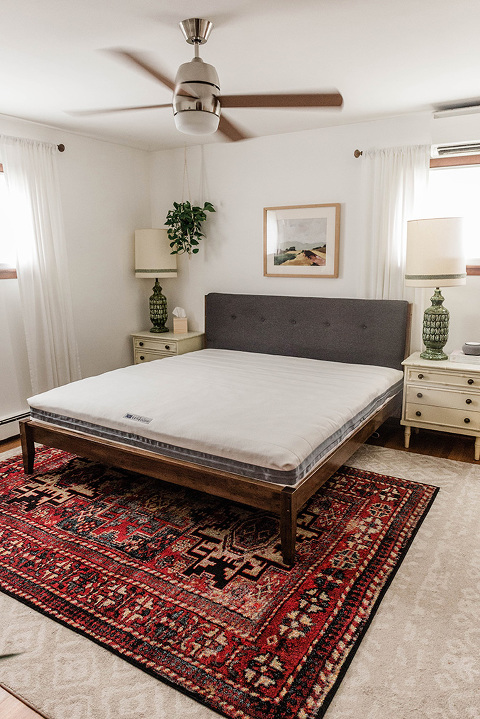 Now, let's talk about look and comfort for a moment. One of my favorite things about this mattress is how thin it is. Once assembled, it's around 8 inches thick, which makes for such a sleek look in your bedroom, especially if you have a platform bed frame like we do, so the mattress sits nice and low to the ground. This look has a really soothing effect, and makes getting in and out of bed easier, too, since you're not having to lift up onto a stupidly high mattress every night.
The Airweave mattress is definitely on the firmer side, but that was intentional. As I mentioned before, it helps eliminate almost all motion transfer if you have a partner who tosses and turns at night, and you'll also get the benefit of a really supportive sleep. Oh, and if you want to see what the mattress looks like with bedding on it, click back to this post that I shared last week!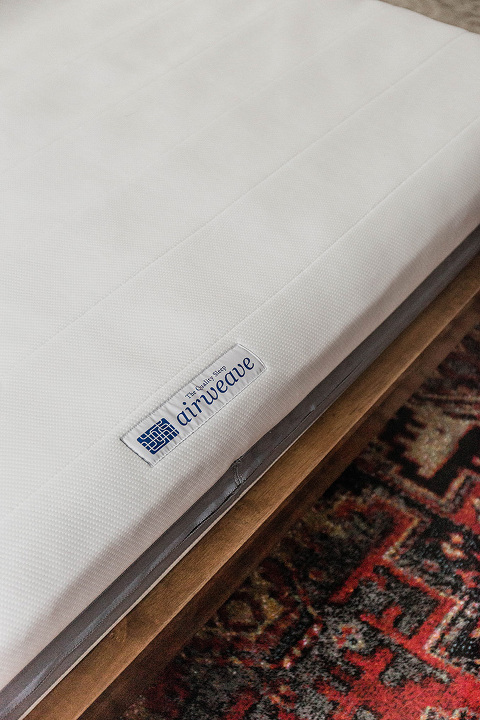 Since I tend to prefer a softer mattress, I would suggest using the included soft layer underneath the cover when you assemble (or springing for the Airweave Mattress Advanced, which includes two pillow top layers). You can also purchase a memory foam topper from Amazon to help give you a little extra cushion if you need it.
You don't have to feel tied down either way, though, because you can try the mattress for 100 nights risk-free. That said, I don't think you'll even consider handing this mattress back over once you get used to it. I let my parents try it out because they were considering it for their guest room, and now they want to order two—one for the guest room, and another for their room!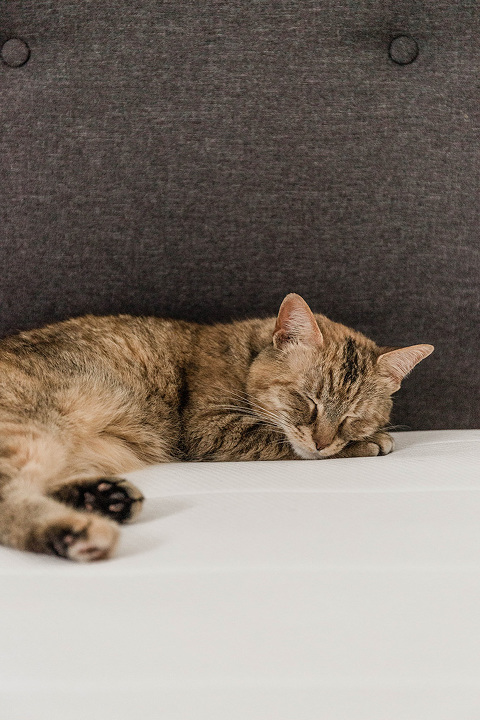 I'm pretty sure that picture of our cat Tonks above does all the talking you really need to hear about this mattress. After putting it together on my own the other week, I plopped down on it to test things out. Within five minutes, Tonks had hopped up on the bed with me and quickly fallen fast asleep. I had to scoop her up to make the bed because she was so comfortable and not about to leave on her own!
If you have any questions at all, don't hesitate to leave them in the comments below, or shoot me an email. I know mattress talk can get sort of technical, and that it's also hard to know whether or not you'll like a mattress without physically laying on it yourself. It's also a big, long-term investment! So, I'm happy to share anything at all about my experience if you want a more specific perspective.
Big thanks to Airweave for letting us try out their awesome mattress, and for offering such a great option for those of us who are committed to being more eco-friendly these days.