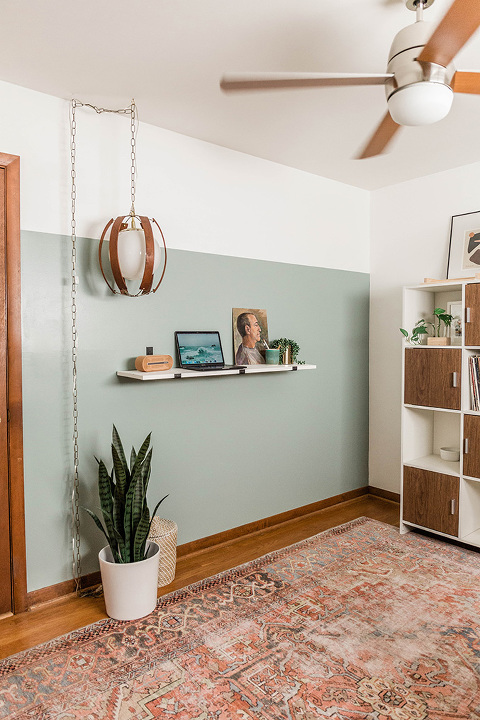 Guess where I'm typing this post in my office…Yup, you're right! On my new standing desk! One thing I've come to learn about myself since quarantining at home these past four months is that I like variety. I like having alternate options for things like lounging, eating dinner, and even—as it turns out—working.
Luckily, we've got plenty of room in our house to put together these types of multi-functional spaces that make socially distant life as interesting as can be, and I also found the perfect amount of space to add a standing desk to my office for days when I don't feel like sitting at my traditional desk.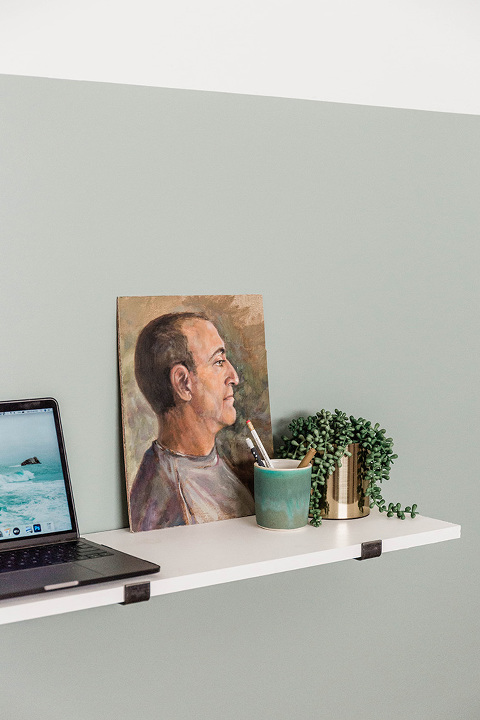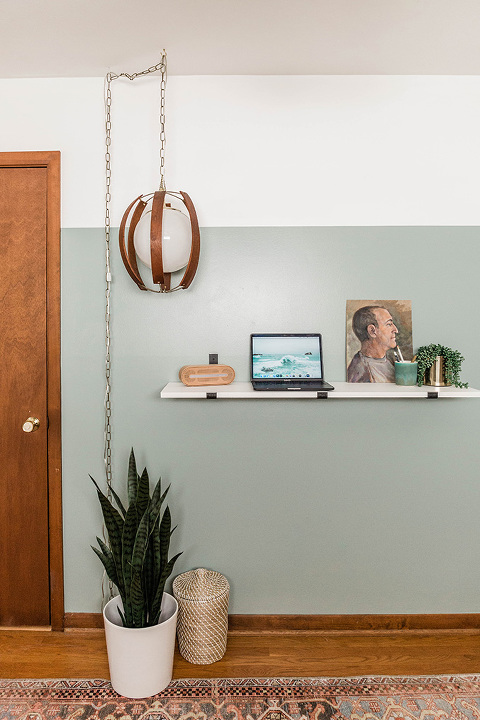 Today, I thought I'd quickly break down the process of building a standing desk in case you'd like to have that option, too. But let me back up a bit and tell you how this whole idea came about.
I was actually approached by a standing desk company who offered to send me a desk for free to try out and review. I was giddy at the idea since I had been thinking about getting one for a while, but the truth is that I just don't have the money right now to invest in a new desk (especially one that I don't technically need).
I always want to be 100 percent authentic on my blog and social channels, and if I don't have the expendable cash to splurge on a new standing desk, then many of you probably don't either. Although I wouldn't have to actually pay for this particular desk thanks to the generous brand offer, I didn't want to take advantage and encourage you guys to live beyond your means when I can't do that myself.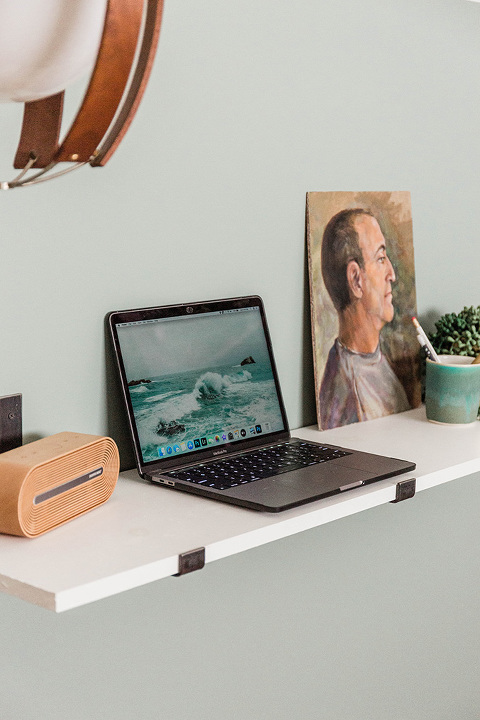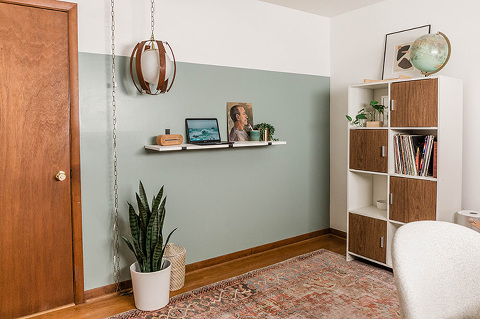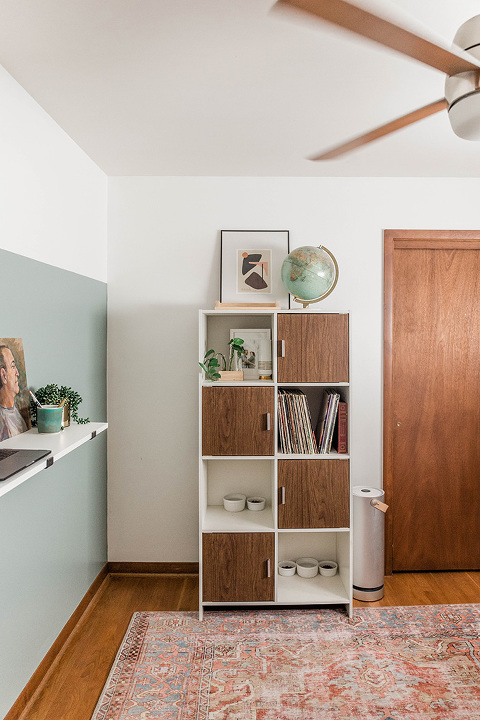 After graciously declining the offer from that brand I mentioned, I went about figuring out how to build my own since I knew I wouldn't be able to get the thought of a new standing desk out of my head. To be more authentic, I wanted to come up with a DIY standing desk concept that I could pull off using supplies we already had in the hopes that you guys could do the same.
Happily, it only took a few days before I realized that I could do it just by reusing an old shelf and brackets that I had in storage in our basement. All I did was Google the typical height of a standing desk (about 44 inches), then I installed my shelf brackets and wood shelf at that height on the long wall in my office.
The one tweak I did do to make this more than just a shelf screwed into the wall is that I sandwiched felt pads between each of the screw holes in the three brackets I used and the wood shelf above. They're completely hidden, but give me the little bit of cushion I need so that I don't make the shelf rattle as I type on my laptop. Screwing the brackets directly into wall studs rather than anchors (which could loosen over time) is another way I managed to avoid any rattling. I'm happy to report that it's working like a charm!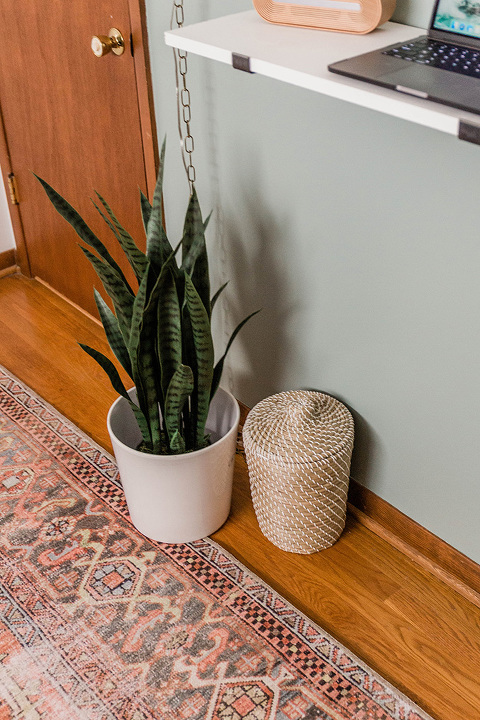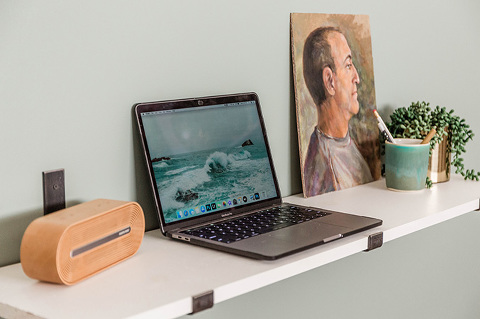 It's certainly nothing super special, and those electric sit/stand desks are just as cool as they sound, but I very much appreciate that my DIY standing desk didn't cost a dime for me to build, and that I could show you guys how to do the same in case the ready-made option is out of your budget, too.
If you want another, slightly more involved standing desk tutorial to try, I really love this one my friend Brittni put together using some cabinets from IKEA. Now, tell me…Have you ever used a standing desk before?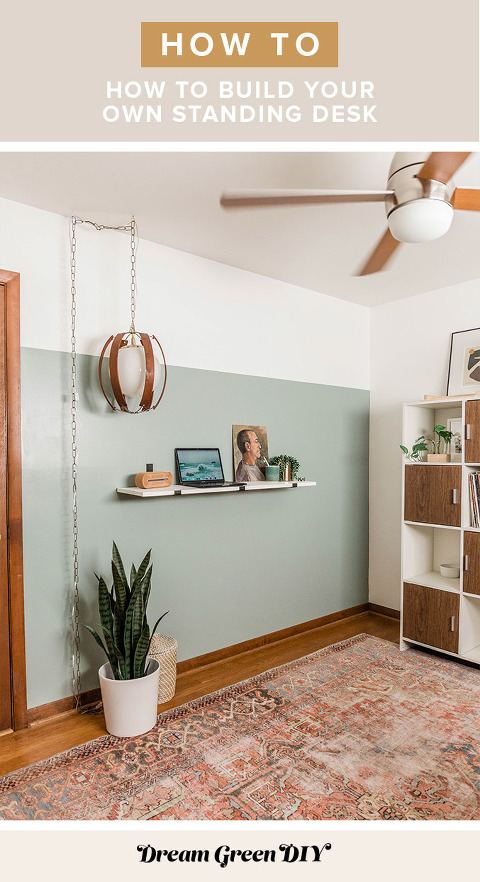 *I earn a small percentage from purchases made using the affiliate links above. Affiliate links are not sponsored. Rest assured that I never recommend products we wouldn't use or don't already love ourselves.