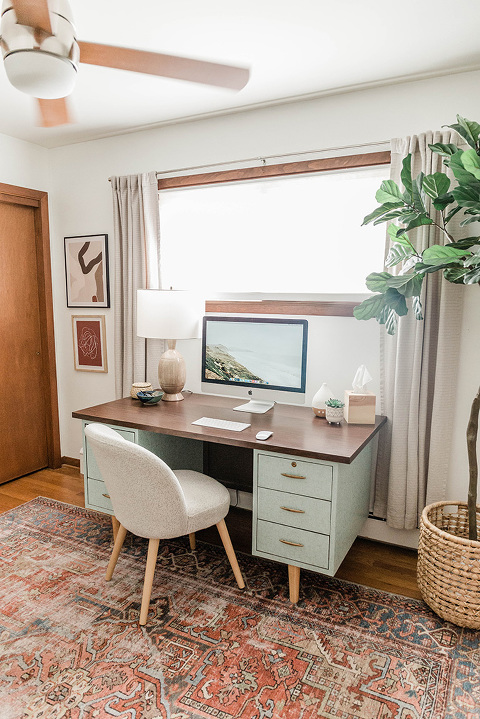 Ever since revealing my made-over home office, one of the most frequently asked questions I've gotten has been: "Where did you get your desk?" Truth is that I kinda made it! The desk started out looking as you see it in the quick iPhone photo I'm sharing below—covered in a dark (damaged) veneer, old ratty metal drawer pulls, and dark wood square legs that disappeared under my behemoth of a desk.
It was fine when I bought the desk secondhand four years ago, but now that I know my office will never be the bright room I hoped it would thanks to consistently poor natural light, I really craved something that looked more lightweight and and even a little more feminine.
Since my travel capabilities and budget are both currently restricted thanks to the pandemic, I couldn't really afford to go out and buy a brand new desk, so I decided to figure out a way to do a DIY transformation on my desk that would get me the look I wanted without having to buy anything new.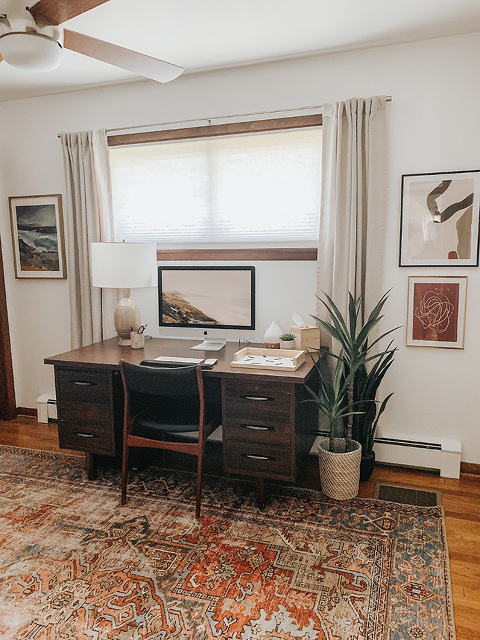 Now, of course, I could have painted the desk, but I'm notorious for rushing painting projects, and I'm not all that great at it to begin with. I also didn't love the idea of investing a bunch of hours into the desk since I think I will eventually sell or donate it so that I can go get my dream desk somewhere else once all of this craziness is behind us.
This little makeover project was always meant to be more of a bandaid fix than a permanent one, so I hated the idea of spending countless hours painting the thing if I just plan on passing it along to someone else in a couple of years. Like I said, I also didn't trust myself to do a good paint job, if I'm being completely honest!
So, in the end, I decided to rely on peel-and-stick wallpaper to give me the updated finish I wanted. I have tons of wallpaper rolls just sitting in storage waiting for a lightbulb moment like this, so I was able to get started right away. The best part of all, though, was that I could transform the desk where it sat without having to drag it out to the yard, like I would have if I had decided to paint it. There was zero paint or sanding mess throughout this process.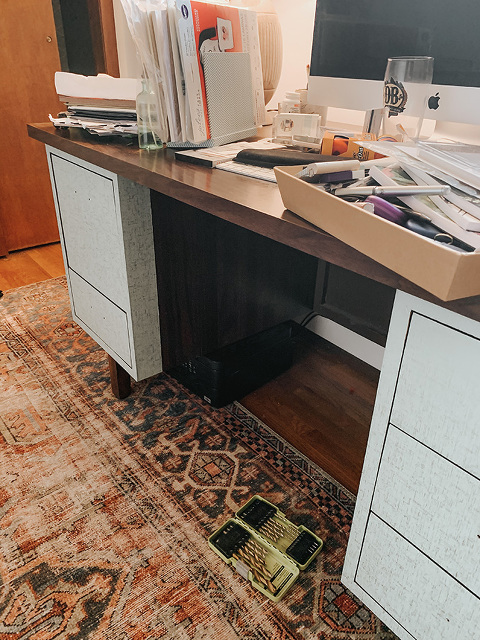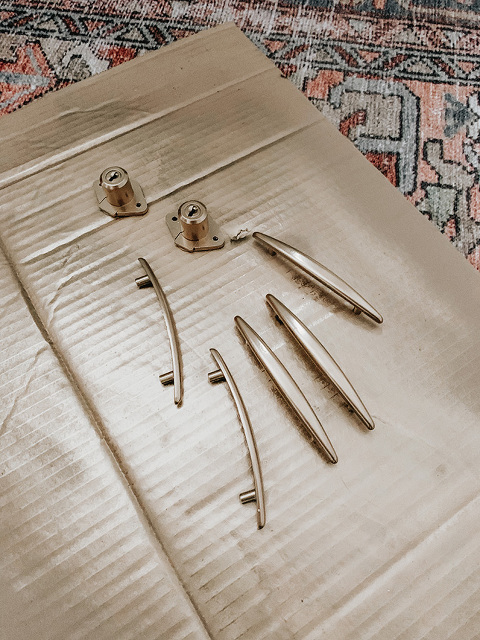 The one thing I did paint was the hardware. I figured I could give my collection of old metal drawer pulls a second life with a few coats of gold spray paint, and it worked like a charm. Luckily, we had a can of that in storage, too, so this hardware update didn't cost me a thing.
Here's how I actually executed the project in case you'd like to try this at home. First, I removed all of the hardware from the drawers, then I held the unfurled peel-and-stick wallpaper up to the desk, figured out how much I needed to cut off the roll in order to cover the desk section I was working on (plus a little extra for trimming purposes), then I cut it to size with scissors.
NOTE: Yes, you can measure and cut exactly to suit, but a rough estimate works just fine since you'll need to trim of the excess anyway.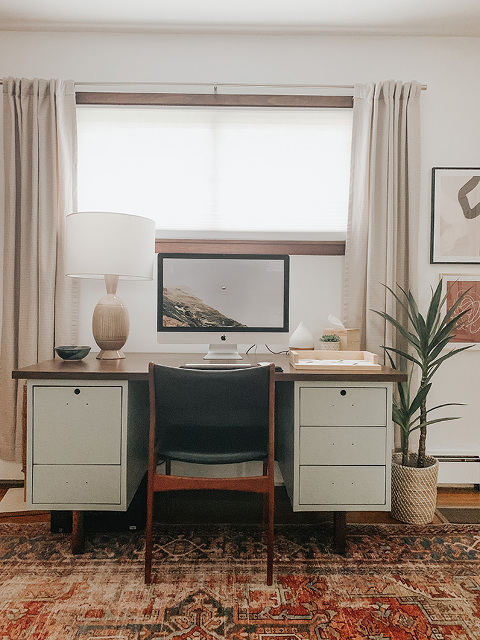 With my piece of wallpaper cut and ready to use, I carefully peeled the backer paper off the top portion, stuck it to the front side of the desk (closed drawers and all) and then slowly pressed it in place, removing more of the backer paper as I went. You can use a credit card to squeeze out any air bubbles that happen to form.
Once you're done, your drawers will effectively be held hostage by the wallpaper. To "rescue" them, I felt around with my fingertip until I found the edge of the drawer, then I cut through the wallpaper along that edge with a sharp razor blade. After you've freed the drawers with the razor blade, you can trim off any excess wallpaper around the edges of the drawers and the drawer cavity, then you're done.
To open up the hardware holes, you can gently bore through the paper using a drill bit from the inside of the drawers. I cut the old lock hole out with my razor blade.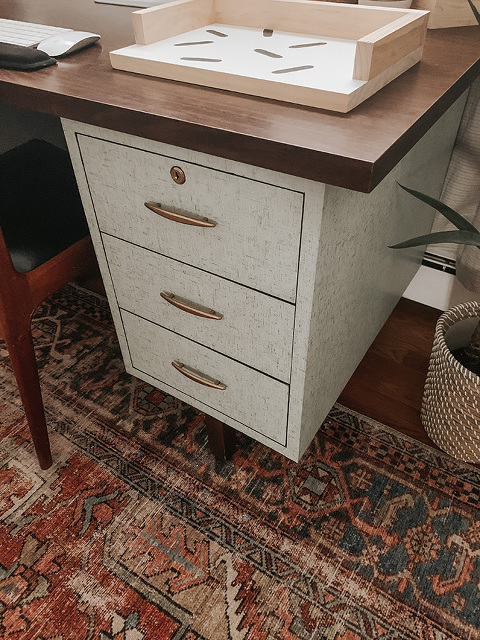 The rest of the process is a little less complicated since you're mostly just wallpapering flat sections of the desk. Just repeat the same process: roughly measure the section you're working on, cut the wallpaper to size, press it into place on the desk face, and then trim the excess paper away from the edges.
No need to sand, and no need to worry about matching up a pattern with this particular wallpaper design since the subtle metallic flecks throughout are very random and forgiving. I only needed one roll of wallpaper to cover my desk, but the amount you need will depend on the size of your desk.
If I had painted, this whole process would have taken me hours and days to complete. Instead, I was able to wallpaper the entire desk in about an hour and a half. The final step (and the only thing I paid for during this transformation) was adding new legs to the desk. I wanted something light-colored and tapered to give the desk more of a weightless, feminine look, and these blonde wood desk legs from Amazon did the trick. They match my new desk chair perfectly, and screwed right into the old leg brackets. Easy!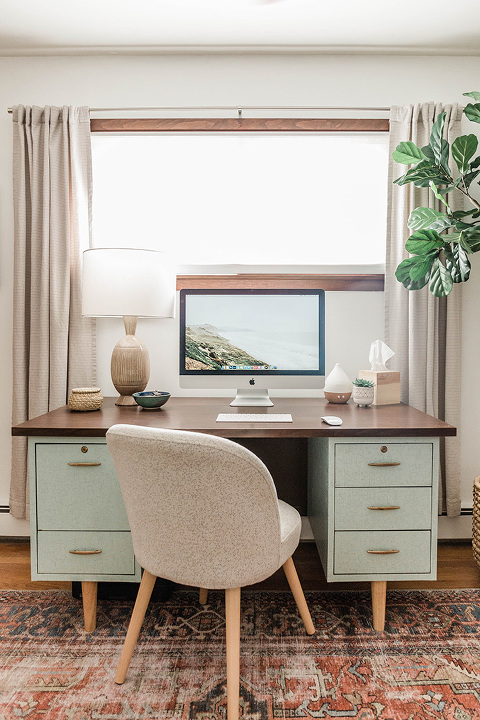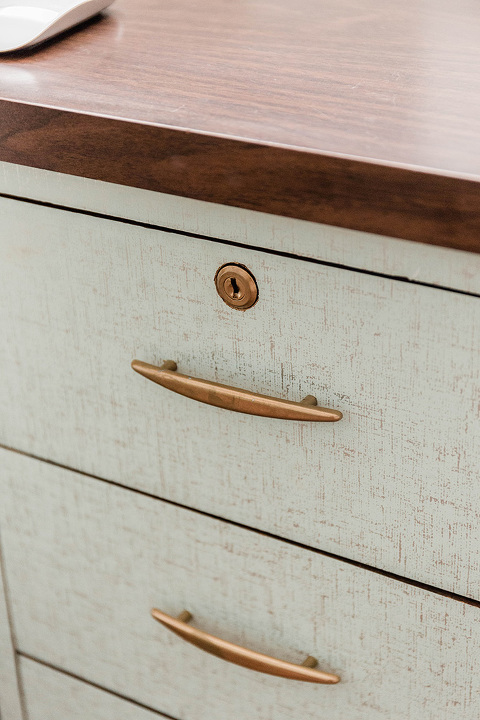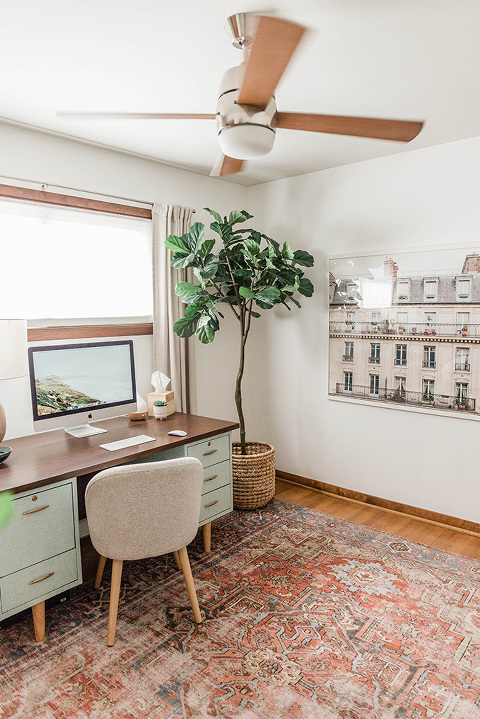 It's certainly not perfect, and you can spot a few imperfections if you get up close to the desk, but I adore the new color, and love even more the fact that the entire project only cost me $25 (for the new desk legs). The before/after below really illustrates just how big of a difference the made-over desk has on the space. Before, the desk felt really heavy and masculine, but now the desk looks brand new and so much lighter, even happier thanks to the punchy mint color of the wallpaper I used.
If anything about my explanation of the process was confusing, you can see it all come to life on Instagram thanks to this highlight reel of photos and videos. If you watch that, you'll see how I had to troubleshoot my way through a complete failure in the beginning by swapping my first wallpaper attempt out to the mint-colored option you see pictured in today's post.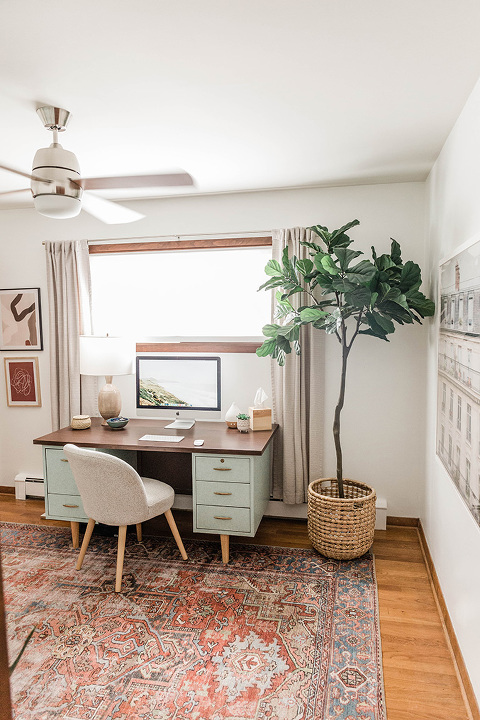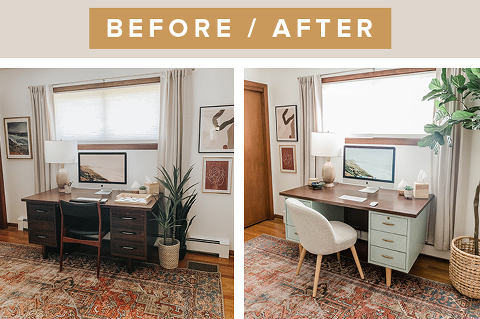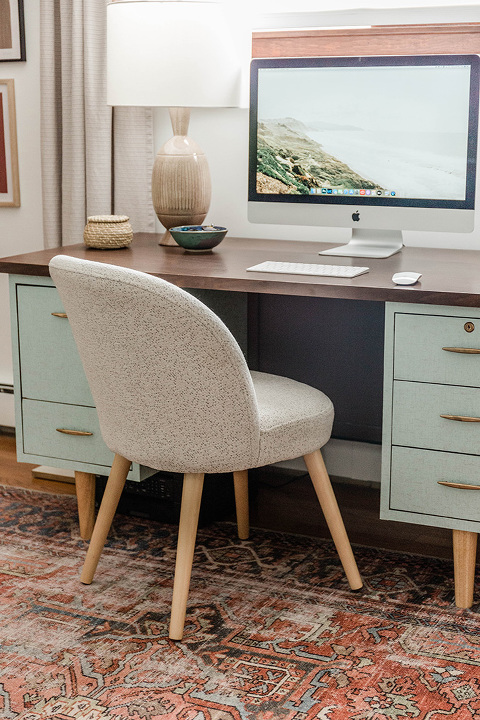 What do you think? Did you prefer the desk before, or do you like it best after with its new mint green paper finish? Oh, and it's worth mentioning that the wallpaper has held up great since I finished this project two weeks ago. I think this type of finish is actually going to be much more durable than paint would have been. Who knows…Maybe I'll end up keeping the desk for the long haul now that I was able to change the look so drastically! Let me know what you think in the comments below.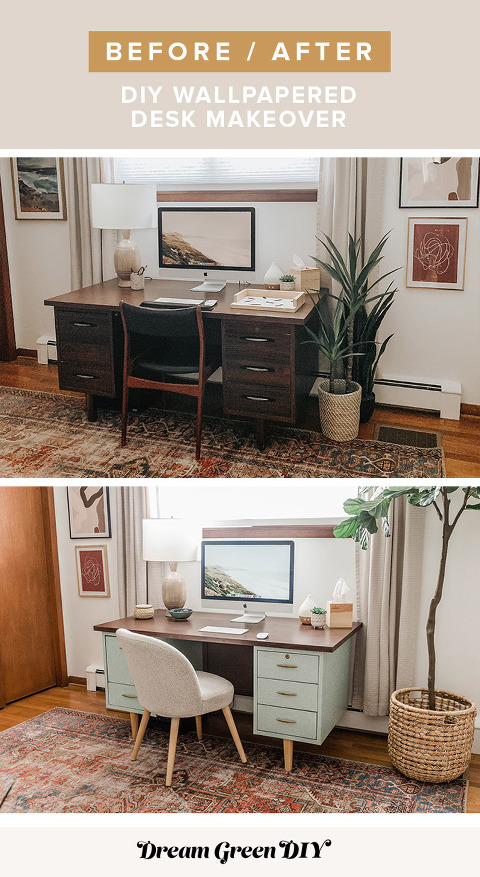 *I earn a small percentage from purchases made using the affiliate links above. Affiliate links are not sponsored and exist in order to help support business operations. Rest assured that I never recommend products we wouldn't use or don't already love ourselves.