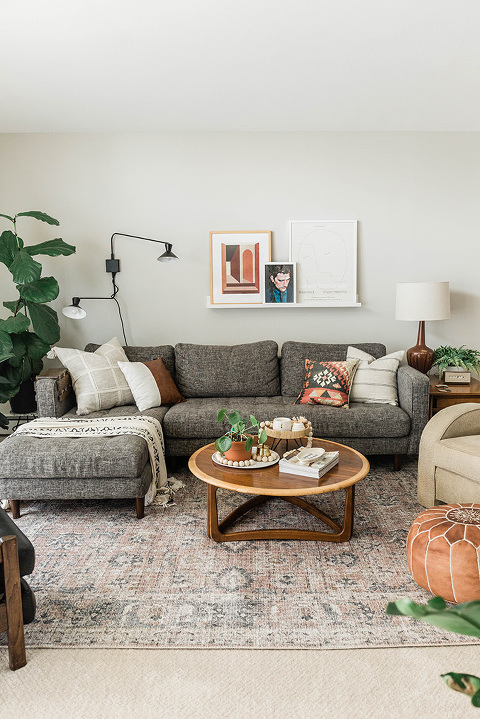 *This post features gifted product from Loloi. Thanks for supporting the brands who help make fresh content possible here on Dream Green DIY!
I don't know what it is about quarantine, but I just can't resist the urge to makeover rooms in our house at a break-neck speed! Of course it has a lot to do with the fact that I crave change as a cure for my boredom. I've essentially been stuck at home for six months now, and that's a long time to look at the same décor and colors everyday. So, I've been rearranging, redecorating, and swapping around like a mad woman, and John pretty much has whiplash. He never knows what he's going to find when he walks in the door from work these days.
Most recently, I made a few changes in both our living room and our dining room. Next week I'll be sharing an updated tour of our refreshed dining room, but today it's all about the living room. Before doing any kind of big room makeover, I always start by making a digital mood board in Photoshop. It's the only way I can feel confident in the choices I'm making. If you take a close look at the mood board I made for this particular living room update below, you might notice that I also added stand-in images of similar antique pieces to match our existing secondhand collection, that way I can get a really accurate sense of what the room will look like post-makeover.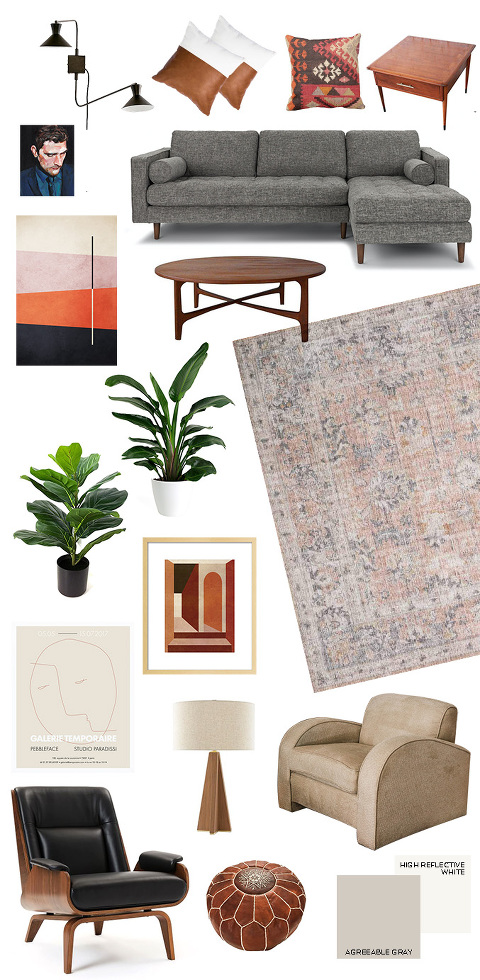 Isn't it kind of wild to scroll back and forth between the mood board and that photo of our finished space at the top of the post? It just proves how important mood boards can be when it comes to making decisions. I don't make any swaps or buy anything for a room makeover until I've completely finalized my mood board first. This process keeps me from making bad design decisions and I save money, too, since I'm not making hasty purchase choices either.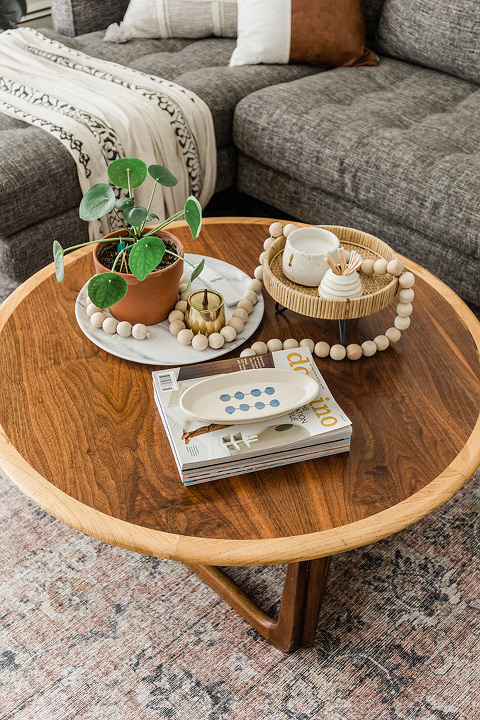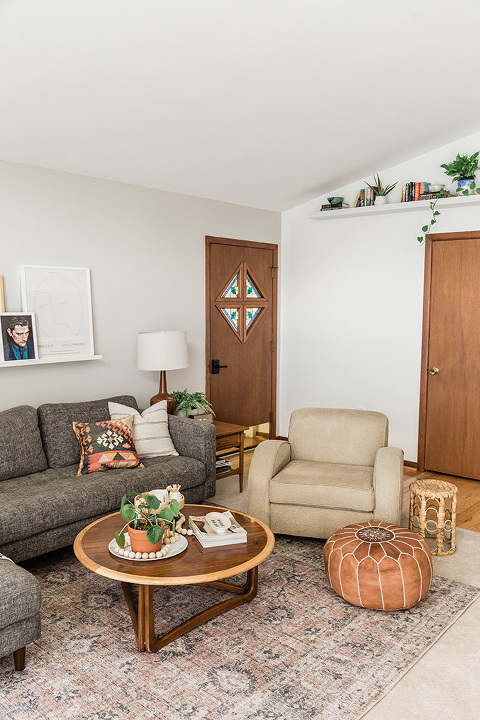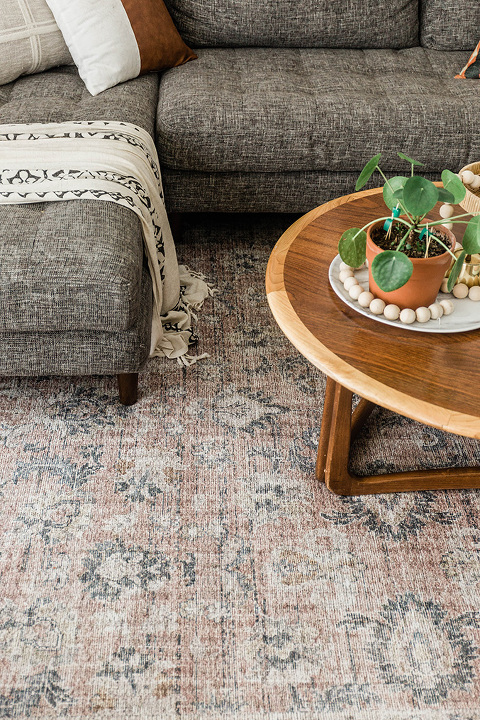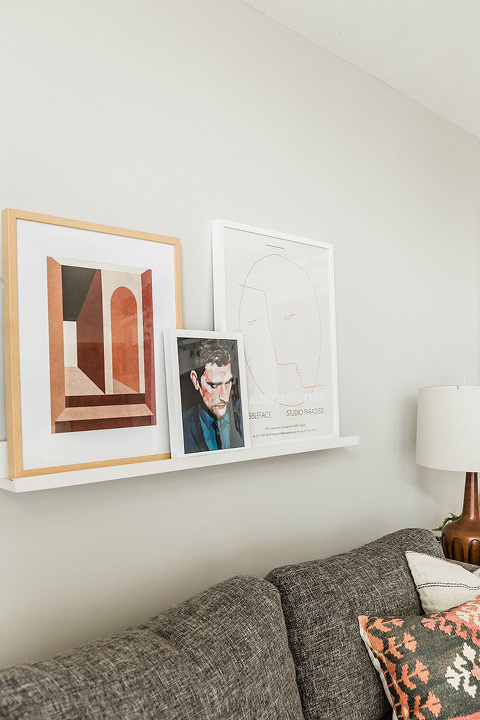 The biggest changes I made in this room had to do with the rug and art. I worked with Loloi to try out a rug from their Loloi ll Skye Collection. The one we chose is the "Blush/Grey" colorway, and has such a beautiful distressed look to it (I think it's currently unavailable, but keep an eye out for a restock). I love that there's color in the rug, but when you step back, it doesn't overwhelm the room. The soft blue and light pink add a whole new vibe to our living room that it never had before, and I'm loving the change!
This rug is also one of their flat printed designs, which means that it's super easy to vacuum and clean. With four pets in our house, that's essential. This is my fourth printed-style Loloi rug. I'm addicted because the patterns are stunning and feel really high-end, but the flat printed style keeps them at a price point that we can actually afford. Did I mention how easy they are to vacuum?! I know I did, but it's worth repeating. These rugs are game-changing, folks.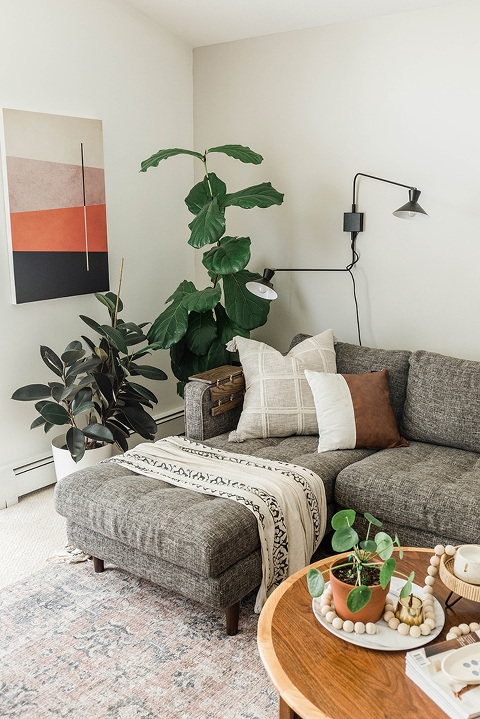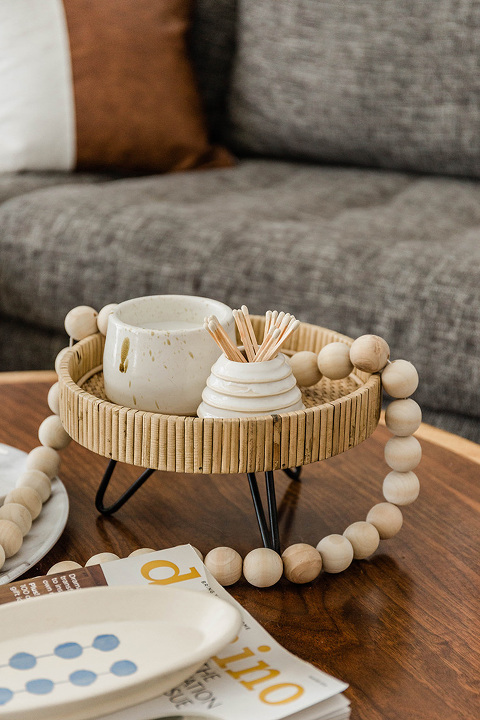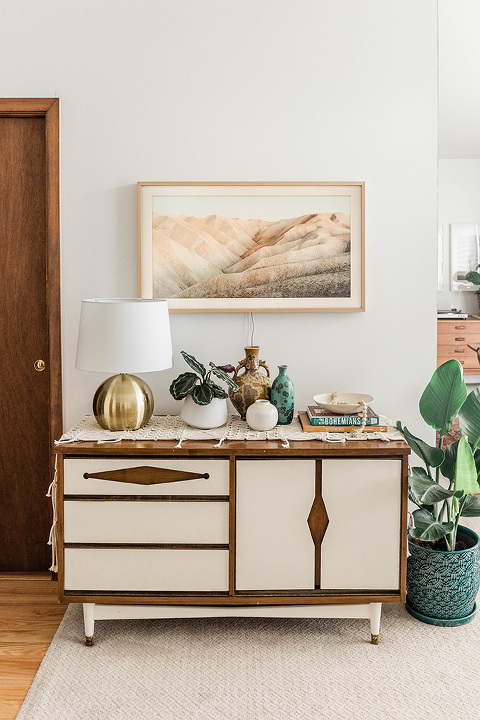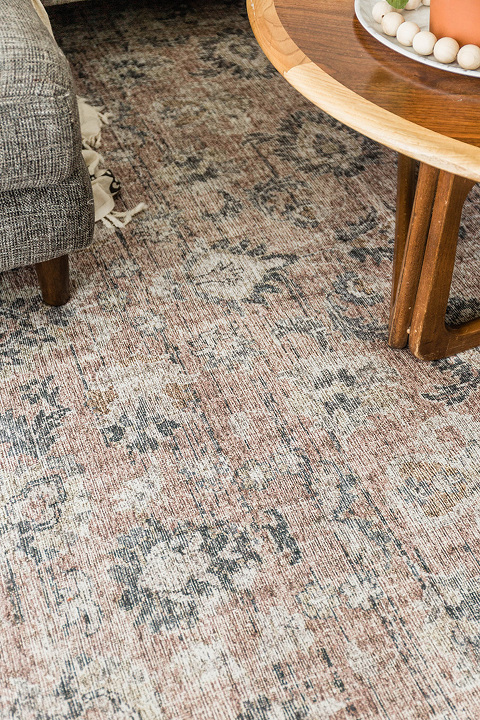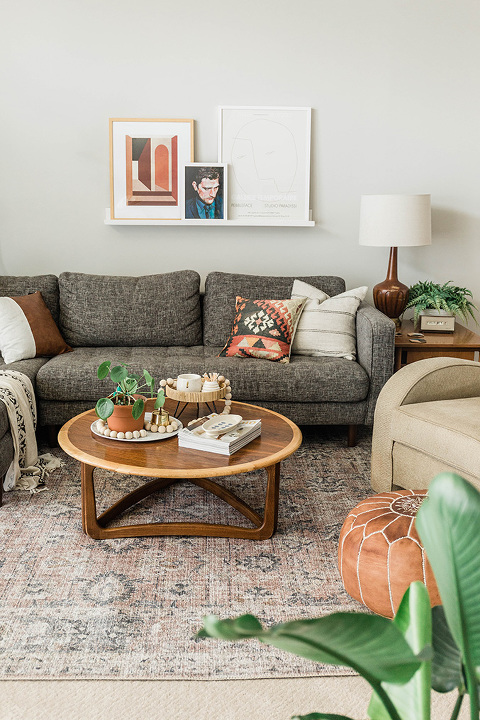 Anyway, our new Loloi rug inspired me to think about adding more blush tones to the rest of the room, so I also layered in a new inexpensive printed pillow cover that had lots of pink in it (in addition to our "regular" color palette of earth tones), and some new art from Artfully Walls. We already had the portrait, but I added this large-scale abstract canvas, a French art poster, and this geometric art piece, too.
Everything else you see in the space we already owned! I will never get over just how much of an impact new art and a new rug has on a space. And once you get your art and rug collection to a good place, you can then swap them from room to room without spending a dime to give your spaces totally new looks.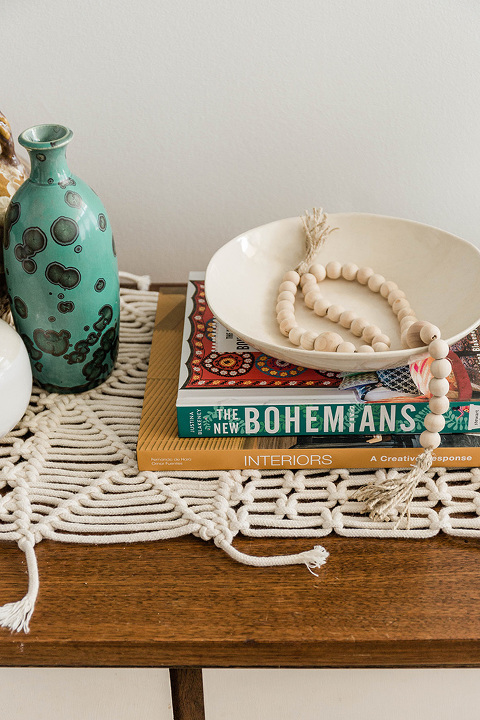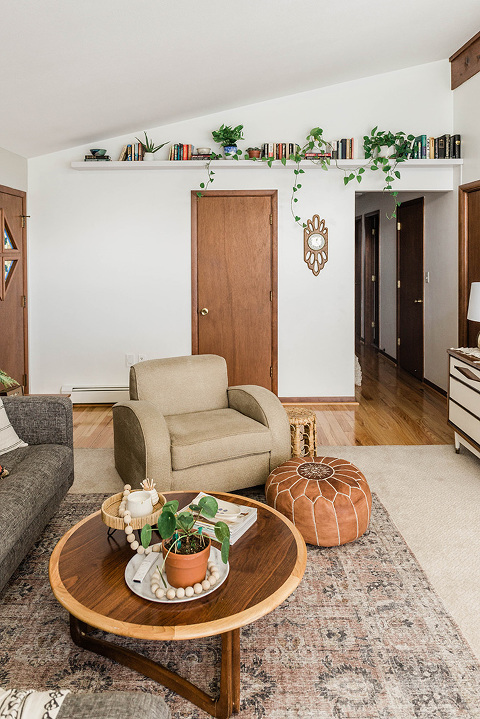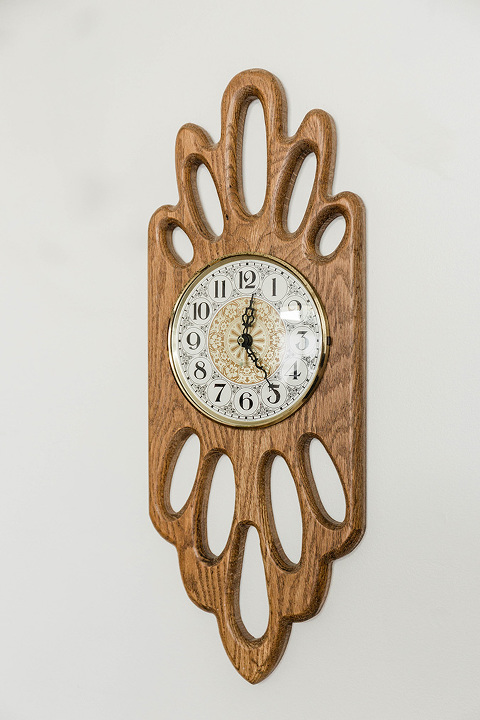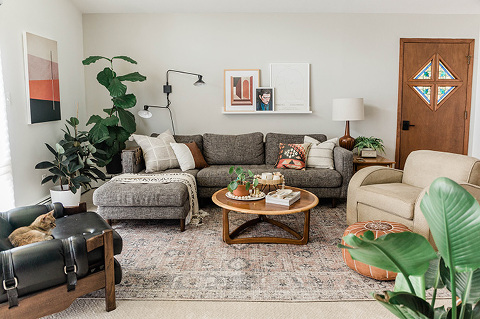 RESOURCES: area rug, abstract canvas, portrait, geometric print, French poster, sectional, Frame TV, large cream pillow cover, striped pillow cover, pink patterned pillow cover, leather pillow cover, sconce, Pilea plant, Bird of Paradise plant, leather pouf ottoman, rattan footed pedestal, wooden bead garland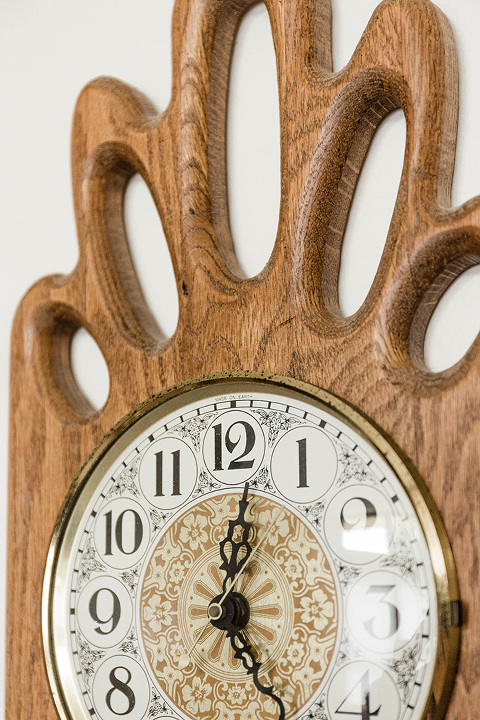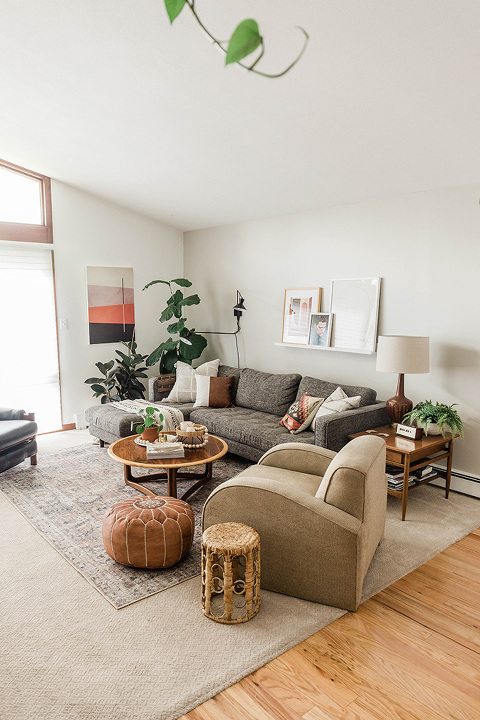 I can't wrap today's tour up without quickly mentioning that clock. It was one of my few Facebook Marketplace scores from this summer (there are typically slim pickings in our area), and I think it's such a fun addition to the room. A lot of the pieces you see in the space are "new"—in other words they aren't vintage. You know I love me a good sustainable secondhand score, so I wanted to make sure I got at least one antique piece for the space. This unique wood wall clock fit the bill and my budget.
Let me know what your favorite thing is in our living room makeover, and stay tuned for next Monday's reveal of our reworked dining room space next.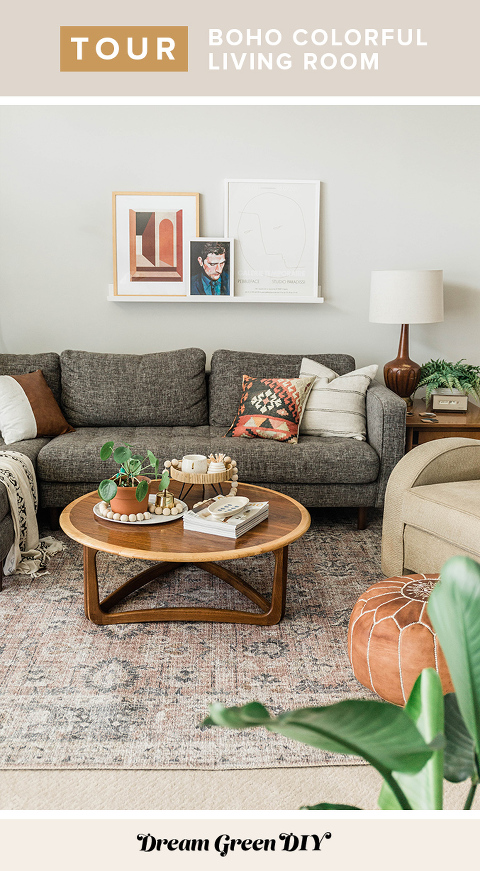 *I earn a small percentage from purchases made using the affiliate links above. Affiliate links are not sponsored. Rest assured that I never recommend products we wouldn't use or don't already love ourselves.