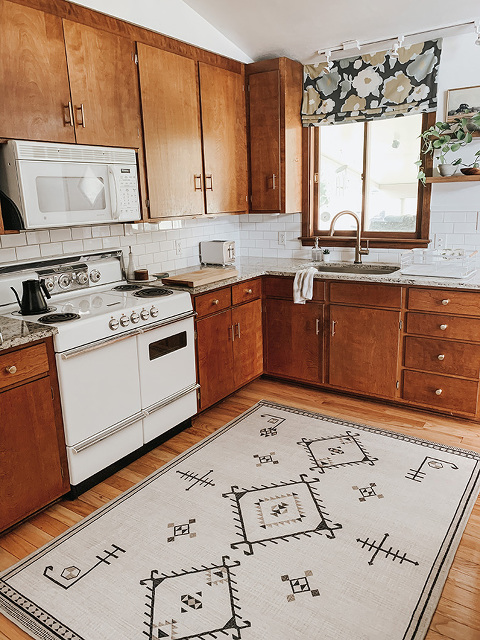 *This post was made possible by Ruggable
First of all, I wanted to say that Ruggable did not sponsor today's blog post. I worked with the brand last week on a sponsored Instagram series, but they had no idea I was planning to share a review today. The reason I wanted to put this full blog post together was because I got sooooooo many questions from you guys last week wondering more about the quality, price-point, and style of the rug, and I didn't want to leave you hanging.
Yes, I could have answered a few of the more frequently asked questions quickly on my Instagram Stories, but when it comes time to sit down and put my thoughts together for a product review, I prefer creating a longer-form landing page for that review so you guys can easily access it. That's why the idea for today's blog post was born!
Keep scrolling to read my honest review of this new kind of washable rug (spoiler: we love it!), plus I'm sharing my 10% off coupon code again in case you want to try one for yourself.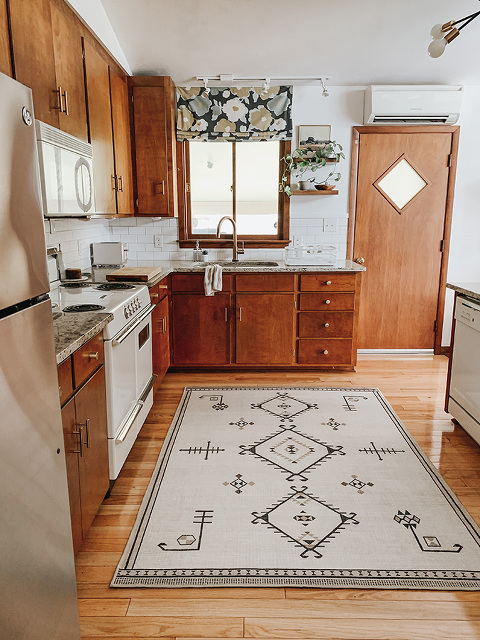 The long and short of things is this: I can't believe I waited so long to get a Ruggable rug! That said, I do know why I waited…It's because I thought a rug in the kitchen would be a real headache. I figured cleaning up food stains (and dirt tracked in from the side door that leads right into the space) would be next to impossible to stay on top of.
At any rate, that's why I waited so long, but then this opportunity with Ruggable presented itself and I figured I'd give it a try so that I could share my honest review with all of you! The truth is that food stains and dirt do still happen, but they're easy to clean up. For the first two weeks, we only had to spot treat the rug with our regular spray carpet cleaner and vacuum. It was a gamble getting a mostly white rug for our kitchen, but so far it has been really easy—I think the flat woven texture of the rug cover is to thank for that!
I just ran it through the washing machine for the first time, and it came out like new. I put it through a "delicate" cycle using cold water, and dried it on low until it was just damp. I'm letting it air dry the rest of the way, but may try to go a little longer in the dryer next time because it seems to be slow drying in plain air.
It's all bright white again, though, and I was able to lay it back down over the non-slip pad by myself. This whole machine-washability thing is such a dream for me since I'm used to ultra-delicate vintage rugs that can barely handle our regular carpet spray. We definitely wouldn't have a kitchen rug if it weren't machine-washable like this one is.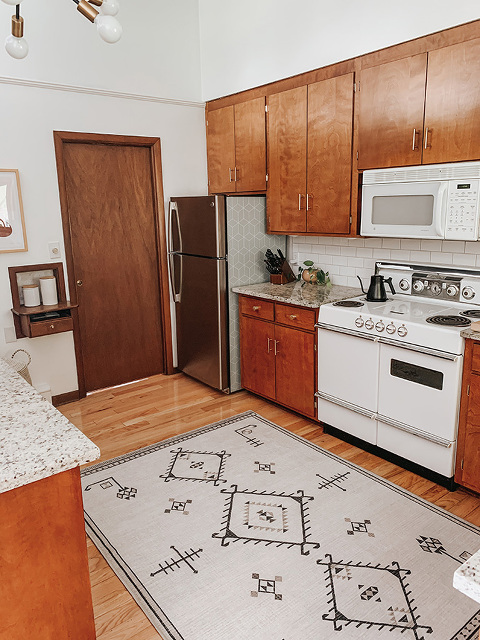 Another big question I've gotten about this rug is it's staying power. It's touted as being non-slip, and I fully agree. It doesn't budge at all when you're walking over it, and we pretty much spin, run, jump, and leap around on this rug since it's right in the middle of our working triangle in the kitchen. It has posed zero slip hazard because it's nice and flat, and doesn't slip around, no matter how many abrupt changes in direction we take.
Now, one thing I have noticed in terms of the non-slip deal is that it does tend to wander just the tiniest bit from its spot centered in the room. In other words, one edge might start to creep a little bit away from the corner of the counter where I had it lined up. I don't know when this happens because, like I said, we feel zero slipping when actually in use. Not a big deal to me, but just wanted to mention that. I tried holding the corners down with rug tape, but it didn't stick at all to the rug pad. Oh, well! I still think this rug would be perfect if you're the caretaker of an elderly family member or friend because it's low pile enough not to pose a tripping hazard, and definitely won't come out from under anyone when they're walking.
Quick note about the price point before I wrap this up. It's a bit of an investment up front, but as someone who changes her mind frequently, that investment pays off once you have that lower non-slip rug pad in your possession. The setup we got (with both the rug pad and cover) costs $199, but now that we have the rug pad, we can purchase just a new cover next time in a different pattern to change the look, and it costs only $120. Maybe I'm used to vintage rug pricing, but that sounds like a steal to me! It feels like a great investment, especially since you can easily clean the rug without having to hire a professional, too.
If you use the discount code I share at the end of the post below, this whole rug setup (including both the rug pad and cover) is just $179.10!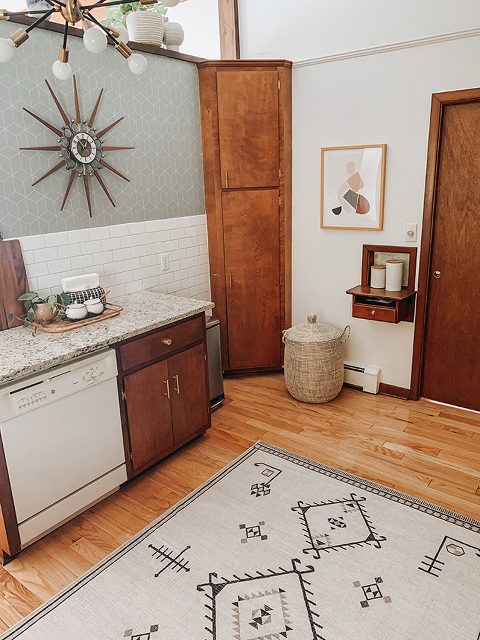 Ultimately, we've been so blown away by the style and quality of our new kitchen rug, and can't wait to recommend it to everyone we know. It's easy to put together (here's a video of the assembly process if you want to see for yourself), looks great (we love how it breaks up all the wood tones in our kitchen), and we so appreciate the washability factor since we have four pets. More frequently asked questions answered this way!
I can't wait to choose an alternate cover for it when the seasons change! This one is high on my list, as is this one. If you want to try one out for yourself, use my code "FUNDREAMGREEN10" to get 10% off your purchase (some exclusions apply, code expires 9/12). Which cover would you pick?