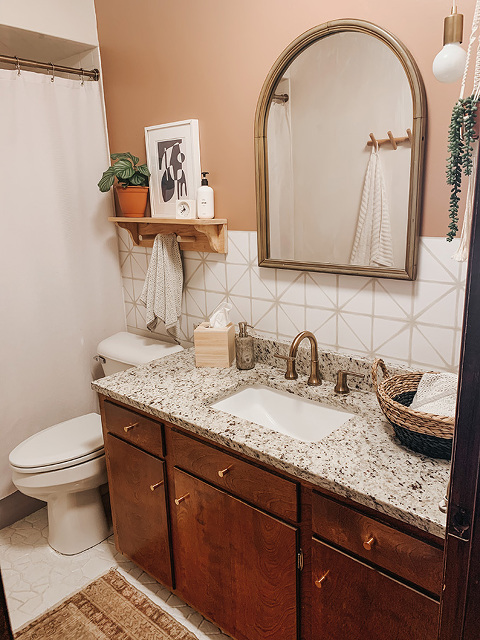 Every now and then I get the itch to completely redo a space for practically no reason at all. It's just because I feel like it. And that was exactly the case with our upstairs bathroom. The room was perfectly fine on its own, with simple white-painted walls ("Snowbound" from Sherwin Williams), a round gold mirror I had scored for less than $50 a few years ago at Target, and minimalist accents to finish the room off.
Again, it was totally fine, but I've been craving more and more color these days (probably thanks to all this extra time I'm spending at home now), and I figured I could punch up the space without much effort or money. As you can see from the photo above, my plan worked like a charm!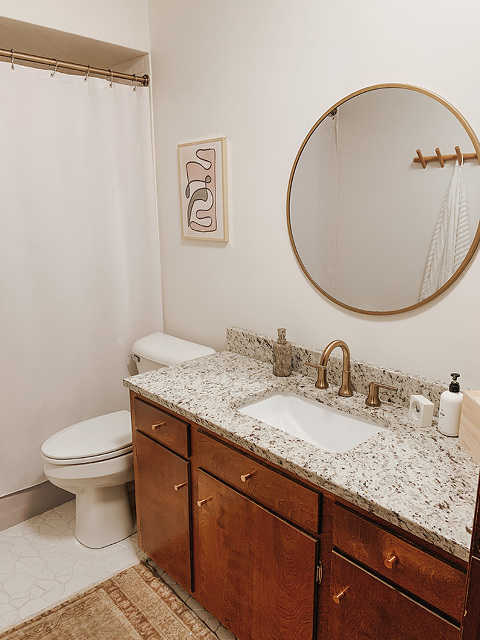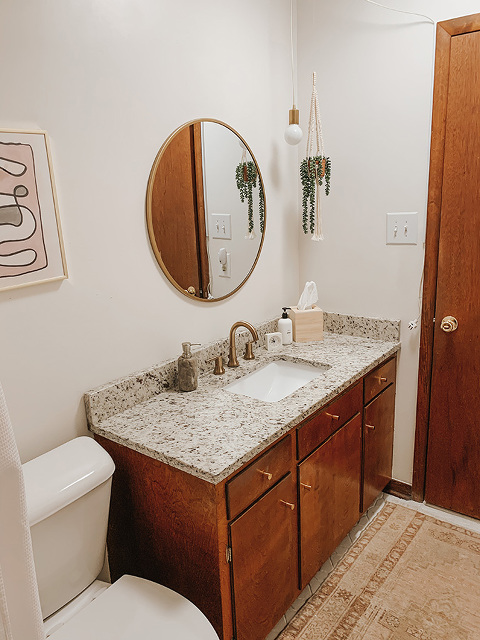 So, what did I actually buy for this little bathroom makeover? Not a whole lot! I ordered some peel-and-stick wallpaper from Target months before actually kicking off the room refresh, and I also grabbed a secondhand wall shelf from Habitat Restore that cost just $2. Sadly, the wallpaper I used for this makeover is no longer available, but Target has tons of other options to choose from if you want to try this project in your own house. This is my third roll of wallpaper from their collection, and I've loved every single one, so it looks like you can't go wrong.
I did pull a few other things into the room for the refresh, but we already had them, so I'm not going to count them toward my expenses for the space. They include leftover terracotta-colored paint, a Jan Skacelik art print that I had in storage, an arched mirror that I bought secondhand on Facebook Marketplace (it hung in the family room for a while), and a potted plant. That's it! You can see a mini "real life" mood board of all the accents I pulled together for the design in the photo below.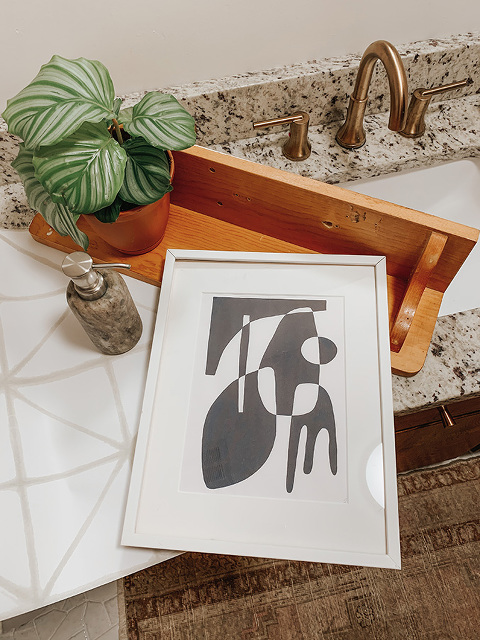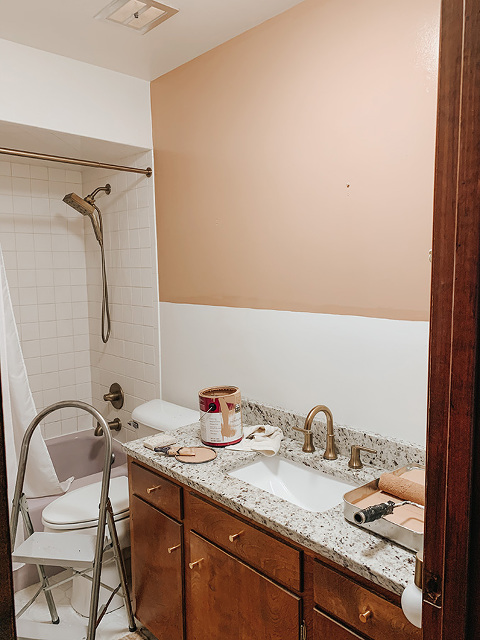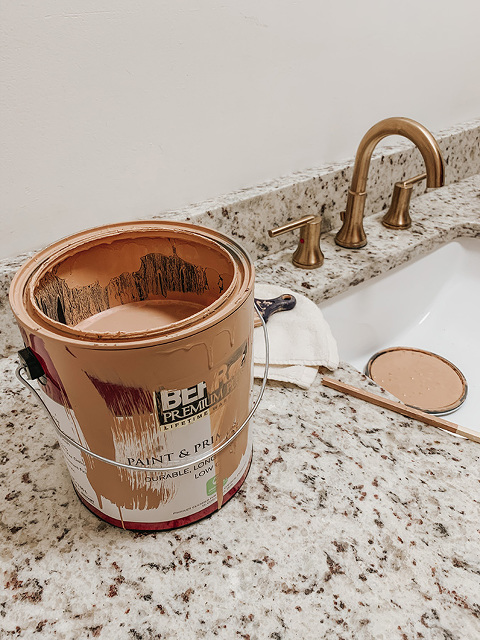 First, paint. I had this vision of doing a color block above the sink, similar to the one I did in the downstairs bathroom for One Room Challenge earlier this year. I wanted to break up the color a little bit, though, which is where the peel-and-stick wallpaper came into play. Both of these accents combine for a fairly low-risk update since I can easily peel off the wallpaper and repaint if I change my mind down the line.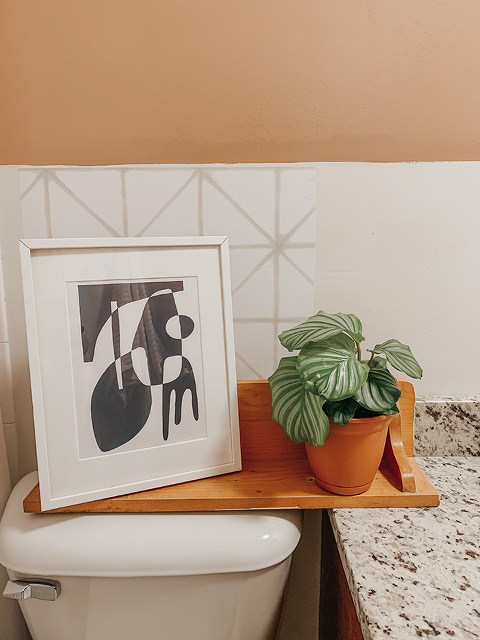 One thing I decided to do was lay the wallpaper horizontally on the wall since, that way, I could avoid doing a lot of wallpaper cutting and tedious matching-up of the pattern. I was able to do this since the pattern didn't need to run a certain way—I could lay it on its side, no problem, without messing up the look.
So, I held the roll up above the vanity, made a mark on the wall where the wallpaper stopped, then drew a level pencil line across the entire length of the wall. After that, I painted the wall above the pencil line my chosen terracotta color ("Spiced Brandy" from BEHR paint), let it dry, and then finally put the wallpaper (that I had cut to size earlier) up on the wall.
To finish, I trimmed the edges of the wallpaper so it lay straight along the lines of the vanity, and I also ran a line of caulk around all the areas of the wallpaper that might be exposed to moisture (near the sink and shower). It has actually been about a month since I completed this makeover, and I haven't seen the wallpaper budge, so I think the caulk is helping to avoid any moisture issues. That's a relief!
You might notice later in the post that I didn't run the wallpaper down the wall behind the toilet. I'll need to remove the toilet to do that, and I'm saving that annoying project for another day. Luckily, you don't really notice that the wallpaper doesn't go down to the floor over in that corner since it's such a tight space and mostly blocked by the toilet anyway. It'll be our little secret, okay?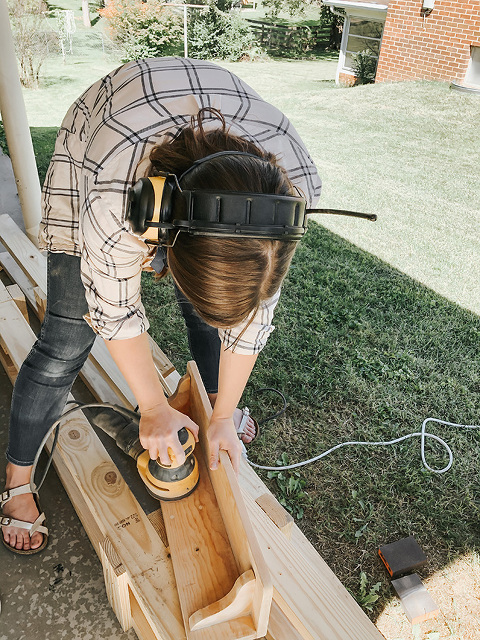 Anyway, the final touch was my wall shelf. I wanted to repurpose the $2 secondhand shelf I had found at Habitat Restore, but didn't love the color. I wood-filled the existing holes in the shelf, then took a hand sander to it to get the shelf back down to raw wood. I liked the raw blonde color of the grain much better than the old yellow-ish stain it had on it.
Next, I created a couple of DIY dowel rod pegs to use as towel holders. You can see that process over on my Instagram. I actually have a whole highlight dedicated to that shelf build (and this whole room makeover, for that matter!). Just look for the little bathtub icon to watch it. By the way, I plan to seal the finished shelf to help with moisture control as soon as I get another free afternoon.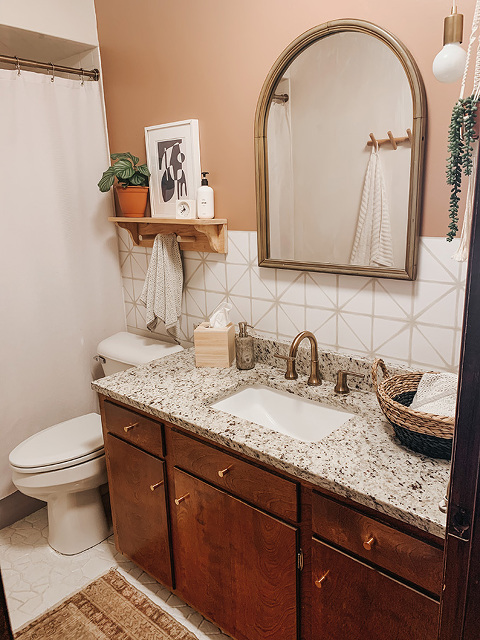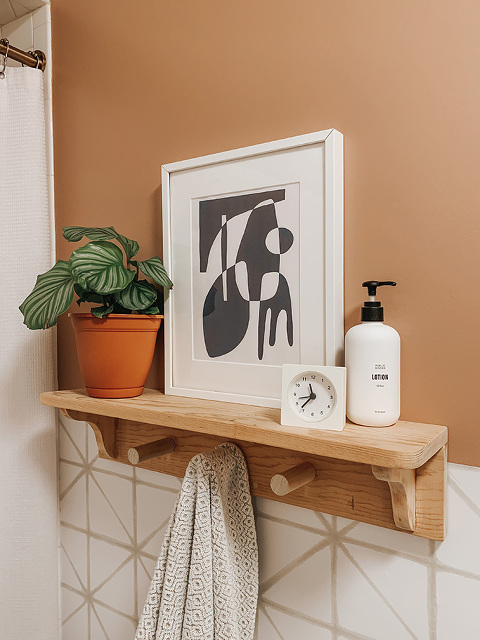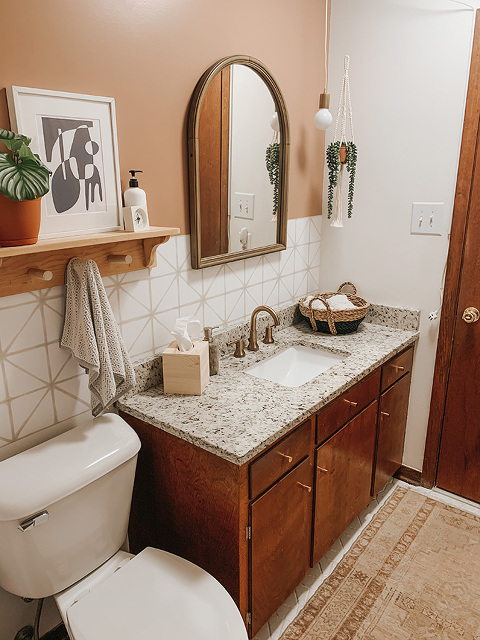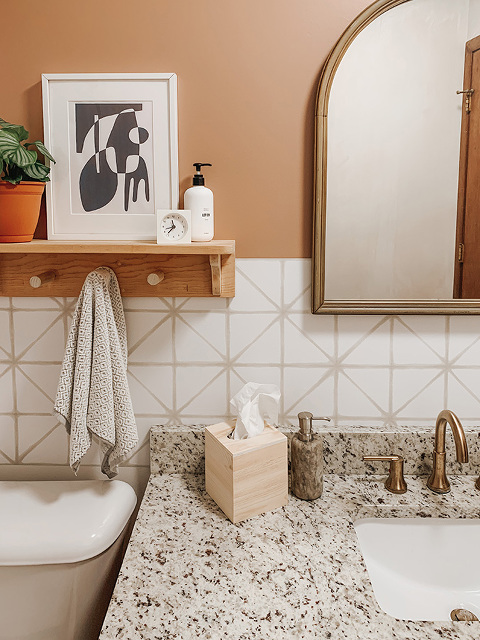 I love how the room turned out, and am so glad to report that it cost very little money—and very little effort, too! I knocked the whole thing out in just a few days time spending an hour or two here and there on it. It will never cease to amaze me just how far you can take a room with new paint, wallpaper, and secondhand accents. Which room could you stand to makeover this month? Let me know in the comments below.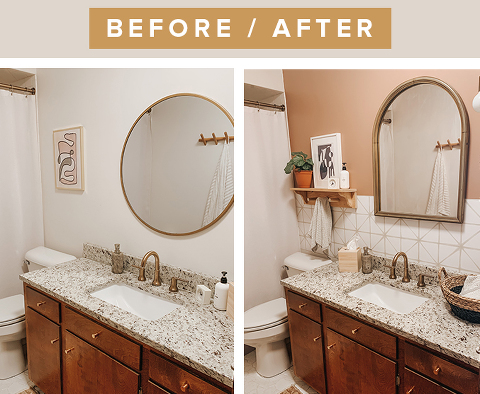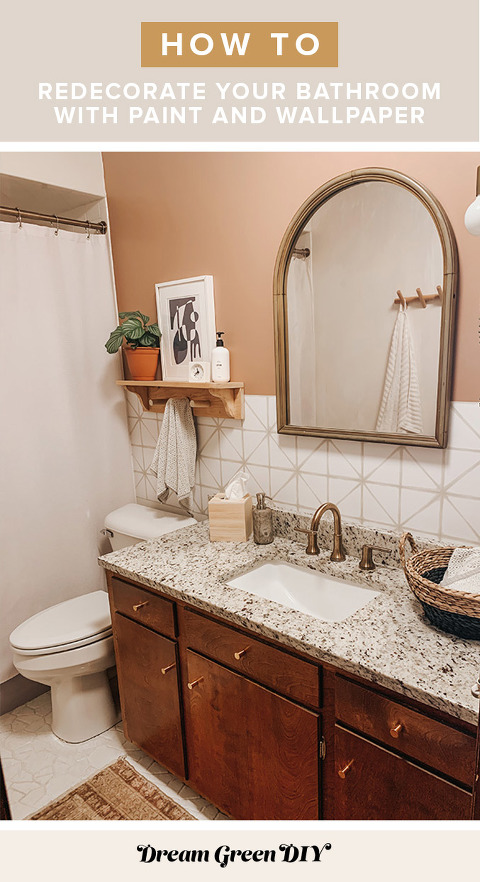 *I earn a small percentage from purchases made using the affiliate links above. Affiliate links are not sponsored. Rest assured that I never recommend products we wouldn't use or don't already love ourselves.