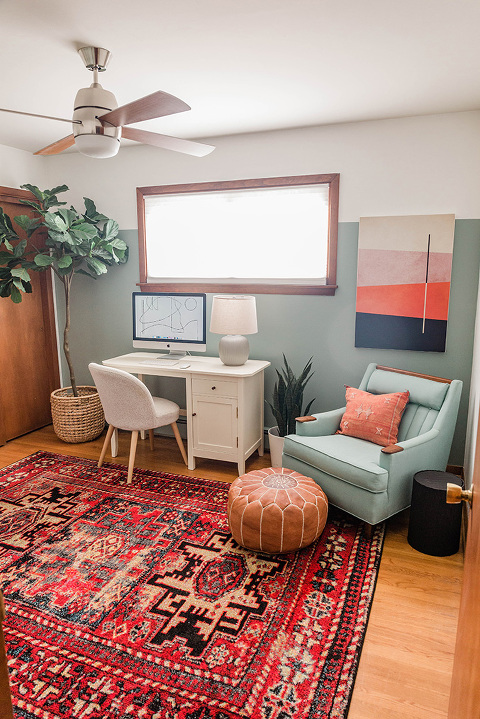 About a month ago, I was approached by a brand to do a bit of interior photography for a new seasonal program they were planning to launch. Since their campaign hasn't gone live yet, I won't go into detail about the event, and this post actually isn't sponsored by the brand, so I won't go into who they are either.
To drill it down, all they actually wanted was a photo to help illustrate their digital design campaign, and I wasn't required to post on my website or social channels as part of the job. Even still, I wanted to introduce the project in some way to all of you because it ended up being the driving force behind a pretty major office makeover that was not on my radar whatsoever beforehand!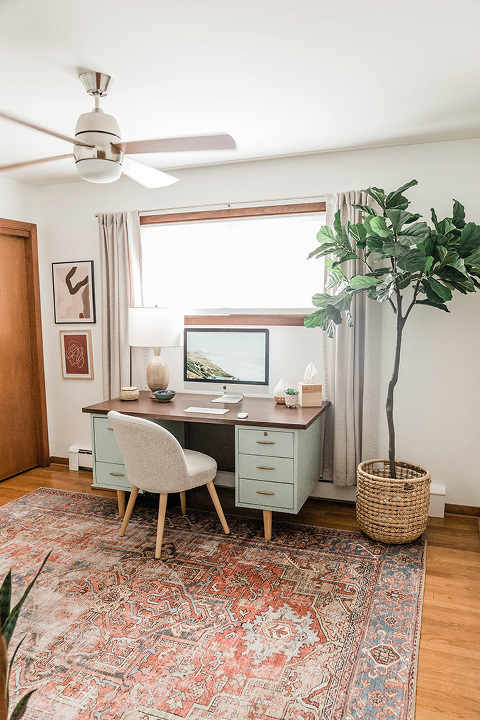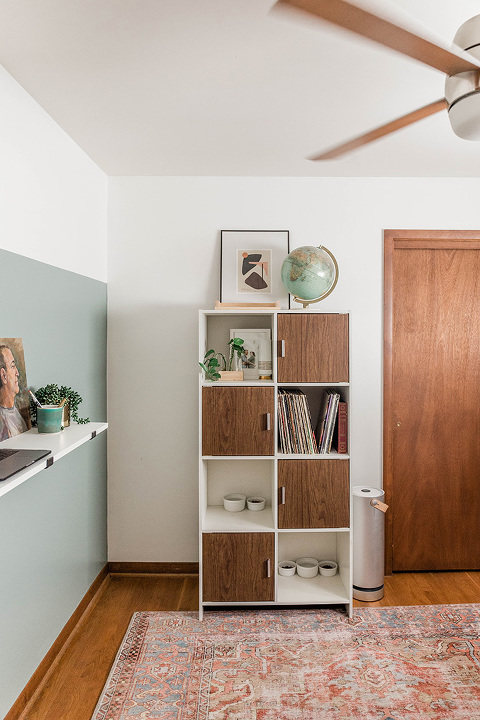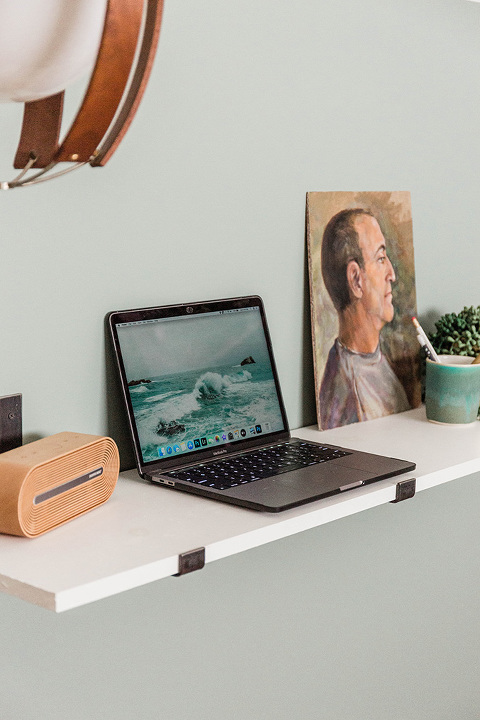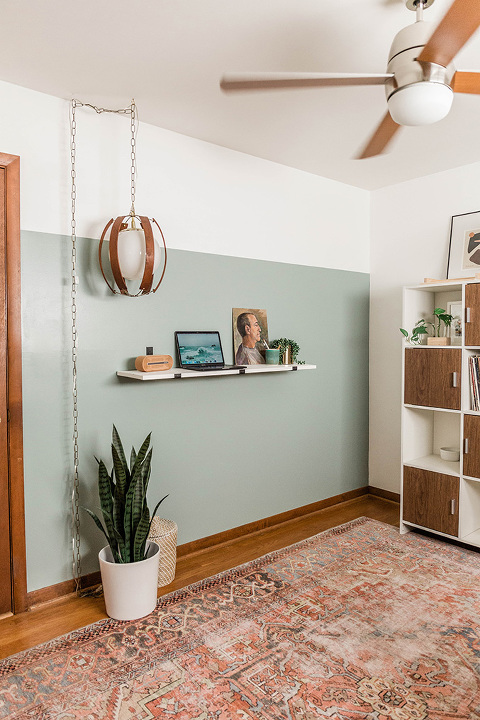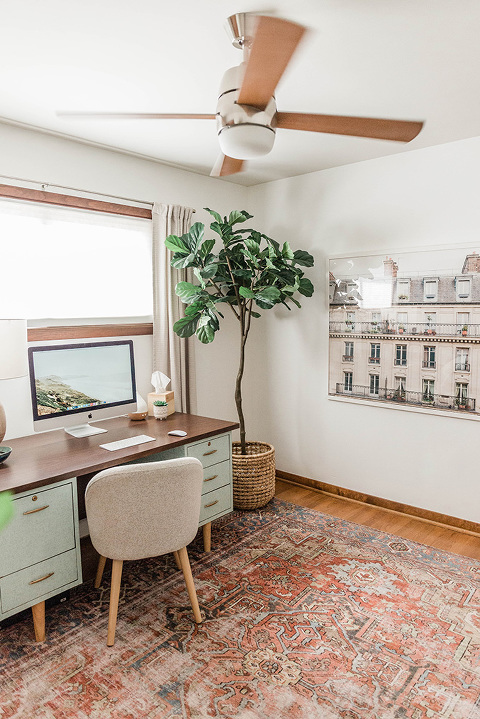 At the time I received that email from the brand, I had just finished up my DIY wallpapered desk makeover, and gotten the room looking nice and welcoming to help me be as productive as possible for my work-from-home hours, but this unexpected project was the kick-start for a whole lot more color, and I'm honestly so grateful for it. It has felt so much more energizing than the old setup!
Those photos above show the room as it was before, and the graphic below shows the color story that was introduced to me at the start of this spontaneous room makeover. The concept was about adding pops of bold color to a work-from-home space, and I don't mind admitting that I was a little anxious when I saw the palette for the first time. I consider my aesthetic a little warmer than those particular five colors they wanted represented, but I was totally up for the challenge of making it work in my small home office.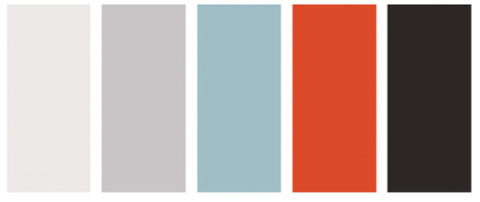 It all started to make sense the moment I whipped up a quick mood board in Photoshop (seen below). I planned to bring the blue color in with wall paint along the window wall of the room, the shades of orange and black would be introduced thanks to an area rug we already had in storage, the darker gray was going to come in the form of a task lamp, and the off-white color in a desk my dad had built that I planned to borrow for the shoot.
As for my signature warm tones, I would bring those in with a few thoughtful wood elements (like the wooden legs on my desk chair that I planned to reuse) and a cream-toned digital art piece by Jan Skácelík that I would use as my computer desktop picture for the photo I would eventually take for the brand of the finished office.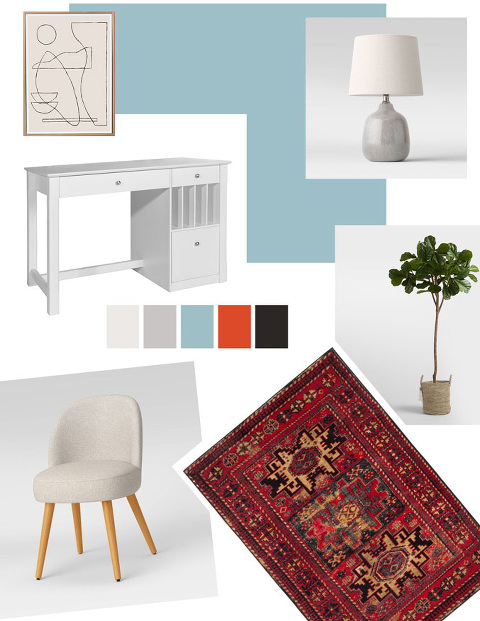 These shots below show the finished space! I ultimately decided to lose the curtains altogether because they were, honestly, too short for the space to begin with (a rookie mistake I made when we moved in five years ago), and I brought the accent blue wall color just 3/4 of the way up the wall, like I did on the opposite side of the room where my DIY standing desk is.
The smaller scale desk that I borrowed from my dad's homemade furniture collection meant that I had a little extra room to play with off to the right, so I brought up my vintage mint-blue armchair to create a mini seating area. It matched the new blue wall color almost perfectly, and I love the tone-on-tone look it now creates. To help make the bright rug feel more intentional, I also hung a striped canvas that we already had up in the corner above the chair. A vintage orange throw pillow and camel-colored leather pouf were the perfect finishing touches, along with the new gray table lamp that I bought especially for the shoot from Target.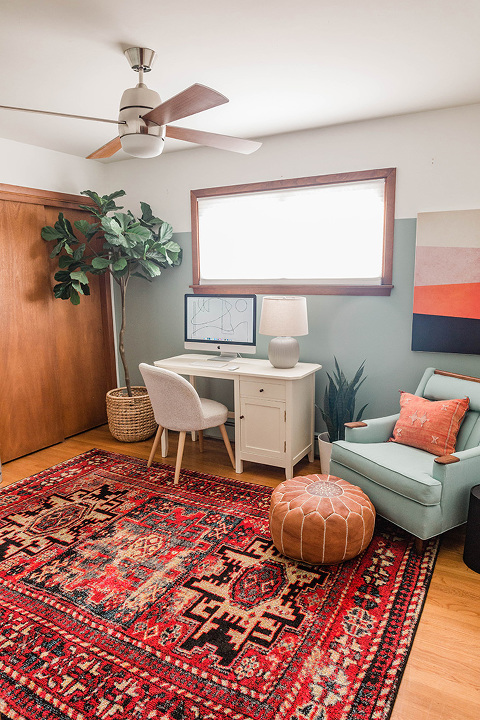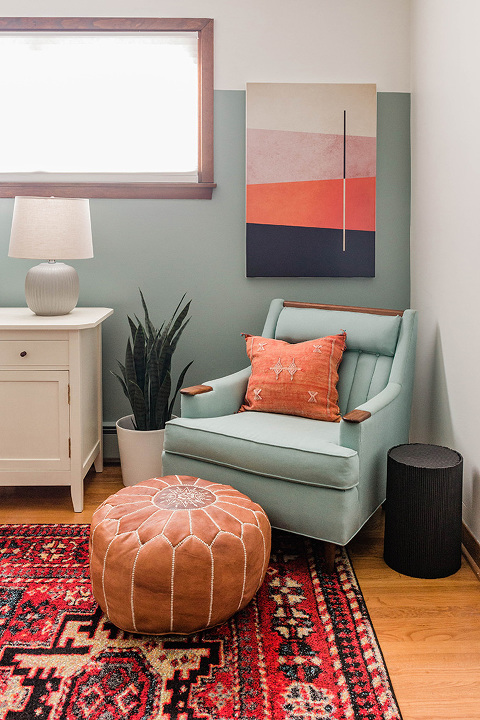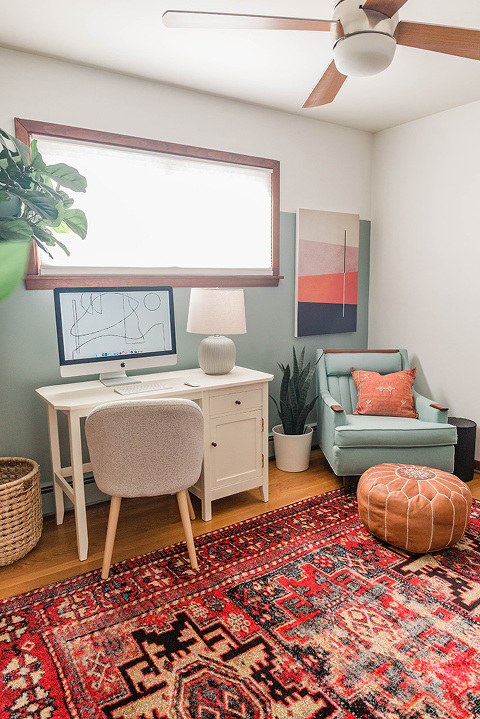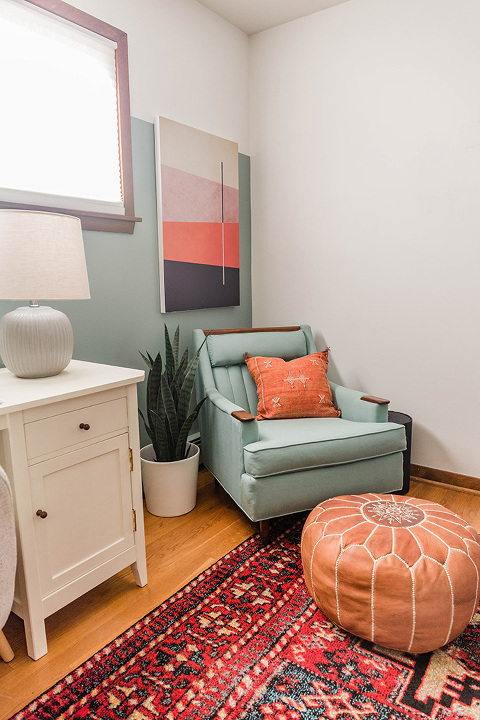 I snapped a big collection of photos of the newly refreshed space to hand over to the brand, and they ultimately chose to purchase the copyrights for one specific image, and after that I was given the go-ahead to share the other shots however I wanted. But, of course, that's not the end of the story!
I had always planned to give the smaller white desk back to my dad because he uses it in his art room, so I needed to figure something out long-term. I sold my wallpapered desk before the shoot even happened because I was just ready for something smaller scale and simpler. I think I remember mentioning that, despite genuinely loving my wallpapered desk, it was always going to be a band-aid fix until I could find my dream desk.
Well, the photoshoot acted as a good excuse to go ahead and sell the old desk to make way for something new, and I did a pretty intense online search for the perfect desk shortly after selling the old one. I really wanted something that felt a little lighter visually, and one that was smaller scale to suit the tight space better. I kept coming back to this West Elm desk, but had trouble justifying the high price tag. Then, I randomly happened upon the exact desk I wanted listed on Facebook Marketplace for several hundred dollars under retail! I think I spent $180 on it in the end. How's that for "meant to be"?!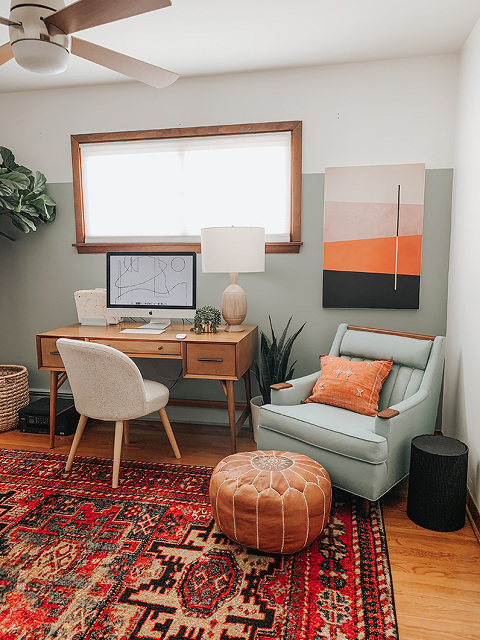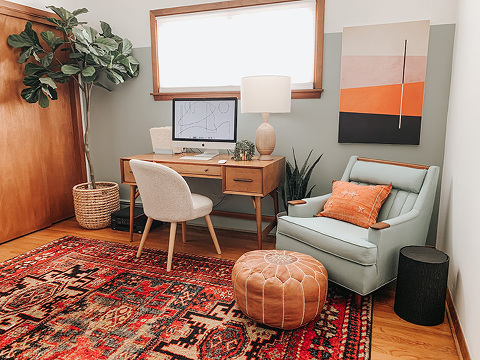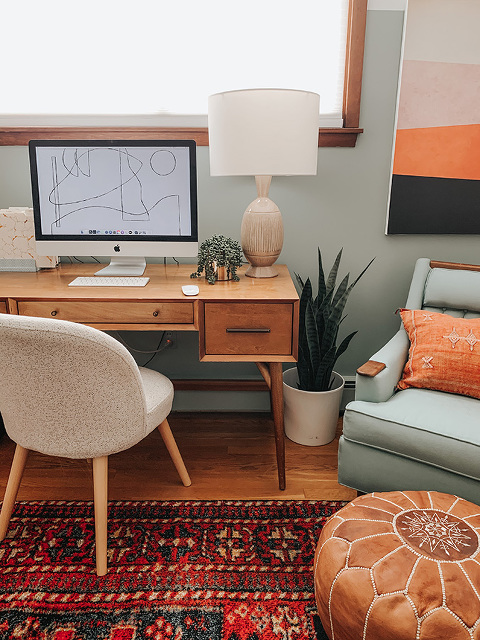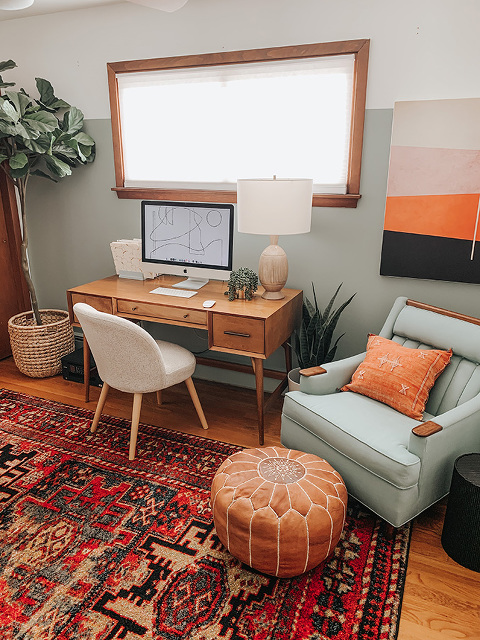 Those quick iPhone photos above show my office as it stands today. I loved the bold new color palette so much that I ended up keeping everything exactly as I set it up for the photoshoot, and just swapped in my new-to-me secondhand West Elm desk so I could return dad's off-white drawing table. You might have noticed that I also returned the Target lamp. I really liked it, but didn't really need it—I pulled it in specifically for the shoot because they requested gray. For my real-life office, I wanted my vintage cream-colored table lamp back.
So, what do you think? I certainly didn't need to completely makeover my office, but I'm so grateful for this last-minute photography job and the excuse it gave me to step outside the box and try a color palette that feels fresh and new. It makes me smile every time I pass the room or work at my computer, so I consider it a job well done in the end.
What's a color palette you've never tried decorating with before? I encourage you to think about how you could make it work, because you might just end up evolving your décor aesthetic, like I did!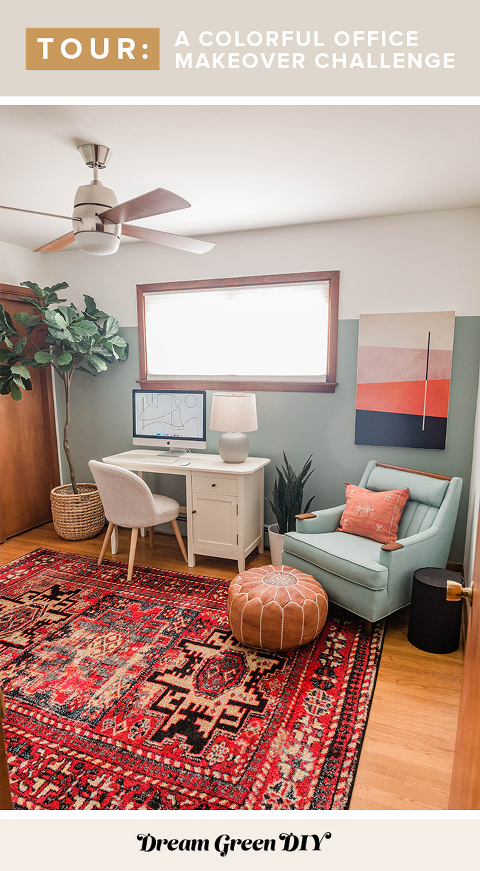 *I earn a small percentage from purchases made using the affiliate links above. Affiliate links are not sponsored. Rest assured that I never recommend products we wouldn't use or don't already love ourselves.