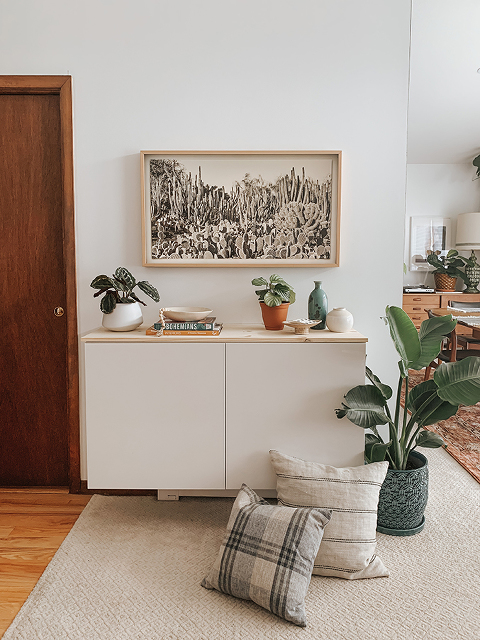 One of the most frequently asked questions I get over on social media these days is, "Where did you get that piece of art? I love it!" I don't mind admitting that I get a tiny thrill telling people that what they think is art is actually a television. We've even had multiple family members come into our home and ask about the art on the wall, so it fools people in person, too! This TV is, hands down, the best invention I have ever come across as a homemaker and DIY designer, and I truly couldn't recommend it more. I have zero complaints.
Maybe that's all I really needed to say in this post, but I wanted to take a slightly deeper dive into my thoughts on the Samsung Frame TV in case you've been considering making the investment yourself this season. I get lots of questions about it each week over on Instagram, so I figured I'd put all of my thoughts in one place for everyone to peruse whenever questions come up. Keep scrolling for my candid review three years in!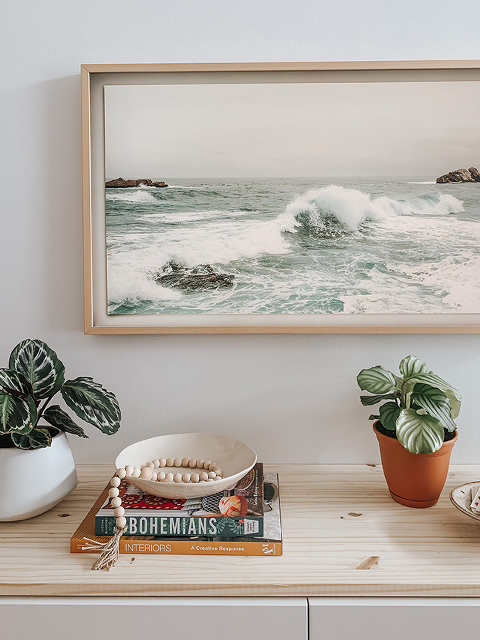 Our Samsung Frame TV Review:
1. PRICE: Of course, any smart television you decide to buy is going to be an investment, and that's certainly the case with the Samsung Frame TV. You'd be lucky to spend less than $1,000 on even the smallest size! In full disclosure, one of our two Frame TVs was gifted in exchange for blog content three years ago, but the one we have upstairs (pictured here in today's post) was purchased by us out of pocket. We were so impressed with the one we were gifted, that we decided to invest in a second one ourselves to put upstairs. In fact, I'm planning on getting a third one for the bedroom if Black Friday sales are any good! Ultimately, yes, it's an investment, but a worthy one if design matters to you and you hate the idea of a big black box hung up on your wall. My suggestion is to check out the "Other Sellers" section in Amazon for better deals. We saved a couple hundred dollars by purchasing a certified floor model from a third party brand (that had hundreds of thousands of good reviews, by the way).
2. ART: I can't say enough good things about this TV and the fact that it can morph instantly into a real-looking piece of art when the TV screen isn't in use. The transition is flawless, and keep in mind that both of our Frame TVs are the old 2019 version. I think the newer models are even more realistic, although I can't imagine how it could have been improved upon. I've heard people complain about how the auto brightness setting is a little funny on their TVs (i.e. it might look a little too warm-toned, or bright in a darker room), but that has never been an issue for me. I will say that the TV we have in our bright upstairs living room does tend to look more realistic than the one we have in our downstairs dimmly lit family room, so maybe keep that in mind when you're considering putting one in your home. The auto brightness and color settings seem to acclimate best in a well-lit space with lots of good natural light.
3. FRAME: Although it was an add-on, I sprang for the beige bezel frame for both of our Frame TVs, and I personally wouldn't like the look of them as much without them. The TV comes with a graphite surround that looks like a natural art frame, but there's something so realistic about the light-wood-look bezel, in my opinion. It's made specifically for the TV and snaps on in seconds thanks to a magnetic strip. Yes, I could have DIYed something similar, but these days I'm willing to spend a bit of money on things that make life easier. You can also get the bezel frames in other shapes and colors if beige doesn't fit your aesthetic. All this to say, if we get a third Frame for our bedroom, I'll definitely be getting the one that comes with that beige bezel to make the illusion more believable.
4. CORD: I really appreciate the super discrete cables that come with the Samsung Frame TV. There are just two that come down from the television when it's hung on the wall (one clear and the other a light gray tone), and they can be easily hidden by situating a plant or something on the console below, but I would highly recommend learning how to hide the cables inside drywall if you can. We finally did this three years into owning our wall-mounted TVs, and I'll never not do it again. It's the perfect finishing touch to make this art-piece-slash-TV actually look like a floating piece of framed art. Click here for my tutorial on how to hide your TV cables inside your drywall!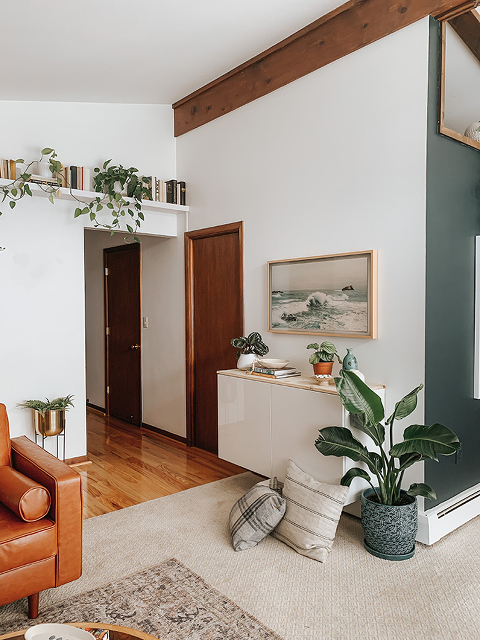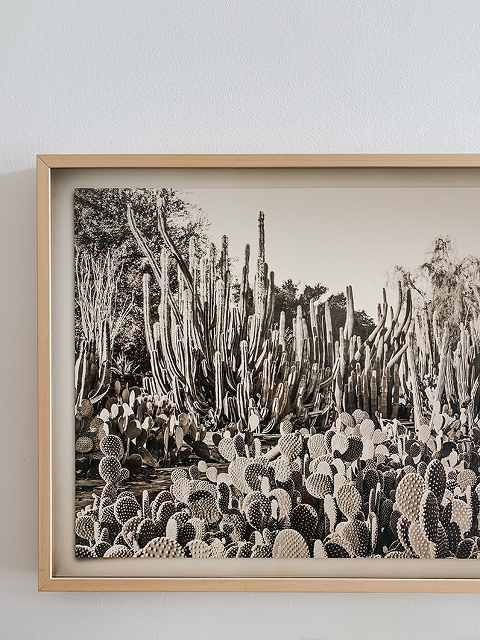 Did I miss anything? Let me know in the comments if you have a specific question about the Samsung Frame TV that I might have forgotten. I'm sure all of these things will change and get improved upon as newer versions are released, but I truly am so impressed with their introductory models. I will absolutely be purchasing more for our home, and will continue to tell everyone I know to buy them, too. And this post isn't sponsored, by the way. I'm just that big a fan! Let me know your own thoughts, if you have this TV, in the comments.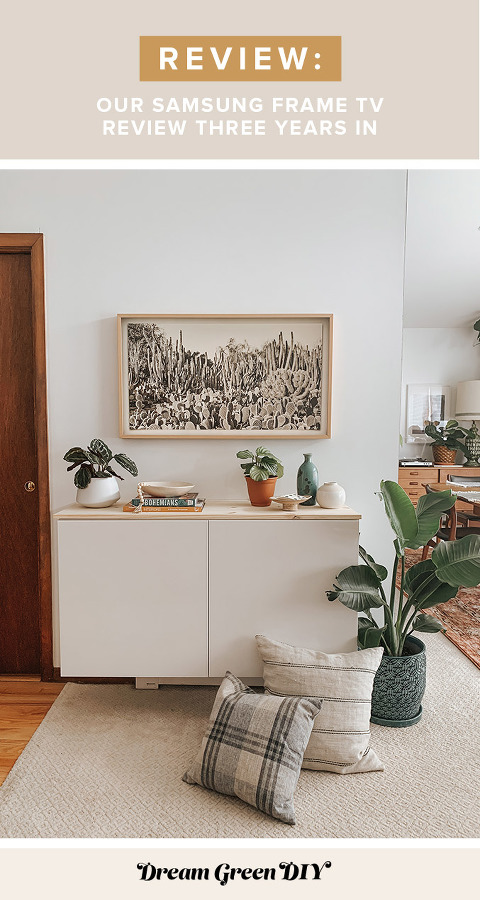 *I earn a small percentage from purchases made using the affiliate links above. Affiliate links are not sponsored. Rest assured that I never recommend products we wouldn't use or don't already love ourselves.
**Digital art purchased from A Beautiful Mess Print Shop.