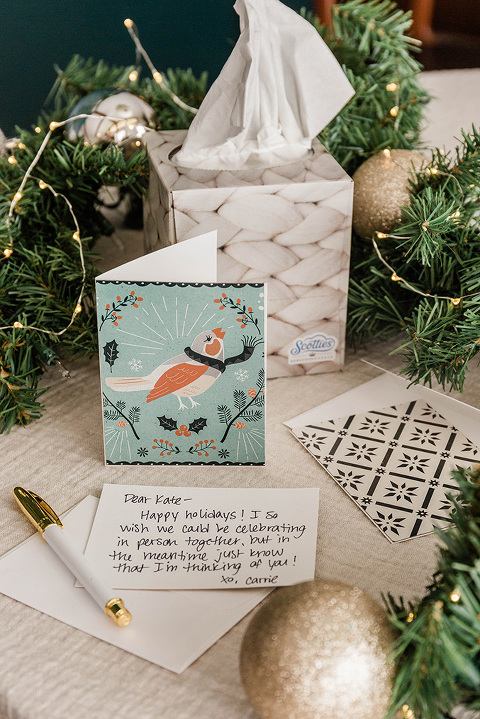 *This post is sponsored by Scotties Facial Tissues 
I'm so excited to share that I'm working with the Scotties Facial Tissue team for a third year in a row this Christmas! In case you're new around these parts, we kicked off our partnership back in 2018 with a tutorial teaching you how to make DIY Tissue Box Christmas Gift Tags. Then, in 2019, I taught you how to turn empty tissue boxes into handmade magnets (and DIY bookmarks, too!). This year, since so many of us are going to be forced to spend the holidays away from extended family, I thought it would be fun to try my hand at transforming empty tissue boxes into DIY mail-able greeting cards.
Truth be told, we motor through Scotties tissue boxes this time of year. John and I both have seasonal allergies, and we're, of course, being extra careful about covering even regular everyday coughs with disposable tissues—not just sneezes. The 2020 holiday collection of boxes (designed for a second year in collaboration with Genevieve Gorder!) really bring comfort home since they feature Scotties Triple Soft tissues. They have three layers of softness for the ultimate protection when cold and flu season is at its worst. The thing is, though, I hate just tossing the boxes in recycling when they get used up, especially since the designs are so downright cute.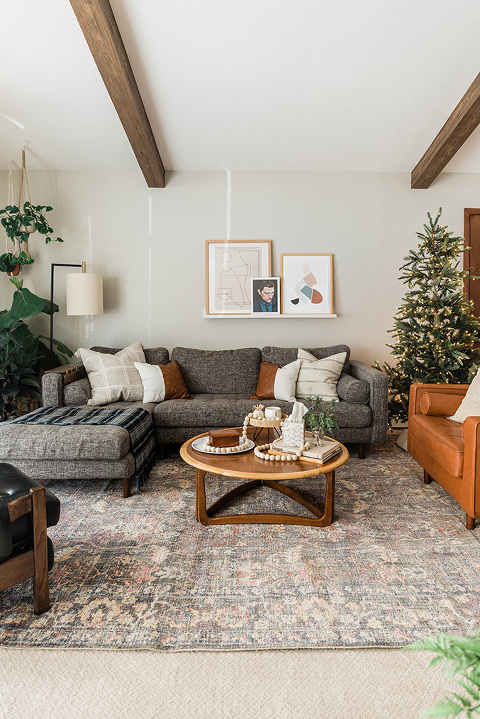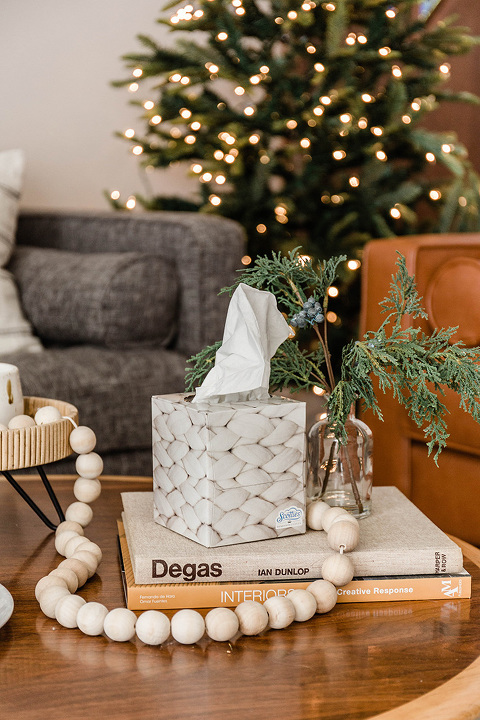 So, instead, I'll be turning the emptied boxes into handmade greeting cards. They're perfect to send as this year's official family holiday card in case you can't get to the store for the ready-made kind, as "Thank you" notes post-Christmas, or even as "Just because" notes in the new year. They really work for any kind of note! We haven't seen my husband's family since last Christmas because his mom is immunocompromised, so this is just one of the creative ways that we're keeping close with them from afar. Read on to learn how to pull off this 10-minute craft idea!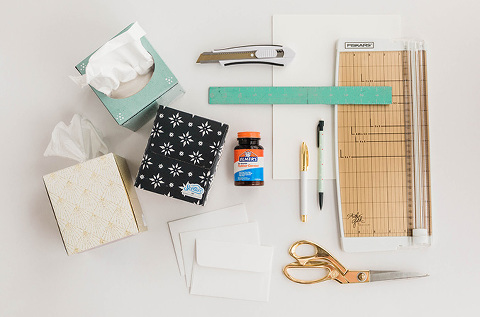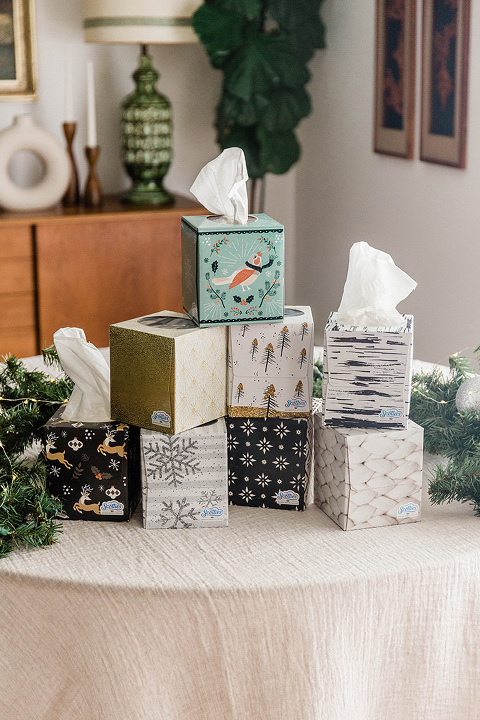 HERE'S WHAT YOU'LL NEED:
Empty Scotties Facial Tissue boxes
Small plain envelopes
Utility knife
Cardstock paper
Scissors
Pencil
Ruler
Paper cutter
Rubber cement or glue stick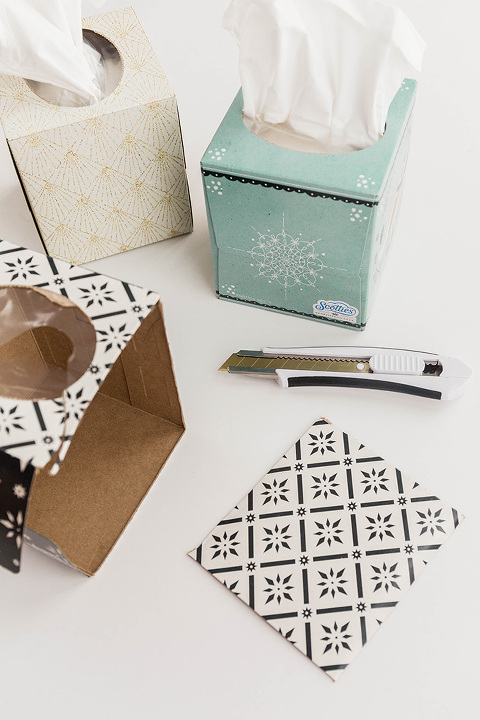 STEP ONE
Use a utility knife to slowly and carefully cut out a large side section of the empty cardboard tissue box. Have your plain envelope handy so you can hold it up against the box to pick the best spot to cut out. Don't worry if the cardboard section you cut is oversized. You'll trim it to fit in the next step.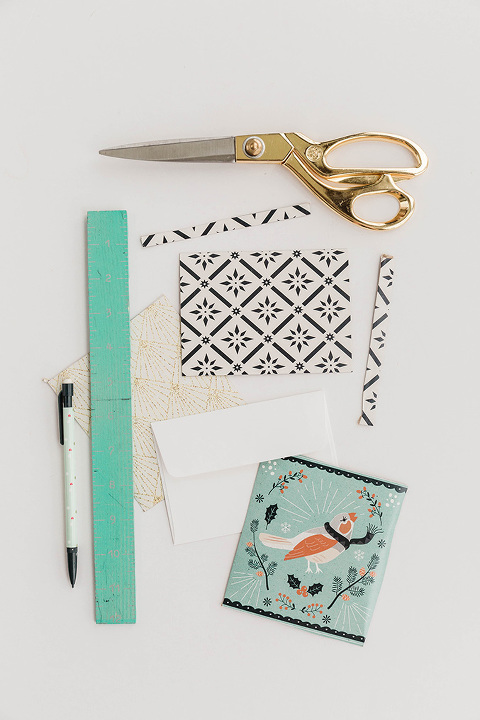 STEP TWO
Measure the exact size of your envelope using a ruler, then transfer those measurements in pencil onto the cardboard square you cut out of the tissue box. You can also just trace the envelope on the back of the cardboard piece if you don't want to mess with measuring! Cut the cardboard piece to size so that it fits the envelope. NOTE: You'll want to cut the cardboard a little smaller on all sides so it actually fits inside the envelope.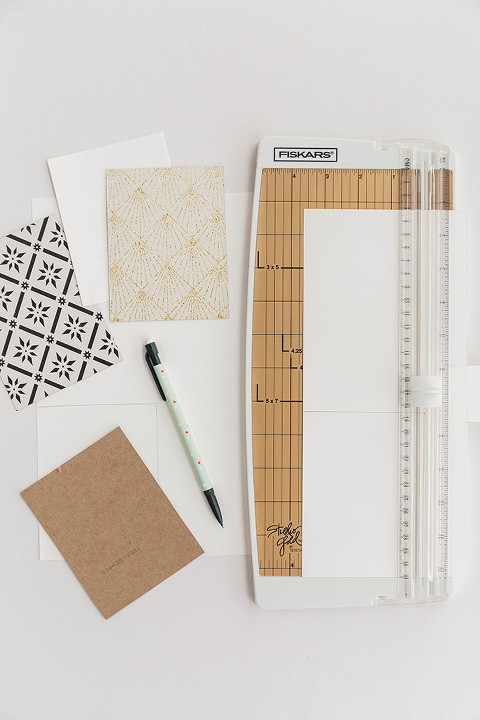 STEP THREE
Now, grab your cardstock paper. There are two ways to go about this next step (don't worry—I'll demonstrate both so you can choose which is best for you!). You can either cut the cardstock to the exact size and shape of the cardboard tissue box section you cut out, which will leave you with more of a postcard shape, or you can double the size of the paper to create a folded card.
To create a postcard, trace the shape of your cut tissue box cardboard exactly onto a piece of cardboard. To create a traditional folded card shape, put the cut tissue box cardboard in the corner of the cardstock, and trace along the top edge from end to end. Then, lift your tissue box cardboard piece, and move it over to the side, and retrace to double the top line. Finish by tracing down the long side.
Use a paper cutter or pair of scissors to cut out the cardstock. If you went with the traditional folded card shape, go ahead and fold it in half, being careful to make a clean crease right down the middle.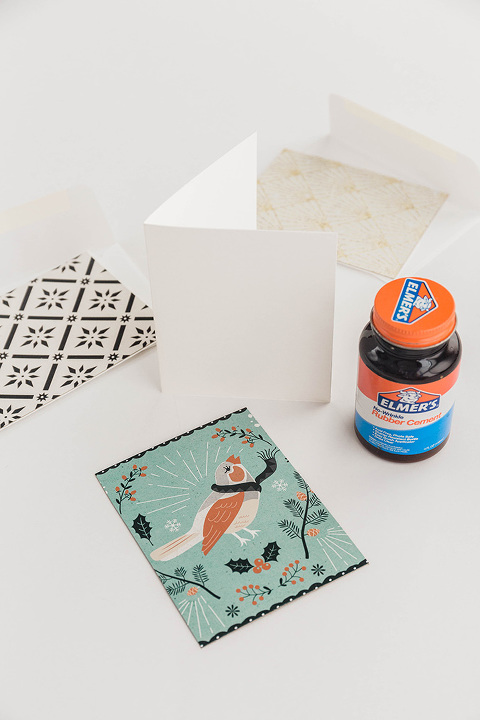 STEP FOUR
The last step is to glue your cut tissue box cardboard onto the cardstock paper. You can use rubber cement or glue sticks to do this. Make sure you cover the entire back of the cut tissue box cardboard with a thin and even layer of glue, and then press it firmly onto the cardstock. Allow the finished cards to dry completely for an hour or two.
After that, you're ready to write and mail your holiday greetings to friends and family! Like I said before, John and I are aren't going to be able to visit with his family for the holidays, so we've been brainstorming different ways to stay close as a family. Mailing flowers for them to have at the dinner table in our place for Thanksgiving is one way we're hoping to have a presence at their house this holiday season, and sending lots of holiday greeting cards is the other way! I think they're going to love receiving these handmade cards throughout the rest of the year.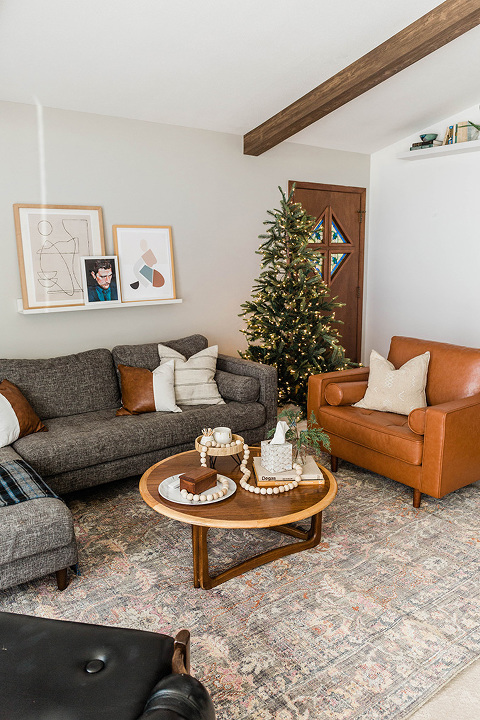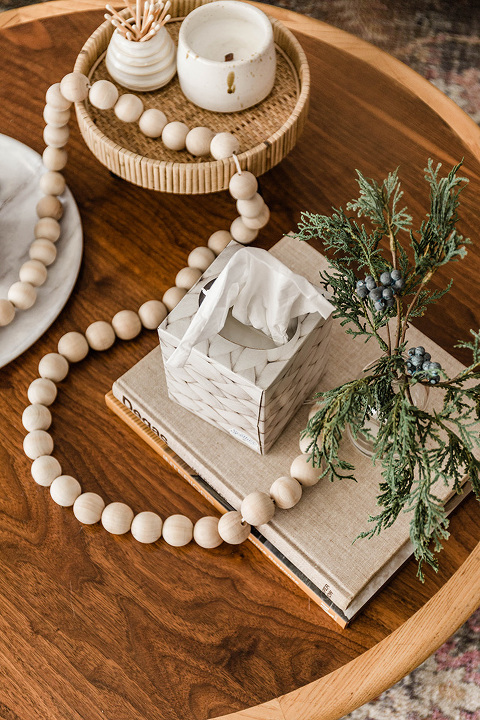 Now, I just have to know! Which of the Scotties Facial Tissues holiday patterns is your favorite? Year two of the brand's partnership with Genevieve Gorder definitely was a hit in our household. I personally can't get enough of that pretty blue box with the bird on it, and know that my mother-in-law will love seeing it show up in her mailbox with a special note from John and me this Christmas.
Oh, and before I go, I want to hear if you have any other creative ideas for repurposing these pretty cardboard boxes once they're empty. You know I love recycling, so leave your DIY ideas in the comments below.